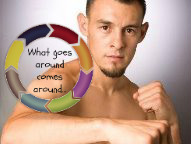 (Graphic by Chee, MaxBoxing)


Well, we found out why Robert Guerrero had suddenly disappeared - y' know, like a Ghost - in the wake of his lopsided loss to Floyd Mayweather in May. It turns out that he was plotting his escape from Golden Boy Promotions, which had given him the fight he so badly yearned for (while blowing up the inboxes of every boxing scribe in the world with an incessant stream of press releases long before the actual fight). What was whispered about in the background of the sport over the last few weeks came to light on Wednesday night: Guerrero was attempting to leave Golden Boy.

(By the way, what's going on with the guys in Northern California? First, it's Nonito Donaire - who tried to bolt Top Rank Promotions for Golden Boy a couple of years ago - to Andre Ward - and his now-trilogy against Dan Goossen - to Guerrero. It's not so much the Bay Area but the "Bail Area.")
There is an irony in this whole mess. Back in 2009, Guerrero, then the reigning IBF featherweight titlist, had extricated himself from Goossen Tutor, citing, as he is this time around, violations of the Muhammad Ali Act. And the attorney currently representing him, Bruce Zabarauskas, was the very lawyer originally brought aboard by Shelly Finkel (remember him?) to provide Guerrero with safe passage to Golden Boy.
Cue Alanis Morissette because this is certainly ironic.
There is an undeniable track record with Guerrero. We all know the story of his wife, Casey and her battle with cancer and his strong religious beliefs but I'm guessing as he signs these various promotional contracts, his right hand isn't on a stack of bibles. And this time around, it seems Guerrero was allowed to sign a bout contract with his lawyer knowing damn well it was technically illegal and could be used as a trapdoor out of his deal (not for nothing, while they can argue that being a mandatory challenger, it was illegal to ask for a contract extension, the reality is a boxer of Mayweather's stature wasn't going to be dictated to by any sanctioning body. The WBC is notorious for not ordering mandatory defenses for certain money earners. While Guerrero at the time was the "interim" champion, it's not clear if he was ever officially called the mandatory challenger).
Now, it has to be pointed out that on many occasions, Golden Boy has been the beneficiary of fighters (developed by other promoters) who decided to jump ship for one reason or the other. In fact, their original flagship fighter, Oscar De la Hoya was nurtured into a star by Top Rank and many of its other franchises - past and current - began with other companies, Marco Antonio Barrera, Bernard Hopkins, Shane Mosley and now, Saul Alvarez among them. It's part of this harsh business. You're sometimes going to poach fighters and sometimes, you'll get poached. Perhaps this is a by-product of the ongoing Cold War in which boxers will always look to defect based on what perceived opportunities are available on the other side of the street. Juan Manuel Marquez and Shane Mosley left Golden Boy to sign on with Top Rank to get in the Manny Pacquiao sweepstakes (and perhaps Guerrero has this in mind but, yeah, good luck selling Pacquiao-Guerrero if that's the case). But as one industry insider pointed out to me, "Fighters have been leaving promoters for years long before all this."
True enough, there are very few prizefighters with the honor and loyalty of Marvin Hagler out there. Yeah, some find it hard to find any sympathy for Golden Boy given that much of its original business model was built on supposedly rescuing the aggrieved and exploited from the likes of Don King, Bob Arum and any other dastardly promoter that took advantage of prizefighters. Yeah, what goes around comes around; I guess.
Here's the thing: while Golden Boy may have technically violated the Ali Act (and that's for an arbitrator to decide), can anyone say they have not advanced Guerrero's career and done well by him? Save for a couple of fights, he has been a staple on HBO, Showtime and pay-per-view cards throughout his run with them. Even bouts against the likes of Daud Yordan and Malcolm Klassen were on HBO and Selcuk Aydin on Showtime. Guerrero received a career-high $3 million to face Mayweather last year, when, quite frankly, he didn't bring much to the table promotionally or competitively in the actual fight.
Does that sound like a fighter who was taken advantage of?
Instead of fighting on, Guerrero is now lawyering his way out of another deal.
Golden Boy CEO Richard Schaefer says the March 8th bout between Saul Alvarez and Alfredo Angulo is set and they are calling this event "Toe-to-Toe." This card will be held at the MGM Grand in Las Vegas...Schaefer said he was thinking of an undercard that has Leo Santa Cruz-Cristian Mijares, Omar Figueroa-Ricardo Alvarez ("Canelo's" brother) and Jorge Linares-Nihito Arakawa, a fun grouping that should be entertaining. Still not convinced it should be on pay-per-view, however. Speaking of which, my latest for SportsOnEarth.com: http://www.sportsonearth.com/article/66360480/...Javier Molina suffered a fractured right hand, so his January 24th date versus Kendall Holt is scrapped...Main Events announced March 15th (on NBC Sports Network) as the official reschedule date for the heavyweight bout between Vyacheslav Glazkov and Tomasz Adamek...Steve Forbes says he is facing Fidel Maldonado on February 10th on a Fox Sports 1 card...Just how badly is the Miami recruiting class coming part? Geez...So how long does Jay Gruden last in Washington and when he gets fired, will his brother be rumored to replace him?

…I

can be reached at k9kim@yahoo.com and I tweet at www.twitter.com/stevemaxboxing. We also have a Facebook fan page at www.facebook.com/MaxBoxing, where you can discuss our content with Maxboxing readers as well as chime in via our fully interactive article comments sections.