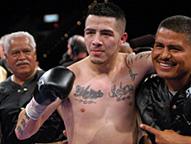 (Photo © German Villasenor)


WBA world lightweight champion Brandon Rios is a hyper guy. From the moment cameraman Brian Harty and I walked into the Robert Garcia Boxing Academy in

Oxnard, CA

, Rios was all over the place. When we arrived, he was watching tape with his trainer Robert Garcia. Within seconds, he bolted the room and began moving around the heavy and speed bags in the main room of the gym. Soon a photo shoot for The Ring magazine broke out as Rios began posing for photos in the ring with his new belt acquired by stopping Miguel Acosta in ten rounds of a scheduled twelve in February. 30 minutes out from training on sparring day and Rios is chomping at the bit to get to the place where he feels most at home.
"[Boxing] helps me calm down," Rios said. "I've got hyper disorder; I'm a hyper kid. It relaxes me and helps me not get in trouble. I used to get in a lot of trouble. I was a troublemaker back then. It helps me get off the streets and it helps me not get in trouble. That's what I love about it the most. Without it, I'd probably be in jail right now. I wouldn't be in California; that's for sure. I would have never met Robert. I would never have gone to the 2004 Olympic trials. So without it, I'd have been somewhere else."
An outspoken, boldly honest 25-year-old, Rios, 27-0-1 (20), is on the verge of becoming a major player on the upper tier of boxing. On Saturday night, he headlines a Showtime broadcast live from Home Depot Center in Carson, CA. Should Rios win, the door is wide open from 135 to 140.

A native of Lubbock, TX, Rios moved to Kansas when he was two. He always loved boxing. Like few of us, Rios knew what he wanted to be for as long as he can remember.
"I always knew I wanted to do it," recalled Rios. "Right when I turned eight, I fell in love with it and knew this was my sport. I knew this is what I wanted to become. I have to. Even when I was little, when I was like two years old, I kept telling my dad, 'You know what? I'm going to win the world title one day.' Nobody believed me but my dad, back home. When I won the world title, I brought him down here because I wanted him here when I won a world title. It was awesome."
One other thing that has always been with his Rios is his style. To see him fight is too see aggression personified. When Rios comes forward, it isn't always pretty; it is hardly what a purist might call aesthetically pleasing. However, to a diehard boxing fan, it's nectar of the boxing gods on tap at your favorite bar. Rios works up and downstairs with equal aplomb. Sure, he forgets to jab his way in sometimes but his solid chin (which sometimes bends but has yet to break) gets him through. He's a fight fan's fighter and nothing has ever changed that.
"I've always been like that since I was little," said Rios. "I always came aggressive. I've always been that guy. I think that is what caught the eye of Cameron [Dunkin. Rios' manager] and Robert, my aggression. In the amateurs, I was physically strong too [Writer's note: Rios competed at 126 pounds with roughly the same big frame. Scary]. I always had the goal of winning. I hate losing. So I always had to go out there and give it all I had. I give 100% in the ring. I never take anything outside the ring and say, 'I could have done it better.' I leave everything in the ring."
Trained by his father, Manuel, Rios was a stellar amateur going

230-35

,

claiming a 2004 National Amateur Championship at featherweight and making it to the 2004 Olympic trials. This is where he met Garcia and found out about boxing outside of the ropes. Deep in the trials, Rios decided to have Garcia work his corner despite having just met. Rios would lose. It was a seminal moment in their lives, not for the loss but for what has transpired since.
"When I met Robert in the Olympic trials in Mississippi, I made it to the box-off and that's when Robert came and worked my corner, which it was a bad mistake," Rios said as Garcia laughed. "I should have never done that because my dad was my amateur coach through my whole career. He was my coach. You get used to one person and then you come with another guy and he doesn't really know you? To me, it kind of messed me up. But then again, I'm glad we met because we exchanged information and he brought me down here. I'm just speaking the truth. I'm not talking sh*t. Robert knows that. I tell him all the time
I should have never done that. I'm speaking the truth."
"I think that day, he tried so hard to impress me and the people that were behind me," said Garcia. "He already knew, the press knew the [industry] was after him. The Top Ranks and Don Kings and Cameron Dunkins. So he tried so hard to impress everybody. I think that's where all this came from. You know if he had just been himself …bringing him to Oxnard…growing up in Kansas, he didn't know that- growing up- one day there is money involved; there's promoters, managers. He grew up not knowing that. So he goes to the trials, me in his corner made a difference. He tried to impress me and us so much that it actually affected him."
"I think so too because when I won the trials, Shelly Finkel came up to me and gave me a $1000 sponsorship where he pays me every month," said Rios. "I never had of anything like that. I was like, 'WOW!' It was awesome. I think that had a lot to do with it. I tried to impress too much and it backfired. But you know it didn't really backfire because I still came over here and I became world champion and it was all because of this man."
After the trials, Garcia offered Rios a deal to come out and turn pro if Rios agreed to be trained by him. With his father knowing the amateur style better, the move made sense. Garcia is a former world champion who left the game at age 26, following a much respected career. Rios "fell in love" with California and that was that. Seven years later, Rios is about to defend his title for the first time against Urbano Antillon, 28-2 (20), a rival from the Maywood Gym in Maywood, CA. The fight is sure to be a barnburner.
"It's going to be a war," said Rios. "I know that for a fact. He is a forward guy. I'm a forward guy. Nobody is backing up. Nobody knows the meaning of backing up. This is a fight that the fans will love. They are going to see another Arturo Gatti-Micky Ward fight. It's going to be toe-to-toe. Whoever goes down, that's the guy who couldn't take the punch."
The Robert Garcia Boxing Academy is a storefront in Oxnard, CA. It was recently expanded to make room for the near-dozen heavy bags, along with the upstairs which features more bags and weight equipment. The room is dominated by a ring where on this day, Rios would get down with Michael Finney and another fighter for four rounds apiece. Each man brings something different to the table, boxing a little more, showing a speed game at other times and Rios passes each test. Using his signature pressure style, he comes in constantly digging to the body and working his uppercut. The man is a buzzsaw who doesn't mind getting hit now and again. In fact, Rios seems to enjoy it.
"Robert does have different fighters and different styles," said Rios of the small squad working out on this day. "He has boxers; he's got movers; he's got brawlers. That's me. I'm a brawler. And me getting hit, when I spar, sometimes I put my hands down and I let them hit me. I have to have that because if they don't hit me, I get bored. I want to test them too. I have to have that. I have to have that anger in me, that drive. Somebody hits me, I gotta hit him, you know? But you gotta hit me and if you hit me, you gotta hit me hard. And so I put my hands down sometimes and let them hit me and you know what? It never affected me."
It is here where Rios does his lab work, thinking back to tapes of not only his opponent but the fighters he has admired over the years.
"I always looked up to [Julio Cesar] Chavez Sr. and later when I came here, guys like [Diego] Corrales, [Jose Luis] Castillo, Arturo Gatti," said Rios. "Those types of fighters, I love the way they fight. They are warriors. I have a similar style when I fight. That's how I try to look; when I see those videos, that's what I try to do in the gym because they have the same style. I try to copy off their moves, see their mistakes, where I can do it better and how I can do it better."
If there is one concern about Rios, it is that his career may not be long for this world, given the amount of punches he takes being so aggressive. It is of little concern to him, however.
"You know what? To tell you the truth, a lot of people say that and you know what? It's not about the style," Rios responded. "It's not about…basically if you are physically and mentally prepared and ready for a fight, ready for a war, you will be OK. Look at Chavez. He has been in so many wars, he's got what, 100-and-something fights and he's OK. The man is doing great. It's just sometimes, you get hit with a bad punch, it can cause a bad problem. Sometimes some people's brains are more weaker than others. It depends on the person."
Garcia explained that he has no intention of letting Rios have too long of a career. He is helping the fighter understand how to manage his money and the importance of having a backup plan. Garcia turned to training when he finished with the sport so young. He expects Rios may do the same.
"Even if that's the way people think and that's the way boxing looks, he has seven years as a pro. He's already a champion," said Garcia. "Top Rank, Cameron Dunkin tell me almost every day that they have a good plan for [Brandon]. So even if that is what it looks like, he's not going to have a long career, I don't want him to have a long career. If he does good in the next two or three years where he is pretty much secure for the rest of his life, then even myself will tell him, 'You know what? We had a pretty good career.' I don't want him to end up like Yori Boy Campas, who is still fighting. I don't want him to end up like that. I want him to be 27, 28 and say, 'You know what? That's it.' He's going to enjoy his family and after he retires, I'm going to need help, so he is going [to help me]."
Rios sees things a little differently.
"Yeah Robert is saying, you know what he is saying," shot back Rios, "but when I make it good and as he says, have enough money to live off and he is going to tell me to quit but you know what? I doubt that because I love the sport so much. I'll probably wait maybe when I am 30 or 35."
Garcia jumped in with a smile, "If you are on top of the world but if we see that…"
"Even if I am not on top of the world, I'd still fight because I love this sport so much," Rios interjected. "It's just something that I have to do. I do it for my fans and I do it for my family. I don't do it for myself. I don't have the pleasure of waking and losing weight, running. I hate that sh*t but I do it for my family and my fans out there because I want them to have a good time and see that this is me. I'm going to show the world that I can be one of the best out there."
For Rios, this is not about the fame or the money and all that come with those things. It's about something no one can touch. Taking these punches is about the immortality only a man who loves getting hit the face just to see how much he can take can know.
"Money can't buy what I have and money can't buy what I do," said Rios. "I love this sport. If it was for me, I wouldn't care. I'd probably do it for $5,000. I'd fight them for a trophy. That's how much I love this sport."
Saturday night, Brandon Rios will be fighting for a belt and a lot of money on a major cable network, a long ways from Lubbock, Texas and that little kid with a dream for his father…but never far from what drives him.
You can email Gabriel at

maxgmontoya@gmail.com

, follow him on Twitter at

www.twitter.com/gabriel_montoya

and catch him on each Monday's episode of "The Next Round" with Steve Kim. You can also tune in to hear him and co-host David Duenez live on the BlogTalk radio show

Leave-It-In-The-Ring.com

, Thursdays at 5-8 PM PST. Gabriel is a full member of the Boxing Writers Association of America.