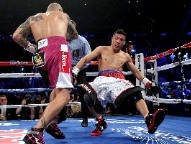 (Photo © Chris Farina / Top Rank)


There's no doubt that the condition of Sergio Martinez's knee impacted the result of his fight against Miguel Cotto this past weekend at the Madison Square Garden in New York. "Maravilla" was beaten from pillar to post from the very first round. It's clear - and without taking all the credit away from Cotto's strong outing - this was a factor.
But what's perhaps not talked about enough is the fact that Cotto - who began his career at 140 pounds and was making his maiden voyage as a middleweight (this bout had a catchweight of 159 pounds) - was the rare modern-day boxer who actually got to eat three square meals a day (plus two small snacks) and had to actually keep his weight up during training camp under the supervision of his strength-and-conditioning coach, Gavin MacMillan (http://www.maxboxing.com/news/max-boxing-news/miguel-the-middleweight).
Weighing in at 155 pounds, just a pound over the junior middleweight limit, Cotto was the stronger, healthier and more robust prizefighter in that ring.

The reality is, in their quest to lose weight, many fighters today actually leave a lot of their fight in the gym as they starve themselves during the last few weeks of camp, curtail their water intake and then dry themselves out in saunas to cut the last remaining pounds. It's a grueling and punishing process. Honestly, most boxers are probably fighting at too low of a weight.
"Of course they are," asserted MacMillan a couple of weeks ago at the Wild Card Boxing Club before he and the rest of Freddie Roach's crew headed out to the Big Apple, "and the depletion that takes place in the 24 hours before a weigh-in, especially for a lot of these guys where they have to dehydrate and they're losing minerals, electrolytes. All that has to be replenished. It's not a simple thing for your body to restore itself in that short a period of time. I think the lack of education with the conditioning people in boxing is a major problem and they don't understand the chemistry of how the human body works very well.
"So they're using very archaic ways of trying to get peoples weight off."
One of the problems is that now with weigh-ins taking place 24 hours before the event, many boxers attempt to game the system to make weight in a certain division. Then they use that time before the fight to put on excess poundage in hopes of gaining an advantage over their opponents. There is a vocal segment of the boxing community that would like to see weigh-ins go back to the morning of the fights.
But MacMillan, founder of the Sports Science Lab, who oversees the conditioning of hundreds of world-class athletes including Georges St. Pierre, counters, "The problem is then, what's the alternative? You weigh them right before the fight; they have to weigh a certain weight then. Because size-wise, you take that argument into the MMA world and you look at that last fight 'GSP' had with Johny Hendricks, Hendricks walks around at 225 and he fighting at 170. Now I don't know how you get down to that but somehow he did and so what's the alternative?
"I agree; it's a problem but I don't know what the solution is."
Some would argue (at least in the boxing world) that having same-day weigh-ins would at least have a lot of pugilists and their management teams thinking about moving up a division. MacMillan believes many of today's fighters should make that move.
"I would say across the board," said MacMillan, who also works with Ruslan Provodnikov. The "Siberian Rocky" defends his WBO junior welterweight title against Chris Algieri as the headliner on HBO this weekend from the Barclays Center. "I'd say that the only one that's not necessarily true of is Manny Pacquiao. He walks around at 146, so that's actually his normal weight. So 147 for him is natural and he could probably fight at 140 very simply as well still. When you're walking around at 160 and now you gotta fight at 140, it's not a natural thing for anybody.

"But again, what's the alternative?"
I received a couple of notable emails in the wake of Cotto-Martinez. As usual, our readers didn't hold back...
Why Max Kellerman and Roy Jones Jr. Have to Go: Part I:
Roy Jones Jr. expounding on the reasons Sergio Martinez needs to retire during the Cotto fight…then in mid-sentence, he broke off to check a text message from his manager about his next fight in Russia…or maybe it was just a cock-fight in Russia.
Why Kellerman and RJJ Have to Go: Part II:
Kellerman saying on air that he gave the fifth round to Martinez and by the eighth, he gets amnesia, saying, "It's a shut-out, guys."
Last, on Kellerman and why Larry Merchant was great:
Rather than rambling on in a lame attempt to frame his question, Larry Merchant (or, hell, Jim Gray) would have just asked Pablo Sarmiento this:
Why did you stop the fight?
Then you get an answer and ask a follow-up based on that.
Kellerman is always writing an essay and then struggling to tie it to a question like a f*cked-up game of "Jeopardy."
Smart guy but he's honestly not improving. And Merchant is still better. Other than [Jim] Lamps [Lampley] and Harold Lederman, Showtime's crew curb-stomps HBO.
George Foreman was not really better than RJJ in analysis (sometimes I wondered if he'd ever seen a boxing match let alone participated in them at the highest level) but he was entertaining and not boorish.
They ought to get Mike Tyson instead of RJJ plus someone to take Kellerman's job. Why not do what UFC does and get a smart comedian like Jim Rome or Jay Mohr?
If it's not going to be smart, make it fun!
Last, poor Sergio. I had meniscus surgery two years ago now and I can't take any impact activity for duration. I can trail run on soft stuff once a week. Other than that, it's the bicycle or swimming. I saw this coming as soon as I saw that diagnosis after the JCC [Julio Cesar Chavez] Jr. fight. All of his fight game was predicated on a higher motor and better conditioning and you can't do that when you can't run.
I really enjoyed these last few years watching Sergio but the Sergio we knew left what he had in the ring against JCC Jr. That was the high watermark, his version of [Bernard] Hopkins-[Felix] Trinidad.
Curious to see what [Miguel] Cotto can do against [Saul] "Canelo" [Alvarez]. Even taking into account that Sergio really had nothing left (at all), the Cotto I saw last night gives "Canelo" fits.
"Canelo" is another one who could use a Freddie Roach, IMO.
-Shane
Shane, as always, thanks for your input. Yeah, as I said before, Martinez might have been on the cliff but it still takes a bold fighter to shove him off of it. As for Roach, I think he's done a magnificent job with the Puerto Rican star and it shows that the worth of a trainer isn't just about starting with boxer from the beginning and taking him all the way but also getting a broken fighter and rehabilitating him. I still think of Miguel as more of a 154-pounder and if he's not going to face Gennady Golovkin, I think the fight to make right now is with him and "Canelo" for junior middleweight supremacy.
As for the HBO crew, I'll just say this: they miss Merchant.
Hey Steve,
Saw you at the fight and at Jimmy's Corner last night along with Robert Garcia and company. I had a white shirt on but I felt timid about saying hello. Anyway, I wanted to share a thought.
I think it's ridiculous that in the culture of boxing, revealing injuries is seen as "making excuses" for loss or poor performance. In what other sport (besides MMA) are you "making an excuse" when you tear a muscle or break a bone and your performance suffers for it? In fact, they won't even let you play; they halt play and take you out of the game. In boxing though, it's as if fighters live in a parallel universe where pain, muscle and bone integrity are irrelevant to the outcome of a match. It's absurd and I'm not just talking about Martinez; it applies to any fighter ever. This really almost sickens me about fight fans.
Whether or not Martinez had an According-to-[Edmond] Hoyle injury in the first round or not, his legs looked completely shot. He isn't the same fighter who took that middleweight title from Kelly Pavlik by any measure. It really saddened me viewing it from my seat - which turned out to be about 30 feet directly behind his corner - as he was my favorite fighter and I wanted to see him perform before he retires. I got a bit emotional watching it as sometimes in life, you look for a hero, someone to cheer for, be inspired by and to defy the odds to overcome anything. But fairy tales are rare in boxing - as in life - and I was reminded of this last night. I'm still glad I went and I hope Sergio decides to call it a career. He was a proud but humble and respectful champion and a good man outside of the ring. I hope he lives the rest of his life in health and in peace.
Cheers,
Chris, Madison, NJ
Chris, don't be afraid to say hello next time. But yeah, Jimmy's Corner would've been shut down if the Fire Marshal would've walked in. That place was crowded beyond belief after the Cotto-Martinez fight. It was pretty tough to get back to where I was sitting.
But yeah, I hear your point. What's funny to me is the absolute black-or-white nature of some boxing fans who either want to call Martinez a completely shot fighter, those who want to say he was exposed as the "overrated fraud" he always was or don't want to give Cotto any credit in doing his part in dismantling the now-former middleweight champion. I think there is a gray area here. Yes, Martinez was ailing (and aging) but Cotto is the guy who hit him with all those hooks that left him on the canvas three times in the first and kept the steady pressure on him. Martin Murray - a natural middleweight - couldn't finish the job he started last year.
Freddie Roach harped on ring generalship leading into this fight, about controlling the ring and putting Martinez in certain positions on the chessboard that would restrict his options (both offensively and defensively) and capitalizing on them with Cotto's preferred weapon. It was something executed to perfection by his fighter, who systematically took Martinez apart. But was that plan easier to implement with Martinez's flat tires? Of course, to say otherwise would be intellectually dishonest or downright illogical. A large part of Martinez's unorthodox style is predicated on mobility.
Have boxers made dubious excuses after losses? Certainly. At the same time, there are legitimate reasons why fighters perform a certain way. To his infinite credit, Martinez never gave any alibis but all the credit to the victor.
Here's this week's episode of "The Next Round" with Gabe Montoya and Yours Truly in which we talk about Miguel Cotto's big victory over Sergio Martinez and his place in Puerto Rican boxing history:
And here's the link to our iTunes app: