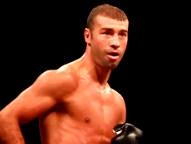 --


While HBO and Showtime are going dark this weekend (they both pick things up again on November 10th with competing cards), there is still plenty of boxing televised this Saturday night. For a supposedly dying sport, it sure gets a lot of airtime; doesn't it? Here's what's on tap tonight...
-

Lucian Bute

vs. Denis Grachev (WealthTV, 7 p.m., ET):
Bute, after getting not just getting beaten but having his cloak of invincibility tattered in a million pieces by Carl Froch, returns against Denis Grachev (who upset the previously undefeated Ismayl Sillakh in April) at the Bell Centre in Montreal, which in the past has provided him a safe haven. It's actually not the safest return bout for Bute, who is in line to rematch Froch in the spring of 2013.

One of the more overlooked stories of boxing in 2012, which has seen the likes of NBC dip its toe back into the pool of the "Sweet Science," is how WealthTV has become a regular destination for fights that may otherwise not be televised in the States.
- Fernando Guerrero vs. J.C. Candelo (Fox Sports Net/Deportes, 10 p.m., ET):
OK, this being Fox Sports, you better check your local listings (and also, make sure there isn't a college football game broadcast on your local affiliate because those contests usually run long. So if you're DVR'ing this, make sure you extend the recording). Guerrero is being brought back rather slowly after getting stopped by Grady Brewer last summer; the fact they are facing the aged Candelo is proof of that. Also on this telecast is middleweight J'Leon Love.
- Oscar Valdez vs. Angel Prado (

TopRank.com

, 10 p.m., PT):
OK, I think this might be on TV Azteca also but quite frankly, I don't trust their track record of televising the fights we are led to believe they will. But on Friday, Top Rank made the announcement that they will be streaming this fight card live on their website. Valdez, a two-time Mexican Olympian (the only one to hold this distinction), will be making his pro debut from Hermosillo, Mexico.
- Frankie Gomez vs. Manuel Leyva/Jamie Kavanagh vs. Ramon Valadez (Telefutura 11 p.m., ET/PT):
Gomez, a highly decorated, former amateur signed to an exorbitant contract by Golden Boy Promotions, returns to the ring after turbulence outside the ring - coupled with less than Spartan discipline – which threatened to derail his career before it ever really got started. For the past few months, he's been at the Wild Card Boxing Club under the stewardship of Freddie Roach and he hopes to fulfill his potential after a few setbacks.
The opener between Kavanagh (who trains alongside Gomez at the Wild Card) and the always exciting Valadez looks to be a fun fight.
So there ya go; make sure to set your DVR's...
According to this report: http://www.goldengloves.co.za/boxing-news/tommy-gun-to-top-madison-square-garden-bill/, it looks like WBA middleweight titlist Gennady Golovkin will move up to face Tommy Oosthuizen on January 19th at the Theater at Madison Square Garden...A press release from GYM on Friday morning announced that Jean Pascal will finally make his way back into the ring on December 14th at the Bell Centre in Montreal...Hey, it was ugly but I'll take the 'Canes victory over the Hokies. This team isn't good enough to have style points but its young defensive players are coming along nicely...I like 'Bama to beat LSU in "Death Valley" in another battle of field goals...Seriously, how long of a leash does Mike Brown have as the Lakers coach?...I can be reached at k9kim@yahoo.com and I tweet at www.twitter.com/stevemaxboxing. We also have a Facebook fan page at www.facebook.com/MaxBoxing, where you can discuss our content with Maxboxing readers as well as chime in via our fully interactive article comments sections.