Weekend combinations: Mayweather remains perfect, but doesn't impress the masses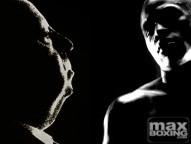 (Image made by Chee, MaxBoxing)


In many of his films, famed movie director Alfred Hitchcock used a term called a MacGuffin.

Usually, a MacGuffin is a plot device that appears to be the central focus of a film, but eventually it loses importance. It may re-appear at the climax of the story, but is normally forgotten.

This past Saturday night, the MacGuffin heading into the rematch between pound-for-pound king Floyd Mayweather and Marcos Maidana, was that Mayweather's legs were gone.

Trainer Freddie Roach said as much a few weeks ago.

"I'm convinced his legs are shot," Roach said via the Guardian.co.uk. "Look at the first four rounds of the first [Maidana] fight. Great fighters in later years often go to the ropes as they slow down, but he got into trouble there. He was under a lot of pressure."

So was Roach correct?

Hardly, Mayweather moved around the ring fluidly, potshotting Maidana and staying out of danger. Maidana, the younger fighter by six years, tried to stay up, but couldn't. He looked puzzled and frustrated.

I guess he had bought into the argument that Mayweather couldn't move.

Alright, Mayweather is 37, an age when most fighters are showing signs of erosion. He did get pounded on quite a bit in his first match with Maidana—so much that many boxing fans, including some commentators, said a sequel was in order.

And using another movie analogy, the sequel wasn't on a par with the original. Mayweather re-wrote his part for the second fight.

There was no way he was going to fight flat-footed again, not after he complained for months about Maidana's dirty tactics. He would do what he's done his entire 18-year professional career--adjust.

And he used something else that many boxing fans despise.

The clinch.

The tactic is an extremely effective way to stop an aggressive fighter like Maidana from letting his hands go.

Did Mayweather grab Maidana excessively during the rematch?

Yes, he did.

Referee Kenny Bayless, one of the best in the business, was soundly criticized after the bout for his silence.

As for the fight, Mayweather was sharp for most of the 12-rounds. He landed crisp, accurate shots from the outside. He dodged most of Maidana's heavy punches, but not a right hook at the end of round three. Mayweather was definitely rocked.

If that shot had landed earlier in the round, the fight might have been different.

Maidana was never able to catch him that solidly again.

Although Mayweather won the fight by unanimous decision, he wasn't impressed with his performance.

"I felt sharper in the first fight," Mayweather said after the fight. "This time I felt dry and dead and my fingers were numb after the eighth round. "I'd give myself a C-minus. I could have been better. I got hit with some shots tonight I shouldn't have got hit with, but that comes with the sport."

Spoken like a true perfectionist.

But that's what makes Mayweather. He's one of the hardest working fighters in the game. But even with another victory, boxing fans seem to be tiring of his act.

As for the MacGuffin, Mayweather's old limbs weren't even discussed.

Hitchcock would have loved it.

------------

It appears that Alfredo Angulo's career as in elite fighter is over. The Mexican hero was floored and lost a wide-decision to one James De la Rosa. The loss was his third in succession. Going into the fight, Angulo, 32, had said that the fans would see a "new" Angulo, but what they saw was more akin to old and ancient.

Hopefully, the classy Angulo chooses to walk away from the ring.




Subscribe to feed