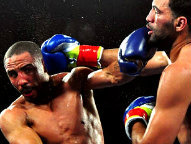 (Photo © German Villasenor)


Andre Ward (27-0, 14 KOs) remained undefeated Saturday night by winning a wide 12-round unanimous decision over Edwin Rodriguez (24-1, 16 KOs) at the Citizens Bank Arena in Ontario, California. The bout was telecast live on HBO Championship Boxing.

The scores were 118-106, 117-107,116-108.

The fight had been reduced to a non-title affair after Rodriguez weighed 2 pounds over the 168-pound limit yesterday. That ended the Dominican's first world title chance before it even began. Ward, returning to action after a 14-month layoff, weighed 167.8 pounds.

The contest started at a measured pace. Ward, 29, used space and angles while Rodriguez looked for an opening. It was the quicker Ward who found one first. A left hook stung Rodriguez. The fighters clinched for most of the round. Some of the crowd was booing by the end of the round.

Ward looked to establish his jab in round two. Rodriguez missed two heavy punches. Ward stuck his jab in the face of Rodriguez. The quicker Ward landed a left hook at the bell. The first two rounds were hardly artistic.

Rodriguez jabbed in round three. Ward was finding a home for his left hook. His right hand clipped Rodriguez. Ward snapped off three stinging jabs. Rodriguez couldn't touch the clever Ward.

Round four was more about referee Jack Reiss. He deducted two points from each fighter for holding and other nefarious infractions. Ward ignored the referee and connected with a left hook. He soon followed with a strong right hand. Ward was dominating, but Rodriguez refused to take a step back.

Round five opened with Ward landing a strong right hand. Rodriguez fought back, but ate two punches in return. Rodriguez started to go to the body. Ward stung him with a collection of right hands.

Ward continued to beat-up Rodriguez in round six. His jab to the body and head were keeping Rodriguez off balance. Rodriguez landed a glancing blow on the elusive Ward. The super middleweight champion soon countered back with a salvo of punches.

Ward broke from a clinch and clocked Rodriguez with a combination. Rodriguez looked baffled. The puzzle from Oakland, Ca. raked him with another stinging combination. Sweat flew off the face of Rodriguez.

In round eight, Ward continued to dominate. He was the quicker, smarter and more efficient fighter. Rodriguez leered and tried to land a game changing punch. Ward stepped in and snapped his head back with a jab hook.

Rounds nine and ten were more of the same. Ward used his left like a battering ram. Rodriguez was constantly off balance and susceptible to counters. Rodriguez did land a right off the top of Ward's head. Ward connected with a huge left hook. Rodriguez asked for more. Ward obliged with another left hand at the bell.

Rodriguez loaded up his shots in round 11. He was far behind on points and knew it. His right glanced off the chin of Ward. Rodriguez looked for room. Ward found him with a three-punch combination that wobbled Rodriguez.

Rodriguez went searching for a knockout in the last round. The problem was he couldn't find Ward.

" My shoulder felt good," said Ward. "It won't always be a spectacular performance."

"A win is a win," added Ward.

"I'm not ashaned of anything," said Rodriguez."I still feel like a winner."

He is to a certain degree.

Rodriguez's inability to make weight was very unprofessional. Once he accepted a million-dollar payday to fight Ward, it was up to him to make weight. This type of behavior is becoming very common in boxing today. It shows a lack of respect for the sport and process.


---
John J. Raspanti responds to all his emails. Please send all questions and comments to John at:
marlow_58@hotmail.com