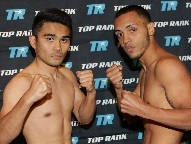 L-R: Viloria / Herrera (Photo © Mary Ann Owen - Top Rank)


Boxing is a fickle business. It's really fickle if you're a flyweight based in America. Brian Viloria discovered this in 2013, when he came into his fight against Juan Francisco Estrada as one of the hottest fighters in the sport with rousing victories over Giovani Segura, Omar Nino and Hernan Marquez under his belt. But not only was his run ended by Estrada last April in Macao, China, he then found himself sidelined the rest of the year.
As he prepares for his return tonight against Juan Herrera in Las Vegas, Viloria admits to being bewildered by how quickly it all turned on him.
"Yeah, y' know, it was a close fight last year and we were waiting to see if we could get another fight at the end of last year," he said last week before his day's training at the Wild Card Boxing Club. "But the game is pretty fickle; you're as good as your last fight in this sport. So you have to look great in almost every fight in order for you to be on top of the game."

Viloria's respite from the ring turned into boxing's version of unemployment. He explained to Maxboxing, "I know I wanted to rest a little bit. That whole run I was in and bunch of wars with Segura, 'Tyson' Marquez and then that fight with Estrada. So I wanted to rest a little bit - but I didn't know I was going to rest that long. I was supposed to fight earlier this year but that didn't happen, so I just have to keep myself in shape, get myself rolling and just look for the next opportunity."

His manager, Gary Gittlesohn explained to Maxboxing, "It's feast or famine in that division and Brian was on a tremendous run. Most of his impressive victories didn't even get the benefit of prominent television, specifically his terrific run versus 'Tyson' Marquez." That bout which took place at the L.A. Sports Arena was broadcast by Wealth TV despite the high stakes quality of that match-up. "[Viloria] had a terrific run and Estrada's no slouch. He's a terrific fighter and Brian lost a close split decision to him and then getting him back on track was not easy because of this general campaign not to show the lighter weight divisions here in the United States, which is something I just don't understand."

Yes, there is a bit of size discrimination in America. Bob Arum, whose company, Top Rank Promotions, handles Viloria, says bluntly, "The truth is that there's no market for guys that small in the United States, virtually no market. So it's only in Mexico - where he isn't thrilled to go down and fight a Mexican - or in Macao where they seem to accept and like the little guys. So we didn't have any spots open in Macao; Manny Pacquiao took up spots with his guys [last November]."

If he comes out clean this weekend, look for Viloria to have a slot on Arum's next show in Asia.

"They love him down there," continued Arum, who one day envisions Viloria facing the linchpin of his Asian promotional efforts, Zou Shiming. "He's a nice boy and they asked me when we were bringing him back last time I was there." Gittlesohn says, "Bob's been great. He's been honest with me and that's all you can ever want. Fortunately for Brian, Bob's has made substantial inroads into China with his shows in Macao and Brian has a slot reserved for him on the May 31st show in Macao."

If it were up to the "Hawaiian Punch," he'd get an opportunity to win his WBA and WBO belts back from the young man who took them from him. "That's one of the fights that I wanted to happen already for my next fight and not this tune-up. But obviously [Estrada's] camp didn't want to go up against me, saying that they wanted to take easier fights before getting to me again.

"So that's what they told us and I can only do so much. So I just try to stay in the gym, keep myself busy and hopefully, that rematch comes."

RIGO

Arum had talked of placing Guillermo Rigondeaux on one of his upcoming cards in Macao in July. This much is clear: it won't be on a card televised by HBO.

"The problem is, I'm faced with a situation where I'm obligated to give him one more fight under the contract and HBO has let it be known to me that they are not interested under any circumstances, so I have two possibilities: one, put him on a pay-per-view card or, two, put him in Macao," said Arum of his options. "And it could go either way but in other words, put him on a card where I'm not beholden to one of the premium networks - like HBO."

So the "Rigo-lution" will not be televised (by HBO)?

OXNARD

So what's next for the likes of Mikey Garcia and Brandon Rios?

Arum is still trying to map out the immediate future for Garcia but the reality is, if he isn't realistic about the money available on HBO, he could sit. Arum would like to see him face a contender. He opines, "The guy who comes to mind and would give him a pretty good fight is Frank Espinoza's kid, Diego Magdaleno. That would be an interesting fight," followed then by a fall hook-up against Takashi Uchiyama, sidelined currently with a bruised hand he suffered in his last fight.

As for "Bam Bam" Rios, Arum states, "The fight I would like to do with him - because it would be such an interesting fight - is against Luis Abregu."

This bout would take place at welterweight despite Rios' pleas that he can still make 140 pounds. Has Top Rank convinced him otherwise?

"No, you don't convince Brandon of anything," said Arum, "but his manager knows it. I know it. The idea that he can still make 140 is in my mind, very wishful thinking."

WEEKEND FLURRIES

So was the weigh-in altercation on Friday the best fight Karim Mayfield has ever been involved in?...Oh, so that's why the Eagles were trying to trade DeSean Jackson...ABC's "Scandal" has been great this season...Geez, Michigan nearly had a monumental collapse versus Tennessee...Kyle Anderson of UCLA has a lot of talent but is he physically ready for an 82-game NBA grind?

…I

can be reached at k9kim@yahoo.com and I tweet at www.twitter.com/stevemaxboxing. We also have a Facebook fan page at www.facebook.com/MaxBoxing, where you can discuss our content with Maxboxing readers as well as chime in via our fully interactive article comments sections.