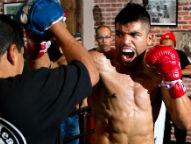 (Photo © Esther Lin / SHOWTIME)


As replacement fights go, this Saturday's Golden Boy Promotions welterweight fight between Victor Ortiz, 29-3-2 with 22 knockouts, and Josesito Lopez, 29-4 with 17 knockouts, is a solid one. Ortiz is a flawed power puncher who brings it every time out. Josesito Lopez is also an all-action fighter. Together these two Mexican-Americans, Ortiz from Oxnard, CA by way of Kansas and Lopez out of Riverside, CA should bring to L.A.'s Staples Center the kind of fight we had hoped to see when this card was originally announced as Victor Ortiz vs. Andre Berto II.

An unfortunate thing happened along the way to that fight. Berto, who had requested that Ortiz join him in the anti-doping in boxing movement by being randomly tested throughout training camp by the Voluntary Anti-Doping Association (VADA) tested positive for traces of Nandrolone.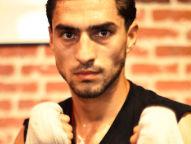 (Photo © Esther Lin / SHOWTIME)

"That was a surprise. That was a complete surprise," Ortiz told Maxboxing.com, a group of writers and a videographer in Los Angeles to announce the new bout. "I mean hey, if you are going to be on 'roids at least don't get tested. That was like a DJ spinning and [mimics bringing a record to a screeching halt] 'Rrrrrr!' But I was like 'Ah, whatever."

While he wasn't delicate about Berto's ironic twist of fate, possibly the result of a contaminated supplement as opposed to intentionally cheating, Ortiz never wavered. He knew June 23 was his Showtime date at Staples and he wasn't going to miss it. His attitude was pure Zen. He headed to the gym and waited to hear who he was going to fight.

"I stayed in the gym," explained Ortiz. "A good friend of mine, Steve Forbes told me 'Man you are taking this thing very light. If I was in your shoes, I would want to kill somebody.' I was like 'Hey, what can you do Stevie, really? I am going to keep working.' He said 'Very impressed, man.' It was nice."

Ortiz wasted no energy on negative thoughts or anger at the situation.

"That's just how I am. I live drama-free. People hate that about me. If they don't like it, that's not my problem. At the end of the day, what you see it what you get," said Ortiz. "I just live life and take it day by day. God does things for a reason and I am a strong believer in that."

If there is a God, only she knows why within a week Berto's "B" sample confirmed his positive test and a new opponent was sought.

Meanwhile in the world of junior welterweight contender Josesito Lopez, a bout with veteran contender Kendall Holt was set for June 22. Holt decided that the outdoor venue chosen for the televised bout combined with the ring lights would be too much of a heat risk and pulled out around May 18. Lopez had lost a close one to welterweight prospect Jessie Vargas last September and was looking to rebound into a big name bout.

"I knew going into that fight, I knew I had to win eight out of those ten rounds to get that victory if it goes to decision," Lopez told Maxboxing.com. "I was somewhat disappointed in myself because I could have done more and I should have done more. And it sucks to take a loss. At the end of the day it doesn't matter what everyone thinks. A loss is a loss. It brings you down. But you know what? People that know and have seen my fights, they know that I belong on this stage. I feel I belong on this stage and I am ready for a world title. I have to prove it June 23."

At age 27, the time was now to get things done surmised matchmaker Alex Camponovo of Thompson Boxing, who has nurtured Lopez' development. Anything but a big fight was a lateral move.

"He's at that point in his career where we have to put him in the spotlight or just not do anything," Camponovo told Maxboxing.com "It's not a crossroads fight for him because it is a big challenge. He is stepping up to a new division. But it's the right moment. I know he is up to the challenge."

Ortiz at first thought he'd still get the Berto fight. Their April 2011 fight had been a classic and was Berto's first loss. Ortiz wanted a chance to prove it was no fluke.

"No. I actually offered to fight [Berto] even on 'roids. That's how much I am scared of him," Ortiz deadpanned.

Instead of salvaging the fight, Golden Boy moved on quickly and signed up Lopez who was more than game to take the fight at 147 pounds. At 5' 10", Lopez is a lanky junior welter. That added seven pounds will do him a world of good.

"Hesitate? No. When I heard it was Victor Ortiz I said 'You know what? This is a beatable guy. This is a guy who can be beat," said Lopez. "Even if most people think it's a disadvantage going up in weight, I am going to be a lot stronger. I won't have to struggle for my weight. And I will show that June 23. I am the taller guy. Weight shouldn't be a problem."

When he heard that Lopez was the potential opponent, Ortiz didn't blink. He knows exactly what Lopez brings to the table and welcomes it.

"Josesito is an animal. I've been watching him. He leaves it all on the table," said Ortiz. "We have two things in common and that's heart. He is trying to come for what I have. He is in the shoes I was in a year and half ago against Berto. And I know that feeling. I know where he is coming from. The difference is I have been working too hard, man."

The feeling is mutual. Lopez, who likely will weigh less than Ortiz on fight night, is comfortable being the perceived smaller man in this fight despite his one inch height advantage. Ortiz actually has a one inch reach advantage and likely is going to a super middleweight by fight night after he rehydrates.

"He is a tough, rugged fighter," acknowledged Lopez. "We know that. His size will be bigger. I feel like I can punch just as hard as Victor Ortiz. I have always been the skinnier fighter. I have always been the littler guy. That's the reason I got my name 'Josesito." I was always the smallest Jose anywhere. So that's how I got my name. Size doesn't matter to me. There's no disadvantage whatsoever. I feel like I am skinny fighter that can punch. No matter how much bigger he is he will feel my power."

There are a couple fate elements in this fight. For Ortiz, this is a chance to return to Staples Center, home of his first title fight loss. It was June 27, 2009 and Ortiz was fighting Marcos Maidana for the interim WBA junior welterweight title. The fight lasted six rounds and when it was over, each man had been down twice. Maidana was dropped first in the opening stanza. He rose, landed a hard right hand bomb flush and Ortiz surprisingly crashed to the canvas. Badly hurt, Ortiz bravely rose and a savage war broke out.

In the second, Ortiz came back and put Maidana down again but the battle raged on and Ortiz took serious punishment.

Bleeding and battered, Ortiz was floored again in the sixth and this time, he rose and seemed to nod as if he did not want to continue. The fight was waved off and following some unfortunate post-fight candor on HBO, a long shadow of doubt was cast upon him.

Ortiz has come a long way from that, taking Berto's title at 147 and then subsequently losing it to Floyd Mayweather, Jr. Now he returns to Staples and the demons of that June 27 night along with doubts following the weirdest knockout loss ever to Mayweather.

Or does he?

"Maidana is long forgotten. There is no Maidana in here," said Ortiz pointing to his head. "That night, everybody knows that was a fluke for me, man. The one thing is that Berto said that it was a fluke for him. It wasn't no fluke. I studied him many times. That Berto that night was Berto. The Victor that night here [at Staples] was not Victor. That was a shadow of me. But even so, I was doing well. I didn't lose any rounds I got stopped. Whatever."

However the reader feels about that statement, the important thing is that Ortiz believes it.

"I don't waste my time with anything like that. I move forward in life," explained Ortiz of negative thought.

The other fate element regards Lopez. He was supposed to be fighting Holt for the number two spot in the IBF on ESPN2's Friday Night Fights this week. Now he gets to show his wares on Showtime Saturday night under the hot lights of Staples. Lopez gets a chance to show his fight with Vargas, where he didn't quite give himself the full chance to win, was a fluke for him.

"You know what? Holt backed out and it was a blessing in disguise," smiled Lopez. "I get to prove myself at a big stage. There will be nothing less than showing my power, skill and everything I got. I will show everyone I belong on this stage.

Who wins? Who knows? Golden Boy seems to hope it is Ortiz. The winner of this bout gets Saul Alvarez on Showtime PPV September 15 in what will be a card dueling with Top Rank's offering of Sergio Martinez vs. Julio Cesar Chavez, Jr on HBO PPV. Obviously, the bigger name fight is Ortiz vs. Alvarez at 154 for a WBC belt.

An ironic side note is that on that September 15 night, there will be potentially four fighters HBO invested millions in while building their names towards pay-per-view viability. Now, that potential may be realized on a rival network with disastrous results for fans that will have to shell out at least $100 in one night to see two PPV cards. However, that $100 is nothing when you compare it to the millions, years and good faith HBO invested in Ortiz and Alvarez only to see them moved by Golden Boy to Showtime PPV.

For now, we get a great fight where anything can happen. Who will win depends on a lot of factors come fight night. What can we expect?

"A great fight on both sides but I will be the victor," Ortiz predicted, no pun intended.