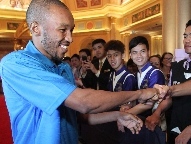 (Photo © Chris Farina / Top Rank)


On Saturday in Macao, China, Nonito Donaire squares off with WBA featherweight champion Simpiwe Vetyeka, 26-2 (16). The fight is for more than a belt. Donaire's career as an elite, TV fighter may be on the line. It wasn't always like this.
Three years ago, Nonito "The Filipino Flash" Donaire, 32-2 (21), was at the peak of his career. He'd stopped Fernando Montiel in spectacular fashion and quickly rose on media members' pound-for-pound lists. The TKO was voted "Knockout of the Year" by The Ring magazine and other outlets. In 2012, Donaire would move up to 122 pounds, pick up a belt and defend it, going 4-0 (2) in the process. The effort, along with his enrollment in the Voluntary Anti-Doping Association's year-round, random, anti-doping testing program, earned him the Boxing Writer's Association of America's "Fighter of the Year" honors. Hidden within that success was Donaire's slow decline as a fighter. Opening 2013 with a loss to Guillermo Rigondeaux shined a light on the decline.

Donaire's fame shot up as soon as Montiel hit the deck and his legs uncontrollably shot out toward the crowd. Knockouts capture imaginations like nothing else in boxing. At that moment, Donaire had boxing's attention like no other time in his career. But success can be a dangerous thing. It's easy to forget how hard you worked getting there. It's also easy to begin cutting corners because people enable you.
What led Donaire to the Montiel moment was a combination of things, mainly consistently and the momentum that can build toward ultimate success. Training in San Carlos, CA's Undisputed Gym with Mike Bazzel and Brian Schwartz, Donaire added SNAC System owner Victor Conte along with sprint coach Remi Korchemny. This tandem helped Donaire get ready physically for each of his fights leading to his 2013 loss to Rigondeaux. But as success grew, it seemed work ethic or desire, that inner X-factor necessary to keep what Donaire had, began to fade. Just before the Rigondeaux fight, Conte publicly announced that he and Korchemny were splitting with Donaire. Watching him work in camp for that fight, I marveled at the roll of belly fat that hung over his trunks and I wondered what the physical price of flying back and forth to Vegas each weekend was going to exact in the long run.
Donaire is essentially his own boss. While the team he had heading into that loss were there to train him, Donaire ran the ship. They trained when he wanted. Robert Garcia worked the corner as lead trainer yet was only in camp sporadically. For the Rigondeaux fight, Donaire was flying back and forth from Vegas to San Carlos each week and had the look of a fighter not fully focused on the task at hand. Consequently, he paid the price for it with a 12-round shutout loss.
In his comeback rematch against Vic Darchinyan, a fight seemingly designed to remake Donaire (having stopped Darchinyan in five rounds six years prior) instead further revealed that perhaps Donaire just didn't want it like he used to.
Hailing from Mdantsane, Eastern Cape, South Africa, Vetyeka, 33, has been rising as Donaire has been falling. Bouncing back from a split decision loss in 2012, Vetyeka added the scalps of Daud Yordan and Chris John to his resume, stopping them back to back in 2013 and picking up John's belt in the process. Awkward and taller than Donaire at 5'7" to Donaire's 5'5½", Vetyeka brings an awkward style and a whipping right hand to the table. He won't go quietly or easily.
At his best, Donaire is like a Roy Jones Jr. type. His fundamentals are lacking a bit but he made up for this with athleticism, guile and power. At featherweight, where his physical strength and size advantage are now gone, it will be interesting to see how he fares. While Vetyeka is not a natural featherweight, he's been successful against the likes of John and Yordan, two hard outs and true feathers with difficult styles.
Donaire is now trained by his father following a split with Robert Garcia as well as the Undisputed crew. He's going "back to basics" as they say. And maybe that will help but that was said to be the case with the Darchinyan rematch. For much of that fight, until Donaire landed another brutal left hook that finished off Darchinyan, he looked bad. He couldn't sustain his offense; his defense wasn't much better and overall, he looked flat. In Macao, against a WBA champ who is hungry for success and knows what to do with a faded name, well, Donaire may be getting back to more than basics if he is not careful.
Prediction
Vetyeka by late stoppage.
Please visit our Facebook fan page at
www.facebook.com/MaxBoxing
, where you can discuss our content with Maxboxing readers as well as chime in via our fully interactive article comments sections.