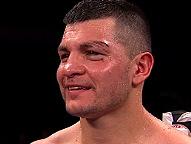 --


Brian "The Warrior" Vera barely kept his title hopes alive by stopping Donatas Bondorovas at the Turning Stone Casino in Verona, N.Y. The bout was the main event on ESPN'S Friday Night Fights Series.

The end came between rounds seven and eight after referee Charlie Fitch asked Bondorovas (who was cut above his left eye and nose) if he could see. Bondorovas, a Lithuanian who speaks English marginally well replied, "not so good" prompting Fitch to wave off the contest - over the protests of Bondorovas corner.

"He didn't understand you," said Bondorovas promoter Buddy Hitch in the ring after the fight.

"I believe he did," replied Fitch.

The bout goes in the record books as a seventh round TKO victory for Vera.

Bondorovas (17-4, 8 KOs ) was given little chance to upset Vera, but the 13-1 underdog must have missed the memo. In the first two rounds, he peppered Vera with left jabs and an occasional right.

Vera, 31, who could be in line for a fight with WBA middleweight champion Gennady Golovkin, did better in round three. He jabbed his way inside and applied intense pressure.

Bondorovas, 33, countered back with sharp right hands to the body and head. Vera, who eight weeks ago stopped favored Serhiy Dzinziruk, grinned, and fired back.

Vera (23-6, 14 KOs) opened up a cut above the left eye of Bondorovas in round four. He used the cut as target practice in round five. Blood was streaming down the face of Bondorovas, but he fought back – connecting with a hard right hand at the bell. Vera tried to end matters in round six, but walked into a number of right hands.

By round seven, the bloody but unbowed Bondorovas had a face only a mother could love. Vera had found his jab, but Bondorovas continually tagged him with hard rights.

Vera has now won four straight fights.

Bondorovas lost for the first time in two years.

__
Follow and visit John on Twitter: twitter.com/#!/johnboxing1
__
Questions/comments johnboxing1@hotmail.com