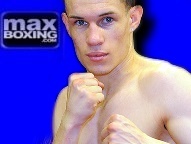 --


Jason Velez who holds the USNBC, interim WBO AND WBC Silver Featherweight straps will be facing Mexico's Daniel ''Huracan'' Ramirez (11-2, 5KOs) this Thursday evening in the Golden Boy Promotion's LA FIGHT CLUB at the Belasco Theater in Downtown L.A..

The undefeated Caguas, Puerto Rican, Jason Velez, 22-0-1 with 16KOs is coming off his biggest performance to date, a draw against the hard-as-nails and highly regarded IBF Featherweight champion Evgeny Gradovich last November at the Century Link Center in Omaha Nebraska, in what was the co-featured bout to the Terence Crawford vs. Ray Beltran Lightweight world title bout.

Back in 2013, Velez was coming off a very good win against Salvador Sanchez II was scheduled to face, then WBC Featherweight world champion Daniel Ponce De Leon, a fight which was canceled due to an injury Velez suffered prior to the bout.

"When I was going to fight in 2013 against Ponce De Le Leon I injured my ankle so the fight was called off. I stayed in a weight when I recovered and I was waiting for Mares, but then he fought Jhonny and lost, so our fight didn't happen. There was just a lot of waiting."

At 5' 8 ½ Velez has room to grow, and at 27 years old, the fighter went on to describe his style and his outlook towards the sport he is in.

"I am a boxer and a brawler and can easily adjust to any style. I am explosive, strong and exciting to watch."

"I like Miguel Cotto, he is a successful boxer, successful person, I would like to be like him. I would like to win titles in different divisions and become a 'Hall of Famer'.

The bar is set very high by himself, that much is clear. "I was always fighting in school and that was interesting to me. I was also playing a lot of sports, but when I was 17 I decided to try boxing and now I feel like it was the best decision."

Dedicated to the sport and every fight a hard-learned lesson, Velez sounds to have a grounded plan as to the immediate plans he has, with the ultimate goal all fighters want, a world title and the money it will also bring.

"I learned that I have to train harder, at this level every fight is going to be difficult. I have to be better every day and have a better defense. I would like a re-match, the fans are asking for it, but I am not afraid of any fighter. I am committed to be a champion and if Lomachenko, Santa Cruz or Rigondeaux want to fight, I will fight. I also I don't put pressure on myself, I have am always prepared to give a good fight. I want to give fans what they pay for.''

Looking at the LA FIGHT CLUB show, Velez went on to say.

"I feel great, very excited. It's a great opportunity to fight in LA as the main event. It's good for me. We always train for these kinds of opportunities. This is my first main event outside Puerto Rico, so I am eager to show fans in Los Angeles who Jayson Velez is.''

"I know Daniel (Ramirez) is a forward kind of fighter. He throws a lot of punches and comes prepared for a brawl. I can adjust easily and I think I will knock him out in the 7-9 rounds. I feel very strong and feel like that will be the result.''

Tickets for the June 4 LA FIGHT CLUB are on sale today. Prices start at $20 and can be purchased online by going to www.goldenboypromotions.com or by visiting the Golden Boy Promotions Facebook page. For ticket information, email LAFightClub@goldenboypromotions.com.

The "Knockout Experience VIP Package" is also available for an additional $25 upgrade and includes VIP entrance, access to an exclusive lounge offering food and beverages for purchase; a meet and greet opportunity with fighters and celebrities attending the event; an automatic entry into the LA FIGHT CLUB grand prize drawing, which can include but is not limited to: autograph gloves, picture in the ring, backstage access, tour of locker rooms, fighter ring walk, tickets to upcoming boxing events and additional merchandise and prizes.