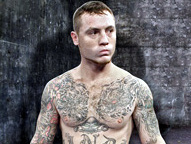 (Matt Vanda)


This Saturday night, veteran Minnesota middleweight Matt "The Predator" Vanda will fight undefeated Sean Monaghan at the Theater in one of boxing most famous arenas, Madison Square Garden in New York City. The 10-round fight will be a support on Top Rank Promotion's first show of 2014 that sees Miguel "Mikey" Garcia defending his World Boxing Organization (WBO) super featherweight title against Mexico's Juan Carlos Burgos.
This will be Vanda's third time in Gotham's famous arena and he'd like to use the big stage to pull off an upset over the favored, New York-born-and-raised Monaghan; a popular fighter in the area. Vanda, 45-15 (25), knows at his stage of his career, he is being brought in to face the up-and-coming Monaghan, 19-0 (12), in the classic "old vet vs. young gun" scenario. While this is supposed to be a good learning experience for Sean - and certainly, he will have to fight for every minute of every round - ultimately, if the script plays out, his hand will be raised in the end. However, if battle-tested tough guy Vanda has his way, he will be the one bringing down the house on Broadway that night.

While Monaghan, a natural light heavyweight, will have size on Vanda, "The Predator" brings a wealth of big fight experience in the underdog role that could serve him well. Monaghan will be playing to his hometown faithful and looking to stay undefeated as he works his way toward title contention. For Vanda, who turned pro nearly 18 years ago, this will just be another day at the office for him as he has looked across the ring in the backyards of world-rated fighters Julio Cesar Chavez Jr., Marco Antonio Rubio, John Duddy, Peter Manfredo Jr. and Yori Boy Campas among others in his 60-fight career.
Vanda's trainer and manager, Jesse Garza recently spoke about the fight and how excited Vanda is to be back on the big stage doing what he loves to do. "Matt is in good shape and is looking forward to the fight," Garza said. "He was sort of thinking about retiring and then this opportunity came along. He was running, is in shape and, bottom line is, Matt just loves to fight." When questioned about the motivation Vanda will have if he was already thinking about shutting down his ring career, Garza replied, "Matt is an old-school fighter. He, again, really just likes to fight. He knows this is a great opportunity for him. Yeah, we are taking it one fight at a time at this stage but if he wins, he knows there are some good opportunities for him."
While Monaghan will certainly be the underdog in "big" fight experience compared to "The Predator," the naturally bigger New York banger does have the size advantage. However, this didn't appear to concern Garza and he knows it won't faze Vanda for a second, insisting, "Matt really is a junior middleweight or middleweight but he has fought from 154-168 - or bigger - throughout his whole career. He'll come in at any weight they want. He doesn't care; he is just looking forward to fighting." While Top Rank Promotions' Monaghan, who has fought almost exclusively in the New York area, is looking to light up Broadway with another win, Minnesota's Vanda has other plans.
"We've taken a look at Monaghan and he looks like a good fighter," said Garza. "We respect anyone in the ring but he won't show Matt anything he hasn't seen before. Matt's an old-school fighter and there isn't a lot of his kind left. He just loves to fight and win and he's excited about the opportunity and he's heading to New York to win."
Please visit our Facebook fan page at
www.facebook.com/MaxBoxing
, where you can discuss our content with Maxboxing readers as well as chime in via our fully interactive article comments sections.