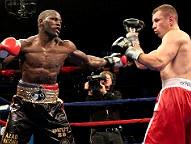 (Photo © Marcin Kondek)


The first time

Steve Cunningham

(then the reigning IBF cruiserweight titlist) faced

Tomasz Adamek

back in December of 2008, he figured that with the fight being not too far from his home of Philadelphia in Newark, New Jersey, he would be at the very least fighting in front of a neutral audience. Instead, it turns out "The Rock" basically became "Lil' Warsaw" every time an Adamek fight was staged in this venue. It was red and white all over. Cunningham, who had to go to Polish soil twice (in facing Krzysztof Wlodarczyk) to his win his belt, figured at least this time, he was close to home in facing Adamek.
Well, Philly felt like it was a million miles away on this night.
"I didn't think it was going to be like that," he admitted to Maxboxing last week, recalling his first back-and-forth encounter that he lost via split decision. "That was worse than fighting in Poland. I fought in Poland twice; the Polish people in Jersey are just a little rowdier than the Polish people in Poland. Most of the people that came to watch me fight got stories like, 'Man, we about to fight these Polish guys,' so it was hectic. It was like being in Poland - in Newark."

Against Adamek, "USS" was smooth sailing for large segments of the bout, boxing well on the perimeter and picking his spots. But he simply got dragged into too many exchanges and saw himself hit the canvas three times. Take away those knockdowns and he keeps his crown. When asked if the atmosphere and the raucous crowd affected his mentality for that fight, Cunningham answered, "I've fought in guys' hometowns, home countries with nobody in the audience for me at all but my wife. I did that numerous times. Even in America, I've only fought in Philly once. So that's how I come up; it doesn't matter to me. You can have everybody against me - even the judges - I've been in that position. But I still perform to the best of my abilities. The job has to be done."
Simply put, that's life for Cunningham, who spent years out at sea while serving in the Navy. Being a cruiserweight from the States meant he was a man without a country, meaning his passport's been stamped a few times. He's spent so much time in Germany, he probably considered dual citizenship at some time. The bottom line is Cunningham is probably more stunned when he sees a crowd that's actually there to see him win. Still, he's only human. It's hard not to notice the surroundings.
"Yeah, I mean, afterwards, during the fight, it's like, 'Wow, you see all the red and white flags?' and they're chanting, 'Polska! Polska! Polska!,' and you're like, 'OK, let me do what I gotta do.' But after the fight, I was like, 'Man, that was worse that Poland!'" he says laughing. So what does Cunningham remember about their first encounter, one of the better fights of 2008? "The main thing I recall about that fight is a couple of things. One of them is, 'Damn, I got knocked down again!?!' And the most important thing I remember about the fight is I kept telling myself, 'Keep fighting. You can beat this guy. Keep going; keep going.' I just kept going."
From their first meeting, they went divergent paths. Adamek has had a successful run at heavyweight and became a bona fide draw in both Newark and his native country. Meanwhile, Cunningham stayed at cruiserweight and was forced to go back to Germany, where he won and lost the IBF championship before signing on with Main Events and embarking on his run in the sport's glamour division. Now they meet again - but what took so long?
"I mean, I wanted the rematch, especially after the fight. I felt like, 'Wow, with three knockdowns and I still won on one of the judge's scorecards,' I felt like I could beat this guy but I also felt with the fight being the way it was, with me performing the way I performed, I was happy with my performance at the time. I was like, 'Man, I gave my all.' I couldn't ask for more out of me, unless it was something crazy like throw low blows or something. But I couldn't ask for more out of me. I tried my best and I came up short in two of the three judges' eyes. So I was really in fire for this rematch," said Cunningham. Another problem was that neither HBO nor Showtime - which rarely showcases cruiserweight bouts - showed much interest in the fight in 2009. "That right there put a little water on the fire," he lamented.
Now, the rematch will be broadcast nationally by NBC (Saturday 4 p.m., ET/1 p.m., PT). Originally, Odlanier Solis was slated to face Adamek but Solis was "Gaby'd" out of the fight and a call was made to Cunningham, who immediately accepted this assignment. "It was quick; it made sense. It made sense all over the board," said Cunningham, who's coming off a 10-round verdict over Jason Gavern on September 8. "Who wouldn't take this fight? I mean, you get an opportunity to fight a guy you've already fought. You get a chance to fight a guy that beat you. You get a chance to get a little get-back if possible. And also, with Adamek being one of the top heavyweights in the world - I see him at number three on BoxRec - c'mon…you beat this guy, you're rated that high in the heavyweight division. What former champion doesn't take that challenge? I would love to be heavyweight champion of the world. That's my goal. This puts me closer to my goal a little faster than expected.
"This decision can change my life."
While these are two former cruiserweight champions now battling it out as heavyweights, Cunningham will still be the decidedly smaller man in there. Adamek has been as high as 225 recently for his bout with Eddie Chambers in June.
"I won't be anywhere near 225," said Cunningham, who weighed 207 against Gavern. "I'm going to be the way I come in. I'm weighing in and out of the gym at 208, 207, so we'll see. I'm comfortable where I am."
I'll let all the experts decipher if this was a good audience or not but on the surface, keeping 90 percent of the audience looks very good.
So what does the head of Main Events, Kathy Duva (whose company is promoting Adamek vs. Cunningham II and made major inroads with their NBC Sports deal) feel about the recent developments that see boxing on consecutive weekends, first on CBS and now NBC? This is what she had to say (via email):
This was a tremendous way to end the year. There was a string of upsets all across the board and now two networks have decided to go all Old School and offer

boxing

, again,

on Saturday afternoon

. Change is most certainly in the air.
Based on the 1.3 overnight rating, the audience for the CBS show

on Saturday

was larger than any audience that has watched boxing on HBO or Showtime during 2012. That just goes to show the power of network television coverage. Hopefully, Saturday's great performance won some new fans for the Sweet Science, and they will come back to see the heavyweights do their thing

this coming Saturday

.
I hope that this renewed interest in boxing from the networks bodes very well for 2013 and beyond. The best thing that could happen would for NBC and CBS to decide that this is something that they can build on and order up lots more boxing going forward! All we have to do is give them great fights. And I know for sure that on Saturday afternoon they are going to get to see a great fight or two on NBC. Start time is 4 p.m. Don't miss it!
I'm told that Jhonny Gonzalez has declined an opportunity to face the talented Gary Russell Jr., so the search is ongoing for Russell's next foe...Omar Figueroa could be headlining a "ShoBox" card in the early part of 2013...Beginning on Tuesday, I will be in China calling some fights. Yes, China, which means I will not be tweeting. How will I survive?...Has Dana White lost it? Seriously, has he lost it like Leonard Tose?...The Blue Jays are playing around, huh?

...I can be reached at k9kim@yahoo.com and I tweet at www.twitter.com/stevemaxboxing. We also have a Facebook fan page at www.facebook.com/MaxBoxing, where you can discuss our content with Maxboxing readers as well as chime in via our fully interactive article comments sections.