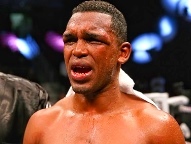 (Photo © Rich Graessle/Main Events)


The opening bout of the evening featured Edner Cherry, 32-6-2 (17), who was coming off of a13-month layoff. Recently signed by Peltz Boxing, Cherry scored a unanimous decision win over the game Robert Osiobe, 14-9-4 (6) with scores of 77-75, 79-73 and 78-74.
It was good work for Cherry, who clearly suffered from ring rust as he was unable to put together crisp combinations. However, the single right hands and left hooks he did land had Osiobe stunned and wobbled on several occasions. Despite the positive comeback win, Cherry suffered a cut from an accidental headbutt over his left eye in round seven. Cherry needed six stitches to close the gash and will be out for at least four months.

Light heavyweight prospect Sullivan Barrera, 11-0 (6), of Cuba took on Larry Pryor, 7-9 (4), from Washington D.C. It was Pryor's first fight in over three years. Barrera is a 300-fight veteran in the amateurs and seems anxious to join his fellow Cuban transplants who have made a splash early in their professional careers. Barrera believes he is a few more fights away from taking a big step up in opposition. In this fight, Pryor seemed extremely overmatched in the early rounds as Barrera scored a knockdown in the opening round. He continued to land heavy leather in round two but to Pryor's credit, he didn't shy away from a fight and landed his own clean shots throughout the rest of the fight. For Pryor, his courage wouldn't be enough to handle Barrera's responses, losing a unanimous decision by scores of 60-53 on all three ringside judges' scorecards.
Roberto Acevedo, 8-2 (5), of Puerto Rico took on the undefeated Lee Campbell, 7-0 (3), from North Carolina in an entertaining battle. Both fighters decided early on that they were willing to exchange heavy shots but Campbell's left hooks to the body and overhand rights stunned Acevedo in round three. Both fighters were hurt in the fourth round as Acevedo landed solid right uppercuts to get back into the fight. As the fight moved into its second half, Campbell seemed to prove to be in better condition, taking over the fight with continuous pressure. After eight grueling rounds, Campbell earned a majority decision by scores of 78-74, 77-75 and 76-76.
Evincii Dixon, 4-4-1 (2), stopped Edgardo Torres, 2-3 (2), in their second round at the 15-second mark. After scoring a clean hard knockdown in the opening round, Torres seemed unwilling to stay in the fire after he was floored a second time to start round two.
Mike Lee, 12-0 (7), of recent Subway fame, returned to the ring by scoring a technical knockout in the sixth round over previously undefeated Peter Lawison, 6-1 (5). Lee was ahead on all of the official scorecards at the time of the stoppage. Lawison was a game fighter who seemed to enjoy his exchanges with Lee, who clearly landed the heavier shots. In the final round, Lee landed a thunderous right hand that floored Lawison and to his credit, Lawison was able to get to his feet but Lee's follow-up combinations were too much for him to handle. It was a nice win for Lee, who had plenty of fan support as a group of his friends and family made the trip to Philadelphia for his return. With a strong team behind him featuring new head trainer and former heavyweight champion Chris Byrd.
Lee mentioned after the fight that improvement on his skill set is what Byrd has been working on. It will be interesting to see if a solid marriage with Main Events will take place in the future and just how far this newfound partnership with Byrd will take Lee.