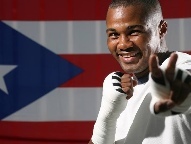 -


I'll always remember the first time I saw Felix Trinidad fight. It was 1994 and "Tito" was already a champion defending against Ramon "Yori Boy" Campas, who was 56-0 with 50 knockouts at the time. I had been away from the sport for some time; fresh out of school, I had been running around on my own and away from sports in general. I would see the occasional fight when I happened to go home and visit my family. My brother, Thom was and still is a true boxing fan. Thom was not only a collector of fights but was very good at finding that action guy who he knew I would like.
Boxing is not like any other sport. The bond between a fan and the fighter he favors is a very specific one. Just as a fighter's style is indicative of his/her nature, such is why a fan likes a particular fighter. I tend to gravitate toward powerful yet vulnerable fighters. I like a guy who is capable of losing but also capable of winning with just one punch. Marvelous Marvin Hagler and Salvador Sanchez were early favorites but it had been awhile since I had truly tuned into a pugilist in particular.

Thom had mentioned this guy I had to see though I hadn't really heard of him. But finally, I came over and he put in a VHS tape of Trinidad vs. Campas.
"
This guy doesn't look it but he's an assassin," said Thom.
I looked at "Tito" as he was being introduced. '90s high fade, bouncing up and down, all smiles. He seemed to love the moment, the crowd screaming his name, hearing the announcer say his name.
"
This guy?" I asked. "Not the 56-0 guy with 50 knockouts?"
"
Wait," Thom said simply.
The fight began slowly, Campas moving in, looking to land bombs. Trinidad stayed in a tight-but-low guard, his gloves at his chin, ready to unload. He stepped and moved around Campas, looking for his spot. Despite a slow start, Trinidad took a moment to get going. I was yet to be impressed.
When Campas dropped Trinidad off a six-inch left hook, I looked at Thom and asked, "You sure it's not the other guy?"
Then it happened. Trinidad barely took a count. He rose as if he had suddenly woke up and went to work. Lead right hands. That near perfect left hook. A jab. A right hand and that left hook again. Campas was landing too, no question. But the combinations began to flow from this Cupey Alto, Puerto Rico native like water.
By the end of the round, you wouldn't have believed Trinidad had been knocked down at its start. He laid into Campas, who was not bending just yet, with heavy leather.
"
He gets knocked down but he gets up and does that," said Thom as "Tito" unloaded everything on Campas.
It continued in the third and came to a dramatic conclusion in the fourth. At its finish, Trinidad had Campas reeling along the ropes as he let a furious set of punches go that about decapitated Campas on his feet. Mercifully, now Hall of Fame referee Richard Steele halted the action before Campas could permanently be put down. That last left hook that missed from Trinidad might have been a career-ender. But for me, it was only the beginning.
"
He's a thing of beauty when he gets going," ringside analyst Ferdie Pacheco would say.
After that, I went back and watched everything of Trinidad's I could find. Any fighter who could get dropped hard, get up like it was nothing and do that so fearlessly - "threading the needle with power" as Larry Merchant said of him years later - had to be my new favorite fighter. It wasn't that he won; it's how he did it. That feeling that it could all turn around at any moment on him made every fight exciting. I love boxing but no fighter made me love it quite like Trinidad. No fighter ever made me stand up and scream at the screen, contemplate missing a night of work or a play performance like "Tito."
Years later, already a boxing writer, I would interview him for the first and only time. He remains the only fighter whom I would have stepped out of my role as writer and said simply, "I am Mexican every day of my life except when you fight. On those days, I am Puerto Rican." The look on his face, that smile, the honesty of emotion was yet another reason I was and will always remain an unabashed fan of his. Trinidad was a man who gave his all to the sport. He fought anyone who would fight him. He gave his all each and every time out. He never robbed the fans and in fact, seemed to be a willing violent avatar for them.
This past Sunday, at the International Boxing Hall of Fame in Canastota, New York, Trinidad was given the highest honor a fighter can achieve. He entered the hallowed halls for all time. His speech was vintage "Tito." From the heart, hard-hitting and vulnerable all at the same time.
"
From the bottom of my heart, I want to speak to all of you," he began (
https://www.youtube.com/watch?v=gHg5WArsvDE
)."My career started from a very young age. I remember those with my father [Felix Sr.] in his gym. It was a very small gym.
"
Let me back up," he continued, overcome by the moment but recovering quickly as he always did in the ring, save for his three losses. "My father was a professional boxer, a national champion for Puerto Rico. So when he retired along with his cousin, they started a gym to teach others what he had learned from his career. All the family, all the cousins, the Trinidads focus on boxing. We are six brothers and sisters, my family. Early on, my brother did some fights. Jonathan didn't follow in my footsteps but he is a great student, a great human being. And I hope that he continues to be like that."
In fact, Felix Sr. had fought Salvador Sanchez in 1979, six years after "Tito" was born on The Island, as Puerto Rico is affectionately referred as. Though he went 8-8 with five knockouts, as a manager and trainer, Don Felix was as shrewd and canny as they come in this sport.
"
Every afternoon after school, I would go to the gym," Trinidad recalled. "So my dad, every afternoon after he came home from work, he would take us to the gym and start training us. And it was full of kids from other neighborhoods, kids from surrounding towns. It was always full of kids. My dad always treated everyone equal. And through that gym we paid many dues. For many times and through a broader effort, we tried to make it the best boxing club we could. And for a long time, it was the best one in Cupey Alto. And many would say that we were the best and we would affirm that through the many championships that we would win, the victories we had. I just want to say it was not easy. It was a team effort."
Trinidad was a mere 17 years old when he turned professional in 1990. Not exactly the most storied amateur on the planet, his style was more of a pro style, which would soon be evident.
"By 1990, I made my debut as a professional boxer. And I won by TKO and after that, my career took off in a big way. Of my first 10 bouts, nine I won by knockout. My 20th fight was for a world title, which I beat Maurice Blocker in the second round by knockout. And after that, my career started to grow as I won five titles in [three] different divisions," said Trinidad who went 20-1 (16) in world title fights, losing only to Bernard Hopkins among them. His final record was 42-3 with 35 knockouts. He held the IBF welterweight title almost seven years, defending it 15 times against the likes of Pernell Whitaker, Oba Carr and Oscar De la Hoya. Against former or current world titleholders, he was 12-3 with seven knockouts. His only other losses were to Winky Wright and Roy Jones Jr. both of which were "post-retirement" bouts for Trinidad.
"
I think that you know, for a boxer, his career is very hard. But it is possible, just as Joe [Calzaghe] did it. Like Oscar [De la Hoya] did it," said Trinidad, acknowledging his two contemporaries being inducted that day. "And here we are. And today, it is deeply felt in my heart. I am very proud to be recognized for my boxing career that has basically been my whole life. And I want to let you know that my family has always supported me and been there for me my whole career. My wife, who is here and my five daughters that have accompanied me, thank you for being here with me. And everyone who is on Team Trinidad, thank you for always being here for me. I have always appreciated you with all my heart and I always will."
If you watched Trinidad, you watched his father in the corner too. You remember "Are you OK, 'Tito'?" and a slap to the face when Trinidad returned to the corner after he suffered a knockdown, which he did many times in his career, rising to beat each of those opponents, save for Hopkins and Jones. Don Felix pushed his son to the limit and Trinidad responded. The love for his father's support flowed unabashedly.
"
But today, in front of all of you, this person who I am about to mention, without him, more than likely actually, I am pretty sure I would not be here. Besides being my father, he has been the best father, the best manager, the best trainer. With all the respect to all the trainers and managers here, without him, I wouldn't be standing here today at the Hall of Fame. I am very proud of my dad as I have always said. Extremely proud," Trinidad paused, holding in tears, trying to get through the moment. He pointed to his father and nodded his head, looking down in affirmation. The crowd urged him on, chanting his nickname as they had so many times before, willing their hero through the moment. "'Tito,' 'Tito,' 'Tito'..."
"
I owe you a lot," he continued. "The example you given to all of our family. And I know in those early days, it wasn't easy. Once again, I thank you. Truthfully, this award, this ring - which is very beautiful - and this certificate, they all belong to you," Trinidad said, pointing to his father.
Trinidad took a moment to acknowledge his longtime promoter who, at times, was a hindrance as well as a help. "They are signaling me to acknowledge Don King as well," he said and then did. King smiled and waved the Puerto Rican flags he carried, reminiscent of both men's glory days.

And then Trinidad, ever gracious, took a moment of his most special time to point out a young fighter out of San Juan, Puerto Rico named Felix Verdejo.
"
I want to mention to you a young man, a Puerto Rican to the core. He is coming up the ranks and will definitely be a boxing champion, Felix Verdejo. Keep working hard; I support you," said Trinidad to the delight of the fans and the young "Diamante."
"
Thank you all. To all my fans, everybody, I want to acknowledge all the press that is here. And to all of Puerto Rico, if I have forgotten someone please forgive me. And to Puerto Rico, thank you."
No, 'Tito,' thank you. For the memories, the fights, the bond with my brother, all of it. There will never be another like you.
Please visit our Facebook fan page at
www.facebook.com/MaxBoxing
, where you can discuss our content with Maxboxing readers as well as chime in via our fully interactive article comments sections.