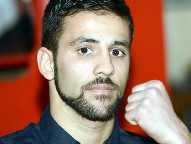 (Photo © Stacey Verbeek)


This Friday night from the Cook Convention Center in Memphis, Tennessee, Showtime's "ShoBox: The New Generation" series returns to its roots, featuring two young fighters both at a career milestone. Cornwall, Ontario, Canada's Tony "Lightning" Luis, 17-1 (7), faces undefeated Ivan "The Terrible' Redkach, 15-0 (13), to see who takes the next big step from prospect to contender. For Redkach, the bout is his first step up against a quality opponent with a solid amateur background who is coming to win. For Luis, this is a chance to prove his lone loss, a TKO in eight rounds to Jose Hernandez, then 13-6-1, was a not so much an "exposure" as it was a hard lesson on the road to being a contender.
Luis was born to fight. At age 10, he was already a blue belt in Karate. But once he became aware of the "Sweet Science" by chance, there was no turning back.

"
I started [my love affair with boxing] in my old man's basement," Luis told Maxboxing.com last week as he finished preparations for the bout. "He had an old tape collection of VHS tapes all boxed up. In 10 years, I never really got into them. I was in Karate at a very young age. At the time, I had my blue belt, which is two belts away from black. I was advanced for a kid my age. And then one day, I decided to explore the basement. I had no idea what was on the tapes. It said 'Boxing.' It was a Mike Tyson fight. From there, the second tape was 'Rocky IV.' And then I just fell in love with it more and more. I found all these old classic fights and around that same time, my dad had an opportunity. He was one of my Karate instructors. He was one of my senseis. He had an opportunity to go back to his roots and teach boxing at a local fitness center that was opening up and I started following him."
While Luis' father and trainer, Jorge wasn't too keen on his boy becoming a fighter, a man's nature cannot be denied. A little help and encouragement from Tony's mom didn't hurt his cause either.
"
He didn't want me to box at first until I started taking it seriously," said Luis of his father. "He would always try to warn me of the sacrifices that it would take for me as I got older and developed as a fighter, if I wanted to stick with it - and I didn't care. My mother was happy to oblige me and let me go because she knew I'd be safe with him and me and Dad could bond together. At the same time, I could burn off some energy and get me out of her hair for a couple hours every night. I was downstairs shadowboxing every night if I wasn't going to the gym every night anyways."
Luis grew up loving sports in general but it was the nature of boxing, standing alone in a ring and testing oneself against another skilled warrior that instantly appealed to the young man.
"
I played every other sport when I was kid. My other love is soccer but it's more of a team aspect of it. The whole individual aspect of boxing is what really gripped me. All the pressure is on you beforehand but if you succeed, all the glory falls on your shoulders as well. And it came naturally. I always loved fighting. I would get in trouble at school for fighting at recess all the time. I just had a passion for it. The karate background further instilled it me, as well. I just furthered it along with boxing," he explained.
A fast right-hander who uses his speed to set up combinations and a blistering body attack, Luis earned the nickname "Lightning" just by being himself.
"
It's just 'Lightning.' There's no 'The' before it. Tony 'Lightning' Luis," explained Luis of a common mistake made about his nickname (Note that, BoxRec). It was a good friend of my dad's who said that about me because I always had fast hands. Every time he used to come around the gym, he used to call me 'Lightning' and it just kind of stuck. And it kind of followed me through the amateur game."
While some may balk at the idea of a father training his son from the amateurs to the pros, arguing the relationship is too complicated for the father to be objective, Luis disagrees. In a sport as dirty and dangerous as boxing, who better to protect you than the one who helped give you life?
"
In a sport like this, absolutely you need somebody you can trust," said Luis. "And who better to trust than your own family? At least in my case, anyway, I trust my father more than anybody. He runs his own business, so he has a good understanding of business and negotiations. He understands what the word 'shrewd' is all about. And that's the kind of guy you want in your corner. Someone who knows you and trusts you and who is intelligent and educated enough to do the job. And my dad has both those qualities."
Loyalty, hard work and a solid work ethic runs in the family. Jorge runs the same barbershop owned by his own father. He took it over in the '90s and has been running it along with training his son ever since.
Luis enjoyed a solid amateur career of over 100 fights. "I was amateur for seven years. I had just over a 100 fights and 75-80 of those were wins," he said. It didn't take him long to know that fighting would be his life's work.
"
From day one [I knew this was going to be my career]," he explained. "As soon as I got in the gym and I started hitting the heavy bag and learning the basics and developing myself, I knew that this something that would stay with me for a long time. For as long as my body would allow. I knew from day one this was something that I was going to take as far as I could."
As he has made the transition to the pro game, Luis has progressed and grown into the sport.
"
Slowing down, [physically] maturing as my body filled out and I got older and just overall placing my shots better. Being more careful with my shots and learning to turn over the punches properly," he said of the move to the pros. "And body work, I've given and I've also been on the receiving end one time where I saw how the importance of where body work can really break down an opponent's body and take away an opponent's legs in a long fight. They always tell you to keep your hands up. That's all the more important in the pros. For years, I used to say there really is no difference between head gear and no head gear when you take a good shot and to an extent, I still maintain that. You get hit with a good shot, you're going to feel it, no matter what but the head gear does lessen it to some extent. In the pros, you don't have that luxury."
Luis also expressed how much he loves not wearing pillow-like amateur gloves on his hands anymore.
"
I love the smaller gloves. That's one of the things I loved about the pros right away and I still do. I love the feeling of how a pro glove fits compared to an amateur one, just the way you can curl the fingers around nicely and make a fist. That tough leather, it's nice and light and fast. I love a pro glove," he said, the joy of hitting cleanly coming through the phone in his voice.
Luis was developed well as a pro, mixing in easy wins early and progressing to harder fights. But the greatest lesson for Luis came in his 16th fight, meant to be a TV showcase bout. Instead, it became a nightmare first loss.
"
That's how I had to look at it," said Luis when I called it not so much a loss as a lesson. "Obviously, initially, I thought of it as a tough-fought loss. It is more of a lesson. That was a case of me, first off, I wasn't 100% healthy in terms of injuries. I was in fantastic shape but I was fighting some injuries that I had but I wasn't treating them. I went into that fight not at 100% shape. But I also saw that Hernandez was in much better shape than he had been given credit for. He also exploited some mistakes that I had been getting away with for a long time. It was my own fault. I fell into his game plan and I fought his fight."
A fighter can be in great shape physically but if he approaches a fight the wrong way mentally, it doesn't matter. Nothing can teach that more than jumping into the deep end of an all-out brawl and realizing you should have gone into the pool slower.
"
I just met him with the wrong mental attitude," said Luis. "I saw right away that this was a guy who going to come to fight. And I was excited because this was my first big American pro fight. I thought, 'OK, I got the perfect partner to put on a [Marco Antonio] Barrera- [Erik] Morales kind of thing. And I got away from who I am, from who I really am as a boxer."
So who is Tony "Lightning" Luis?
"
A boxer-puncher but I'm a guy whose speed creates [his] power and I have a good body-punching attack. There's a lot more to my defensive game than people saw that night against Jose Hernandez," said Luis.
Luis explained that he watches tapes of his opponents to understand their strengths and weaknesses, something not all fighters do.
"
Whenever I can see tapes of my opponents, I do. I love to watch my opponents and totally take apart their style. I see all the good and all the bad and from there, formulate my game plan," he said.
But the hardest tape to watch of all was of himself losing to Hernandez. "I always say that the toughest fight I had to watch was the one with Hernandez," Luis said with a chuckle. "That was also the one that I watch the most out of all my fights. About a month after that fight, I barely watched but after a month or so, I stopped feeling sorry for myself. I got back in the gym and I started rebuilding myself again and I started watching myself more and more. As time went on, it got easier to watch and I started to break it down more and more objectively. I was finally looking at it like I was seeing another person in there. It was like I was wasn't watching myself anymore. It was like a coach watching another fighter. And that was when I started to see the big picture of what really went wrong in that fight."
With the lessons learned and implemented in the gym, Luis' focus is now solely on the immediate future: Ivan Redkach, a well-schooled fighter with a ton of amateur fights and a power-punching pressure style.
"
I see a tall, strong southpaw with heavy hands and a very good amateur base," assessed Luis. "If I make some of the mistakes I made with Hernandez, I'll lose. I don't plan on doing that. That's not how I've trained. That's not how I've prepared. Preparation is everything. The things that we've been doing getting ready for this guy has become muscle memory. I'm not even going to think about it. The good habits that we've gotten into are just going to happen on January 17."
Although he does possess a deeper amateur record than Luis, if there is anything that separates them its that as a pro, Redkach has arguably fought the easier opponents.
"
I fought some stiffs too, coming up, but eventually I started stepping up. I don't feel he's done that. He's kind of just jumping from Point A to Point A," said Luis.
Lessons learned, good habits programmed in, now all that remains is to stick to the game plan and do his best to win. Can Luis do that? "ShoBox" is all about matching fighters evenly and seeing who the wheat is and who gets to be the chafe. Tomorrow night, we will have our answer.
Please visit our Facebook fan page at
www.facebook.com/MaxBoxing
, where you can discuss our content with Maxboxing readers as well as chime in via our fully interactive article comments sections.