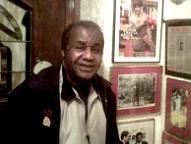 (Photo © K9 Photos)


My friend, friend to us all, Emanuel Steward died on October 25, 2012, unexpectedly. Even when it was announced, there was confusion as to how true it was. No one wanted to believe it. Amid that early confusion, I texted Steve Kim, asking if it was true. I didn't want to hear his voice if it was true. I remember Steve telling me Emanuel was indeed gone. We spoke briefly. No one could talk right then. Speaking too long only made it more true. I haven't been able to write about it. I didn't know what to know to say.
The last time he and I spoke was not long after the Julio Cesar Chavez Jr.-Andy Lee fight. Lee had lost in six rounds to Chavez, who was bull strong and walking through everything the power-punching Lee could offer. There was some confusion about Chavez's pre-fight drug test.
Emanuel was outspoken about it and the fact that Junior had gained a ton of weight after the weigh-in.
I called him a few times and connected with him finally. It was a Tuesday as I recall.

"
I just got home and I'm a little tired," he said after I told him what I wanted to discuss. "Let me call you back in about 20 minutes."
"
No problem," I said. "I'll talk to you then."
I had no idea Manny was sick. I had no idea he was going into the hospital soon to have surgery. I had no idea I'd never talk to him again. It was around 8:30 p.m. or so, his time. He must have been tired because he never called back, which wasn't like him. When Emanuel told me he would do something, it was so.
Emanuel was the first boxing person to welcome me to the sport. I'd talked to others to be sure. I'd met Steve Kim and Doug Fischer at my first fight and they were very friendly. But few on the business end had encouraged me to keep going the way Emanuel did, to be honest and take no prisoners. He never made any illusions about this game.
Emanuel and I did our first interview in the fall of 2006.
The Kronk needed help and we talked about it. I remember writing the story with Marvin Gaye's "Inner City Blues" on loop. I knew Emanuel liked Motown or jazz playing in the impossibly hot basement of the Kronk Community Center, where he forged boys out of raw steel into fighters and oftentimes champions. I figured I'd give it a try.
To boxing people, if you say you're from Kronk, it's like naming your tribe. It has as much impact in our world as I imagine someone saying, "I'm an Apache" would back in the day. There's a respect for the high-level violence that one from Kronk can bring. It's a style as much as a place.
Emanuel was funny to me. He seemed so calm and laidback on the phone. Words rolled forth with a grace all his own. No one will ever be able to say "motherf*cker" in a sentence the way he could. He had a rhythm, a jazz all his own. But then you see him in the ring in Sugar Ray Leonard-Thomas Hearns or later, Lennox Lewis-Mike Tyson and this other Emanuel comes out. The passionate, natural-born trainer. He knew all aspects and could talk technical and emotional all at once. Part jockey, psychologist and boxing tactician, it's safe to say there was no one I'd rather talk boxing with than Emanuel.
What he loved most, it seemed to me, were the fighters. He loved all his fighters, no doubt. Andy Lee was like a son to him, so were Kermit Cintron and Wladimir Klitschko, three fighters he was working with most intensely when I was first coming to know him. But what I ultimately came to understand was that any fighter Emanuel encountered was like a son to him. It's why he poured everything into not only his amateur team but others as well.
I was in San Carlos, CA covering Nonito Donaire before the Guillermo Rigondeaux fight and a young Detroit fighter, Erick De Leon came in with a gym bag. I asked him about it and sure enough, Emanuel had given it to him. Turns out, he had fostered the young man in some ways, offering advice, gear and encouragement. I could tell just by the way De Leon spoke about him, Emanuel meant just as much to him as me. Everyone who knew him gets that same look when speaking of Emanuel. A faraway smile.
Emanuel passed so suddenly. It was the punch I didn't see coming. At the time, I was unable to travel to the funeral. It kills me to this day. I have to live with it. I never got to visit him in Detroit. I didn't get to say goodbye. I didn't get that final interview. Just gone. "Let me call you back in about 20 minutes."
It's funny. That phrase was roughly the first thing he said to me.
I'd called around the same time of night in 2006 and hit "record" on my little recorder soon as he answered. I had an appointment to talk to him but he was running behind.
"
Give me 20 minutes and I'll call you back," Emanuel said into my recorder, an instant ringtone candidate.
I was immediately struck by how much like Emanuel Steward he sounded.
"
OK, Mr. Steward," I managed to get out.
He called me back about 20 minutes later and we did this story.
Over the years, we did more interviews. The on-and-off-again Paul Williams-Kermit Cintron fight seemed to be my beat for a minute. We talked Wladimir Klitschko and his continuing development. We did a lot of talking and we did most of it initially on the phone.
But then before Kelly Pavlik vs. Jermain Taylor II, I had made my way to Vegas and ran into Emanuel in the media room for the first time in person. I stood and patiently waited as he finished talking to a couple of people and introduced myself. He was every bit as gracious in person as on the phone.
"
What are you doing right now?" he asked, leaning in as he did as if covering us from the rest of the room for privacy.
"
Nothing. Talking to you," I answered. Time was ours. The fights weren't on until the next night. I had wandered into the media room for "Who knows why?" now.
"
Let's go around the corner and get something to eat," he said.
A few minutes later, we are seated at the bar inside a small, out-of-the-way restaurant in the MGM Grand. I order a Maker's Mark neat, my drink.
"
What's that?" Emanuel asked.
"
Maker's Mark. Kentucky bourbon," I told him.
"
I'll have one of those too," he ordered.
Watching Emanuel Steward sip Maker's Mark for the first time is one of the greatest things this world has given me. His eyes lit up first, then his smile.
Eyebrows raised, he asked, leaning in, "What is that called?"
"
Maker's Mark," I smiled.
"
Boy, that's good," he said, sipping more.
We talked boxing, life and ordered another.
"
What's that called again?" he asked, never quite figuring out what I was answering. I think only kittens might be cuter than Emanuel was in that moment. He was a delightful human being who always seemed to be smiling as he talked about fights, fighters and his life helping out where he could.
He was magic. This man who taught people to fight. Rooms lit up when he entered. I remember several times seeing him come out of the MGM Grand Garden Arena, through the mall of the casino, past the restaurants on his way to his hotel room. No doubt he would be leaving at 5 a.m. the next morning to go train Wladimir in Germany or to attend to his amateur team the next day. In perpetual motion, Emanuel was a Motor City unto himself. And as he made that journey from arena to hotel room, he would stop all along the way, even when he was sick and no one knew it, and sign autographs, take pictures and never complain. Always smiling.
I had the good fortune to attend Burning Man this past year. A week-long festival of music and art, it is also an experiment in society. Removing money from the equation and adding a harsh environment to the mix, the desert where it's held gives way to some tremendous personal exploration and self-discovery. People from all over the world come to Black Rock City in the Nevada desert for many reasons, one of which is to visit a place called Temple.
A giant pyramid made of wood, Temple is the spiritual center within Black Rock City. Designed to be written on, Temple is a place to leave memorials to departed loved ones, prayers for those living but afflicted in some way or to simply pray or meditate. Some might be skeptical of such a place. I've always taken the Han Solo approach to the universe, believing that I am in control of my own destiny despite a just-below-the-surface knowledge that there is something indeed beyond all this.
But this place, Temple, is something else. Away from the endless music of the rest of Black Rock City, Temple is eerily, reverently quiet. My wife, a nine-year veteran of the Burn, explained as we walked away from the sunrise and toward Temple, where we were going.
"
People leave prayers here. Then on Sunday, they burn the Temple and your problems or hopes or whatever go up into the universe," she explained, smiling as always.
I walked up along the edges of the pyramid. Its huge. All around, people were milling about, heads down or looking up into the oncoming sun, huddled together in sadness or the revery of personal worship. All lost in their own worlds.
I found this pen on the ground as I picked up trash people left behind or that blew in from off the desert. It's a way of giving back to the event. The pen was a skinny, brownish-red felt tip.
"
Do you want to go inside?" my wife asked.
"
Sure," I answered, putting my litter bag onto my bike.
As we walked forward, there at the base of Temple, the first thing I see is a picture of Emanuel. I feel to my knees.
"
Keep punching," someone had written on the picture in a pen just like the one I was holding now.
He was smiling as always, sitting on the edge of a ring, red ropes behind him, in his customary cut-off sleeve Kronk t-shirt. I remember him cutting them off himself in L.A., as I watched him prepare to go through mitt work with Kermit Cintron. It was just the four of us, Emanuel, Kermit and Andy Lee. No entourage. Emanuel carrying the gear.
I lost it. Everything came out as I sat there on my knees. Not being able to go to the funeral. The fact that he was gone. Everything.
I wrote a note above the photo. What I felt Emanuel was. What he encouraged me to do.
"
Be your dream," I wrote. And said goodbye.
I remember Temple burning in the distance as I broke my camp down.
"
Do you want to see?" someone asked atop one of our RVs. "It's a great view from here."
"
No. I went to Temple already," I answered and kept packing our things.
October 25, 2013. I'm wearing my tux and standing at a private bar, deciding if another Maker's Mark is a good idea. All night I'd been thinking about Emanuel. As a kid, I lost a lot of people. As an adult, I've been more fortunate. Losing him hurt like few things I've known. I was approaching 40 when he passed and if that doesn't bring home how fragile and fleeting this all is, then losing a friend like Emanuel so suddenly did. We take so much for granted. So much.
"
Let me call you back in about 20 minutes."
To my right was a guy not in a tux. A little disheveled, in jeans with a suit coat that one side of his collar didn't make it in, black scarf and a black fedora from the '60s, Timothy the Poet looked less like a poet and more like a guy who'd seen more than one or two fights. About 5'7", a lightweight, I'd bet, with blond hair, blue eyes that stood out from the red surrounding them and a crooked nose, Timothy the Poet had a perpetual knowing smile. The kind daredevils and skateboarders have. Or boxers who only thinks it's a fight when they've been punched a few times flush. He spoke with a deep gravel and a slight slur that was probably there even when he wasn't zozzled.
"
I'll have a Maker's Mark, neat," Timothy told the barkeep.
"
Make it two," I said and turned to The Poet. "I'm celebrating my friend. He passed away a year ago this night. Emanuel Steward. He trained fighters." I'd had a couple, I'm not embarrassed to say, which is unlike me.
"I'm from Detroit," answered Timothy. "I didn't train at Kronk but I sure remember facing a bunch of his fighters as an amateur." The respect in his voice was clear. He understood what the word "Kronk" meant and why.

We spent the next hour or so talking boxing, toasting Emanuel. Timothy told me about "Gourmet Night," which was a local fight card that featured some 30 bouts, starting with little kid amateurs up to pros back in Detroit. "Something for everything," he said, explaining the name. Talking Emanuel, Detroit and the Kronk, what the amateur program meant to him and others so long ago that it doesn't now was special. It lit up Timothy the Poet, who didn't seem like he was having his best night until he ordered his drink and I brought up a mutual acquaintance of sorts. Emanuel had that effect on people. Apparently, he still does.
Of all the places. A kid from Detroit training in California. A private bar that hadn't even been open for a month. A giant pyramid made once a year and then burned in the middle of a 68,000 people from all over the world-strong festival in the middle of the desert. A fledgling writer living in Sacramento visiting Vegas for the fights. It all goes to show you how many hearts the man touched and in how many places.
As a writer, this piece is one way to honor Emanuel Steward. As a man who believes in action, there are so many ways to honor him. Helping the amateur boxing program in this country, arguably Emanuel's greatest love. Looking out for the health and safety of fighters. Finding a corner of this dirty and dangerous sport and cleaning it.
"
To Emanuel," we toasted.
To that great ambassador of boxing. To my dearly departed friend. To a friend of us all.
Please visit our Facebook fan page at
www.facebook.com/MaxBoxing
, where you can discuss our content with Maxboxing readers as well as chime in via our fully interactive article comments sections.