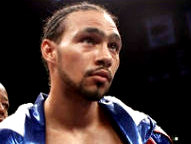 --

By John J. Raspanti, Doghouse Boxing

Keith "One Time" Thurman (21-0, 19 KOs) TKO'd fellow slugger Diego "La Joya" Chavez (22-1, 18 KOs) in round 10 at a rocking AT&T Center in San Antonio, Texas Saturday night.

The bout was televised on ShoBox.

Thurman, 24, and Chavez, 27, started dropping bombs on each other in the opening stanza. Chavez did well with combinations to the head and body. Thurman countered back with shots of his own.

In round two, Thurman tried to be more active. He was quickly discovering that Chavez wasn't going anywhere. He moved more and boxed. Chavez walked Thurman down. He landed a right that drew blood. Thurman connected with a right at the bell.


Thurman continued to employ some solid boxing skills in rounds three and four. His side-to-side movement was keeping Chavez off balance. A right and left by Thurman landed. Chavez pressed forward - connecting with two punches. Thurman landed with a lead right hand that hurt.

In round four and five, both fighters landed flush shots. Chavez landed the harder punch, a wicked hook. Thurman was showing a strong beard. Chavez jabbed his way inside. Two uppercuts at the bell knocked Chavez back. Thurman connected with a right hand and left hook. The fifth round was slow, but Thurman did enough to steal it.

In round six, Chavez found Thurman with a wicked body punch. Thurman landed a hard right hand and moved away. The slugger had turned into a boxer. He stabbed Chavez with his jab. A left hook, after a strong feint, found the chin of Chavez. The slower pace was favoring Thurman. A hard left hook by Chavez ended the round.

The fight was even as round seven got underway. Thurman landed a sweeping right. Chavez went back to the body. A counter hook by Thurman found the mark. Chavez had slowed just a bit, but that bit was enough for Thurman. A three-punch combo landed. A big right by Chavez stung Thurman.

In rounds eight and nine, Thurman was back on his toes. He worked his jab like a range finder. His right hand clipped the chin of his opponent. Chavez battled back with a hard hook. A right hand also landed. Thurman circled and bounced off the ropes - digging a wicked left hook to the body. Chavez winced and took a knee. Chavez was up at eight, but backing up for the first time in the fight. Thurman landed a left hook at the bell.

Thurman wasted no time going after Chavez in round 10. A double left hook knocked Chavez into the ropes. Thurman unloaded a six punch combination - punctuated by a stinging right hand that put Chavez down for the second time.

Referee Luis Pabon looked into the eyes of Chavez and waved the fight off.

"I came into this fight with multiple game plans," said Thurman in the ring after the fight. "That's exactly what I did; I changed my plan and landed a beautiful body shot."

Thurman claimed the WBA interim welterweight title with the victory.
---
John J. Raspanti responds to all his emails. Please send all questions and comments to John at:
marlow_58@hotmail.com