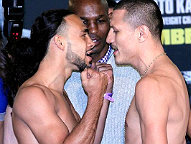 (Photo © Tom Casino / SHOWTIME)


When Keith Thurman (left) and Jesus Soto Karass (right) scored huge wins at the AT&T Center in San Antonio, Texas last July, both hoped they would lead to big, follow-up bouts – and they have. The two meet on Saturday night at the Alamodome in San Antonio to contest the World Boxing Association (WBA) interim welterweight title. Each fighter hopes to capitalize on the momentum of his recent career-best outing in the "Lone Star State" and leave with the WBA trinket in his suitcase.
Clearwater, Florida's Thurman, 21-0 (19), looked very sharp in dispatching undefeated Diego Gabriel Chaves in 10 rounds to claim the title. While the pro-Mexican crowd on that hot July Texas night was more than likely looking to the Argentinean to defeat Thurman and keep his undefeated record intact, "One Time" certainly won over his fair share of the room by fight's end. Shortly afterward, longtime overachiever and perennial contender Karass, 28-8-3 (18), entered the ring to be the first rung on the comeback ladder for former world welterweight champion Andre Berto. Berto was looking to rebuild and kickstart his career after losing in his previous bout to Robert "The Ghost" Guerrero. Unfortunately for Berto, Karass put in his finest performance and stopped the heavily favored Berto in the 12th and final round. It was a great night for Karass, who has clocked into work to face the likes of Alfonso Gomez, David Estrada and Vince Phillips, among others in his 40-fight career.

Thurman defeated Carlos Quintana in November of 2012 to capture the World Boxing Organization (WBO) North American Boxing Organization (NABO) light middleweight title. After successfully defending the title last March against German-based Slovenian Jan Zaveck and his Texas triumph over Chavez, Thurman is now poised to tangle with Karass for the interim strap. Sinaloa, Mexico's Karass certainly has a huge following amongst Mexican fight fans for his "never say die" attitude. However, in reality, many felt he would be in tough to survive the speed and accuracy of former World Boxing Council (WBC) and International Boxing federation (IBF) champion Berto. That said, mid-fight shoulder problems for Berto and a career-defining outing by tough guy Karass combined to allow Jesus to pull off the final round stoppage with less than a minute remaining.
With the likes of Floyd Mayweather, Timothy Bradley, Manny Pacquiao and others swimming in and around the 147-pound waters, there is some great action for anyone who can stay in the running. Thurman is looking to stay undefeated and get his name thrown in the hat for a mega-fight. Meanwhile, Karass is looking to shed his gatekeeper tag of previous and attach a permanent "world champion" status to his résumé. While a hot July night in San Antonio resulted in big wins for both, a victory for either man this Saturday could lead to the marquee, mega-fight he is looking for.
Please visit our Facebook fan page at www.facebook.com/MaxBoxing, where you can discuss our content with Maxboxing readers as well as chime in via our fully interactive article comments sections.