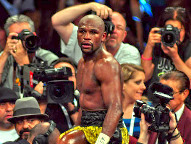 Photo © German Villasenor, MaxBoxing


After years of trash talk and excuses, Floyd Mayweather Jr. and Manny Pacquiao will finally meet in the ring May 2 at the MGM Grand in Las Vegas, Nev., Mayweather said last Friday.

Mayweather took to the social-media app called "Shots" to announce the fight was official.

With a photo of the signed contract in the background, Mayweather wrote, "What the world has been waiting for has arrived.

"Mayweather vs. Pacquiao on May 2, 2015, is a done deal."

Boxing fans have been clamoring for the matchup for years. But whether it was money, drug testing, or which cable network would air the bout, some seemingly minor disagreement would derail the fight from happening.

In some circles, a potential match was viewed as a joke. Many in the boxing community predicted the fight would never happen. An impromptu meeting by the two biggest names in boxing last month was universally mocked. Some called in a show.

For a time, it appeared as though Mayweather would square off against British boxer Amir Khan, but the money generated to fight Paquiao was something even Mayweather couldn't ignore.

The purse is reportedly expected to be a 60-40 split with Mayweather earning at least 120 million and Pacquiao 80.

Mayweather, 37, will pit his undefeated record (47-0, 26 KOs) against the 36-year-old Pacquiao (57-5-2, 38 KOs).

"I am glad my decision to meet with Manny and discuss making this fight happen helped get the deal done," said Mayweather.

In 2012, Pacquiao was brutally knocked out by Juan Manuel Marquez, a boxer whom Mayweather had once easily defeated. But styles make fights. Pacquiao's quickness could make things difficult at times for Mayweather, but the pound-for-pound king employs a punch that most southpaws like Pacquiao can't avoid, -- the lead right hand.

"I am very happy that Mayweather and I can give the fans the fight they have wanted for so many years," said Pacquiao, who signed the contract for the bout last Thursday, according to Yahoo Sports. "They have waited long enough and they deserve it. It is an honor to be part of this historic event.

In November of last year, Pacquiao dominated Chris Algieri over 12 rounds.

Mayweather fought Marcos Maidana for the second time five months ago, winning by unanimous decision.

Both fighters appear to past their primes, but you know what?

Who cares.

May 2 can't get here quick enough.
---