The Weekend TV Cheat Sheet- October 21, 2011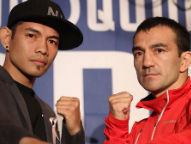 (Photo © Chris Farina / Top Rank)


This weekend, the TV Cheat Sheet takes a page out of real life, mixing a bit of HBO with Showtime (as in HBO poaching Ken Hershman from Showtime to head their boxing programming) to create the perfect pugilistic mix. There is no supporting bout for the Nonito Donaire – Omar Narvaez bout on HBO tomorrow night since HBO has chosen to rebroadcast the Chad Dawson – Bernard Hopkins debacle instead of something of value like the dramatic Antonio DeMarco – Jorge Linares shootout. To rise above the stench, Donaire needs to put on a great show but has a better dance partner than people are aware of in Argentine slickster Omar Narvaez to achieve that end. The "ShoBox" main event is solid as always, featuring two undefeated prospects who were roommates on the

USA

National Amateur Boxing Team fighting for more than possession of the TV remote control tonight.
Friday, October 21st
At the Foxwoods Casino,

Mashantucket, CT
(Showtime) Edwin Rodriguez (19-0) vs. Will Rosinsky (14-0)

Will Rosinsky –
Undefeated New Yorker won famed

NYC

Golden Gloves competition four consecutive times and capped off his amateur career as the US Amateur tourney champion at light heavyweight. Represented America in international competitions as well, finishing with an 85-12 record. Just as importantly, shared the same gym as Jaidon

Codrington

, Curtis Stevens and Gary Stark, improving through heated sparring sessions. Rosinsky breaks fighter stereotypes as a graduate of

Queen's College

and as a New York City Fire Department EMT (Emergency Medical Technician). In the ring, Rosinsky starts fast, stopping six of eight kayo victims in the first round. However, only three opponents have had winning records and Rosinsky has never been tonight's ten round distance. An infighter at heart, is a smothering force more than hard puncher. If allowed to plant his forehead on an opponent's chest and punch away the entire fight, he will. Rosinsky works the body consistently but he does not lean fully into his shots, preferring placement over power. In fact, that seems to be Rosinsky's propensity for every punch, rarely delivering a blow with a solid thud. Reminiscent of John Ruiz in that way but without the excessive clinching. On defense, keeps both hands high when backing up, especially, but with a wide enough split to land a shot down the middle. Covers up in a shell working his way inside, lashing out of the crouch with accurate hooks. Has bad tendency of standing fully upright sometimes, almost like he calls a timeout to stretch, and Rosinsky lacks the speed to get back into a proper defensive position quickly. A defensive lapse got Rosinsky dropped in his last fight by a .500 foe; looking more upset at his lack of concentration than hurt, Rosinsky finished his opponent in the same round. To my eyes, is hesitant at times, uncertain about commitment to punches and favors defense over offense when in doubt. Described himself to Thomas Hauser of

Secondsout.com

as "not a good gym fighter. In the gym, I get hit with way too many stupid punches but on the big stage, I rise to the occasion. My best punch is the hook to the body. I don't have one-punch knockout power. I'm more of a volume puncher but I do have the power to hurt you. I've got good footwork and a good chin."
Edwin Rodriguez –
Dominican-born puncher came to America at age 13 and began boxing somewhat late at age 16. First made a name for himself by winning the 2005 USA Boxing Nationals, following it up with a 2006 National Golden Gloves tourney title. Rodriguez became the first fighter from
Massachusetts
to win the USA Nationals since Marvin Hagler in 1973 and lists other local legend Rocky Marciano as his favorite fighter. Even in the amateurs, Rodriguez's big punch featured prominently, finishing with an 84-9 record and earning the nickname "La Bomba" ("The Bomb"). 26-year-old has a puncher's reputation but developed into an all-around boxer under the guidance of Peter Manfredo Sr. but thought he had stagnated, leaving Manfredo Sr. for higher profile Ronnie Shields in August. The new trainer likes what he sees, "Edwin is a good fighter and it didn't take much to fix the few things that needed fixing. He lacked defense and needed more head movement. He's tall but fought like he was short. He likes to mix it up –nothing wrong with that – but nobody understood that he has such a great jab." Promoted by Lou DiBella, Rodriguez's level of progression has been measured and varied nicely in style of opposition. Has all the tools physically (solid upper body and long arms) and is a big chess player (like Lennox Lewis), which is not seen in his sometimes overaggressive ring demeanor. Works everything off a solid jab with other punches, giving off a good sound when connecting flush. Rodriguez's hands are quick and educated but I would not categorize them as blazing. After turning pro, had surgery to repair a persistent elbow problem- 16 spurs removed- and is said to be 100% now. Underwent rotator cuff surgery this year after suffering an injury in the Aaron Pryor Jr. bout, which explained the underwhelming performance on that evening. Took out James McGirt Jr. in a previous Showtime appearance and Rodriguez only needed 47 seconds to knock out a durable George Armenta, who had never been stopped before. Rodriguez has yet to face a similarly big puncher, which could be a troubling trend if it continues. Has actively sought to better himself through sparring, traveling to

Australia

to aid newly minted middleweight champion Danny Geale before his successful title challenge. Also crossed gloves with Carl Froch and Chad Dawson in spirited sessions, all of which showed Rodriguez what he needs to do to become a champion.
Verdict –
Rodriguez was the slightly better amateur boxer who has developed into a much better professional than Rosinsky. Even if Rosinsky were the more skilled of the duo, he would have a hard time overcoming Rodriguez's physical advantages in upper body strength (Rosinsky has little pectoral definition plus some baby fat) and handspeed. Rodriguez has better feet too, which will get him to the point of engagement first and allow Rodriguez to land his "bombas" repeatedly. Both men are intelligent and can easily make their way in the real world without boxing but I get the feeling Rodriguez is more committed to the sporting aspect of his life. That extra desire has made Rodriguez the better pro and is revealed through muscle memory and quicker reaction times. Rosinsky has the aptitude and willingness to last the distance but will be pulled out by his corner when it is obvious any chance of victory has been beaten out of him. I like Rodriguez by eighth round stoppage.
At

the WaMu Theater,

Madison Square Garden

,

New York City, NY
(HBO) Nonito Donaire (26-1) vs. Omar Narvaez (35-0-2)
(The Ring magazine #1 bantamweight vs. #1 junior bantamweight)
(WBC and WBO bantamweight belts)
Omar Narvaez –
Perhaps the most criminally underrated boxer at this time and when Narvaez's entire career is taken into consideration, an argument can be made that he is the best Argentine boxer of his generation. Southpaw stylist is the first class of 2000 Olympian to win a professional world title and has yet to lose as a professional on his way to racking up 16 title defenses at flyweight. Became a two-division champion last year, winning a junior bantamweight title, and already registered three title defenses to include a victory over highly-touted Puerto Rican prospect Cesar Seda Jr. At age 35, shows little signs of wear and tear with 299 pro rounds allowing Narvaez to supplanting speed with timing. Five of Narvaez's title defenses were on the road, in

Italy

and

France

which, aside from his win over American Rayonta Whitfield, were Narvaez's most difficult opponents. Consider Narvaez's consistency, rated by The Ring magazine for over 400 consecutive weeks at flyweight and 75 straight at junior bantamweight. A fantastic amateur for

Argentina

, twice medaling at the world championships (beating future champions Joan Guzman, Steve Molitor, and American contender Jose Navarro), and won gold at the Pan Am and South American championships. Capped amateur career with two Olympic appearances, just missing a medal, losing in the third round each time. Amazingly, maintained his weight at the 112-pound limit from 1996 to 2009, aiding himself by taking non-title fights to stay sharp and at weight. Lobbied for hard fights immediately as a pro, winning his portion of the world title in his 12th pro ring appearance at Buenos Aires' historic Luna Park arena. A busy and intuitive counterpuncher, Narvaez is most comparable to Ivan Calderon in style. Intelligent movement sets up pinpoint punches, which needs to be perfect since Narvaez is only 5'3" tall. Great vision aids him in evading punches, with Narvaez's counterattacks marvelously effective because his opposition is feinted off-balance. Narvaez does not stop opponents with power as much as he surprises and frustrates foes for not being able to avoid or see Narvaez's punches coming. Excellent in every aspect of the game, Narvaez is slowly inching into territory held by the likes Nicolino Locche, Pascual Perez, and the legendary Carlos Monzon in Argentina. Something, perhaps more flair or daring, is missing to make Narvaez the star his talent seems to demand. Narvaez understands this is his opportunity to make a statement, "No one knows me here.

On Saturday

, you will know me. [Donaire] is still young. I have the experience. I have been in this situation many times. I will go home with his belts."
Nonito Donaire –
Despite Donaire's knockout of Vic Darchinyan, one of the last decade's best, I remained unsure about his legitimacy until last year. Given five title defense victories over well-qualified Moruti Mthalane, Luis Maldonado and Raul Martinez, my skepticism flew in the face of reality. I have made a 180-degree reversal and now accept him as an elite fighter. At 28, Donaire is in his prime and has a wealth of amateur experience (he came to America at age 10, boxing almost immediately) to fall back upon if ever in a crisis. Trained by Robert Garcia, after a messy breakup with his father/trainer, Donaire has toyed and worked on tricks against foes like Hernan Marquez. Followed that win up with a frightfully easy kayo of former champion Volodymyr Sydorenko. Donaire's all-around boxing skills are multiplied by abundant hand speed and despite a 5'7" frame, Donaire is a good body puncher. Moniker of "Filipino Flash" is justified, hiding flashes of power behind a blindingly stiff jab. Filipino (who competed for a spot on the American Olympic team, losing to Brian Viloria but defeated James

Kirkland

in the amateurs) is only second to legendary Manny Pacquiao in terms of fan appeal. Before becoming a champion, held his own sparring Zahir Raheem, Joel Casamayor and Pacquiao. At times, Donaire gives up too much of the ring to weaker opponents but that could just be done to encourage foes to punch more. Donaire moves backward and sideways well, luring opponents into mistakes as they advance. This worked to perfection against Darchinyan, dropping the cocky Armenian with a left hook worthy of The Ring's "Knockout of the Year" award. Kayos are what inspire Donaire. "I always want to look for a knockout. That is the best way to victory you can achieve in a fight. I don't want to be cocky or sound cocky but that is the best motivation for a fight and what I keep in my head." Was ramping up his activity (three fights last year after four fights in the two previous years) but a contractual dispute with Top Rank limited Donaire to one fight in 2011. Says November marriage plans and whispers of future fights have not distracted him either nor criticism of his employing scandal-ridden steroid doctor Victor Conte as his dietician. Donaire is currently ranked at number four pound-for-pound by The Ring magazine and tomorrow night will go a long way to either justifying or proving critics of that high ranking wrong.
Verdict –
So difficult…anyone who has seen Narvaez box understands this is no layup for Donaire. Do you go with a veteran who has humbled the best or a youngster with equal skills who has destroyed all opposition put before him? I want to pick Narvaez and if he were not moving up in weight, I would give Narvaez a 50-50 shot of victory. However, Donaire is a very big bantamweight and holds advantages in age, speed, power, reflexes, and prime of career. Every box is checked off in favor of Donaire and the only shot I give Narvaez is because of his uncanny ability to gauge distance and frustrate opponents into mistakes. Two years ago (at flyweight), Narvaez wins this fight but now, a more seasoned Donaire gets his punch to the destination a nanosecond earlier. Given Donaire's ability to switch stances, he can catch Narvaez on the way in as well. This will be an exciting fight and probably contain two or three shifts in momentum ala Rafael Marquez –

Israel

Vazquez but Donaire's power and youth prevails via late-round stoppage.
Prediction record for 2011: 88% (128-18)
Prediction record for 2010: 85% (218-40)



Subscribe to feed