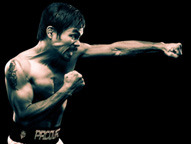 (Photo © Howard Schatz)


From January 22nd (with the 2011 premiere of "Top Rank Live" from the Texas Station Casino) to May 7th at the MGM Grand when Manny Pacquiao faces Shane Mosley, a bulk of Top Rank's first half-of-2011 schedule takes place in Las Vegas. It's a far cry from the previous few years when they did just a handful of cards from the city in which they are located.

Top Rank has a major show in "Sin City" on February 19th, when Nonito Donaire takes on Fernando Montiel from the Mandalay Bay, and a week later, Brandon Rios challenges WBA lightweight titlist Miguel Acosta at the Palms. On March 12th, Miguel Cotto makes his return to the "702" as he opposes Ricardo Mayorga the MGM Grand.

Just a few years ago, it was Bob Arum who led the exodus out of the desert as he cut a path to such exotic venues as Cowboys Stadium in Arlington, Texas and Yankee Stadium in New York. So what changed?

"I think the people in Las Vegas sat down with me and they said that they would all work together and try harder to make these events a success and that if they did, I really owed it to the city to bring 'em back because the city needs help," said Arum, who moved from the "Big Apple" to this city in 1986. "I was aware of that and I felt that we had to move these events outside of Vegas because everyone was doing them by rote and they weren't really working them and capitalizing on what you have in Vegas and because I think we were successful out of Vegas, they saw the light.

"See, what I mean is, when you do a fight at the MGM or Mandalay Bay, it's very important that they enlist not only their own properties but other properties in town- and that's what they're beginning to do."

The various corporate entities on the strip had become very insular. Arum, who was in Los Angeles to promote the Donaire-Montiel fight at the Millennium Biltmore Hotel, explained, "The idea was, 'Screw the other properties. We'll just do these events for our customers and let the other properties run to brokers and get whatever tickets they can get.' Now, that's maybe the wise policy when things are booming but when things get a little tight and bad, it's not a wise policy because you need the help of all your fellow casinos in order to make the event a success."

Can the economy in Vegas support such a schedule of fight cards? In the latter part of 2010, a strong roster of events failed to deliver big numbers at the box-office. Is this the fight town it once was?

"Yeah, you have to understand, you take a fight like Donaire and Montiel, if that fight had taken place 25 or 30 years ago when boxing was really booming, we would have a crowd of 4,000 in the Pavilion at Caesars and those are the size of the venues that really fit those kind of fights," stated Arum, who pointed out at Tuesday afternoon's press conference that the November 1979 doubleheader featuring Ray Leonard-Wilfredo Benitez and Marvin Hagler-Vito Antuofermo was held in that relatively small arena. "And so when people say that they're disappointed, that for example that the [Rafael] Marquez-'JuanMa' Lopez fight does 4,000 people, people who are disappointed don't have any knowledge of the history of boxing. There's no perspective and one of the problems is, they're being done in these big, big buildings for big events. So for this, we very carefully mapped it out with the Mandalay Bay people and we're setting it up for 6,000."

It will be a similar set-up to what was used when Marco Antonio Barrera and Erik Morales kicked off their historic trilogy over a decade ago.

"You can't reinvent the wheel; not every fight is a Pacquiao or Mayweather fight," said Arum.

The travails of the Las Vegas economy are well-documented. It's not Detroit but the city has learned the hard way that it is not recession-proof. Like everyone else, Vegas has felt the effects of the downturn.

Bob Halloran, Director of Sports for MGM Resorts International, told Maxboxing, "It's been rough but it's not any tougher than the rest of the country. When you think about it, it really hasn't had a tremendous impact on the boxing. I mean, we still have had, average, four, five mega-fights a year. But the good news is that it's turning around. I mean, you can tell because the hotels are offering higher rates now. That's a surefire indication that things are getting better in Vegas because as the rates go up- because when the economy got bad- I mean, everyone knocked their rates down. Not only in our business but in other places.

"But things are getting better."

What will help things is the Pacquiao Stimulus Package. The bottom line is when the "Pac-Man" fights here, business is good for everybody, specifically the gaming industry. It's the straw which stirs this drink:

http://www.marketwatch.com/story/nevada-gaming-revenue

http://www.lvrj.com/news/breaking_news/Nevada-gaming-revenues-increase-for-the-first-time-in-23-months-81226642.html

While some may be opposed to Pacquiao facing Mosley, it will be welcome with open arms in Las Vegas. "It really comes down to that," said Arum, who had to take Pacquiao on the road in 2010 for various reasons. "You have to understand, MGM, which was drinking some Kool-Aid, turned down the March Clottey fight and we ended up in Cowboys Stadium and then, when I ran into the Margarito nonsense in Nevada, we had no other choice but to go to Cowboys Stadium. And so hundreds of millions of dollars, particularly in gaming revenue, was lost by Las Vegas."

By the way, was this Kool-Aid perhaps golden-colored?

Arum answered, "Well, whatever it was, it could've been Mayweather or so forth. I mean, it was just an atrocious policy decision. But we've had meetings with all the higher-ups. That's never going to happen again- I guess till the next time it happens and so now we have a new leaf and we're bringing back these events to Nevada. The Cotto-Mayorga fight with me and Don King beating the drums, we set that up for 12,000 people. Of course, Pacquiao-Mosley will be a sell-out as soon as it goes on sale. So I think we're going to be doing some good for Las Vegas."

When asked about the Pac-void of 2010, Halloran said, "Well, of course you want Manny Pacquiao; it's the hottest fighter in the world and you want Manny Pacquiao all the time. But you wanted Sugar Ray Leonard all the time; you wanted Marvin Hagler all the time; you wanted Holyfield all the time. But you didn't always get them. The only reason why we didn't have the Margarito fight is because he wasn't licensed in Las Vegas, so it doesn't hurt. Boxing is a business and you have to treat it that way and if you have to go somewhere else, you go somewhere else but we're not exactly closing shop."

Ticket prices for Donaire-Montiel, one of the more anticipated fights from the hardcore followers of the sport, range from $250 for ringside all the way to $25. Pricing the tickets sensibly is as paramount as ever.

"It's an issue and particularly when the fight is being shown on television by a premium network for no additional charge, like this fight is" said Arum, whose card on this night is being featured by HBO. "So you have to get the people to come to the event itself and you do that by marketing it to different ethnic groups like we are here, the Filipinos, the Mexicans and by keeping prices very low."

Arum says his company will still look to promote cards wherever they make the most sense (and money) but adds, "Our first goal is to help the Las Vegas economy. That's our focus this year. So while we'll be going to other arenas and maybe stadiums, our policy is we'll do everything we can to help the economy in Las Vegas revive."

So did he feel an obligation as a resident of the city or a local businessman to do this?

"Both. Absolutely both. These are my friends," said Arum, who reeled off the likes of developer/entrepreneur Steve Wynn, local liquor distributors and hotel executives as close personal allies. "Once we talked some sense into MGM, that they had to bring in other casinos, I feel very comfortable in doing these events."

Halloran, every bit the optimist, already sees better days ahead.

"Oh, yeah, I think 2011, nine, ten days into it, it is already better. We just had the Consumer Electronics Show and we had almost 150,000 people there. And we've sold out; we got Chinese New Years shortly here and that's sold out. There's a lot of great things; the Consumer Electronics Show ended and now we have 18-to-20,000 accountants having a convention in Vegas, as we speak today."

THE NUMBERS

OK, so just how did Las Vegas do for their big fights (which I define as cards which are on HBO, Showtime or major pay-per-view shows) in 2010? Here is the raw data provided by the Nevada State Athletic Commission:

March 27th: Marcos Maidana-Victor Cayo, Joan Guzman-Ali Funeka (HBO, Hard Rock Casino): 463 tickets sold, 701 unsold, $43,750 in revenue.

April 3rd: Bernard Hopkins-Roy Jones II (PPV, Mandalay Bay): 4,240 tickets sold, 3,272 unsold, $1,198,200 in revenue.

May 1st: Floyd Mayweather-Shane Mosley (PPV, MGM Grand): 14,038 tickets sold, 948 tickets unsold, $11,032,100 in revenue.

July 31st: Juan Manuel Marquez-Juan Diaz II (PPV, Mandalay Bay): 6,220 tickets sold, 1,776 unsold, $899,750 in revenue.

Sept. 11th: Brandon Rios-Anthony Peterson, Yuriorkis Gamboa-Orlando Salido (HBO, the Palms): 1,012 tickets sold, 457 unsold, $133,650 in revenue.

Nov. 6th: Juan Manuel Lopez-Rafael Marquez, Glen Johnson-Allan Green (Showtime, MGM Grand): 4,100 tickets sold, 1,447 unsold, $713,650 in revenue.

Nov, 27th: Juan Manuel Marquez-Michael Katsidis (HBO, MGM Grand): 3,980 tickets sold, 3,691 unsold, $634,262.50 in revenue.

Dec. 11th: Amir Khan-Marcos Maidana, Victor Ortiz-Lamont Peterson (HBO, Mandalay Bay): 3,195 tickets sold, 1,920 unsold, $528,500 in revenue.

I asked Keith Kizer, Executive Director of the NSAC, if 2010 was a bit of a down year for boxing in his jurisdiction.

"As far as boxing goes, we did go down," he told Maxboxing on Tuesday. "We went from 38 shows in 2009 all the way down to 30 for 2010. But thankfully, a lot of those cards were big cards. They were pay-per-view cards or televised cards, HBO, Showtime, ESPN, etc. So it's good to see that there was still a lot of exposure for these fighters here, both from the live fans, as well as the televised events."

When asked about the effect of the economy, he stated, "It had to have a big one; I mean, you just see the number of visitors to the city has gone down dramatically in the last couple of years. Probably just as important, the people who do come here, the average they spend for their trips has gone down. So even if a person comes three times a year, as he or she always has, he or she is only spending two-thirds of what they usually spend per trip- and that could include a boxing ticket."

As he sees the 2011 itinerary (which may also include an April 9th fight between Morales and Juan Manuel Marquez at the MGM Grand), he is hopeful of a rebound.

"I'm very hopeful for two reasons," said Kizer. "One is I think the economy is getting better. It's almost like a situation where it can't get much worse, hopefully. But also, these fights, they have well-known fighters. We had a lot of really good fights last year but they weren't necessarily guys that had really made their mark in America yet. Like the last fight, we had with Maidana and Khan; most of their fan bases are either in Argentina or Great Britain or somewhere overseas or far away. It's really different in this economy for the fans to get here. But you have other people like Donaire; he's from the Philippines, which is far away, but people from there are very used to coming over here for fights. So it's a situation where a fighter from other countries, the fighters have either been here before. Either they have developed a bit of a local fan base, as well as having fans follow them in the past. So the fans are used to it."

One thing that is noticeable about the upcoming fights in Las Vegas is that not only do they feature marquee names, the B-sides (Mayorga, Mosley and Morales) are also highly recognizable.

"One thing I'm hoping doesn't happen is that some of these fights before May 7th don't get lost in the shuffle because of May 7th but that's up to Golden Boy for their April card and up to Top Rank for their January, February and March cards to make sure that doesn't happen."

It's ironic (if not alarming) that the three cards that took place between November 6th and December 11th, that featured some of the best fights of the year, were also during a period when the numbers at the box-office started to tail off. This wasn't lost on Kizer, who was there from the first bell to the last for these cards.

"It was very disappointing. Usually, I'm used to seeing that when it's an undercard," Kizer said. "I think, hey, it's good for these fighters; at least they can say, even if they lose on the undercard, they can go home and say, 'Well, at least I fought in the fight capital of the world. I fought in Las Vegas.' Good for them. They have some form of accomplishment. Not many boxers get to Vegas, especially on an undercard of a big pay-per-view. So that's good.

"But to see it in the main event and it wasn't like these fights were like, 'Wow, that turned out to be a great fight; we didn't think it was going to be,'" he continued. "We all knew those three fights were going to be great fights. We didn't know they were going to be THAT great, perhaps. So it wasn't like a surprise. It just goes to show you, those three fights- had they been two years earlier- the numbers I just gave you, would've been at least double, maybe quadruple."

WAR EAGLE FLURRIES

Tickets for this show, which also includes the welterweight rematch between Mike Jones and Jesus Soto-Karass (opening up the HBO broadcast), can be purchased by logging onto www.Mandalaybay.com or www.ticketmaster.com. Tickets are priced at $250, $125, $50 and $25...Arum mentioned that Mike Alvarado (who is free for the moment, at least) will return on this show and then open up the Showtime broadcast in Puerto Rico on April 16th, before "JuanMa" takes on Ricardo Cordoba...How much have things changed? That Leonard/Hagler card that Arum referenced from 1979 was actually part of a tripleheader that was shown on primetime by ABC (with a Marvin Johnson fight against Victor Galindez from the Superdome in New Orleans). By the way, Tommy Hearns was on the undercard of that Johnson-Galindez show in New Orleans (UD10)...Forgot to ask this; was I the only one who had Ruslan Provodnikov winning last Friday night?...I think Michigan made a very good hire in Brady Hoke but what will he do with "Shoelace" Robinson?...Once again, folks, as it relates to the BCS title games, you can't go wrong with the SEC...Nick Fairley was Warren Sapp-esque or Steve Emtman-like against Oregon on the inside....

I can be reached at k9kim@yahoo.com and I tweet at www.Twitter.com/stevemaxboxing. We also have a Facebook fan page at www.facebook.com/MaxBoxing.