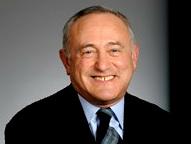 Seth Abraham


When you think of today's marquee fighters, you eventually link them to certain networks. Yes, they have promoters but their associations to either HBO or Showtime will invariably shape their career paths and what fights they are able to realistically engage in - or in certain instances, not participate in, as fighters are bound to an individual network for a period of time. A downside to having boxers signed to exclusive long-term pacts with networks is that you can get a myriad of fights that are often unappealing and one-sided as tougher opposition is shown on rival networks.
Back then, it was Roy Jones for HBO, one of the network's franchise fighters, lauded for his extraordinary ability while, at the same time, chastised for his rather soft opposition. Now, it's the talented and eccentric Adrien Broner, who, at the age of 23, has already made seven HBO appearances. It's clear that networks want to tie themselves to the best prizefighters in the world, much in the same way HBO wants to be home of such programs as "The Sopranos" and "Game of Thrones."

But since they aren't technically the promoter, wouldn't they just be better suited doing one-offs and purchasing individual fights as they see fit from certain entities?
Well, according to Seth Abraham, who served as the head of HBO Sports from 1978 to 2000, not only is that unrealistic but it's not necessarily practical for anyone involved to take such a tactic. He explained, "I don't agree with it. The networks, Showtime, HBO, any network that's involved in boxing has more money to spend than a promoter has to spend on behalf of a fighter or a fight. When I would go out with Lou DiBella, Bob Greenway and all the people at HBO who would sign fighters to make fights, one of the very big selling points was the advertising and marketing of HBO. I remember showing up in London; I met with Frank Warren and [Naseem] Hamed and his brother, Riath, and we presented to them what would be a marketing campaign for Hamed in the United States because when he was at Showtime, the fights were in the United Kingdom. He made his American debut at Madison Square Garden against Kevin Kelley and there were seven knockdowns in the first three rounds.
"But on top of that, HBO spent millions of dollars, millions of dollars promoting the fight, specifically Hamed individually and Frank Warren can't spend that kind of money. So here's my point: If a network is going to spend millions and millions of dollars to promote a fight and promote a fighter, make that fighter bigger, it is very, very hard to justify that business decision if all you do are one-offs. There's no commitment. So there's no perfect solution to this. Yes, if you had one-offs, if every fight was a single fight with no long-term commitment to a network - whether the network is HBO or Showtime - yes, you could say that is in the public's best interest. You can surely make that case but then, what would happen is that Showtime and HBO both would spend less promoting a fight and a fighter and the fight would be smaller and the fighter would be smaller. So this is a true, double-edged sword."
Bob Arum made it very clear that if a bout between Nonito Donaire and Abner Mares was going to happen, it had to be on HBO, given the "Filipino Flash" was paid handsomely last year in four fights and has been made a priority by the network. On the flipside, Mares has been a key component of Showtime's boxing franchise over the past few years.
"Well, I lived through that with [Mike] Tyson-[Lennox] Lewis and that fight was not made until after I left HBO," said Abraham of the bout eventually consummated in 2002, well after Tyson's prime. "But to his credit, Lennox Lewis and his promoter, Panos Eliades, and his manager, Frank Maloney, were as loyal to HBO as I could've asked them to be and they were prepared to forgo the fight because they were committed to HBO. I admire Arum for his loyalty to HBO because here's HBO spending all this money promoting his fighter. So the payoff should be that the fight is on Showtime?"
This is precisely what took place in 1993 when Pernell Whitaker of Main Events - a longtime HBO staple - took on Julio Cesar Chavez, whose promoter, Don King, made an exclusive deal for Mike Tyson and the rest of his stable to appear on their competition's airwaves.
(To say HBO was angry is an understatement. In the aftermath of that fight being signed, sealed and delivered to its rival, Greenway angrily confronted Whitaker's manager, Shelly Finkel, who had assured the network of their loyalty the next time they crossed paths at a Main Events function. Heated words were exchanged between the two and as Finkel tried calming things down, Greenway only got more angry and didn't particularly care that Finkel's loved ones were around to witness this spectacle. Finally, Finkel would put his hands up and say to Greenway, "Bob, I warn you; I know karate!" At that point, a disbelieving Greenway just walked away in disgust.)
Abraham was just as nonplussed as his colleague. "Here's one of the things - and I spent a fair amount of time with Lennox when I was at HBO - you have to be able to explain this directly to the fighter, not through any intermediaries but directly to the fighter. To explain to Lennox, to explain to Pernell Whitaker, to explain to Roy Jones, 'We, HBO, are not trying to deny you the opportunity to fight Joe Calzaghe, Julio Cesar Chavez or Mike Tyson. We are saying, insist, that that fight is on HBO. We have invested millions of dollars in you in advertising, in promotion. The reason you're able to get these big purses is because of HBO.' And Lennox was very receptive; I remember exactly when I told him and met with him at Madison Square Garden and we talked about this. He clearly understood it. Did he want to fight Tyson? Of course he wanted to fight Tyson. Of course he did but to his credit, Lennox understood exactly the point that I was making to him and he was prepared to wait. He was prepared to wait and when I left HBO, they were able to figure out a way to, in effect, share the fight.
"I don't know if that would've happened if I were still at HBO," Abraham admitted. "Truly, I don't know if that would've happened."
For as much as they alienated HBO, Main Events still had the likes of Lewis, Evander Holyfield, Michael Moorer…and Whitaker, who was held to a highly-disputed draw against Chavez at the Alamodome in San Antonio in September of 1993. Because of that, they were still in HBO's plans. But this business, which is predicated on alliances and a certain amount of loyalty, can get awfully personal.
"That is really difficult. I understand why Pernell and Main Events [did it] and I surely understand why they wanted to fight Chavez; I got it," laments Abraham, "but what I didn't understand to this day - still don't - why wouldn't they say to King - and they didn't – 'We want this fight but we want it on HBO. We want it on HBO.' And instead, King said to them, 'We want the fight but it's going to be on Showtime,' and they said OK. So King had more balls. King simply had more balls to stand his ground on behalf of Showtime, then they had to stand their ground on behalf of HBO. Then what often happens and I remember vividly with Main Events and Shelly Finkel, what they said to me, 'But Pernell wants the fight.' So what often happens in a case like this, the promoters, the managers, blame the fighter, 'Don't blame us; we'd stay with HBO. It was Pernell.' It wasn't Pernell, it was never Pernell. It's hiding behind Pernell's robe to say, 'We would've done the fight on HBO.' We wanted to do the fight on HBO but Pernell said, 'Go make the fight. What do you want us to do?'
"Well, what I think they should've done is exactly what King did. King stood his ground on behalf of Showtime and said, 'We're not going to do this fight unless it's on Showtime and Shelly and Dan [Duva] said, 'OK.'"
But you have to let bygones be bygones in this racket. The reality is Main Events had been a key content provider for years and HBO would still need their services going into the future.
"One of the things I would always remind myself is that the boxing fan didn't care about what grudges I or HBO had," said Abraham, whose network televised the bulk of "Sweet Pea's" prime. "They didn't care. It might have made interesting media stories but the fan wants to see the best fights. They are not caring about who HBO is feuding with. So I would remember that and, yes, I took it very personally. But if there was a good Pernell Whitaker fight to follow, I thought Whitaker won the fight. I watched it. I didn't go and the next time Pernell fought, he fought on HBO."
One thing Abraham stressed during his reign at HBO was a certain competitive balance among the promoters. There were no exclusive output deals under his watch.
"You want to have competition among the promoters so that you can get the best fights and negotiate fair market value prices,'" he explained. "If one promoter has a monopoly on a weight class or a group of fighters, it makes it more difficult from the standpoint of a television network acquiring the rights. The more the merrier, really, the more promoters who are successful. So during my time I was at HBO, you had Main Events with Dan and Kathy Duva and you had Don King and Bob Arum; Cedric Kushner had some very good fighters.
"So there was a variety of promoters from which HBO could license prizefights."
Here's Part One with Abraham: http://www.maxboxing.com/news/sub-lead/seth-abrahams-new-perspective-part-one-...Lots of stuff to report on the Golden Boy front as Saul Alvarez will now be facing Austin Trout on April 20th, which will cause a few ripples in what is a very good looking spring line-up for them: http://www.maxboxing.com/news/promo-lead/the-golden-shuffle...Top Rank announced that the trio of Tim Ryan, Larry Merchant and George Foreman will be ringside calling the action in Macau on April 6th. Top Rank is still finalizing its plans to televise this card back to the States...Andre Berto announced his separation from his longtime trainer, Tony Morgan. Virgil Hunter could be in the mix to take over Berto...So the Niners got a second round pick for Alex Smith? That's a great deal for them...I scored it 10-8 for the Pacers against the Warriors on Tuesday night based on effective aggression...The only thing anyone should be complaining about LeBron's dunks in pre-game warm-ups is that they're not occurring in the slam dunk competition on All-Star Game weekend
…
I can be reached at k9kim@yahoo.com and I tweet at www.twitter.com/stevemaxboxing. We also have a Facebook fan page at www.facebook.com/MaxBoxing, where you can discuss our content with Maxboxing readers as well as chime in via our fully interactive article comments sections.