The Showtime Championship Boxing TV Cheat Sheet – Jan. 26, 2013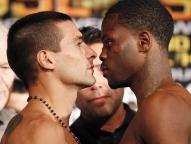 Photo © Craig Bennett / Showtime


Tonight's Showtime card is about excitement and how that word possesses redemptive qualities with fighters. Headliner Lucas Matthysse is proof that a boxer who takes a chance fighting the best but loses courageously will be asked to return and can go on to become a regular television attraction. The Argentine's two career losses were by split decision on HBO and Showtime but he fought with skill (knocking down both opponents) and, more importantly, a passion that made people want to see him again. Now, Matthysse is the number two-rated junior welterweight in the world and many believe he would beat The Ring magazine junior welterweight champion Danny Garcia if they met head-to-head. German-based Turk Selcuk Aydin can become the next Matthysse, displaying a ferocity and fighting attitude in his close loss to Robert Guerrero that compelled Showtime to book a second act. Now, Aydin has to live up to his action hero status since second chances on the world stage are a rare commodity in boxing.
On tripleheaders like tonight, I give full write-ups to the two main events so the "Cheat Sheet" does not rival a Tolstoy novel for length. Instead, I only give a synopsis on how I think the opener will play out without an introduction of the boxers.

At the Hard Rock Hotel and Casino, Las Vegas, NV
(Showtime) Lucas Matthysse (32-2) vs. Mike Dallas (19-2-1)
(The Ring magazine #1 junior welterweight vs. unranked)
(Showtime) Selcuk Aydin (23-1) vs. Jesus Soto Karass (26-8-3)
(Showtime) Jermell Charlo (19-0) vs. Harry Yorgey (25-1-1)
Jermell Charlo vs. Harry Yorgey
– The lone advantage Yorgey enjoys is sharing a ring with talents like Alfredo Angulo or handing prospects Ronald Hearns and Jason LeHoullier their first professional losses. It should take more than that to derail someone of Charlo's temperament and gifts. The most important is speed; Charlo is much faster than Yorgey and throws straight punches that double that particular advantage. Charlo does not tip off his punches with obvious shifts of weight as Yorgey's other suspect opponents have and has little wind-up before unleashing punches. Those facets will be on display early and often and I would not be surprised if Yorgey does not see the midway point of the fight. Not because Yorgey lacks heart or boxing fundamentals but Charlo is that good and will either stop Yorgey outright or through swelling and/or cuts. Either way, Charlo wins by impressive stoppage with the crowd "ooh-ing" and "aah-ing" noticeably at times.
Jesus Soto Karass
- Lanky 30-year-old Mexican is an exciting fighter who relies on his oppressive physical presence but ultimately is as maddingly inconsistent as talented. If Soto Karass worked harder in the gym, seemingly the case for this fight, many think he could morph into another Antonio Margarito. I compare Soto Karass to former WBO champion Jose Luis Lopez (who gave Ike Quartey a tough fight) since his cerebral maturity never caught up with his ring aptitude. Soto Karass came in a pound over the weight in a showcase fight against Alfonso Gomez, displaying a lack of professionalism and laissez-faire attitude that led to a loss. There is no in-between with Soto Karass, either looking fantastic or ordinary. Had one bad stretch of fights, losing three consecutive fights early in his career when clearly overmatched against undefeated boxers. Showed mental toughness overcoming that then began a four-year undefeated streak landing him with Top Rank Promotions. Defense is the main concern, where Soto Karass will eat punches unnecessarily instead of backing off to refocus his forward movement. That lack of defense inadvertently aided Soto Karass in his first fight with Mike Jones, as Jones used up his reserves trying to stop a clearly stunned opponent. Soto Karass, with excellent recuperative senses, rode out the rough patch and from that point forth, beat Jones to the punch. Blames making weight for a string of losses, three in a row, and in Soto Karass' defense, they came against quality boxers like Gomez, Jones and Marcos Maidana. Sports a rock-solid chin but has been cut in bouts and is not afraid to throw low blows or use other dirty tactics. Uses his length well, registering wins by constantly reaching opponents who believed they were out of range with punches. Generally a pressure fighter, Soto Karass has the talent to outthink opponents who refuse to engage him because of his physical strength. Soto Karass leaves little room for excuses, telling writer Miguel Maravilla he is prepared for Aydin, "I have to box then I will adjust. I plan on this fight to be a battle. My corner will give me a certain strategy but when I am in the ring, sometimes things get heated and the plan goes out the window." While not a consistent world-beater, Soto Karass will give anyone a rough run for his money and is always a fun TV fighter.
Selcuk Aydin
– Menacing Turkish Olympian's nickname is "Little Tyson" and, like Mike Tyson, needed to temper his emotions, turning pro because of a five-year amateur suspension for attacking a referee. Aydin packs destructive power in both hands (71% kayo ratio), which may be why other aspects of his impressive skill set are not appreciated. Won prestigious international tourneys in a 360-20 career record, becoming a highly sought-after prize by European promoters. Has shared the ring with elite boxers since his teens and rarely came in second-best. Since turning pro seven years ago, the 29-year-old has done nothing untoward and impressed ring observers with subtle tricks that accentuate fierce power. It is why Aydin is avoided, a number one contender for nearly three years, until he traveled to America and suffered a forgivable loss to Roberto Guerrero in a close and exciting fight. While strength is Aydin's calling card, he has gone 12 rounds without a problem, dominating competent South African Lucky Lewele. Twice bested borderline southpaw contender Jo Jo Dan over that distance, breaking his jaw in the second fight, dropping him in the first and 11th rounds. Was willing to come to America and defeat another southpaw in Said Ouali over 12 rounds. Former two-division champion (at 168 and 175 pounds) Graciano Rocchigiani trained Aydin, commenting on his pupil, "Selcuk is an aggressive fighter who loves to come forward. The only difference between us is that he hits way harder than I ever did. He's got enormous punch power." Boxes with his hands high, a covering guard a bit like Arthur Abraham's, but does not jab enough from that position despite displaying quick hands even when lopping a blow. In cases where Aydin does not get a stoppage, he still has the kind of thudding power that leaves opponents passive on offense trying to avoid mistakes. His chin has been dented but Aydin recuperated quickly in every case to resume his attacks. Hired trainer Adam Booth (known for his work with David Haye and George Groves) after the Guerrero setback and by all reports, is a fierce gymrat, which will allow him to incorporate Booth's stringent requirements. "He's very strong; he's tenacious and he can bang. I became more and more intrigued. I did a 10-day trial with him and I was ultra-impressed. He's an impressive specimen." The best current boxer Americans are familiar with to compare Aydin with is co-headliner Lucas Matthysse since their mix of abilities and unrelenting forward-churning power are overwhelming.
Verdict –
This should be an exciting fight that will steal the show given Aydin and Soto Karass' inability to control themselves in the heat of battle. It will be interesting to see which physical specimen ends up winning the strength battle and advances more but here is the key for me: If Soto Karass wins that battle, Aydin will be smart enough to allow that edge and box, using lateral movement to give space for Soto Karass to walk into his punches. I do not think the reverse is true. Aydin will reel in Soto Karass and time his punches and as Aydin's pressure and bodywork takes effect from round six on, Soto Karass' punch output drops allowing Aydin to score more. That is when Aydin cuts off the ring successfully and scores with his underappreciated accuracy. It should be a dramatic affair featuring momentum changes early on, as Aydin is forced to stand his ground with Soto Karass and establish a strong presence. If the judges (who could be swayed by an audience rooting for Soto Karass) play it fair, Aydin should be awarded a deserved victory in the range of six rounds to four or seven to three.
Mike Dallas Jr.
- Nicknamed "The Silent Assassin," Dallas needs a win to reestablish himself as a legitimate junior welterweight player after two losses in 2011. If you did not know Dallas' favorite boxers are Pernell Whitaker and Floyd Mayweather Jr., you will get the association within seconds of Dallas dodging the first punch. Born into a boxing family - his father and grandfather were pro fighters - Dallas began boxing while in diapers. Graduated the amateur system with a 115-12 record, winning two national titles (PAL champ twice and silver in Golden Gloves) but otherwise had annoying habit of finishing top four - but rarely first. Like many others, claimed to be a victim of politics, losing the Olympic trials quarterfinals and turned pro. Dallas' best performances were the befuddling of fellow prospects Lanard Lane and Miguel Gonzalez (suffering a cut over his eye) with movement and intelligent counterpunching. Was surprisingly dominated by mauling Josesito Lopez in Dallas' worst performance, unable to escape the incessant pressure of an inferior boxer. Showed mental toughness rebounding from it, losing a controversial majority decision to Mauricio Herrera most thought Dallas won with superior counterpunching and accuracy. Has looked much better with trainer Virgil Hunter, best known for preparing Andre Ward, who came in after the Lopez loss at the behest of manager Jackie Kallen. Showed instincts and fortitude overcoming a bad cut over his left eye in his second-to-last fight, throwing one-two combos against hard-hitting Miguel Gonzalez in a lopsided win. In defeating Lane, Dallas was not all about speed and reflexes, aggressively countering a naturally stronger foe up the middle. Gets that confidence sparring Manny Pacquiao and other champions in California gyms. Must return to positive offensive traits; Dallas only has a 36% kayo ratio, forcing opponents into mistakes by staying in the pocket and within punching range. Still lets small openings go by searching for a flashy punch, not filling holes with his speedy jab or lead right hand. Is a smart kid, currently attending college, soaking up education of every sort. With continued improvement, Dallas could develop into a boxer in the mold of a Devon Alexander. Dallas has the right attitude about his road back, "I just want to come back strong and I don't want to take any easy fights. I want to beat a really good opponent to get back in the mix."
Lucas Matthysse
– Many believe Matthysse beat Zab Judah and Devon Alexander and should possess an undefeated record but in both bouts, Matthysse came out a split decision loser. However, because the Argentine wrecking ball fights with abandon, he is welcomed back on TV to display that cunningly destructive style. Was born into a boxing family with his father, brother and sister and even mother all fighting professionally. Was caught up in the gang life at age 11, in the slums of Buenos Aires, but says boxing rescued him from that influence. Despite headhunting tendencies, was a solid amateur (nearly 100 fights), winning a Pan American Games gold medal and participated in a slew of high-level international competitions. Not slowed as a pro either, stopping 30 of 32 opponents, producing an 86% kayo ratio that is telling of Matthysse's natural power and accuracy. Even though he has not stopped his best opponents, Matthysse scored knockdowns of Judah and Alexander (knocked down all five former champions he faced) which put both men in survival mode and unwilling to engage Matthysse the rest of the fight. Matthysse's punches thud more than they thunder and are not delivered with much style but arrive with a big impact because he fully commits and torques into punches. Looks more bulky than cut at the weight, lending Matthysse a rough and crude form in the ring. Receives invaluable lessons training next to countryman Sergio Martinez, showing Matthysse what it takes to become and stay a world champion. Also shared the ring with Shane Mosley, Austin Trout and Victor Cayo in heated California sparring sessions; because of "loner" sensibilities, loves to train ("To me this is not a sacrifice; it's a pleasure"). Stamina is not a concern, doing well in distance fights against Judah and Alexander, wresting control of both contests in the final third of the fights. At age 30, Matthysse is in his prime and put in 125 pro rounds that have formed a ring intellect needed to beat champions. Still needs to improve on defense, often neglecting to draw his hands back quickly or at all after lashing out with a hook. Questions about his feet and accuracy were refuted by the Judah and Alexander performances. Matthysse enters every fight with his eyes wide open, "I expect to win by KO. I think I was robbed against Zab Judah and Devon Alexander in the United States, so expect a KO. I don't want it going to the judges."
Verdict
– I was surprised to see how much bigger Mike Dallas looked at press conferences and the weigh-in but still believe Matthysse is the stronger man. That is a difference I am banking on, especially since Matthysse has natural power and likes to use his physicality to wear on opponents when he gets inside. It might be a seesaw affair early with neither boxer taking more than two rounds in a row in the first six, after which Matthysse takes control slowly, pulling away on the scorecards because of heavier punching and forward movement. The judges will see Matthysse's control of the action and where exchanges take place, favoring it over Dallas' good but inconsistent counterpunching. Dallas does have the skills and feet to make Matthysse look inefficient at times but those all come early and Dallas could suffer a couple knockdowns late as he is backed against the ropes. Matthysse's consistency and harder punches carry the day but if this were a 10-round fight, I could see Dallas barely surviving to the final bell. The championship distance favors Matthysse and given his hard stretch runs, I am calling for a stoppage win somewhere around the ninth to 11th round.
Prediction record for 2013: 86% (6-1)
Prediction record in 2012: 84% (128-25)
Prediction record in 2011: 88% (138-19)
Prediction record in 2010: 85% (218-40)
Please visit our Facebook fan page at www.facebook.com/MaxBoxing, where you can discuss our content with Maxboxing readers as well as chime in via our fully interactive article comments sections.



Subscribe to feed