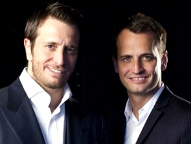 Kalle and Nisse Sauerland


Maxboxing recently caught up with Kalle and Nisse Sauerland, who updated us on the developments of some Sauerland Promotion fighters.

Alexander Povetkin - He's recovering from a tough fight [against World Heavyweight Champion Wladimir Klitschko in October]. I think he has a lot of heart. I'm disappointed he didn't get the chance to fight his fight by the ref [Luis Pabon] interfering with the fight. He got inside, taking a lot of punishment on the way in but when he got there, he was held. He wants to continue boxing. I believe a Klitschko fight with a level playing field may have been different. I think he could seriously challenge Klitschko. He has such supreme pedigree. I think realistically, he'll be back around spring.

Kubrat Pulev - IBF [heavyweight title] mandatory, beating Tony Thompson [in August]. He fought Alexander Ustinov, stopped him impressively. So he beat two big guys. Then the fight with [Tomasz] Adamek was ordered. Adamek turned the fight down. That shows the level of respect that people have for Pulev. We were between Tyson Fury, who signed to fight [David] Haye instead. Bryant Jennings turned it down, so did [Alexander] Dimitrenko. Eventually we were given Thompson; an awkward guy after a year out was tough. He'll fight next month in a stay-busy. There is talk of [Dereck] Chisora. We have had initial talks but Pulev is the mandatory so they have to pay us a lot of money to put that status up.

Denis Boytsov - He's boxing [Alex] Leapai who's [ranked] six or seven with the WBO. If [Boytsov] wins, he's assured the next mandatory of Klitschko with the WBO. He's one of those guys who's a big puncher and very fast.

Robert Helenius - He's had a hard time ever since the Chisora fight, leaving the [split] decision aside. He had Chisora holding on for dear life in the first round, then in the second round, [Helenius] hurt his shoulder. He's had two fights in the last 22 months. He'll fight around February.

Marco Huck - Every fight is a blockbuster with him. He's a fan's favorite; he fights with his heart on his sleeve. You talk about fighting top opposition; he's fought [Ola] Afolabi twice, Povetkin, [Firat] Arslan. He fights Arslan on the 25th January in a rematch. There was a split with what people thought [the result should have been in their first bout]. It could have gone either way.

Yoan Pablo Hernandez - Also coming off a hand injury, he'll fight with a titanium plate in his left hand. Cuban-schooled, phenomenal puncher, great technician. The [second] Steve Cunningham fight was a contender for "Fight of the Year." [Hernandez] puts up his IBF/Ring [magazine] belt against [Alexander] Alekseev [on November 23rd]. He's impressed me. He took some wrong fights at the wrong time. He struggled and he seems to have come out of that and is a complete boxer and a good puncher.

Juergen Braehmer - He fights 14th December against Marcus Oliveira. He was touted as the "100-Year Talent" in Germany. He is a very sharp fighter. He beat Ricky Hatton [and] Carl Froch in the amateurs. A lot of people criticised him for pulling out [against] [Beibut] Shumenov and [Nathan] Cleverly but in fairness to him, things that were promised weren't delivered, so he didn't fight. After his troubles, he's turned his life around 180 degrees. He was successful financially, so he didn't need to fight but after the birth of his child, he's come on. If he beats Oliveira, he's completed a great sporting comeback.

Mikkel Kessler - He's taking the rest of the year off. He's a great ambassador for the sport and as he showed against Froch [in May], he's capable of competing with the best. The biggest winner that night was boxing. His wife is having a baby in December and we'll sit down and evaluate what is left to fight for after that.

Arthur Abraham - His last three fights have been disappointing. He beat [Robert] Stieglitz and thought he crushed Stieglitz's spirit but he didn't and lost the rematch [by fourth round stoppage]. He will be motivated like never before for the third fight. The punch will never go away. Arthur Abraham is the only guy who made [World Super Middleweight Champion Andre] Ward look bad in the first couple of rounds [of their fight in May of 2011]. Ward was confused but Arthur lost concentration and Ward ran away with the fight. The working date for the third Stieglitz fight is February or March.

Patrick Nielsen - He has huge shoes to fill in terms of the legacy of Mikkel Kessler. He started off being a hard-hitting fighter who got involved too much but under Joey Gamache, he has improved his jab, which reminds me of Mikkel, also his footwork. Mikkel was unique but Patrick is also. 2014 will see him challenge for a version of the world title.

Jack Culcay - The first German amateur world champion in 14 years. He's commanding high TV viewers. He has a very eye-catching style of fighting, which is different from the European-style for fans to see. Next year, [Culcay will pursue] either a European or even world title fight. We'll be knocking on that door and see what comes up. He'll box in December.

Cecilia Braekhus - She's someone who's smashed that barrier that every boxer wants to break between boxing and the mainstream. She has higher viewing figures than the Norwegian football team gets. The Norwegian government is now looking at changing the rules of having professional boxing banned there. She'll fight in January in the coming days.
Please visit our Facebook fan page at
www.facebook.com/MaxBoxing
, where you can discuss our content with Maxboxing readers as well as chime in via our fully interactive article comments sections.