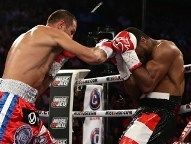 Photo © David Spagnolo, Main Events

By Jason Gonzalez at ringside

Montréal, QC - Returning to the squared circle, just 4 months removed from the biggest victory of his career, the unified (WBO, WBA, and IBF) light heavyweight champion, Sergey "The Krusher" Kovalev, of Chelyabinsk, Russia was back to his winning ways. The 31-year-old improved to 27-0-1, (24) further tightening his grip on the 175 pound division. Kovalev scored a sensational eighth round technical knockout over former world champion Jean Pascal, now 29-3-1, (17) Saturday night in the home of the Montréal Canadians, the Bell Centre. Kovalev became the first fighter to ever stop Pascal.

Back in November of last year, when Kovalev defeated boxing extraordinaire Bernard Hopkins, he did so by showcasing a different facet of his repertoire, which was unbeknownst to the masses that eat and breathe our great sport. Kovalev exhibited the proper boxing sophistication to not only hang with Hopkins, but to outlast him and be declared the victor.

Kovalev's impressive win over Hopkins lead opponents to shy from fighting him. In plain English, the risk didn't match the reward. So when Pascal issued the challenge to face him, he stood head and shoulders above everyone else in the division, including his Haitian pisano, and Montréal comrade, WBC lineal light heavyweight champion Adonis Stevenson.

Against Pascal, Kovalev was comfortably ahead on all three scorecards; however, in the process he ate more leather than normal and never appeared staggered. Kovalev proved to the critics that he has a first-class chin, a dimension some weren't sure if possessed in his toolbox.

"Sergey got hit more than what we are accustomed to seeing. I'll give you that," said Kovalev's head trainer, John David Jackson. "Rest assure, he was never in any danger, or even hurt for that matter. But hopefully the big names will think that Sergey is vulnerable, and will now fight him."

The fight opened up with both boxers looking like they were participating in the home run derby. Both fighters were swinging for the fences in hopes of making it an early night.

"How it started I didn't like," Kovalev would say at the post fight press conference.

"After the fourth round I gained control. He was mine after that. He got me a couple good punches. It's boxing."

Kovalev staggered Pascal badly in the third round. A ferocious onslaught of punches to both the head and body of Pascal nearly put him out of the ring, literally. The ropes held Pascal from falling out. Afterwards, Puerto Rican referee, Luis Pabon administered a standing 8-count, in order to give Pascal an opportunity to continue. Luckily for Pascal, he was saved by the bell.

Pascal never fully recovered, he was on unsteady legs for the beginning of the 4th round. But as the saying goes, champions overcome adversity. Pascal was doing the best that he could do in order to knock Kovalev out. Pascal's combination of courage and testicular fortitude kept him going. Pascal managed to land some big shots of his own towards the end of the round. This gave him ample time to get his legs back underneath him.

"For those that know me well, know that I am always in every fight," said Pascal. "[Sergey] Kovalev is a great fighter and can punch real well. But the hardest puncher that I have ever faced was Carl Froch."

Eventually a fight broke out in the center of the ring, much to the adulation and enjoyment of those in attendance at the packed arena. In the fifth and sixth round, Pascal threw haymakers, while Kovalev shifted into 6th gear, and turned up on the throttle.

Now, in offensive juggernaut mode, Kovalev outworked Pascal in the 7th. Even going as far as to bolo-ing with the right hand, in order to land the left jab. In the 8th round, it was a continuation of what had transpired in the 7th. Kovalev rocked Pascal again, via two murderous right hands, before Pabon would seal Pascal's fate. The time of the stoppage came at the 1:03 mark of the same frame.

"I wanted to put him to sleep," said Kovalev. "But then the referee stopped the fight." We are seeing with our very own eyes, that Kovalev is truly something special and unique. An unpolished diamond that will soon be maximizing on his full potential. There were three things that we learned about Kovalev this past weekend.

1.) He is very mean. This man has ice water in his veins. There is a sinister side to him that comes out in the ring.

2.) He has terrific ring I.Q. Kovalev knows when and how to make adjustments in tight spots.

3.) And most importantly, Kovalev knows how to effectively mix his offense up, while being economical with his punches too.

Kovalev has earned his spot on the pound-for-pound list. And you would have to figure, that the smart money would be on him, either against Stevenson or Andre Ward.

"I am ready for anything," said Kovalev in regards to fighting either Stevenson or Ward.

Being the warrior that Pascal demonstrated he is, it is only fitting that he felt that the stoppage was premature and unjust.

"I don't know why the referee stopped the fight. It was a great fight. I was in the fight from the first round. We should do it again. I should have a rematch. I am a crowd-pleaser. At Centre Bell I am always going to give the fans a great fight. I will be back," he said.

Continuing, "Honestly, it was a good fight. It was an action fight for the fans. I tip my hat to Kovalev. He is a champion."

In the co-feature bout of the evening, Russian Heavyweight contender Vyacheslav "Czar" Glazkov won a very controversial unanimous decision over Steve "USS" Cunningham, and has officially become the mandatory challenger for Wladimir Klitschko's IBF championship belt.

The contest was a snoozer. It paired two heavyweights with little punching prowess. The match was fought at the pace of hardened honey that has been left overnight in the refrigerator.

All three judges at ringside saw it the same way, for Glazkov, by scores of 116-112 twice, and 115-113. With the victory Glazkov improved to 20-0-1, (12).

"I thought I won the fight," said Glazkov regarding the decision." "I landed the harder punches. Steven's punches weren't as accurate as mine."

The 38-year-old Cunningham, a former 2-time cruiserweight champion, is slowly but surely watching all windows of opportunity close rapidly. With the loss, the native of Philadelphia dropped to 28-7, (13).

Cunningham was the busier of the two. However, due to his deficiencies in the department of punching power, there were no statements of authority made by him throughout the bout. Albeit, Glazkov's face, who showed evidence of bruising. But not a new phenomenon for eastern European fighters to bruise and swell up in fights. But nonetheless, Cunningham jabbed often and would throw the right hand whenever he saw an opening.

It was reported in press row, that Glazkov's trainer, Victor Petrochenko told Glazkov in between rounds during the HBO telecast, that he was down on points and losing the fight altogether.

Glazkov came to life over the last couple of rounds. Now sporting a laceration over the top of his right eye, it became crystal clear that Glazkov was fighting with urgency. This marks the third consecutive time, in which Glazkov has left a cloud of uncertainty in the minds of boxing fans.

It seems as if controversy follows Glazkov everywhere he goes. He pulled out a victory over Derric Rossy, a fight most boxing pundits would agree he lost. Then he drew with Malik Scott. A fight many felt Scott won. Needless to say Glazkov has a lot of damage control to do.

"In boxing that fighter that throws more punches, and lands the harder shots, wins the fight," said Glazkov. "That fighter was me."

The writing could very well be on the wall. Cunningham may have been jobbed.

Light heavyweight Isaac Chilemba of Blantyre, Malawi captured the NABF strap, along with a top 10 ranking in the WBC, after putting on a clinic against a seemingly uninspired Vasily Lepikhin over the course of 10 rounds. Chilemba handed Lepikhin the first loss of his career.

The scorecards read 100-90, and 99-91 twice. Chilemba threw many fluid combinations that found its mark on Lepikhin's face. Chilemba established his distance early in the scrap, ultimately dictating the tempo of the bout, while working his offense off the jab.

Lepikhin didn't do much offensively. In fact, there spots in which he didn't throw a single punch. There were moments in which Lepikhin, of Gelendzhik, Russia, now 17-1, (9) would lean on the ropes, trying to bait Chilemba to come in, to engage him in an in-fight. But Lepikhin was reluctant to retaliate without any fire power of his own. In a nutshell, Chilemba, who improved to 24-2-2, (10) was in a sparring session. The type of sparring session that should keep a fighter sharp, due to the target practice. By the middle rounds of the contest, Lepikhin's grill suggested that he was being hammered and peppered with shots the entire evening. The crowd expressed their disenchantment with the fight by serenading the Bell Centre with loud boos.

With the victory Chilemba has now put himself in a position to face Stevenson in the not too distant future. But be it as it may, Chilemba left a lot to be desired considering he failed to stop an opponent that refused to engage.

Welterweight David Theroux of Sorel, Quebec City, Canada scored a 3rd TKO over journeyman Lukasz Janik of Katowice, Poland in a swing bout.

Theroux, now 6-0, (4) floored Janik, 12-10-1, (6) 3 times by blitzing Janik's ribcage and mid-section. The time of the stoppage was 2:31 of the 3rd.

Hometown favorite Dierry Jean, 28-1, (20) made quick and easy work of the Dominican Carlos Manuel Reyes. Jean was returning to the ring for the first time since losing to Lamont Peterson last year.

Jean put Reyes to sleep for the count of 10 at the 2:48 mark of the 3rd stanza. With the loss Reyes dropped to 24-4-1, (16). Reyes was overmatched, Jean was too fast and too strong.

Light heavyweight Nadjib Mohammedi, of France, and number one contender in the IBF, added another victory to his resume. He improved to 38-3, (23).

Mohammedi, did what he had to do against prospect and sacrificial lamb, Lee Junior Campbell of Laurenberg, North Carolina. Mohammedi, disposed of the now 8-2, (4) opponent in the 6th round at 2:38 mark.

Mohammedi's performance failed to answer any questions regarding his status and legitimacy as the number one contender, and mandatory opponent for Kovalev. The one question which should be asked is, why was Mohammedi fighting an opponent with a record of Campbell's.

In the 6th round, Mohammedi pinned Campbell against the ropes and began to drop bombs on his overmatched foe, prompting referee Alain Villeneuve to intervene and call the fight off.

If Mohammedi were smart, he should maintain his status as the number one contender in the IBF, and accept step aside money from either his promotional banner of Main Events or from Team Kovalev, so that we can see Kovalev in an important fight, not wasting time on silly mandatories. Mohammedi can make a fortune if he follows this blue print. Local Junior welterweight Yves Ulysse Junior, now 6-0, (4) obliterated Miguel Antoine of Wildey, Barbados, now 17-2-1, (9).

Junior beat Antione from pillar to post, resulting in Junior scoring two knockdowns in the 4th, and once more in the 5th, prompting the referee to call a halt to the carnage. The knockdown was the result of a 2-piece combo to the dome that left Antione inebriated. The end came at the 2:43 mark of the aforementioned round.

In the opening bout of the evening, welterweight Dmitry Mikhaylenko, of Gelendzhik, Russia improved to 19-0, (8) after disposing of Felipe De La Paz, of Monterrey, Mexico, now 14-4-2, (5) within 5 rounds. Mikhaylenko dropped De La Paz in the 1st round, from a left hook to the body, and then once more in the 5th. De La Paz's corner pulled the plug on the contest. De La Paz failed to answer the bell to indicate the start of the 6th round.

Jay Gon's Ringside Tidbits:

- Pascal has a new fragrance of men's cologne ready to hit the market in Montréal. He gave samples to all members of the media. The cologne is called "JP".

- Stevenson was in attendance, looking very dapper. Stevenson was walking laps around the arena, almost as if he wanted someone to notice him.

- Montreal native Lucian Bute was in the building, rocking the new color for the spring, burgundy.

- The attendance at the Bell Centre wasn't announced.

- Kovalev has successfully defended his WBO title five times.

- Main Events CEO Kathy Duva informed MaxBoxing (and Doghouse Boxing), that Roc Nation Sports contacted her in regards to making a fight with Ward down the road. Now that mi gente, sounds very promising.

- Kovalev is reminiscent of a villain in a comic book. I love it!