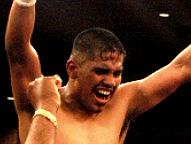 (Photo © German Villasenor)


On the night of December 8th, near the entrance of the MGM Grand Garden Arena, this reporter was picking up his ringside credential for the fourth chapter of the rivalry between Manny Pacquiao and Juan Manuel Marquez. At the time, also at the will call area just happened to be one Juan Diaz, who I had not seen for quite awhile. Diaz, a former unified lightweight champion, was retired for a couple of years and was in town to enjoy the festivities. Coming off a round of golf with some business associates, he looked to be very lean. It was odd; it seemed he was in better shape than when he was still active.
Back then, Diaz was a retired boxer, having last been in the ring in July of 2010. But what took place on that December evening a few hours later (Marquez starching Pacquiao cold) has brought him back to the ring. He fights tonight in Corpus Christi, Texas at the American Bank Center versus Pipino Cuevas Jr.
"One of the reasons for my return to the ring is that the fire that Juan Manuel Marquez turned off in our last encounter in 2010 has lit back up and is alive and well and it's burning very, very hard at this point. So I've got the fire to step back in the ring," explained Diaz to Maxboxing a couple of weeks ago. Diaz's last bout was a rematch against Marquez (their first encounter in 2009 was an exciting back-and-forth encounter in Houston that saw the future Hall-of-Famer gore the "Baby Bull" in the ninth round).

For much of his early career, Diaz pulled double-duty, not only as a professional prizefighter but a full-time college student. When asked if burning both ends of the candle may have exhausted him, he admitted, "It was that," but quickly reiterated, "Juan Manuel Marquez turned off that fire that was lit up and actually Juan Manuel Marquez is the one that brought it back and flared it up because for a whole year, I didn't watch any fights and then the first fight I attended live [since Diaz's rematch loss to Marquez] was the Juan Manuel Marquez fight versus Manny Pacquiao and when [Pacquiao] knocked [Marquez] out, it's like something inside of me, just the flame started burning again and I said, 'Wow, I was in the ring with that man two fights and in the first fight, I almost had him,' and that fire just started. It flared up again."
But seriously, did he have thoughts before then? Diaz just looked like a guy who was getting into fighting shape back in December. He admitted, "There was thoughts of a comeback a few months before. Even then, I was contemplating and doing the risk-versus-reward kinda deal, just factoring out if the risk is worth the reward. And finally, at that fight, it was clear to me that the fire was there and that the risk is worth the reward."
Anyone who was inside the building that night and felt the electricity in that venue as Marquez exorcised his demons was energized by what took place. And for a guy like Diaz, who was perhaps waffling on his return, you could imagine it would sway things in this direction. Fighters will often tell you it's really the rush and the adrenaline of the crowd and atmosphere they miss in civilian life. Maybe Diaz simply wasn't ready to be in the relatively mundane world outside of boxing so early.
"I believe so," he said. "I believe I ended my career a little too soon. Well, actually, I needed the rest. I had been doing it for 18 years since I was eight years old. So at 27, my body was worn out and in my last five fights, I had won one, lost one, won one and finally lost two. I needed a break. I was just sick and tired of the daily grind and the fire wasn't there anymore." Diaz, in going 33-0, captured the WBA and WBO lightweight titles and had become a legitimate draw in Houston. He was one of the game's rising stars. Just as quickly, he became a fallen one. Beginning with his loss to Nate Campbell in March of 2008, Diaz was victorious in only two of his last six bouts. And if not for a controversial hometown verdict against Paulie Malignaggi, he would have been on a four-fight losing skid.
And in his last bout, Diaz simply looked like a burnt-out boxer. The fighter known for activity and volume-punching was flat and uninspired. Diaz was doing everything on muscle memory with no real purpose that night. He was there in body - but not spirit.
Diaz doesn't argue that point, "That's absolutely true. I was mentally fatigued. When I was going to the gym, I was going through the motions. I was working hard but going through the motions, you can work hard. But my mind wasn't in the sparring; my mind was in the fight. My mind wasn't nowhere near ready to fight Juan Manuel Marquez in the second fight."
But there is a long-standing theory in this sport that high-pressure fighters like Diaz - and perhaps the best known example, Joe Frazier - simply aren't built to last over the long haul with how much energy they expend every fight. At the world-class level, Diaz was a grinder who would invariably have to go the distance to notch victories. It's a style that adds up quickly on the odometer. Perhaps a hiatus from the ring is what he needed. The more cynical view is like many others before, he needs the money. But Diaz says that simply isn't the case.
"I'm doing very well," he says, pointing to his trucking company, which he claims had gross earnings of $2.1 million last year (Diaz notes, "You net about 20 percent of what you gross."). He added, "I'm launching my own coffee, 'Baby Bull Café.' I also have a sports agency and working with athletes. So I'm doing very well. I have rental properties. I invested my money well. So I had a life after boxing and I live a very comfortable life but it's just something about negotiating deals at lunch meetings or dinners - it just doesn't do it for me. The most action I see is dealing with my customers. They try to negotiate the prices down and of course, I try to negotiate them up and we finally meet in the middle and we shake hands, eat a little dessert and go about our business. That's the most excitement I get throughout the day when I'm doing business."

Yeah, you could see how it's not quite as adrenaline-inducing as swapping punches with a Marquez or Acelino Freitas. The bottom line is Diaz, now 29, didn't want to live with any regrets at age 35. "I started contemplating my age and everything that I have done and I even went to the doctor to go get checked out once again - I did it when I retired - just to make sure. Because my health is number one and I want to make sure that I'm right in the head before I step in the ring and everything checked out perfect. Even my doctor said, 'Look, if you're really thinking about this, now is the time to do it. I don't recommend you coming back three or four years from now saying that you want to do this again. If you want to do it now, now's the time.'"
But not everyone is in agreement with this decision to come back to boxing, namely, his former manager, Willie Savannah, who had a father-son relationship with the fighter. For years, Savannah talked about Diaz walking away from the sport early and beginning a career in politics or law. His dream was for his fighter to one day be the mayor of Houston.
"I suggested that he did not [return]. My thing was - and his thing was - that he was going to go to law school. Y' know, he wants to come back to the ring and that's his business," said Savannah, who is not involved with Diaz anymore. When asked about his relationship with his mentor, Diaz said, "Well, Mr. Savannah, we talk all the time and he was for it at first but then he said, 'No, you should just continue with what you're doing and go about and live your life.' So Mr. Savannah is his own man; I am my own man. Now, I have Baby Bull Sports and Entertainment, who's managing me and the structures a little different and [Diaz and Savannah] didn't see eye-to-eye on a lot of things. We still talk every day; we communicate with each other. We talk about life in general but he's not my manager anymore and I think it's because we didn't see eye-to-eye on many of the things. He didn't agree with some of the changes I wanted to make and we kinda bumped heads a little bit and we both decided that it's best we stay and have a father-son relationship rather than complicate it by us not agreeing in the boxing business."
But Savannah, who lives comfortably off his pension earned from a 30-year stint at Union Pacific, says, "There was no issue at all on the management part of it. He got about seven, eight, nine guys around him and I told him, 'I don't think you can pay me as manager and pay all of these other guys that you got.' So what I did was, I voided his contract and gave it back to him so he would be free to work with all those other people without worrying about paying me."
When asked if he would be watching Diaz's fight, Savannah stated, "I probably won't. It hurts me to see him because I don't think in my mind that he should come back under certain circumstances and there's a lot more to do this than you know, a lot more to it than I'll discuss. But I just don't think he should be doing it."
In preparation for this contest, Diaz trained at the Savannah Boxing Gym. Savannah did his best to stay away from the premises as he worked. Working his corner will be a familiar face in Derwin Richards, who has worked his corner for years and was his amateur coach. With or without Savannah, Diaz will proceed with his career. The question - is just how long will he give this?
"My plan was to fight three or four times this year, to be very active," he explained, "and basically fight these tune-ups, even though we know there's no such things as 'tune-ups.' But lately with the way I've been looking in the gym and the way my conditioning is, it's like I haven't lost one beat and like I haven't stepped away from the gym or the sport. So now, I'm contemplating - and this is where my team and I are going to see how I look in this fight - and depending on how I look and how I feel, we might rush the situation or move a little faster."
Top Rank announced on Friday afternoon that the contest between Nonito Donaire and Guillermo Rigondeaux at Radio City Music Hall in New York is a complete sell-out. The venue has a capacity of 6,145 for this event.
Meanwhile, Golden Boy Promotions, who has well over 30,000 tickets sold for next week's big junior middleweight showdown at the Alamodome in San Antonio featuring Saul "Canelo" Alvarez vs. Austin Trout, announced there will be a "bleacher package" on sale Monday, starting at noon (ET). This will add another 3,000 available tickets priced at $150 and $100.
The HBO card tonight airs at 11 p.m.,ET/PT...The return of Diaz will be aired on Fox Sports (so check your local listings) and will have a co-feature of Jerry Belmontes-Daniel Diaz...On June 1st, Golden Boy will be doing their second card from the BB&T Center in Sunrise, Florida, featuring the talented Braulio Santos versus Derrick Wilson and Daquan Arnett facing Irving Garcia. This show will be televised on Fox Sports and Fuel TV...Bob Arum says Top Rank's next trip to Macao will take place July 27th. In addition to Zou Shiming, a fight between flyweight titlist Juan Francisco Estrada and Milan Melindo will be on that card...Saw "180 Days: A Year in an American High School" on DC Met and it was very good. At the same time, it was one of the most disturbing and depressing things I've seen recently...So is Carlos Quentin now the most hated Padre in Los Angeles, replacing Kurt Bevacqua (who couldn't hit water if he fell out of a boat)?...Kobe Bryant might frustrate a lot of Lakers fans but we should all appreciate what he brings to the table. That was never more evident than in his effort against the Blazers a few nights ago…I can be reached at k9kim@yahoo.com and I tweet at www.twitter.com/stevemaxboxing. We also have a Facebook fan page at www.facebook.com/MaxBoxing, where you can discuss our content with Maxboxing readers as well as chime in via our fully interactive article comments sections.