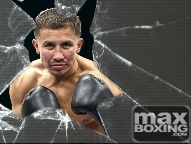 (Image by icheehuahua, MaxBoxing)


On June 21, 2003, Lennox Lewis successfully defended his heavyweight belts by scoring a TKO over Vitali Klitschko. The event was held at the Staples Center in Los Angeles, California. Why was this event important...simply because it drew the largest television audience ever to witness a boxing match broadcast by HBO...not HBO PPV but simply HBO!

Over 4.6 million fans tuned to HBO to watch this classic fight. Now the benchmark for any fight broadcast on HBO will be the 4.6 million mark. Will a new HBO record be established this Saturday, July 26? Now you know where I am going....straight to the drawing power of Gennady Golovkin. It's be a long, long, time since this sport has had a fighter of this caliber. Seemingly unbeatable with lighting speed (both hand and foot), command of the ring, and most importantly -- Golovkin is blessed with a young Mike Tyson's power. Speed and power are a deadly combination for a professional prizefighter.

The Saturday fight against former champion Daniel Geale at the Mecca -- Madison Square Garden in New York City, is for an alphabet version of the sexiest title in boxing - the Middleweight Championship. Every time HBO has featured Golovkin, he has doubled the viewership of HBO subscribers. The last time he fought he drew a mere ~1.5 million viewers. I am aware that it is the middle of summer and people are on vacation but he will certainly break that record. Gennady is the future of boxing...it's that simple. Once in a lifetime do we witness someone with such potential in the ring.

Is he the real deal? I, like you, will be sitting in front of my television this Saturday night as Gennady puts his skills on display for HBO subscribers. I have two thoughts, first, thanks to HBO for not making this a PPV event which would hurt Gennady's chances of scoring big in the PPV market in the future. Second, if he doesn't surpass the 5.1 million mark this Saturday, then HBO should give him another opportunity to set the new mark for HBO subscribers. HBO, please don't take this exciting fighter away from the general viewership.

Please don't miss the fight this Saturday, July 26, on HBO...check your local listings for broadcast times.

Thank you, David Tyler

Readers: Please visit doghouseboxing.com Friday for my interview with boxing sportswriter and expert - Matthew Aguilar as he weighs in on the power and speed of GGG.

***David Tyler replies to all his e-mails and loves to hear from the readers. Comments, Questions, Suggestions, E-mail
David now at: dtyler53@cox.net