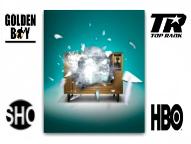 K9's 'Cold War' (Image by icheehuahua, MaxBoxing)


As boxing's "Cold War" shows no signs of thawing, those who cover boxing are now subjected to various spin-doctoring from the two major networks (HBO and Showtime) facilitating this blood feud between Top Rank Promotions and Golden Boy Promotions as they each insist it is the dominant television entity in the sport. Being a boxing writer nowadays is akin to covering a political campaign where the candidates and their staffs continually feed you possible storylines and quite frankly, smear their adversaries.
It never fails. A few days after either network airs a major fight, publicists will flood your inbox extolling their viewing numbers (or in some cases, pointing out how small the figures were on the rival channel). That saying, "There are lies, damn lies - and then statistics" comes to mind.
But the question is: Has Showtime taken over and surpassed HBO as the network for boxing in 2013?
Well, despite Oscar De la Hoya's offer of free retweets to those who canceled their HBO subscriptions, it's still clear that the "Network of Champions" and its larger subscription base is still the largest platform for boxers to perform on in the United States. According to Nielsen Media Research, out of the top 25 most-viewed boxing matches broadcast on the two premium cable giants, 21 of them were on HBO.


So before anyone tells you that HBO is still not the most-watched network for boxing in this country, well, that's simply not true. But it's clear that Showtime, which for years, played a distant second fiddle to its rivals, is closing the gap. This past weekend's fight in San Antonio featuring Marcos Maidana's defeat of Adrien Broner had an audience of 1,268,000. Showtime sent out this press release on Tuesday:
The audience performance during the main event ranks as the third-highest audience on record for live boxing on SHOWTIME since the network began tracking individual bouts in 2009.
The average viewership across the entire event, a four-fight, four-hour telecast, brings the series' 2013 average up 24 percent and a remarkable 64 percent over 2011.
Further, the average audience for the entire telecast ranks as the fourth-largest live boxing telecast on SHOWTIME since 2004 (when the Nielsen began separately measuring premium television multiplex channels) with all four coming within the last 12 months ranking behind the events headlined by Miguel Cotto vs. Austin Trout (Dec. 1, 2012); Paul Malignaggi vs. Adrien Broner (June 22, 2013); and Bernard Hopkins vs. Karo Murat (Oct. 26, 2013).
SHOWTIME Sports has achieved incredible growth in viewership of SHOWTIME CHAMPIONSHIP BOXING in 2013, and we'll take this momentum into 2014," said Stephen Espinoza, Executive Vice President & General Manager, SHOWTIME Sports. "With marquee events featuring boxing's No. 1 pound-for-pound fighter and global star Floyd Mayweather, the return of Canelo Alvarez, and a myriad of incredible matchups on the horizon in the welterweight, junior welterweight and super welterweight divisions—the very deepest, most talent-rich divisions in boxing--our subscribers can continue to expect SHOWTIME Sports to deliver the biggest and most significant bouts in boxing.
2013 has been a very good year for the sport. Veteran boxing observer Al Bernstein was quoted last week as saying it's the best year it has had in decades. It was certainly an eventful one for the sport, which is now more fractured as ever. In the short term, the divide between the titans that rule the sport (Golden Boy/Showtime and Top Rank/HBO) has been beneficial to the fans, some of whom feel compelled to take sides in this madness as if this were the Yankees versus Red Sox. You wonder just how sustainable or healthy it is for the boxing business in the long run. Right now, what boxing essentially has are two separate leagues of boxing co-existing in parallel universes, acting as if the other doesn't exist.
For now, the masses are tuning in. They're fight fans; they want to watch fights. And in 2013, both networks delivered on a consistent basis. HBO was bolstered by the likes of Gennady Golovkin, Sergey Kovalev and Adonis Stevenson, newcomers to its airwaves while Showtime's brand was boosted by the association with Floyd Mayweather and the Golden Boy stable, essentially jettisoned by HBO at the beginning of the year.

This is now a two-horse race. HBO is no longer Secretariat running 31 strides in front of the pack.
Showtime is no longer just Dollar Rent A Car to HBO's Hertz. They are now, at least, Avis. And Showtime is no longer Shasta (anyone remember Shasta?) to HBO's Coca-Cola. They are Pepsi. This is now a true battle taking place in the marketplace.
Shows are already lined up for 2014 and here's some ticket info (from various press releases):
ATLANTIC CITY, NJ -
Tickets are officially on sale for the January 24th explosive double header to take place in the Superstar Theatre at Resorts International Hotel and Casino in Atlantic City. The main event is a 10-round middleweight contest between hard-hitting contender Curtis Stevens, 25-4, 18 KOs, and the iron-jawed Patrick Majewski, 21-2, 13 KOs.
The 10-round co-feature bout is another exciting matchup. South African cruiserweight, Thabiso Mchunu, 14-1, 10 KOs, takes on Philadelphia crowd-pleaser Garrett Wilson, 13-7-1, 7 KOs, in what figures to be an interesting clash of styles.
Six additional fights are planned to be added to the card which is promoted by Main Events, Peltz Boxing and

Showpony Promotions

.
As for the January 25th card at the Theater at Madison Square Garden featuring Mikey Garcia-Juan Carlos Burgos on HBO:
Promoted by

Top Rank

, in association with Banner Promotions, Thompson Boxing Promotions, Gary Shaw Productions, Warriors Boxing Promotions, Madison Square Garden and Tecate, tickets, priced at $200, $100, $50 and $25, go on sale

This Friday!

December 20

at

Noon ET

-- THE perfect holiday gift for boxing fans. Tickets can be purchased at the Madison Square Garden Box Office, all Ticketmaster outlets, TicketMaster charge by phone (866-858-0008), and online at www.ticketmaster.com and www.thegarden.com.

On that same night on Showtime from the DC Armory, IBF junior welterweight titlist Lamont Peterson faces Dierry Jean and Gabe Rosado takes on Jermell Charlo:
Tickets priced at $25, $50, $75, $150 and $250, plus applicable taxes, fees and services charges, go on sale

Tuesday, Dec. 17 at 10 a.m. ET

and available for purchase online at www.ticketmaster.com, Ticketmaster locations, or calling (800) 745-3000.

The DC Armory Box Office will be open on fight night only from 3:00 p.m.-10:00 p.m. ET.

Here's the latest episode of "The Next Round" with Gabe Montoya and Yours Truly:
WARM DECEMBER SOCAL FLURRIES
Speaking of 2014, the first few dates of "Fight Night" on NBC Sports Network will be January 24th, March 15th and April 5th…The latest edition of "The Fight Game with Jim Lampley" on HBO premieres this Saturday night at 11 p.m., ET/PT...The January 18th HBO broadcast from Montreal will be a tripleheader: Jean Pascal-Lucian Bute, Mike Perez-Carlos Takam and Eleider Alvarez-Thomas Oosthuizen..."Scandal" was unbelievable this season. I can't wait for it to resume...You just can't trust the Detroit Lions; can you? For all the talent, they don't seem to get nearly enough out of it...
Can you believe it's shorts and sandals weather in mid-December in Los Angeles?...
---