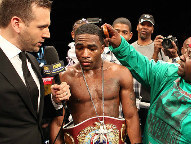 (Photo © Tom Hogan - Hoganphotos/Golden Boy Promotions)


By now, you've decided whether you love or hate Adrien Broner. I think he's fun. He naturally funny, always sincere with me, even if a little guarded (I'm media. You should be guarded) and he's hell on people in the ring. Give me knockouts and I am happy and for three fights since his disputed win over Daniel Ponce De Leon last March, Broner has delivered in that department faster than Domino's.
So what's the problem with "The Problem"? Well, if you hate his played-up arrogance, the hair-brushing during interviews by his dad or the "Mayweatherisms," then you're screwed for the next 10 years because you're stuck with him. He is possibly the Kobe to Floyd's Jordan only with the personalities in reverse. Kobe and Floyd are about as funny as each other, which is to say not at all. Those two could screw up a chicken and the egg joke. While Jordan is more of a straight man when it comes to comedy roles, he held his own with Bugs Bunny in "Space Jam." Unlike his self-professed favorite fighter, Broner has got jokes to go with his game.
"They call me 'The Problem,'" Broner told HBO's Max Kellerman after hitting Eloy Perez so hard with two right hands that he fell three times, "but you can call me 'The Can Man' 'cause anybody can get it. Afri-cans, Ameri-cans, Domini-cans, Mexi-cans. Anybody. Can. Get!" Then he smiled. So did I because moments before he was cracking wise (and doing it well), Broner took an opponent the experts (me included) picked to give Broner fits and took everything away from him before knocking him out.

"I love to entertain," Broner told me a few minutes after the fight. "I was definitely focused. It was tunnel vision. Once I got inside the ring, all I seen was the referee [and Perez] and that was it from there."
Broner and his coach, Mike Stafford, graciously spoke to me immediately following the bout.
"We knew we had him," Stafford said. "He was too short, so we worked the jab, worked the jab, go underneath and then come over the top. We knew we could time him because [Perez] drops his left hand all the time trying to slip punches and you see what happened: straight right hand over the top."
"I can adjust to any style. It really don't matter," added Broner. "It really doesn't take long. I get in and make my adjustments and go from there.
That said, Broner seemed a little surprised he stopped Perez so quickly. At the time, he was just boxing.
"I was just taking my time," said Broner. "I was going to break him down over time."
Broner was specific in his answer when I suggested he face WBA titleholder Takashi Uchiyama, who many on Twitter were tabbing for Broner's next quarry.
"Tell him to sign on the dotted line. It really don't matter," Broner answered.
When I initiated a name game of opponents, Broner clearly laid out his mission.
"I am ready for this," Broner stated. "I was born for this. I've been doing this since I was seven. That's why I train so hard and why I did what I do. It really don't matter who I fight right now. I'll fight anybody. I'm not a promoter. I'm not a manager. I'm a professional boxer so whomever they put in front of me, that's who I am going to fight."
How good is Broner? Time will tell. It's likely that he is not even a true 130-pounder but simply a very talented 22-year-old fighter passing through en route to what he dreams will be greatness. His Mayweatherisms, such as the slow, relaxed pace and the low, offensive output with the fluid style that capitalizes and neutralizes rather than attacks blindly are good things. Broner has a very strong presence in the ring. Some of the things he seems to copy, like the way he prayed in the corner of the ring, for instance, seem to be a little like how Kobe still hangs his tongue like Michael when driving. He may or may not grow out of these quirks but who cares? The kid is very talented. Everyone has influences.
Questions remain as they do with all young fighters. One question in my mind stuck out that night as it does for some boxing fans. Broner's answer left me with another. Will Broner rematch the only disputed win of his career, the Ponce de Leon fight?
Broner said, "I went ahead and talked to him by myself when there was nobody there and I asked him and he said no, so that explains itself."
Coach Stafford reiterated that they offered a rematch but as of yet, I haven't been able to reach Ponce de Leon for comment. When I do, I'll be sure to let you know the answer.
A Tale of Two Press Conferences: Part One…
If there's one thing I love about a press conference, it's the free lunch. I don't need to lie to kick it. Let me tell you; the chicken at the Beverly Hills Hotel, though probably not organic, was tasty; cooked to complimentary perfection. The salad was a little disappointing. I would have preferred spinach as Iceberg lettuce has no nutritional value. The dessert of your choice was especially delicious. I had the white chocolate macadamia nut brownies. A few times.
As for the press conference, well, who really cares? Everyone was on their best behavior. The new angles are being handed out to those willing to stand in a crowd around and record the new storyline answers from "Manny Pacquiao: Superstar." Luckily, I interviewed Bradley at length the week before on the radio and caught up with him for a one-on-one as soon as I walked in. I was set, regarding to the man I lean toward to upset Manny. I just wasn't interested in talking to Manny about his new Bible Ambassadorship in the Philippines. Everyone is entitled to his faith. Personally, I am somewhere between an angry ex-Catholic and worshipping Ralph, the head of lettuce from "What's Happening?" so I try and avoid religious conversations if I can. That seems to be one of the new things Manny wants to talk about. Great. Another set of questions we'd both be uncomfortable with me asking. I'm good on the God front for now.
On a related side note, I caught episode six of "On Freddie Roach." I hadn't seen the show but a few people mentioned the episode, so I checked it out. I thought the mass Manny and company attended was one of the oddest things I've ever seen. Maybe the editing told a different story than what actually happened but it appeared that people were viewing Manny going through mass the same way they would watch him weigh in or fight.
The show seemed cool but if I want to see Freddie Roach, I'll hop on the subway and go see Freddie Roach. The show seemed a little heavy. The Wild Card has always seemed more fun than that. I've laughed pretty hard in that gym. Then again, Manny "winning" the Marquez rubber match wasn't exactly a high point. Although regarding Pacquiao-Bradley (the fight as opposed to the press conference), the shot of Manny and Freddie talking after the fight, quietly conversing in a personal code almost, seems to me a key into how things will shake out.
What can you say about Manny Pacquiao vs. Tim Bradley that's negative? Nothing. It's a very good fight. You can't say "great" until it earns it but on paper, this has the makings of a passing of the torch. Bradley has a great chance to win for a variety of reasons. He has shown an ability to negate speed many times against the likes of Junior Witter, Kendall Holt and, most relevantly, the southpaw Devon Alexander. That fight, supposedly dangerous, turned out to be the easiest of the aforementioned, showing that Bradley's methodical pressure style will work against a speedy, southpaw style based in movement and long-range punching at odd angles.
That quiet moment between Manny and Freddie, in hushed tones after a fight no one in their camp could feel they truly deserve (no matter how they look at the word "deserve"), is the key. When a fighter loses a step or begins to shows signs like an inability to pull the trigger or making leg cramp excuses after bad outings, the trainer's job is to say, "Hey, it's time."
Now I am not saying Manny is all done but this will be his 60th

fight, which is 30 more than Bradley will have when the night is over. He'll be adding on to a total of 353 rounds of punches to his head and body. For a fighter with that many miles on him, a young, fresh, strong, starving body puncher is generally not the recipe for a longer career than what you've had until now.
Some people will say that promoter Top Rank is feeding the newly-signed Bradley, who is not known as a puncher, a big draw or what sheeple would call a "dynamic personality." Bradley simply wins. He does it brutally, methodically, not always entertainingly but effectively nonetheless. So while some say this is just another Manny Mirage, I say this is a gamble.
If Bradley wins, Top Rank did in short order what it takes years to do: build a brand name. For the rematch, after appearances on talk shows across the nation, Bradley will be even more well-known. Even if Bradley loses the return bout, he will have two fights with Manny, an option for a third to be played out at a later date and visibility that will enable him to make big fights in the welterweight division. For Bradley to successfully be launched into a higher stratosphere, all he has to do is at least look good in losing. That's worst case.
If Manny wins, the resurrection of "Manny Pacquiao: Superstar" will be complete. The Floyd fight will return to prominence and a possibility in some minds (not mine) and it won't happen again.
All in all, the press conference, viewed by 250,000 people on

ustream.com

from around the world, was an enjoyable experience. But a fight this good doesn't need exquisite chicken, religion or even the passing of the torch storyline to sell it. While it still needs a promoter to plant the tree that bears magic pay-per-view fruit, a good fight sells itself.
A Tale of Two Press Conferences: Part II…
Meanwhile, a few days before in England, Derrick Chisora decided after all those right hands he ate from Vitali Klitschko in an excellent losing effort, he was still hungry.
A lot has been written and said about this so I will be brief. I know it was wrong. I know the morality police have decried this shameful event. The WBC was first to get a piece of Chisora's purse. They got at him for $50,000 for taking part in the post-fight brawl and declaring- I guess- that he "would literally shoot David Haye" all the while creating the newest bar catch phrase "He glassed me" which is much funnier in a British accent.
Look, bottom line- and this is in respect to everyone involved, all who love boxing and good sportsmanship and so on- we're watching rich men pay poor men to beat each other's asses for money. Granted, it's a lot of money but c'mon. I know there are rules but again, let's not be hypocrites. Bad decisions in this sport aren't by accident. We all know this but they happen. And no one gets punished…well, unless you're in a Paul Williams fight in New Jersey. If you're in a black hat in DC, you're ultimately cool. Guys who shouldn't be fighting get knocked out on TV all the time. No one cares then.
And if you really care about safety, how about no glass bottles allowed in your arena? Just a thought.
So when the most exciting day in the heavyweight division occurs, don't fine people. Thank them. Lure Haye back from retirement, put him in with Chisora and let's see him literally punch David Haye. When you watch Marco Antonio Barrera sucker punch Erik Morales, do you go, "I am morally outraged by that shameful display?" I don't. I remember how great their fights were.
In an Unrelated Drug Story…
I don't think anyone caught this because, well, it was at the end of a story I wrote on Fernando Guerrero two weeks ago. If you're not really into long articles about him then you probably missed this.
On Wednesday, The Ring's Lem Satterfield reported that Marcos Maidana had demanded performance-enhancing drug testing for his bout next week with Devon Alexander.
Golden Boy Promotions, who promotes both fighters, readily agreed and left the procuring of a lab and enforcing of protocols to Tim Lueckenhoff, Executive Director of the Missouri Office of Athletics and President of the Association of Boxing Commissions. According to Lem's story (My attempts to reach Mr. Lueckenhoff were unsuccessful), Mr. Lueckenhoff has hired the services of LabCorp who will be collecting urine samples from both fighters before and after the fight.
There's a major problem with that. LabCorp does not do anabolic steroid testing of any kind. Though their law department refused to answer even the simple question of what kind of drugs they test for, I was able to gather that in fact, LabCorp hands over steroid testing to another lab, National Medical Services, which is WADA accredited.
But there is still a problem.
Collecting samples for anti-doping testing is much different than collecting samples for, say, a drug test to determine employment eligibility. Collection officers must be anti-doping certified and trained in those particular protocols. In the day and age of such tactics as fake penises filled with urine from someone else, all manner of masking agents and the best performance-enhancing drugs money can buy, the chain of custody part of the process has become incredibly vital. A certified anti-doping officer would know to make sure a subject goes through the proper procedure while a boxing commission inspector may not. This breach of protocol could be exploited should a sample turn up positive.
For example, in order to avoid things like "The Whizzinator," which is a product made to look like a fake penis (there's a female version as well) that dispenses clean urine from someone other than the test subject, a certified officer will make the subject lift their shirt halfway up and their pants all the way to the ankles. The subject will then face the officer and dispense the sample into a cup while the officer looks on. It's invasive but comprehensive. Someone not certified may just hand off the cup, let the subject go alone into the bathroom and then who knows what happens?
As they say in the doping industry, test results are only as valid as the history of the sample.
Yet another problem is that Mr. Lueckenhoff gave away the protocol of how the samples would be collected down to the time they will be taken. Any doping expert will tell you that knowing the window of testing is an important key to getting around a drug test. In addition, only urine will be taken as a sample. Without blood testing, not every drug that could be possibly used can be tested for.
What is supposed to be a precaution now seems either a dog-and-pony show or a sad commentary on how far behind the rest of the sports world boxing appears to be.
If Ryan Braun's lawyers, who never attacked the validity of his positive tests for exogenous testosterone but rather the chain of custody, can beat WADA-trained officials, what do you think a good lawyer could do with Missouri? Or Vegas? Or anywhere in boxing, for that matter?
Our sport needs to do one of two things. It either needs to be exposed as covering for performance-enhanced fighters or it needs to revamp its testing policy completely, hand it over to an independent, non-profit group who can't be influenced by anyone in the sport. We need 24/7/365 full testing with carbon isotope ratio testing used as a screener like Victor Conte suggested in this New York Daily News article about Major League Baseball. Right now, the Voluntary Anti-Doping Association offers that cost effectively.
It would be nice for once if boxing didn't feel like the dark ages when compared to other sports. Here's our chance.