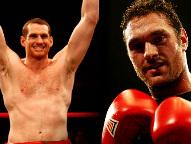 --


Tyson Fury and David Price have eyed each other like rival lions since their days as elite amateurs, knowing the other would be the biggest hurdle to winning a world heavyweight title as a professional. Both fight this weekend, Price against hard-punching Matt Skelton today while Fury faces veteran title challenger Kevin Johnson tomorrow. Truthfully, their managers are secretly pleased a fight between the two will be delayed since everyone will enjoy a much bigger payday if both remain unbeaten over the next year. The dream scenario is that their rivalry unfolds as the Muhammad Ali – Joe Frazier of British boxing with the understanding that boxing is a cannibal's banquet from which only one will emerge whole.
Is anyone surprised such a budding heavyweight rivalry between the hottest and newest up-and-coming prospects is taking place in Europe vice America? Given that the vast majority of heavyweight prospects are located across the Atlantic, this only seems right, especially after America's leading light, power-punching Seth Mitchell was exposed by light-hitting Johnathon Banks. Tyson Fury (if you are wondering, that is his real name and Fury was christened after Mike Tyson) is the bigger attraction at this time but over his last three fights, David Price has elevated his profile to rival Fury's. Aiding Fury is his extroverted nature, a character who has managed to push Price into his considerable shadow. This weekend, they make do with awkward foes to further their ambitions and bring them a little closer to actually fighting one another.

Before Price or Fury would - or legitimately could - fight anyone else for a world title, they would seemingly have to get past their similarly sized and hyped domestic rivalry. The pair has verbally sparred for years with Fury maturing faster as a pro while Price owns a 22-8 victory over Fury in the amateurs. Fury lost bragging rights when the British Boxing Board of Control ordered him and Price to fight for the British title and Fury declined, relinquishing the title for bigger paydays on a rival TV network. It left verbal openings Price could not resist filling, "I think Tyson has seen me fight and knows it's too dangerous for him to fight me. Hopefully, we can make it happen further down the line."
Marketing is key with heavyweights; promoters spend years creating a certain image. In this regard, Fury was born lucky and if a fighter is fortunate enough to develop into a talented heavyweight, is there any better name than "Tyson Fury"? This giant stands 6'9", weighing 250 to 260 pounds with a Larry Holmes-like physique, lacking pectoral definition and shoulder musculature that hides natural power. Fury came to the sport early since his father, uncles and cousins (including Andy Lee) all boxed and he's been boxing since age 12. Only had a 30-4 amateur record but won a bronze at the World Junior Championships, sporting mobility that belies oafish traits his size prejudices up. Is a perfect 19-0 as a pro with 14 stoppages, a jab-first pressure fighter with evident boxing skills. Fury does have defensive flaws and lacks fluidity in combination sequences. At 24, Fury is clearly not a finished product but has loads of potential.
Price is still in the growing stages - if you can say that about a 29-year-old, 6'8" 245-pound man - entering the 15th fight of his pro career. If things begin to go wrong, Price can fall back on a heralded amateur career of nearly 100 bouts, calling on three ABA titles (England's version of the National Golden Gloves), a Commonwealth Games title, silver at the World Amateur Championships and captaining England in the Olympics, earning a bronze medal. Given Price's high visibility, English fans already have a sizeable emotional investment, seen previously with British fighters such as Henry Cooper, Frank Bruno and most recently, Ricky Hatton. To date, Price has passed every test with flying colors, only allowing two opponents to last the distance. Importantly, Price is posting better results as the competition improved, recently stopping eight victims in succession.
Channel Five (the English equivalent of ABC or CBS) bought the rights to broadcast Fury's next three fights while Price's TV future is a little more precarious. Price is keeping a wary eye on his TV contract with Sky (Europe's HBO and ESPN rolled into one) that has two fights remaining on the current deal. Promoter Frank Maloney is negotiating an extension, understanding the importance of TV ties, "It was the help and backing of Sky Sports that paid a big part in making Lennox [Lewis] a hero all over the world and their support will also benefit David." Ironically, in the United States, both men's fights are featured live on WealthTV. Price takes the stage today at 2:30 p.m., ET (rebroadcast at 8 p.m.) and Fury's show starts at 4 p.m. on Saturday. Neither is tied to the network by an extended contract and both have talked about moving up to Showtime (which Fury already has) and HBO for wider exposure in America.
WealthTV is happy to feature both boxers now and network president Charles Herring likes the matchmaking for the Fury fight, "Kevin Johnson is an experienced and tough fighter. He's never been dropped and he's been training hard under Jeff Mayweather. It won't surprise us if Tyson experiences his first loss on Saturday. Regardless, we don't expect this fight to go the distance." American fans are the beneficiaries of the network's strategy of buying secondary market rights to English bouts. Quite honestly, the health of boxing abroad exceeds that of our domestic product when looking at American-bred stars, something Mr. Herring hinted to in a roundabout way, "We're pleased to have offered a number of world-class, quality matches live and for free on our network over the last year. The more quality events boxing fans have access to, the better it is for all boxing outlets including pay-per-view in the United States."
Wladimir Klitschko is an interested, third-party observer of these British bash brothers and commented on Fury earlier this year, "Fury's tall and he's almost seven feet; for his size, he is flexible and he floats around the ring. He could be a real good boxer if he stays focused because he has talent. I don't know what he's like inside but he definitely has a talent for boxing." Recently deceased Hall of Fame trainer Emanuel Steward shared Klitschko's assessment, telling the "On the Ropes" radio show, "Tyson Fury's a very talented guy. We look at him as a big, oversized, very cocky kid. He's only 23 but he has skills."
For his part, David Price has traveled all across Europe and America to work with other talented heavyweights. Price sparred former champions David Haye and Jean-Marc Mormeck and helped title challengers Dereck Chisora, Odlanier Solis, Albert Sosnowski and contender Kubrat Pulev, playing the role of a Klitschko in sparring sessions. At 29, Price is developing at the right pace and has sought input from American trainer Tommy Brooks to enhance that of current trainer and former amateur coach Franny Smith (who has watched Price box since age 10). Power remains Price's calling card with Price remarking on what happens to any heavyweight he punches cleanly, "When I hit people, they stay hit."
The duo seems resigned that their itineraries are unlikely to include a sought-after showdown. Fury's promoter, Mick Hennessy, told the Daily Mirror that preliminary talks have begun with the Klitschko brothers for a possible fight in 2013, "We were waiting for the Vitali situation to be resolved, with the elections, and he's going to make a decision about carrying on in December. There's also the option to do a fight with Wladimir. The fight with Wladimir will be a stadium fight and we would be looking to do it in May, June or July." Price has less ambitious plans for his immediate future, telling the Daily Star, "After I get Skelton out of the way, Dereck [Chisora] is the only one left at domestic level. There is David Haye but it looks like a world title or nothing for him."
Boxing fans are notoriously impatient; they want to see these rivals fight now instead of letting the feud fester or allow the fighters time to become better boxers. Ideally, both would win a version of the world heavyweight title before meeting each other. Given the demand for a domestic showdown and the Klitschkos' stranglehold on the heavyweight division, that is an improbable scenario. For now, heavyweight fans need to content themselves with Fury and Price making waves in the kiddie pool as the Klitschkos drown other opponents in the deep end of the heavyweight ocean.
Please visit our Facebook fan page at www.facebook.com/MaxBoxing, where you can discuss our content with Maxboxing readers as well as chime in via our fully interactive article comments sections.