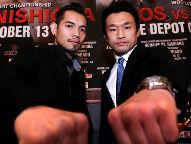 (Photo © Chris Farina / Top Rank)


On October 13th at the Home Depot Center in Carson, California, an HBO doubleheader takes place featuring a junior welterweight scrap between Brandon Rios and Mike Alvarado with a junior featherweight title tilt between Nonito Donaire and Toshiaki Nishioka. Top Rank, which is promoting this event, is hoping for a large turnout as they continue to try and build their boxers into commodities who are more than just guys who appear on premium cable networks twice a year.
With that in mind, they have priced the seats at the Home Depot Center (which is among the coziest arenas in the land for boxing) at $150, $75 and $35, very affordable by today's standards.
Bob Arum told Maxboxing on Monday, "Promoters for many, many years have, when it comes to scaling their houses, they have like a wet dream as to how much they can pull out of the gate. Now, we have always realized that you can't do that. The way to scale a house is to determine how well the tickets will sell and price is very, very important in making that calculation and I would prefer to err on the downside. In other words, have lower prices where people will say, 'Well, you could've had another $50 a ticket and made more money.' I'm very conservative, so I'm very, very happy to scale it a little lower than I can possibly get.

"And that's worked like magic in the [Julio Cesar] Chavez [Jr.] fight [versus Sergio Martinez on September 15th at the Thomas and Mack Center in Las Vegas]. I mean, we have [seats] from $600 to $25. That's very modest and we're selling out because of that and at the Home Depot Center also, we could've charged 300, 250 [dollars]. No, you charge what you think the people can pay and you scale it accordingly. And we don't have a million prices; I think we have three prices at Home Depot and we'll hopefully make up in volume what we don't do as far as ticket prices. But remember, I would always rather have volume than have even more money in the box-office."
According to the veteran promoter, the Thomas and Mack, which holds right around 9,700 in the lower bowl of the arena, is virtually sold out and Top Rank expects a complete sell-out for the Chavez-Martinez fight. In 2012, Chavez had continued his strong run of selling tickets (he did a gate of over a million dollars for his February clash against Marco Antonio Rubio at the Alamodome in San Antonio) and the formula is based largely on pricing the tickets as reasonably as possible. The same strategy is working for the October 13th promotion.
Todd duBoef, president of Top Rank, says ticket sales for this event are, "Fantastic, absolutely fantastic. The tickets, we had big demands before we even went on sale. Big orders coming into the office, people wanted to hold them, so I think it's terrific."
The Home Depot holds right around 7,500 patrons and had a large on the night when Paul Williams and Antonio Margarito tangled. Perhaps the most electric night it ever had was the third go-round between Israel Vazquez and Rafael Marquez. It's a building where there isn't a bad seat in the house and, unlike most casino venues, the seats are filled with real fans who are fully engaged in the proceedings. As most casino resorts are offering nothing more than "four-wall" deals nowadays, you are starting to see more fights at local venues - which suits Arum just fine, "You gotta build up a fan-base; you can't just have people spend all their money to go to Las Vegas when they can get into a car and go to the Home Depot Center in Carson."
The reality is that while site fees were lucrative for certain promoters and their performers, over the long run, casinos priced out the regular fan.

"Sure," said Arum, who explained, "because for a casino, you start with a ticket buy from the casino, which is necessarily inflated, but you still have to sell tickets and so you don't want to go crazy. And if you talk to the MGM Grand for example, they'll tell you nobody scales a house better than we do as far as affordable prices." DuBoef added, "I think our sport became such a conduit to gaming, so that the casinos artificially had a higher ticket price because the customers were associated with that and they were paying a lot of the freight because those customers were gamblers. When you go into markets where you're not in a casino environment, it's really hard-earned dollars, a guy who cashes his paycheck and what he gets from it. So it's a different dynamic."
The boxing industry needs a market adjustment in this regard. The fans who support this sport 12 months of the year shouldn't be left on the outside looking in and new fans need to be cultivated. "I think that we have an athlete-centric business model with a lot of people's businesses and what they try to do is they try to 'gross' the gate to a number that's fictitious. It's a mystery number, whatever is out there. But if the big gross is there, it grosses - they don't care if it's an actual sale or not; they just want to say it grosses. And for us, we don't look at the gross; we look at what we think is actual sales," stated duBoef.
(Many times, gate receipts and attendance are inflated by promoters, who will just pay the state taxes levied by the local commission and those tickets will count as a fully bought ticket. In many instances, these tickets will be handed out to hotel employees and local charities. And yes, freebies are a problem for the boxing industry. In short, they can kill a market.)
Arum recalls, "We remember when we were doing fights in New York; we were having trouble with a [Miguel] Cotto fight selling tickets and when we asked, 'Why aren't people buying tickets?' They said, 'Well, we wait for the end and then they give 'em away.' 'Who gives 'em away?' They said, 'Don King!'"
"Well, we ain't Don King!"
To have a successful promotion, you need three things: an appealing match-up (this card seems to have a pair), the right pricing for tickets and geographic logic. Arum believes this show belonged in Carson.
"It's a great venue; it seems that there's a California feel to the fight, big Filipino, Japanese community. Rios comes from here. It was the logical place to go and the Home Depot people are terrific, terrific people to work with."
And here is your obligatory Manny Pacquiao update on his next fight (where both the date and the opponent is unknown as of yet) from Bob Arum: "Well, we had a problem with the date because of Pacquiao's political thing. We're got that pretty well sorted out - although I'm not going to talk about it - and now, Manny, tonight or tomorrow [Tuesday], is going to pick who he wants to fight."
OK, now here's just rampant speculation on my part: I think it'll be a fourth chapter with Marquez as Arum and Top Rank go with a whole Mexico vs. Philippines-themed card.
Tuesday was supposed to be the media day for Martinez but with what is being described as a "security threat," this function has been shelved. On Monday afternoon this press release was put out by Top Rank:
VENTURA, CALIF. (August 27, 2012) --
Threats and an incident of vandalism over the weekend at the Oxnard-based training camp of two-division world champion

SERGIO MARTÍNEZ (49-2-2, 28 KOs), of Argentina, has forced the

cancellation of Martinez's Media Day Workout, scheduled for Tuesday, August 28 in Ventura, Calif.

Martínez is deep in training for his upcoming challenge of undefeated World Boxing Council (WBC) middleweight champion and Son of the Legend,

JULIO CÉSAR

CHÁVEZ, JR.

(46-0-1, 32 KOs), of México.
"This past weekend Sergio received threats from an unknown source and the car in front of his home was vandalized," said

Lou DiBella, Martínez's promoter.

"

Unfortunately,

until we have a security team in place, we are going to have to suspend any and all public and media appearances for Sergio, including the upcoming media day scheduled for tomorrow in Oxnard. We apologize for the inconvenience to the media and fans that have planned on attending tomorrow's event."
COUNTDOWN TO KICKOFF FLURRIES
Manager Gary Gittelsohn says the bout between flyweight beltholders Brian Viloria and Hernan "Tyson" Marquez will be pushed back from Sept. 29th as an appropriate venue could not be secured in time...As for Guillermo Rigondeaux's fight against Robert Marroquin on the Chavez-Martinez undercard, I'm told that, "It's up to the courts" and, essentially, up in the air...Julio Diaz and Hector Sanchez will co-headline the Sept. 29th edition of Telefutura's "Solo Boxeo" from the Fantasy Springs Resort Casino...Hey, the Jets will score a touchdown before October, right?...Uh, yeah, Dez Bryant brings new meaning to the term "triple-coverage" but, seriously, what other rules do the Cowboys have for him? Does he have to come home when the street lights come on?...The Vince Young era sure didn't last long in Buffalo...This is a must-have for any college football fan, a great TV guide for those wanting to view all the games:

http://mattsarzsports.com/football2012...I can be reached at k9kim@yahoo.com and I tweet (about everything) at www.twitter.com/stevemaxboxing. We also have a Facebook fan page at www.facebook.com/MaxBoxing.