The PPV TV Cheat Sheet…and Other Predictions – Dec. 8, 2012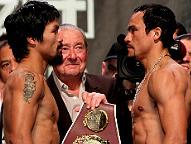 (Photo © Chris Farina / Top Rank)


Yes, we have seen this main event before but who among us does not like watching a true classic over and over again? Will it be fourth time-lucky for Juan Manuel Marquez? For boxing fans, it should be since the previous three meetings between Marquez and Manny Pacquiao have been dramatic as well as rating highly historically where trilogies are concerned. However, the mind has a difficult time conjuring up a quality fourth episode of an entertainment franchise. Perhaps "Star Wars IV" ("The Phantom Menace," right?) [Nerd/Editor's note: Though it's the fourth film in the "Star Wars" franchise to be made, "The Phantom Menace" is actually "Episode One." "Episode Four" is "The Empire Strikes Back"…my favorite in the original trilogy…but enough about me…], seems like an apt comparison since many people think Manny Pacquiao and Juan Manuel Marquez are so advanced they think "Star Wars" is a documentary.
Because of the quadruple-header format of a pay-per-view, I will only give full coverage (with individual fighter bios) on the two main events since including them for all eight boxers would make this a book-length feature instead of an article. Instead, I will give synopses on how I think the two preliminary bouts will unfold and pick a winner. I was asked about other bouts this weekend as well, so I will make picks for other televised main events and fights from around the world in this active weekend for boxing.

At Temple's McGonigle Hall, Philadelphia, PA
(NBC Sports) Bryant Jennings (15-0) vs. Bowie Tupou (22-2)
Bryant Jennings might be America's best hope at heavyweight (too bad he is not America's most exciting as well!) taking a small step toward readying himself for the elite Europeans by facing this tough Pacific Islander first. Bowie Tupou's once buoyant boat is sinking fast after suffering an eighth round TKO to fellow prospect Malik Scott three months ago. I don't see Tupou getting knocked out this time but he will lose thanks to an inability to move laterally or maintain proper distance against an intelligent boxer Jennings. The Philadelphia boxer will stay on the outside and pick Tupou apart with superior hand speed and even when Tupou gets inside, Jennings has underrated natural strength and a good chin that will stave off Tupou's charges. Jennings is also an underrated body puncher, so Tupou has very little working for him, stylistically, against Jennings. Another good but unspectacular win for Jennings by 10 rounds in a 12-round fight.
At the Business Expo Center, Anaheim, CA
(FOX Espanol) Luis Ramos (23-0) vs. Ricardo Williams (20-3)
Ramos is hoping to become everything Williams was hyped to be coming out of the Olympics in 2000, a fast stylist with enough sting in his punches to keep brawlers honest. Williams is still only 31 and continues to present moments of danger in every fight but lacks the consistency and work rate to upset concentrated foes of high level abilities. Ramos has those abilities and the focus as well and will pivot and potshot Williams throughout the fight with accurate leads and counters. Everything Williams does well Ramos does at a higher and younger pace, allowing Ramos to win a clear-cut decision along the lines of 98-92.
At the MCH Messecenter, Herning, Denmark
Mikkel Kessler (45-2)
vs. Brian Magee (36-4-1)
(The Ring magazine #8 light heavyweight vs. unranked)
The exciting Kessler is trying to fight his way to another big payday but injuries have prevented him from fighting more than once a year since 2009 (this is Kessler's second fight this year), limiting those big fight opportunities. Magee is similarly exciting but has always lost against top-level guys, which Kessler certainly is. I do not think that trend changes with Kessler too strong and attack minded at 175 pounds for the naturally smaller Magee. The first backward step Magee takes will begin his downfall, since he lacks the speed or ability to box while backing up. Kessler's accuracy aids him in stopping Magee between the sixth and eighth round, either by straight kayo or swelling and cuts.
At the Bonus Arena, Hull, England
(Wealth TV) James DeGale (13-1) vs. Fulgencio Zuniga (25-6-1)
Another match where the difference in speed alone makes predicting a result easier than most main events - and the speed advantage (of foot and hand) favors DeGale in a big way. In order for Zuniga to use his advantage in power, he needs to get close and stay there, which DeGale will not allow with his feet making Zuniga pay on the way in with his accuracy. Zuniga never quits looking for the knockout punch but he does grow frustrated and throws less and less as the rounds progress. Zuniga has the chin to last the distance and DeGale is smart enough to not take chances, scoring a sound but unspectacular decision, probably sweeping every round (unless he gets lazy late, which has been a tendency) behind his jab and evasive reflexes.
At the Orient Theatre, East London, South Africa
Nkosinathi Joyi (22-1)
vs. Walter Rojas (19-2-1)
(The Ring magazine #7 strawweight vs. unranked)
I still can't believe Joyi lost to unheralded Mario Rodriguez and expect him to bounce back like a champion. They picked an easy touch in Rojas, an Argentine who has 12 foes on his résumé with no recorded bouts before facing him. Rojas lost to a 15-11 boxer as well. Not much thought or video footage viewing is needed for this matchup, Joyi by knockout before the third round.
Ali Funeka (31-3-3) vs. Zolani Marali (21-5)
I like Funeka the second time around again but it is hard to judge South African boxers since the elite ones are just not active enough to maintain consistency. Funeka is a full notch better in every aspect and I was surprised he struggled last time out getting tagged by looping counters from Marali. Given that he knows what is in front of him now, I like Funeka to win more comfortably and maybe get a late stoppage since he is properly motivated.
At the MGM Grand, Las Vegas, NV
(PPV) Manny Pacquiao (54-4-2) vs. Juan Manuel Marquez (54-6-1)
(The Ring magazine #1 welterweight vs. #4 junior welterweight)
(PPV) Miguel Vazquez (32-3) vs. Mercito Gesta (26-0-1)
(The Ring magazine #2 lightweight vs. unranked)
(PPV) Yuriorkis Gamboa (21-0) vs. Michael Farenas (34-3-4)
(PPV) Javier Fortuna (20-0) vs. Patrick Hyland (27-0)
(The Ring magazine #8 featherweight vs. unranked)
Javier Fortuna vs. Patrick Hyland –
Javier Fortuna looks like a star of the not-so-distant future and his last two victories were worthy of 2012 "Knockout of the Year" consideration. Despite looking like he is out of control and off-balance, Fortuna remains accurate and balanced while winging hooks that make Ricardo Mayorga's look compact. Hyland is the opposite, a "by-the-book/master the basics without taking chances" boxer who wins by staying consistent and in control. The swiftness and velocity of Fortuna's punches will blow Hyland out the water, probably early and surely before the seventh round. A solid jab will help Hyland survive the early assault of Fortuna but the speed disparity is simply too wide and allows the Dominican destroyer to exploit every mistake of a losing but steadfast foe. Either referee Duane Ford saves Hyland from himself or he goes out a bloody mess around the sixth round.
Yuriorkis Gamboa vs. Michael Farenas -
The criminally inactive Gamboa returns (ironically on a Top Rank card which new promoter 50 Cent bought Gamboa away from) against a streaking southpaw opponent after enduring 15 months of inactivity. If anyone has the athletic ability to make a long layoff meaningless, it is Gamboa. The Cuban expatriate is at his best when throwing combination volleys, which might take a while to return because of ring rust and Farenas' own awkward lunges. Farenas has a quality left hook and moves well defensively above the waist but the Filipino sometimes has trouble combining the two, going all offense or defense instead of fusing them smoothly while darting in and out of range. It is consequential to Gamboa that this is a 12-round fight, allowing him to build momentum from the fourth round on and rack up points, perhaps scoring a knockdown or two in the late rounds. Those points will ensure a more comfortable win on the scorecards that is not reflective of the actual toughness of the fight. By bout's end, Gamboa should be up four points on the judges' tallies.
Mercito Gesta -
One great athlete can inspire an entire generation, as fans paying attention to the quality and depth of Filipino boxers emerging since Manny Pacquiao's rise will attest. Gesta is another in that talent-rich vein, motivated by Pacquiao's achievements and emulating his hero's style. Combination-punching 25-year-old moved to America five years ago, becoming a constant on the gym circuit, sparring champions like Shane Mosley, Amir Khan, Antonio DeMarco and Jorge Linares. This power package is guided by trainer/manager Vincent Parra, polishing up a diamond-in-the-rough who turned pro at age 16. Hall of Fame promoter Don Chargin commented on Gesta early in his career, "Mercito's a southpaw and he's a vicious body puncher. He's really starting to find his punching power and he's fun to watch." Though "No Mercy" Gesta has only stopped 14 opponents, sporting a 52% kayo ratio, recent TV outings suggests considerable power based on speed that stuns on arrival. When he gets an opponent in trouble, Gesta goes all-out for the stoppage, needing to rein in exuberance for selective punching. A maturing Gesta is refining that power; it is shocking that he never fought an amateur bout (aside from Muay Thai and kickboxing), stopping seven of his last nine foes and upping the level of opposition. At 5'7" with a 68-inch reach, Gesta's size is a potential drawback against bigger lightweights, so his jab and timing must improve. Naturally right-handed, Gesta throws many combinations and their speed is accentuated by accuracy and straight path the punches travel. Described his ring approach to writer Ryan Maquiñana, "I try to observe my opponent and see the best way to beat them. I don't like fighting just one style because the opponent will be able to study me." Needs work on defense, where Gesta can use that small stature to his advantage by dipping more when moving away or into an opponent. Reflexively brings his hands up fast and high, sometimes leaving ribs exposed and negating countering opportunities. Overcame culture shock, which affected his training and performances; now Gesta speaks English and is a dedicated gym rat. Soft opposition was a concern until 2012 and Gesta continued to look good as his foes' abilities improved. Gym reports and talk around the ring ropes at big events suggest he is not just the product of easy matchmaking. Gesta is a legitimate contender who could enjoy more PPV appearances if able to unseat a champion of Vazquez's undervalued caliber.
Miguel Vazquez -
Mexican slickster was a smallish welterweight, gaining my attention as the main sparring partner for Antonio Margarito before becoming a legitimate champion at lightweight. While far from the most exciting 135-pounder, Vazquez is probably the most difficult to beat and definitely the most avoided. Some will remember Vazquez as the man who upset red-hot Breidis Prescott, handing the Colombian his first defeat on ESPN2 and then repeating the feat with Australian hotshot Leonardo Zappavigna on Showtime. Vazquez is a tough-as-nails boxer/puncher who never lost to a fighter of lesser ability. Got off to a rough start succumbing to junior middleweight champion Saul Alvarez by split decision in his pro debut. Another setback was to pound-for-pound entrant Timothy Bradley, losing all but one round, unable to deal with Bradley's hand speed and strength. Also, dropped a second fight to Saul Alvarez but Vazquez (weighing a career-high 148¼ for the rematch) is the naturally smaller man and has never lost a fight at the lightweight limit. Never been stopped either due to a combination of toughness and underrated mobility that has him at the proper distance to see punches and avoid or roll with them. The return fire from Vazquez is timely and usually immediate. Only has a 37% kayo ratio but features enough power to cut or cause swelling with repeated and precise connects. At 5'10", Vazquez is extremely rangy for the division and uses that wingspan as effectively on defense as offense with punches that seem to always unfurl just enough to connect with a thump. Snappy jab leads the way, in advancing and countering, altering between using it as a stopper and rangefinder. At 25, Vazquez is in his prime and trained by Javier Capetillo, the same man who illegally wrapped Margarito's hands, a proverbial gym rat never taking more than a week off between fights. Despite this, has had slow starts on occasion and needs a couple rounds to time his foe before settling in and upping his punch count. Vazquez is a very good body puncher, an invaluable asset if the fight is a grueling as some expect and goes the distance. Our Steve Kim described Vazquez's style perfectly in a recent feature, "His style isn't in line with the stereotypical, face-first, Mexican style. Vazquez is a slippery, tricky boxer who is almost impossible to hit cleanly. Punching him flush is like catching a wet noodle. It's not a fan-friendly style; it can be best described as awkwardly effective."
Verdict -
Vazquez looked ordinary in his last outing, which will ironically aid him in winning this fight. Yes, Gesta can bang and will advance but he doesn't have the accuracy or feet to keep on top of Vazquez to hurt the Mexican consistently. Vazquez will defuse Gesta's power, working consistently behind a long jab and accurate one-two volleys, probably losing three rounds before warming up and connecting flush late. Rounds six to 12 will look as if the broadcast is looping the same round over and over, as Vazquez allows Gesta to come forward while beating him to the punch. The three inches in height and four-inch reach advantages for Vazquez are added cushions of comfort to aid him in timing Gesta. Look for a unanimous decision favoring Vazquez in the range of eight rounds to four as the most probable outcome.
Juan Manuel Marquez -
One of the finest Mexican boxers of his or any generation, Marquez's name deserves equal billing with a contemporary like Marco Antonio Barrera or legend like Julio Cesar Chavez. Nineteen years into his pro career, the Mexico City native retains pinpoint accuracy that enables him to end a fight at any moment and still, the future Hall-of-Famer works his butt off, getting up at 4 a.m. every morning to run in the mountains. Reviewing his career and ring performances, I cannot think of a skill or aspect of pugilism Marquez lacks in the ring; "Dinamita" has proven he can do it all and against elite opposition. You can tell Marquez grew up in as boxing family, absorbing aptitude by osmosis; his father, a former pro boxer, inspired both sons, Juan and Rafael, to world title glory. Began boxing at age eight, only losing once in 36 amateur fights though obviously more suited for the pro ranks given his patience. Would have been a force on the world stage earlier but endured a controversial and boring loss to then-unbeaten champion Freddie Norwood on HBO which alienated the network from him for a considerable time. Gained fame and admiration for coming back from three first-round knockdowns to battle Manny Pacquiao on even terms in an unforgettable first meeting. Many thought Marquez beat Pacquiao in a split decision loss four years later and before that, Marquez conquered Marco Antonio Barrera to make that fight possible. I could go on for hours rehashing Marquez's exploits but suffice it to say, he lacks nothing in the ring or as a family man outside it. The other factor that impresses is the quality of opposition Marquez has been able to achieve that success against, never looking confused or in a hurry to employ a game plan he has complete faith in. Remains guided by the sage hand of Nacho Beristain, the Mexican equivalent of Angelo Dundee, who has been with Marquez for over a decade, an invaluable asset in preparations for marquee bouts such as this. Of course, at age 39 and after an unadvisable move up in weight to fight Floyd Mayweather (who came in over the contracted poundage), there were more than a few skeptics predicting doom before he lost narrowly and controversially to Pacquiao only a year ago. Marquez is a special boxer adding another paragraph to an imposing résumé and soon-to-be-finalized Hall of Fame plaque.
Manny Pacquiao -
I have been looking for but not been able to find signs of hubris in Pacquiao's boxing, a surefire Hall-of-Famer and legend of his own time in the Philippines. There is no need to waste much of our educated readers' time with a lengthy introduction of Pacquiao. His rise is well-chronicled in print from The Ring to Time magazine and from "The Jimmy Kimmel Show" to "60 Minutes" on the television side. It is one of boxing's most glorious and unexpected ascendancies, in historical terms, akin to that of a great general like Alexander the Great given the weight divisions conquered. I will add that not only is he one of the greatest boxers ever but his virtue spills over outside the ring where a compassion and eagerness to help others is obvious in his work as a congressman. Dominating the likes of Oscar De la Hoya, Erik Morales, Ricky Hatton, Miguel Cotto and Juan Manuel Marquez has rightly pushed Pacquiao into the mainstream. He is the only boxer who shares the non-sports press time equally with the NFL, NBA and MLB when he competes. It is a long way from the teenage boy who lived on the streets of Manila, leaving home against his mother's wishes, rescued by amateur boxing (60-4 record) before turning pro at 16. While his power gets a lot of ink, his eyes and speed present Pacquiao with the key to unlock opponents. The way "Pac-Man" flirts with disaster by flashing in at opponents' defense and offense is breathtaking in its daring, guile and truculence. A lightning bolt packed into boxing trunks with punches that strike out in an instant with paralyzing velocity. Unlike lightning, Pacquiao will strike in the same place twice and go back to a punch until his opponents reacts to it. Then Pacquiao speeds to the next target area to bomb, leaving opponents flinching in anticipation of an impact at an unknown location. A southpaw stance is another weapon in Pacquiao's arsenal and an abnormal 67-inch reach for his size (obviously not a product of steroids) is overlooked as part of his success. An unrelenting work ethic has seen Pacquiao morph into a two-fisted fighter, no longer dependent on a powerful left hand alone. Few men have ever entered the fray with a smile and as much joy as Pacquiao. A strong person of body and mind, the Filipino has mentally accepted and dealt with an entire nation's zeitgeist dependent on the outcome of his fights.
Verdict –
I doubt anyone will be surprised by another close encounter between the Hall of Fame-bound duo and once again, this bout comes down to effective aggression. After 36 rounds, these guys are nearly even on the combined rounds tally, so nothing is apt to throw or confuse the other. Juan Manuel Marquez has been able to compete with Manny Pacquiao on even terms because his perfect timing counters Pacquiao's aggression. However, some judges score the initial attack instead of a successful counter of it. Given how used and adapted to each other these two are, I side with the more athletically gifted of the duo (speed, size and age-wise). That boxer can make needed alterations since in terms of boxing I.Q., they are on an equal plane. If one boxer is going to press and get out of his style, it will be a Marquez looking for final vindication. That small kernel of change could be the straw that provides the tipping balance in favor of Pacquiao. The Filipino flash will use his feet more this time, not allowing Marquez to control the distance and circle more instead of the usual darting attacks. This means the fight comes down to the judges scoring their preferred style again. I believe one of the jobs of the boxer is to get the judges to watch him instead of their opponent and that is what Pacquiao does brilliantly with his unrelenting energy. That means the majority of the time, the judges' eyes will be on Pacquiao thus giving him the benefit of the doubt in close rounds earning him a 115-113 victory.
Prediction record for 2012: 84% (120-23)
Prediction record in 2011: 88% (138-19)
Prediction record in 2010: 85% (218-40)
Please visit our Facebook fan page at www.facebook.com/MaxBoxing, where you can discuss our content with Maxboxing readers as well as chime in via our fully interactive article comments sections.



Subscribe to feed