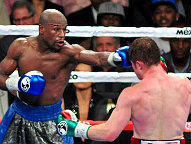 (Photo © German Villasenor)


I was at the fights last Thursday night in Las Vegas when trainer and manager Henry Ramirez asked me, "Hey, you gonna do one of those articles where you go through your day? I love those things." Well, since I haven't in a long while, I figured this is as good a time as any. I mean, Floyd Mayweather-Saul Alvarez was only the biggest event of the year in boxing and quite frankly, not much is going on this week. So here it is, my fight day in Las Vegas...
9:02 a.m:
I wake up in my room at the New York, New York and I'm not actually feeling all that bad. I turned in relatively early (by "Steve Kim in Las Vegas" standards) and while the guys staying in the room with me, Noe and Sal, are knocked out cold - as they certainly missed curfew - I'm ready to watch some college football. So while they were sound asleep, I start watching UCLA's game versus Nebraska and flip around to Louisville-Kentucky among a few other college football games.

Last night, the place was the Zuri Lounge at MGM Grand where trainer Robert Garcia and his crew were ordering not drinks but flat-out bottles of Grey Goose and yeah, it was flowing like the Mississippi River. Marcos Maidana was there and he was sipping the bubbly all night.
10:05 a.m.:
By now, I'm at the America Cafe for breakfast and I order an orange juice, a breakfast burrito and oatmeal. Hey, you might as well load up. This is the most important meal of the day; right? Nebraska is up on the Bruins 21-3 at this juncture.
11:45 a.m.:
Noe and Sal are kinda up now and UCLA has put Nebraska to sleep by scoring the next 35 points and you can see 'Huskers coach Bo Pelini blowing up at everyone. Yeah, Pelini might not be long for Lincoln and he didn't help his cause by getting into it with Big Red legend Tommie Frazier a few days after this bad loss at home. Meanwhile, UCLA, led by Brett Hundley and Jim Mora, is going places - and sooner than most pundits expected.
12:30 p.m.:
At this point, everyone is awake - although Sal is still languishing in bed somewhat incoherently - and it's time for the big game between 'Bama and Texas A&M, likely the biggest sporting event in the States this weekend (what; did you think we were going to the Shoe Palace?). By now, Ramiro (yes, that Ramiro from Twitter) is in our room and we have a good time drinking a bit (Noe always packs a few battles of Goose wherever he goes) and watching "Johnny Football" do his thing. The "Aggies" go up 14-0 in a flash and yeah, whatever he got for signing his Johnny Hancock is well worth it.
1:34 p.m.:
I do a radio segment with Bryan Webber of NBC Sports Radio. I have to say; in the past week leading up to this event, I think I must have led the league in interviews on NBC Sports Radio. Seriously, not only was I on with everyone from Chris Mannix to my old pal, Dave Smith but I also was on different shows on the same day. I can always gauge when a fight is big by how many of these programs I'm asked to appear on. Well, throughout the week, I did radio hits on stations all throughout the country, as did many of my colleagues. Yeah, this promotion was pretty damn big.
2:21 p.m.:
'Bama has taken complete control of this game. The Aggies' defense…uh, yeah, Von Miller, Sam Adams and Patrick Bates aren't exactly walking through that door for coach Kevin Sumlin. The Tide is now rolling 28-14 behind the steady leadership of A.J. McCarron.
3:50 p.m.:
Just as I'm about to give up on this game and head out early to the MGM Grand, Manziel hits Mike Evans for a 95-yard touchdown to bring A&M down to just a touchdown's difference at 42-35. I think to myself, if Mayweather-"Canelo" is anywhere near this good, we're gonna have a historic fight on our hands.
4:05 p.m.:
Alas, the Aggies' defense couldn't stop a leaky faucet. 'Bama scores to make it 49-35 and I head over to the MGM Grand. And as I pass the sports book, A&M cuts the lead to 49-42 (which ends up being the final) but what really catches my eye is the madhouse that is this place (https://twitter.com/stevemaxboxing/status/379025209367351297/photo/1). Yeah, I know it's a college football Saturday but it seems like much of the action is on the fight tonight.
As I walk though the hotel toward the Grand Garden Arena, the place is absolutely buzzing with activity. There is a certain electricity for this promotion and it's palpable throughout the city and absolutely at this hotel, where seemingly every other person has TMT gear or "Canelo" bandannas on. I actually met people who came to Las Vegas early in the week who were flying home that day to watch it on pay-per-view at home but they wanted to at least be a part of the week's festivities related to the fight. I can honestly tell you I have never heard that before.
5:07 p.m:
By now, Reeno and I are in the media room where a long line of press is already queued up to get its food. Yeah, we are a ravenous lot and you put free grub anywhere near us, we quickly pounce like vultures. What is offered is some pretty good Mexican food. As I'm eating, I get a text from an old friend from my radio days asking if I could do a segment for ESPN Los Angeles.
I actually do this interview later on right near the entrance and it's hard to hear the host because of all the people swirling around. Usually, this far from the main event, honestly, you can whisper to someone and hear them clearly. Like I said, this is quite the scene.
6:53 p.m.:
The first fight of the pay-per-view portion of the card has finished up and Pablo Cesar Cano beats Ashley Theophane of "The Money Team" in a split decision that is a bit head-scratching. From my vantage point, the Mexican hurt Theophane several times and backed him up for much of the night. Cano is a decent, hardnosed fighter, the kind who will always make for pretty good TV.
7:01 p.m:
Now, it's time for the IBF junior middleweight title bout between Ishe Smith and Carlos Molina.
7:13 p.m.:
Hauser can't take this fight anymore; he bails to go to the restroom. Me, I'm more concerned about the fact that the internet connection we are provided inside the arena is shaky. I can't get a consistent connection for my laptop and I do much of my tweeting about this fight on my cell phone. You know me, folks; I'm gonna get my Tweet on somehow. But honestly, I'm not paying much attention to this fight. This just might be the worst title fight I've seen in a long time. This is the type of undercard bout I've dubbed "The Beer Line/Piss Break" fight because you're invariably doing one or the other by the middle rounds of bouts like this.
7:50 p.m:
I get frustrated with my inability to get on my computer and I don't want to miss a second of the upcoming bout between Danny Garcia and Lucas Matthysse, so I head out to the restroom but I do notice a good portion of the crowd is already inside the arena. As I get near the restroom I notice a line, so yeah, they must have not been impressed by what they were looking at either.
8:09 p.m.:
Molina wins the title via split decision and now both Garcia and Matthysse are in the ring. This fight is a rarity: a pay-per-view undercard bout that is actually anticipated and satisfies the hardcore fan of the sport.
9:06 p.m:
"Swift" Garcia has pulled the upset. He boxes just well enough to offset the power of "The Machine" and in the sixth round, he creates a swelling around Matthysse's right eye. It was at that point when Garcia started to pick up steam and gain confidence. I have to admit, the durability and toughness of Garcia surprised me. Matthysse was knocked down in the 11th after a quick start to the round and they both finished the contest with a flourish to end the fight. It wasn't quite the slugfest some had expected but a good, solid professional fight, nonetheless.
Garcia wins the contest by the scores of 115-111 and 114-112, twice, putting him in prime position to face Mayweather in 2014.
9:22 p.m:
Before Mayweather and Alvarez get into the ring, some business has to be taken care of. Both the Mexican and American national anthems are played. What's interesting is as I look into the crowd, despite the number of Mexican fans, for whatever reason, I don't see hardly any Mexican flags as I usually do. Jimmy Lennon Jr. announces, "It's time for 'The One': Mayweather versus 'Canelo'" and the crowd roars. Despite being the defending beltholder in this fight, Alvarez is walking into the ring first and thunderous chants of "CA-NE-LO!" reverberate throughout the venue.
Then Mayweather comes into the ring with Justin Bieber (you read that correctly, folks) and Lil' Wayne, who is speaking some gibberish into the microphone (seriously, what in the hell has happened to hip-hop?).
9:34 p.m.:
The ring is cleared out and it's just the two men everyone has come to see looking into each other's eyes. This has certainly been a huge promotion but the question is: Can we get a fight to match the magnitude of the hype that accompanied it?
10:32 p.m.:
Well, it's over and quite frankly, it wasn't so much of a fight but another virtuoso performance by Mayweather. Alvarez, for some reason, was rather cautious against Mayweather and never fought particularly aggressive. After the second round, when he didn't press the attack as hard as he could have, Hauser says to me, "Y' know this fight is over; right?" And he was correct because the rest of the night is Mayweather systematically winning one round after another…well, at least to most observers.
The most memorable moment of this night is when Lennon announced, "We have a majority decision." An audible gasp could be heard throughout the arena. The overwhelming majority of the ringside press gave Alvarez a round and if they were generous, two. But somehow, C.J. Ross scored the fight a draw, which was overruled by the cards of Craig Metcalfe and Dave Moretti, who had Mayweather winning. In the wake of her scorecard, Ross, who infamously scored in favor of Tim Bradley over Manny Pacquiao last year, has taken a "leave of absence" from her post as a judge (http://www.usatoday.com/story/sports/boxing/2013/09/18/cj-ross-leave-of-absence-floyd-mayweather-saul-canelo-alvarez/2829775/).
I'm not exaggerating when I say that if Alvarez would have somehow gotten that verdict, it would have been the worst decision since perhaps Pernell Whitaker getting screwed against Jose Luis Ramirez (which took place when I was in high school…geez, I'm getting kinda old).
As the arena clears out, I do something I rarely do: I actually sit down at press row and type out a story. Usually, I don't do deadline and go to the media room for the press conference but this time around, I pen this for SportsOnEarth: http://www.sportsonearth.com/article/60673284/. It's not technically a deadline piece but they want it in as quickly as possible and quite frankly, getting out of the Grand Garden Arena is like hitting the 405 freeway at rush hour. By the time I'm done, I'm about the last writer there but as I hit the exits and go toward the media room, I still see a sizable crowd milling around. I only stay at the presser for a few minutes. Floyd is always on Floyd Time and to be honest, I'm not in the mood to wait around.
11:35 p.m.:
Ernie Gabion from Everlast and I attempt to get something to eat at the MGM Grand but everywhere we go, a huge line greets us. So we head to the New York, New York where we meet up with Noe and while the wait in line to grab a table at the America Cafe isn't bad, the service is incredibly slow. I mean, reaaaaaal slow. Slow to a point where a manager comes over to us and actually apologizes, takes 50 percent off our tab and buys us a round of drinks.
1:06 a.m.:
We head back over to the Rouge at the MGM Grand where we meet up with various friends and acquaintances. Honestly, one of the best parts of covering a big fight is seeing people you usually just converse with on Twitter or via text. It's a great way to wrap up the fight weekend. I joke to Victor Salazar that I'm going to get him a TMT hat for his birthday. I couldn't help myself and I had to pick one up for me. Don't believe me? Here's proof: https://twitter.com/stevemaxboxing/status/380019664660623360/photo/1
And that was fight day for "The One."
Yeah, there's nothing like being at the fights and writing about them.
It certainly beats working a real job.