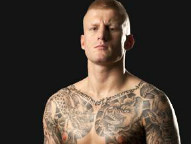 -


In front of a lively Danish crowd Patrick Nielsen, 21-0 (10), gave his hometown fans plenty to cheer for stopping battle-hardened Mexican Jose Pinzon, 24-6 (15), in five rounds to retain his WBA and WBO Inter-Continental middleweight titles.
Nielsen, 22, had to stave off the early pressure of Pinzon with a more educated attack, landing the more eye-catching punches. To his credit, Pinzon kept coming forward aggressively while Nielsen used his skills to good measure.
By the fourth round, Pinzon's attack had slowed down, allowing Nielsen to land a beautiful left hook toward the round's close. Late in the fifth, Nielsen landed a devastating left hook to the jaw of his Mexican foe, whom, to his credit, rose but the contest was waved off with referee Lahcen Oumghar insisting Pinzon was in no position to continue, calling the contest off at 2.59.

A jubilant Nielsen later commented, "Pinzon was a tough opponent. He had a very long reach and he really came to fight. But my coach, Joey Gamache had prepared me very well. He told me what to do. I am happy I could give my fans a great KO win."
Pinzon wasn't so sure the stoppage was the correct decision. "I think it was an excellent fight. I don't want to look like a bad loser but I don't feel I was [knocked] out. I could go on. It was a good shot."
When asked what's next for Nielsen, promoter Nisse Sauerland said, [Nielsen]'ll take a few weeks off. I'd like to see him out in February, March," before continuing, "I believe he's one or two fights away. He's well placed with three of the four [alphabet] organisations, so we'll have to decide which way we go."
Danish Olympian Dennis Ceylan lived up to his "Menace" nickname, dropping Edgar Torres, 5-7-1 (4), in the opening rounds before winning a wide decision over his brave opponent to win an 80-71 sweep to take his record to 9-0 with five stoppage wins in featherweight action.
The younger Nielsen brother, Micki, 11-0 (9) didn't waste time stopping Bjoern Blaschke, 9-3 (5), at 2.36 of the opening round at cruiserweight with a well-delivered left hook to the pit of Blaschke's stomach.

Lightweight Rashid "The Dream" Kassem, 4-0 (2), landed an impressive right hand to drop Maxime Roussel, 4-2-1 (4), and though he beat the count, Roussel's corner threw the towel in at 2.35 of the first round.

Female light welterweight Klara Svensson, 12-0 (4), used her skills but failed to stop battle-hardened Bulgarian Borislava Goranova, 6-37-1, to win an eight-round shutout on all three ringside judges' cards.

Sweden's 2012 Olympian Anthony Yigit improved to 6-0-1 (1) with a unanimous decision over Anton Bekish, 5-9 (4), by scores of 60-54 and 59-55 (twice).

Simen Smaadal, 8-0 (3), dropped Leo Tchoula, 9-4 (8), three times before registering a fourth round stoppage at super middleweight.

Norway's Tim-Robin Lihaug, 5-1 (4), got things started stopping Germany's Steve Kroekel, 17-24-3 (7), in the third round, dropping him in each round prior to referee Per Hansen intervening.
The action took place at
MusikTeatret, Albertslund, Denmark in front of 989 patrons.
Back to school...


Both Patrick and Mikki Nielsen may both have left school several years ago but in the build-up to their fights this weekend, both paid their childhood school, Egelundskolen (from which pupils and teachers alike came to see both) a visit.

When Patrick arrived, he received a hero's welcome. Many of the children know him via boxing but he was also on last year's European season of "Dancing with the Stars," which helped supplant his celebrity.

Both brothers enjoyed the occasion, signing autographs and taking pictures with the children. Patrick would add, "It's great to come back and see the teachers. This is where is all started for me. Hopefully they enjoyed it as much as I did."

Pride of Maine…

As a boxer, Joey Gamache won world titles at two weights, he held the WBA super featherweight title in 1991 before stepping up to lightweight the following year to win the WBA 135-pound title.

His boxing career came to an end in 2000 after getting knocked out by Arturo Gatti in a fight that, to this day, is still controversial. Gatti outweighed Gamache by 15 pounds on HBO's unofficial scale prior to their fight.

Gamache has no ill will toward Gatti, "
He was a fighter, just doing what he's supposed to do." His problem has long been that the commission should have regulated things better in the fight's lead-up.
After retiring, Gamache, 55-4 (38), needed to do something new to pay the bills. Having been a

successful boxer, he then trained local fighters in Maine, helping his father promote and train before heading to New York and then linking up with Emanuel Steward at the famed Kronk Gym. "For me, it was like starting over. I needed to earn my stripes again, so I left my family in Maine and would train fighters in New York, then I got to work with Emanuel. That was great. We went all over the world. That was an education."

With his reputation growing, Gamache was invited by Sauerland Events in March to train some of their fighters in Scandinavia, basing himself in Copenhagen, Denmark, where he primarily works with the Nielsen Brothers, Yigit, Svensson, Otto Wallin and
Lihaug.
Can you dig it, Yigit?


Professional boxing has been banned in Sweden since 1970, meaning any fighters with pro aspirations have to fight outside their homeland.

This is very much the case for Anthony Yigit, a young, up-and-coming light welterweight who was one of just two members of the Swedish boxing team at last year's Olympic Games.

The 22-year-old from Stockholm was to lose in the quarterfinals to eventual silver medallist Denis Berinchyk by a single 24-23.

Despite the loss, Yigit enjoyed the Olympic experience. "It was kind of unreal. You have all the anticipation of what it will be like but it was 10 times bigger," said the young southpaw. "You could feel you were part of something big. When I went home, it seemed like a beautiful dream. It's hard to explain."

During his amateur career in which he had well over 100 fights, Yigit took to the road and was somewhat of a boxing nomad, training in Ukraine and Russia to gain more experience. All told, as well as appearing at the London Olympics, Yegit also fought at the 2011 World Championships where he lost to Everton Lopes, who ended up winning gold.

When the offer to go pro from Sauerland Promotion came last summer, it was an easy decision: "Amateur boxing doesn't pay, so everyone in Sweden needs to go pro."

The lone arbitration on Yigit's ledger came when he was forced to settle for a draw against Tony Pace, something he's keen to make up for. "Yes, of course. I was talking with my trainer and he says this fight is good to get my confidence back, we saw [the Pace fight] as a win."

The general feeling is Yigit abandoned the pre-fight game plan to box and move instead electing to go to war with Pace. It was a valuable lesson for the young Stockholm product. "Actually, me and my trainer agreed the draw was the best thing for me. I think I will draw strength from it and make me a better fighter."

Yigit's promoter, Nisse Sauerland believes his fighter to have considerable upside. "He's got some serious talent. He's a natural. It's what he does - eats, sleeps, breathes boxing."

It's still far too early to make outlandish statements but Yigit hopes to one day add his name alongside heavyweight legend Ingemar Johansson and, more recently, two-time WBO middleweight ruler Armand Krajnc as the only Swedish men to win world titles.


Questions and/or comments can be sent to Anson at
elraincoat@live.co.uk
and you can follow him at

www.twitter.com/AnsonWainwright.
Please visit our Facebook fan page at www.facebook.com/MaxBoxing, where you can discuss our content with Maxboxing readers as well as chime in via our fully interactive article comments sections.