The NBC Sports & Showtime TV Cheat Sheet- June 1, 2012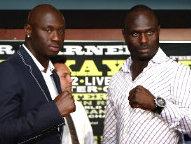 (Photo © Esther Lin, SHOWTIME)


This is the third NBC Sports Network boxing show and to the network's credit, it has put out evenly matched and entertaining fights for every telecast. The quality of tonight's event is obvious from a sold-out arena (extra seats were added to venue) with fans dishing out their hard-earned money when they could have sat at home and watched from the comfort of a couch. That is because the co-featured boxers are local attractions; Ronald Cruz and Gabriel Rosado are Pennsylvania products and building up regional stars is a lost art with American promoters seeking easy casino or network money instead of actually promoting. Ask yourself this: Is there an American boxer who can pack an arena full of rabid hometown fans like Carl Froch did last week?

I have been asked if I was doing a TV Cheat Sheet on the Showtime card tomorrow but given it is a quadruple-header, a complete write-up would be the length of a Tolstoy novel. So instead, I give individual synopses on how I think the bouts will play out without an introduction of the boxers. Those are at the end of the NBC Sports preview.
At the Sands Casino Resort, Bethlehem, PA
(NBC Sports) Gabriel Rosado (19-5) vs. Sechew Powell (26-4)
(NBC Sports) Ronald Cruz (16-0) vs. Prenice Brewer (16-1-1)
Ronald Cruz –
Moved to America as a child from Puerto Rico, maturing in the tough Pennsylvania gym system, sparring the likes of Derek Ennis, Demetrius Hopkins and Mike Jones. Always wanted to box but lacked opportunity until age 18 when a gym opened near him. Cruz showed natural adeptness but had little amateur experience, establishing a 25-3 record in a 13-month stint. Because Cruz came to the sport late, sticks to the book, not freelancing or taking chances like seasoned boxers, with both hands held high and searching for openings behind a strong jab. Best asset is determined commitment to body work, saying it feels natural and given results, it feels painful to opponents. On the negative side, Cruz can put on the earmuffs and ride out punches when pressed, not using lateral movement or his strength to get out of bad places. Is not fluid with combinations but Cruz will throw in bunches when allowed to work inside or coming forward. Not particularly fast with his hands but has good timing and fills voids with a jab instead of waiting for openings. Is basically a pressure fighter with the stamina to pull it off in distance fights. Seems to have a good chin, which is tested because he drops lead jab, at times, due to footwork issues. Confuses foes and impresses by turning southpaw at will, not a bad strategy since Cruz is a natural lefty who fights orthodox. Cruz's most difficult win was over Allen Conyers (who hung first losses on 20-0 James De La Rosa and 10-0 Derek Ennis) and Cruz's best win came against former fringe contender Anges Adjaho. Fought five times last year and in last two fights, upped his level of opposition without looking out of his depth. Against Jeremy Bryan (a two-time National Golden Gloves champion), Cruz battled mentally, showing composure in rallying late for the stoppage win. That is how Cruz wants it, telling writer Robert Coster, "I don't mind fighting tough guys; that's how you progress. I'd like to combine the skills of Wilfredo Benitez and the power of 'Tito' Trinidad; that would be the perfect combination for success." A strong silent type with a humble personality (says boxing saved him from the streets), he is married and works at night to train during day. Jason Pribila likes Cruz, "He seems to be a pure student of the game and continues to add more wrinkles to his overall game."
Prenice Brewer –
Cleveland has had crappy sporting luck for over half a century, which Brewer hopes to reverse in order to become the local hero LeBron James once was. As an amateur, Brewer topped out as a National Golden Gloves champion and at the junior level, won PAL and U.S. National gold medals and earned a Pan Am Games gold for America, culminating in a record of 156-20. Upon turning pro, Brewer got a rude awakening, drawing in his debut, letting him know things would not be as easy as in the amateurs. After rocky start, won 15 bouts in a row and was impressing audiences with lightning-quick reflexes before a shock kayo loss at hands of one-time prospect Patrick Lopez. That was nearly two years ago and Brewer has only fought once since that loss. However, it was a quality win over undefeated southpaw prospect Emmanuel Taylor six months ago. The Taylor victory was yet another road win for Brewer, who has fought in 13 states as a pro. Brewer is a pure boxer (not stopping anyone since 2008 as the level of opposition has increased) who likes to control distance and pace of fights so he can take advantage of his timing and accuracy. Speed is Brewer's game and the key to unlocking opponents since his boxing acumen still lags behind his hands and eyes. Watching Brewer, it is not surprising his favorite boxers are Roy Jones, Pernell Whitaker and Floyd Mayweather, possessing a defensive mindset while trying to stuff an extra punch in a flashy combination when a one-two would wisely suffice. Is a taller version of Devon Alexander with the same smooth lateral movement and lapses in defense, forcing Brewer to fight off the ropes. Like other natural athletes, Brewer puts his game into cruise control in spots and has the annoying tendency of fighting up or down to the level of competition. The 24-year-old should be more active but it is good to see the level of competition has increased in last three assignments. Does not lack for confidence and moves up in weight to take this fight, which should not be a problem for his lithe 5'10" body. This fight is scheduled for 12 rounds, another challenge Brewer (who has never been past eight rounds) readily accepted for the opportunity at a televised bout to redeem himself.
Verdict –
I was tremendously close to picking Brewer in a slight upset but two key factors dissuaded me. First, the fight is being held at welterweight where Brewer has never fought (against a brutish foe as well) and secondly, the bout is scheduled for 12 rounds where Cruz has more time to wear down Brewer. The fight is also in Cruz's backyard but at least Brewer is used to that. Cruz was not frustrated early in other fights and is good at working his way into bouts, so the added time will allow him to inch closer as the rounds ratchet up. The constant body attack and pressure catches up with Brewer, who has defensive lapses and showed in the Lopez fight that he does not have a world-class chin. Around the ninth round, with Cruz finally even on the scorecards, Cruz crushes Brewer with a hook that drops him. Brewer rises late in the count and is saved by the referee when Cruz follows up after driving Brewer to a corner.
Sechew Powell –
For me, Powell falls squarely into the oft-discussed, overhyped New York City contender category. A skilled fighter to be sure but I doubt Powell would have gotten a TV push had he been from Iowa instead of Brooklyn. Powell took the fight on short notice, had been sparring Delvin Rodriguez and saying he is in shape, and enters losing his last two fights by decision to Cory Spinks and IBF junior middleweight titlist Cornelius "K9" Bundrage. The southpaw was an outstanding amateur, boxing since age nine, winning a National Golden Gloves and US National title, en route to a 149-7 record (beaten by Sergio Mora in Olympic trials). Has every tool in his bag but you get the sense Powell lacks the fire to employ those tools or the work ethic inside the ropes to make up for slowing hand speed in recent years. Powell has a thick upper body and throws compact punches with those muscular arms, which he does not have to use solely on the inside because of timing and effectiveness from the outside. A physically strong boxer but solo punches are not overly damaging and Powell needs to build up damage to score stoppages (50% kayo ratio). Despite heavy musculature, has been a junior middleweight his entire career, at 5'10" with 74-inch reach, and Powell has always arrived in good physical shape for those six years. Once Powell gets in the ring, he is a composed character; if anything, is too nonchalant, not chasing advantages and willing to take what is given instead of pressing forward. Career was going smoothly until he ran into Kassim Ouma, who outhustled a reluctant Powell, but a string of solid wins over Ishe Smith, Terrance Cauthen and Cornelius Bundrage brought Powell to the brink of a title. Then Powell was upset by Deandre Latimore, which he avenged but still put his career into neutral for a year. Not aiding Powell's case was that he popped positive on a post-fight drug test for marijuana, which made people further question his dedication and work ethic. Over the last four years, Powell has only fought once a year, not building any career momentum but saying he has been in the gym awaiting calls. This is a must-win for the 32-year-old, so I expect Powell to enter the fight with some desperation since a loss turns him into a gatekeeper-type of opponent.
Gabriel Rosado –
Don't let Rosado's record deceive; he is a tough-as-nails fighter who beats nearly anyone who comes into the ring at less than 100%. More importantly, Rosado has learned from losses, becoming a better boxer because of them and is firing on all cylinders now. A pure Philly volume-puncher, at home in local gym wars, he traveled to the Wild Card Gym to focus himself for this important bout. First gained attention, defeating former champ Kassim Ouma and was in a see-saw slugfest with hot prospect Fernando Guerrero, dropping the hometown favorite in a respectable loss. Was steamrolled by Alfredo Angulo but bounced back to stop fellow Philly prospect Latif Mundy and veteran Saul Roman. Rosado is a work in progress, not boxing until age 18 with only 17 amateur bouts beforehand. Found belief in his abilities after outpointing undefeated Irish prospect James Moore, properly dedicating himself to boxing afterwards. Maintains active pace, averaging four fights a year, and is always in the gym improving. At 6'0", has good size and is beginning to use his length to create breathers for himself by boxing from the outside. Moves well with his feet, mostly to establish distance for his punches rather than lead foes into punches or set up counters. Once Rosado feels an advantage, he uses his feet to block escape paths, forcing opponents to engage. Punches have good form but Rosado is not a hard puncher, preferring volume punching over setting himself to throw one hard blow. Has stopped 11 of 19 victims but needs three or four rounds to wear on them before his punches start sinking in. Sometimes smothers punches by fighting on the inside too much, content to lean and wrestle opponents to sap them of energy. Aside from the Angulo bout, has not been totally outclassed and never fails to deliver in terms of action. At 26, Rosado is in his physical prime but there is concern all the tough fights have aged Rosado beyond what the calendar says. Rosado leaves no room for excuses, "I feel good and I'm looking forward to proving myself again. I know a lot of people are skeptical, saying that the last guy I beat [Jesus Soto-Karass] was made to order for me. We'll see if they right or wrong after June 1." If Rosado hopes to be more than a test for top-notch prospects, he needs to beat an opponent like Sechew Powell impressively.
Verdict –
Work ethic is what this fight comes down to for me and Rosado has more of it once the bell rings. Rosado seems naturally stronger as well, two inches taller, and enters with a four-inch reach advantage to boot. The edge in the speed department lies with Rosado by a smidgen and he enters on a psyche-strengthening winning streak while Powell has not registered a good win since 2010. Rosado sports too many advantages in the intangibles (but Powell is the better boxer) but unless there is a cut, I doubt Rosado stops an experienced and usually durable Powell. I am going to pick Rosado to smother Powell and win by a unanimous decision, favoring him 98-92 on the scorecards.
The Showtime Quadruple-Header
At the Home Depot Center, Carson, CA
Peter Quillin (26-0)
vs. Winky Wright (51-5-1)
I wonder if Peter Quillin (of Cuban heritage) read Ernest Hemingway's The Old Man and the Sea. Wright certainly fits the "Old Man" tag and is fighting a raging Quillin (the metaphorical Marlin tomorrow) as the protagonist in the book did. I don't understand the matchmaking here since Wright has been out of the ring for three years and has not won a fight in nearly six years! Yet, Wright (40 years old) is a spoiler who rarely makes opponents look good, even if they do beat him, which I think Quillin will do. The only advantage Wright has is experience, which, at this stage of his career, is hard for his body to employ anyway. The fight will be boring, awkward, clinch-filled and sporadic, featuring very few clean connects. Quillin throws more punches, lands more and chases the action, which the judges reward him for instead of effectiveness. Maybe Quillin comes out of the gate slow but, otherwise, I doubt the judges can find a mercy round to give Wright.
Leo Santa Cruz (19-0-1)
vs. Vusi Malinga (20-3-1)
(The Ring magazine #19 bantamweight vs. unranked)
(Vacant IBF bantamweight belt)
The hype for Santa Cruz is building but I am not 100% sold. He has a chance to turn me into a believer tomorrow since Malinga is a challenging opponent from a fighting family. The style's play in Cruz's favor as he likes to step back and judge opponents before methodically attacking, while Malinga is a slow starter who could be dealing with jet lag, only arriving from South Africa on Sunday. Malinga needs to bully the fight (he is slightly larger and fights physically) and get on the inside where Malinga can work his uppercut. Santa Cruz has the feet to negate that and is coming into his own power-wise, stopping his last nine opponents. Key among them was tough Stephane Jamoye, who has a similar style to Malinga. The other style advantage is Santa Cruz's body work (really impressive), which he will need to slow down Malinga, making the championship rounds less of a danger zone given Malinga's edge in distance bouts. Malinga is a southpaw but awkward, sometimes squaring up and lacking elite speed, looping the punches and lessening their danger. Santa Cruz has the reflexes and skills to dampen Malinga's attacks, punishing him in return for a stoppage around the eighth or ninth round.
Austin Trout (24-0)
vs. Delvin Rodriguez (26-5-3)
Trout is a big fish in a little pond for now but I have a feeling more people will be talking about him after this fight. The superior speed and reaction times will help Trout early defensively; from the fourth round on, Trout will turn those advantages on Rodriguez offensively using them to land punches instead of evading them. Trout will not be intimidated, winning twice in Mexico against good opponents, and his southpaw stance should give Rodriguez problems early, allowing Trout to ease into the fight. I am hesitant though because I have had a tendency to underestimate Rodriguez in the past. Still, I think Trout has the ability to dart in and out, evading Rodriguez's pressure, with enough bulk to absorb the punches Rodriguez does land. Let's not forget; Trout is also the fresher of the duo, not having been in as many brawls and is the naturally larger man as well. Trout by comfortable decision or late stoppage.
Antonio Tarver (29-6)
vs. Lateef Kayode (18-0)
(The Ring magazine #6 cruiserweight vs. #8)
Look for Antonio Tarver to teach the young buck a couple lessons in this fight (and I jumped off the Kayode bandwagon a couple fights back just as others rushed to leap onto it. There is a chance Tarver turns old overnight but I think it will take a craftier opponent then Kayode to bring that about. Kayode has undoubted power; that is not what hurts Tarver but Kayode lacks the experience and footwork to consistently pressure Tarver and make him feel his age. The early rounds will be interesting but as Tarver judges Kayode's speed and rhythm, he will find counter opportunities, landing the cleaner shots. Just as Bernard Hopkins tied Tarver into knots and reduced his punch output is how Tarver befuddles Kayode to get him out of his game and start headhunting. I like Tarver by decision, somewhere around eight rounds to four with Kayode only winning two after sweeping the first two rounds.
Prediction record for 2012: 80% (47-12)
Prediction record in 2011: 88% (138-19)
Prediction record in 2010: 85% (218-40)



Subscribe to feed