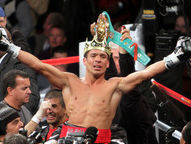 (Photo © Tri Nguyen)


Last week at the 49th WBC Convention in Las Vegas, Jose Sulaiman's organization ruled that its middleweight titlist Julio Cesar Chavez must face its "emeritus champion," Sergio Martinez, in his next fight. Most neutral observers believe that despite having a major world title belt around his waist, the son of the legendary "JC Superstar" is nowhere near ready for a bout against the Argentine southpaw, considered one of the premier boxers in the sport. The consensus seems to be that he may, in fact, never be ready to face "Maravilla" and/or ever be competitive.
Back in June, Chavez won the green belt by defeating Sebastian Zbik over 12 fast-paced rounds at the Staples Center in Los Angeles. It was a title previously held by Martinez but was vacated (more on that later). Since then, Chavez has stopped Peter Manfredo Jr. in an optional defense and Martinez stopped Darren Barker in defense of a WBC "Diamond" Belt (designed in large part to extract more sanctioning fees within each division).
While the WBC has decreed that Martinez must face Chavez Jr. next, they both had fights scheduled for the spring of 2012. Chavez Jr. is slated to fight in San Antonio, Texas on February 4th and Martinez in New York on March 17th.

Bob Arum, whose company Top Rank promotes Chavez Jr., doesn't seem too concerned about their edict. "People are handling it; don't worry about it," he said to Maxboxing on Friday afternoon. And they plan on going ahead with his bout in early February as well as facing their mandatory challenger. "The first choice is the number guy, Marco Antonio Rubio," said Arum. Rubio stopped journeyman Matt Vanda on Friday night at the Mandalay Bay to clear the way for this contest.
The bottom line is that Arum will not be dictated to by anybody.
"I've been around a long, long time. What does it mean? Nothing. It'll be worked out; don't worry about it," stated Arum, who went all Alfred E. Neuman, adding later that they will face Martinez in due time, "We have other plans that we're going to do. We're going to fight the number one guy, Rubio, and take it from there and Martinez will just have to wait. We're not going to be bamboozled into that fight before we're ready to do it."
Lou DiBella, who represents Martinez, said, "Arum called me; he was just barking about who he was going to sue, like obviously, he can't sue me or Sergio but he was talking about going to court or whatever. I don't understand what he wants to go to court about. I mean, his guy won a vacant title and he fought an optional defense against Manfredo and if Bob wants to make the fight, we'll make the fight. Bob wants to build a fight and talk business; he should try to talk to me. Sergio is adamant that he wants to fight for that middleweight title in his next fight. I'm sure me and Bob can be creative and can work something out that works for everybody to build to a Chavez fight with Sergio- if that's what Bob wants to do.
"I'm not so sure despite what Freddie Roach (who trains Chavez Jr.) says...look, Arum's made it pretty clear he doesn't want the fight but I would think that maybe with a couple of fights in-between that it is something that can be built up."
As for what they will do with their March 17th date on HBO, DiBella stated, "The bigger question is where does this leave the February 4th date that Arum has for Chavez? Their date's coming a lot quicker than mine. If they're going to fight somebody else in February, then we're going to fight Matthew Macklin in March - if we can get it approved by the 'BC, then we'll do that. If Arum goes to court and something happens, then the title will be in court and he can fight who he wants to and who we want to. But honestly, the best thing for boxing is to make a f**king big fight and I don't know what Chavez Jr. has to lose by fighting one of the three best fighters in the world and the guy that may very well be the best fighter in the world. I would think that's an opportunity that a young champion would want. It's certainly one that his father would have never walked away from."
Uh, yeah, but Lou, I've seen Chavez Sr. and Junior is no Senior. "There's no question about that. He's not his father," DiBella said with a chuckle.
The question is: Just who has the rightful claim to the WBC title and by what set of ever-changing rules are to be followed? All this could've been avoided if Martinez would have just faced his mandatory, Zbik, earlier this year. According to international matchmaker Don Majeski, one of the keenest members of the boxing community, Martinez and his camp should've just "bit the bullet" and taken care of this obligation. They ostensibly vacated that title when HBO wouldn't approve Zbik. "They could've taken the fight to Argentina. They could've fought in Europe. A lot of times, you take a fight that's a mandatory and it's not the most financially rewarding but you gotta do it to keep within the rules and that's where I think they made their mistake. I think they gave up all claims when they didn't do their mandatory," he opined.
DiBella says of this snafu, "It's a little more f**ked up than that. HBO said publicly and on the record, 'that we we'll never accept Zbik for HBO' and then Sergio gave up his belt and took the 'Diamond belt' and Chavez and Zbik subsequently- when Arum had leverage from Pacquiao at CBS- HBO accepted Chavez-Zbik." While that is incredibly unfair and certainly a double-standard, Majeski's point remains: to retain the WBC title, Martinez's side had to follow the WBC's rules, not HBO's. Eventually, Martinez gave up his title. "It wasn't a stripping; we knew what was happening," explained DiBella. "We understood there would have been legal action against the 'BC if they didn't protect Zbik. We took the 'Diamond belt' with an 'emeritus' status, which was designed to protect this very situation. To allow Martinez to call for a fight with Chavez and Chavez got an interim defense with Manfredo and Sergio went to the WBC convention and try to get an opportunity to win back what he thinks is his and one of the arguments he made before the convention- and it's a pretty true argument people don't know from 'Diamond' and 'Silver' and 'Gold' belts- they know from THE middleweight title belt and if you go over boxing history and it's ten years from now, what it's going to show is that in 2011, Chavez Jr. was the WBC middleweight champion- not Sergio Martinez.
"Look, as a promoter, I care about money. I'm concerned about making my fighters money and getting them paid. The titles aren't as important for me but that's easy for me to say. I'm not getting into the ring and putting my life at risk."
(For the record, Martinez was given his "emeritus" status at the beginning of the year. Here is a statement released by the WBC on January 18th, 2011:

The WBC is proud to announce the appointment of Sergio Martinez as Emeritus Champion. Sergio Martinez is a two-time world champion, as he conquered the WBC super welterweight championship and then defeated great champion Kelly Pavlik to conquer the WBC middleweight championship. He then defeated Paul Williams with a dramatic "Knockout of the Year." Sergio Martinez is a true example for the youth outside the ring and is constantly active in the WBC Cares Program, visiting children's hospitals, underprivileged children's housing, and has a formal company in support of abused women making him a true influence all around the world. With Sergio Martinez' designation as Emeritus Champion and Ambassador of Good Will and Peace, WBC interim champion Sebastian Zbik of Germany becomes the WBC world middleweight champion and must face the mandatory contender Julio Cesar Chavez Jr.)
Martinez's bout against Dzinziruk was for the "Diamond" belt which was created back in 2009 for the purpose of honoring the winner of a historic fight between two high-profile boxers. The match-up between Manny Pacquiao and Miguel Cotto was the first to "earn" this designation.

In connection with the Martinez-Dzinziruk fight, the WBC issued a statement describing the "Diamond belt" as follows: There are no rules. This is not a championship which has to be defended. It doesn't have the same obligations as the world champion. It is a tribute to the fight, to both fighters and the winner takes it without having to defend it. It has no rankings. It's simply a fitting recognition of a brilliant career.
(Yeah, that part about "there are no rules" is something they actually stated.)
DiBella makes some solid points but when it's all said and done, he took the easy way out and acted like a TV packager and not a bona fide promoter. He let himself be dictated harshly by a network and relied on a license fee to point the direction he would go with his client. But what really took place is a systemic breakdown, indicative of how network executives and their whims can influence the business.
"To tell you the truth, television had a lot to do with this particular situation," admitted DiBella, "and it's also puzzling. Zbik is unacceptable and then recently, you've seen a lot of fights on HBO that the only rationale for the fight getting televised at all was because the belt was at stake but with totally inferior opposition. So it's like the belts don't matter- till the belts matter. With that being said, I don't blame Arum and Chavez for having an opportunity to fight for that belt. I don't blame them for it but at the same time, you can't walk around and say you're the real middleweight champion and not want to fight the best guy in your weight class."
When pressed if he should've created an opportunity to face Zbik overseas, DiBella answered, "No, and Arum wouldn't have done the fight either if it were in a foreign country. The truth of the matter was Zbik brought nothing to the table economically. Zbik was available to fight in the United States because he didn't mean anything in Germany where he had been fighting. There was no market to bring Zbik to make money. You can say 'bite the bullet' but it's very difficult to fight when a fighter has a very limited shelf life, particularly a fighter who's not 21 years old and to say, 'Alright, fight this fight for no money,' it's not that easy."
The stark reality is that Martinez is twice the fighter (at least) that Chavez is but about one-tenth the attraction. Being the son of the great Chavez is like being a Kennedy in American politics. It brings you a certain cache and a built-in audience. If he can improve just incrementally as a fighter, he will one day sell out large venues and headline pay-per-view cards. Arum will protect him at all costs (and it seemed like the WBC would help this process until recently). As it is, Martinez, who's been a pound-for-pound mainstay, struggles to fill small casino ballrooms.
Martinez simply can't make a living without HBO money. In certain respects, they call the shots for him.
"Look," said DiBella, detailing their reality, "economic independence is a good thing. Chavez's popularity in Mexico and the fact he can generate money in Mexico is a good thing for him and it's one of the reason the young man's going to wind up being so protected." Going back to the Dzinziruk bout, DiBella added, "At the time in which [Martinez] gave up the belt, he was assured by the President of HBO Sports and in reliance on what he was told to him, he fought a guy that HBO handpicked, Dzinziruk. The truth of the matter was the public didn't have any f**king clue who Dzinziruk was and to the public, didn't mean anything more than Zbik. And Dzinziruk got $850,000, a number that was, frankly, set by HBO Sports and Dzinziruk was guaranteed a comeback fight by the then-President of HBO Sports. So I can't really explain this stuff to you but Sergio agreed to fight him. [Martinez] gave up his belt believing Chavez was not going to be able to fight Zbik and make real money on HBO because if that fight was going to happen, that Chavez would have to take it on the chin too. Well, Chavez didn't have to take in the chin and Top Rank didn't have to take it on the chin. That fight was purchased by HBO. It was almost as if they were insisting on delivering a title to someone else."
The President no longer at HBO Sports that DiBella references is one Ross Greenburg, whose decade-long reign of error came to an end over the summer.
In Majeski's opinion, it is still Rubio who has right rightful claim to fight for the WBC middleweight championship, "Martinez had a chance to fight Zbik. The pre-condition wasn't that Martinez has to fight Zbik only if it's on Showtime or HBO- that wasn't a pre-condition of the mandatory obligation," he pointed out, astutely. "He had to fight him. He didn't. He relinquished his title. Finished. He should've said, 'I'll fight him. I'll fight for less money and Chavez would've never had an opening to come in. Now, if there was some under-the-table deal made that no one knows about, that's something else but you gave up the championship. You have no right to come back in unless he would've fought Rubio, who at least is the guy who is the mandatory. He followed the rules and he doesn't get his rights upheld? And the other guy breaks the rules and he's the guy forced down Chavez's throat?"
Rubio earned this designation by upsetting David Lemieux in April in a WBC box-off, where the winner became the mandatory challenger to the winner of the Chavez-Zbik fight, taking place two months later.

Majeski adds, "Whether or not Chavez or Martinez is the better fighter is irrelevant here. What's the procedure?"
Well, like most sanctioning bodies, the procedure is shall we say, uh...flexible. I consulted one boxing insider who has vast and intimate knowledge of the WBC's rules and their precedents, regarding this situation and I received this detailed email, giving his interpretation of their rules and what he believes might take place:
In mid June, after Chavez beat Zbik, Jose tells the press in Mexico that Chavez can make a voluntary defense, but then he has to fight Martinez (not Rubio).
In a twist that I have yet to figure out, Martinez "defends" the Diamond belt in October vs. Darren Barker. Based upon the above-description, your guess is as good as mine as to how Martinez can "defend" this title OR how Barker is worthy of such a tribute to his "brilliant career."
Chavez goes forward with his voluntary defense vs Manfredo, bringing us up to date.
To this point, it looks like Rubio should be the guy getting the first crack at Chavez (and I'm sure that's Arum's position), but the WBC has been down this road before and set a precedent that I'm sure Dibella has jumped on.
As an initial point, the WBC Rules are not very helpful or instructive.
WBC Rule 1.31 governs the designation of Emeritus Champion and provides:
In its discretion, the WBC may designate and recognize, upon a 2/3 vote of the Board of Governors, one or more WBC Emeritus Champion of the world in each weight category. Such recognition is for life and will only be bestowed upon a present or past WBC World Champion of extraordinary prestige, reputation, stature, and everlasting legacy in the sport.
A WBC Emeritus Champion is free to display and exhibit his special belt in any social ceremony or sports event. The WBC Emeritus Champion recognition is the highest of honors granted by the WBC to any boxer, and cannot be ceded to anyone inside or outside the ring.
WBC Rule 1.21(b) governs mandatories and provides:
b)
Mandatory Defense Obligations.
All WBC champions are obligated to make at least one yearly mandatory defense strictly pursuant to the following:
I.
A mandatory defense shall always be exclusively against a WBC designated official mandatory challenger;
II.
The designation of the official mandatory challenger requires a majority vote approval of the Board of Governors;
III.
The No. 1 rated boxer in the WBC rankings is not necessarily the official mandatory challenger;
IV.
The WBC shall always have the discretion to: a) designate as official mandatory challenger the highest rated available challenger of the division, by merits as determined by the Board of Governors in its sole discretion; or b) through a final elimination bout of two highest available contenders;
V.
The WBC may order more than one elimination bout to find an official mandatory challenger. The only challenger that will have the right to fight directly against the Champion is the winner of a final elimination bout, subject to the provisions of this Rule;
VI.
The WBC Board of Governors may, after a final elimination bout, and upon a 2/3 voting of the Board of Governors, retire recognition to the winner of such bout as official mandatory challenger based on lack of merits or performance in its sole discretion, or if it serves the best interests of the sport. In such scenario, the WBC will order the an additional final elimination bout;
VII.
An immediate rematch ordered by the WBC pursuant to Rule 1.29 is considered a mandatory defense. If such rematch is ordered, a previously designated official mandatory challenger shall instead face the winner of immediate rematch without an intervening bout;
VIII.
The period of one (1) year stated in these Rules for a champion to make a mandatory defense may be extended by the Board of Governors upon their majority vote approval for extenuating circumstances, or if a champion has defended the title in a voluntary defense against the No. 1 rated boxer;
IX.
No boxer shall be designated as mandatory challenger if he has a legal restriction that would impede him to enter into free negotiations within the context of Rule 2. It will be the sole responsibility of the challenger to inform the WBC of such contractual restrictions. The WBC will assume that there are no contractual or legal obligations that impede the fighter to negotiate the bout. In the event that a boxer fails to timely notify the WBC of any contractual or legal obligation or restriction, as mentioned herein, he will be subject to a fine for such failure and, further, removed as a challenger for the WBC title; and
X.
Under extreme special circumstances, such as an unification bout or a proposed bout with a legendary boxer, that could result in a great promotion, prestige, and importance for the sport of boxing, the WBC may sanction such bout as a mandatory bout. If a mandatory challenger had already been appointed by the WBC, the winner of the special bout will then face the mandatory challenger without an intervening contest.
Rubio's claim falls under 1.21(b)(v), having won an elimination bout.
While BOTH rules are silent on it, the WBC dealt with the right of an Emeritus Champion to fight for a title back in 2008.
As you may remember, Vitali Klitschko retired while WBC champion in 2004, and he was named Emeritus Champion. Although the rule is silent on it, he was informed that, should he ever choose to return to the ring, as Emeritus Champion he had a right to "jump" the mandatory and get an immediate fight with the then-WBC champion. I do not recall any other Emeritus Champion fighting for the WBC title after obtaining that designation. For example, I'm pretty sure that Kostya Tszyu was named WBC Emeritus Champion in 2003 (when he was stripped at the convention in Moscow, of all places!), but he moved on to fight for the IBF title and then retired.
In 2008, Klitschko decides that he will return to the ring, and the WBC honors its prior statement, allowing Klitschko to jump all challengers and get an immediate mandatory fight with Samuel Peter.
In my opinion, THIS precedent is what gets Martinez the fight -- the fact that he is Emeritus Champion, NOT the fact that he holds the Diamond belt. Consistent with their decision re Klitschko, the WBC has allowed Martinez to jump Rubio and become the immediate challenger to Chavez, Jr.
It's entirely consistent not only with the Klitschko situation, but also with all of the statements that Jose has made to the press since last June. See if you can get Sampson to make you a copy of the infamous "signed napkin" which allegedly spells all of this out in Spanish and is signed by Mauricio Sulaiman (I think -- it's either him or Jose), Sampson and Martinez.
Also, the WBC can point to Rule 1.21(b)(x), and state that Martinez is such a "legendary boxer" that he is entitled to jump Rubio as the mandatory and get his shot at Chavez first. The rule is vague enough that the argument can be made, but I think it's real purpose is to force the winner to fight Rubio in his next bout.
- unlike Klitschko, Martinez has been active ever since he was stripped (it would be as if Tszyu decided after losing to Hatton for the IBF title that he wanted an immediate fight with the then-WBC champion);
- Martinez has moved forward in "defending" his Diamond belt; and
- the rules are absolutely silent on the right of an Emeritus Champion to move to head of the line (and, as noted, "there are no rules" for the Diamond belt).
It probably doesn't help when Arum starts a press conference like he did after the Pacquiao/Marquez fight!
Another option for Dibella is to consider using this as leverage to get some step aside money and a definitive agreement for a bout this summer, THEN allow Chavez to fight Rubio, taking that thorn out of play. If he goes that route, Martinez does his St Paddy's Day fight with Macklin in NYC, gets some extra money AND doesn't have to worry about having to fight a mandatory after he beats Chavez. Uh...I mean "if" he beats Chavez....
I told you it was long but it's clear that it's another fine mess created by the WBC in its zeal to exploit titles for funds. The splintering of titles might be a necessary evil in today's boxing business but when the organizations themselves split up their own belts, things reached their nadir. According to Majeski, the lesson to be learned here is very simple, "Stick with enforcing their rules, period. Don't manage fighters. You can't go out and say there's one rule for the attractions; there's a second rule for the guys who haven't made it big yet. You've got to follow your rules and there's a saying: 'The law in its infinite wisdom prohibits princes and paupers from sleeping under bridges.' And this is the case here; there's one rule for the guys who have money but you gotta have one solid rule and be consistent and then you'll have one champion and if they don't do it- you're out."
You don't have to be Nat Fleischer to come to the realization that despite having the WBC title, it's clearly Martinez who is the recognized middleweight champion. So why does he want this strap so badly?
"[Martinez] wants that belt but here's another reality: he also wants to encourage and do whatever is in his power to put attention on the situation to make Chavez Jr. fight him, to make "Canelo" [Saul Alvarez] fight him or to entice a [Floyd] Mayweather or someone like that fight him. I mean, everyone can talk about pay-per-view and how you promote a fighter. The truth of the matter is, not one person in the United States knew who [Martinez] was until he was nearly 33 years old and you need a dance partner to do a pay-per-view fight. You need a fight where the fight is clearly in doubt. You need a fight where the guy you're fighting also has salability."
The reality is this; despite all the calls from certain naive pundits for fighters to dump their titles, unless you are a transcendent figure like a Pacquiao or Mayweather, those belts are absolutely vital. They are anything but "useless" or "unimportant." You can espouse the virtues of The Ring belt all you want, it's the real ones that matter- in more ways than one.

"Of course they are," admitted DiBella. "Part of the reason why Bob Arum and Top Rank have been so successful is, unlike Golden Boy and the rest of us- including my own company- Arum didn't sell his soul to the television networks and give them international rights. He maintained his international rights and he built an international revenue stream. The international revenue streams are dependent on championships. That's why Bob's so concerned about that championship. That championship gives him economic freedom. And by the way, the hypocrites in all this often are the television executives who claim that the titles don't matter- till they want a title fight, till they end up buying indefensible product and they're relying on the fact it's for a championship.
"Look, anyone that says that the titles don't matter is lying or is ignorant."
For years, Arum and Sulaiman have had a rocky, up-and-down relationship. I'm told the reason why things have gone sour, once again, is that with Pacquiao fighting as a welterweight in his last two fights, the WBC couldn't collect a sanctioning fee for its junior middleweight title he won against Antonio Margarito last November in Arlington, Texas.
Sulaiman hoped that Top Rank could persuade the "Pac-Man" to fight at 148 pounds (making him technically a junior middleweight) therefore allotting the WBC a nice chunk of change for the most recent fight against Juan Manuel Marquez. I was wondering why Sulaiman, prior to that bout, had come out so harshly against that contest. Well, I think we know why- he wasn't getting a cut of the action.
If I recall correctly, Arum called the WBC dictator an "asshole" at that post-fight press conference.
But I'm sure it was nothing personal. Just business.
While there was an announced crowd of over 5,000 in Atlantic City for the finals of the "Super Six," I don't know of anyone there that believed there were even 3,000 in the building to see Andre Ward master Carl Froch over 12 rounds. While this tournament was innovative and bold, it really sputtered down the stretch, losing much of the buzz that came with it when it was first unveiled in the summer of 2009.
I think one of the problems it ran into was that outside of Ward in Oakland (where he has a strong following), the bouts on American soil struggled badly. Showtime had it in its contract that the semifinals and finals had to take place in the United States (one of the reasons I was given was to make sure the American media - specifically the newspapers- could cover it. That line of thinking is soooo 1995). I know the postponement hurt the live gate but let's be honest about it, being so close to Christmas didn't damage the attendance figures in Washington D.C. last weekend.
If you combine the attendance of the two semifinal fights and Ward-Froch, it still wouldn't equal what Lucian Bute does on an average night in Montreal against rather pedestrian opposition. And it probably did half of what Miguel Cotto-Antonio Margarito II drew at Madison Square Garden on December 3rd in New York. It goes to show you, once again, despite what some say about "important" fights necessary for the good of the sport, they can't be all that important if nobody gives a damn about it. And tournaments are great in theory and provided the needed structure that some think is so needed in boxing, the proof in the pudding (as the saying goes). After two shows that drew a combined 30,000 the previous two weeks, perhaps the most "important" (there's that word again) fight of the month drew about half of what Arturo Gatti got for his weigh-ins at the same venue.
Tournaments are great in other sports. Boxing and its events should be dictated by public demand.
(Personally, I would have gotten creative and tried to stage this in Montreal, Quebec- which has shown with fights like Tim Bradley-Kendall Holt that they will support world-class boxing even without a local pull- and build interest toward a showdown of the "Super Six" winner and Bute. Who knows? Maybe the Bell Centre wasn't available but nowadays, Atlantic City is the place for ballroom fights and TV packagers to roll into town and do little but make a deal for free room and comp tickets.)
While tournaments have their benefits (such as good fights being made), the downside is that in reality, television tournaments are really a haven for TV packagers to get guaranteed slots and do what they usually do.
And that's nothing, short of just staging the fight.
We all know "S.O.G." Ward can box and win fights. Now, on the strength of this win, the question is, can he become a bona fide star?...The consensus is that Ward wrapped up the 2011 "Fighter of the Year" award...Whoa, Orlando Salido was nearly derailed from his rematch with Juan Manuel Lopez, as he had to get off the canvas twice to eventually stop Weng Haya in Mexico this weekend...Speaking of which, Arum told me on Friday that that rematch would take place on March 31st in Puerto Rico on Showtime. However, I'm told by other sources that all that will not be finalized till this week. Very good chance that Mikey Garcia could open up that card and eventually face the winner...Roberto Marroquin is who he is, right? Decent pro, not the star that some had forecasted...Tyrone Johnson, who does a does a radio show on ESPN Radio in Atlantic City, tweeted his problems in trying to push Ward-Froch this weekend (@skilligan): "I do a radio show in A.C. nobody was available for interviews to help sell tickets, "promoters" do what exactly?"...And I can vouch for Tyrone; he talks boxing on a regular basis...Reggie Bush is having a pretty good year for the 'Phins, I have to say...Somewhere out there, the '72 Dolphins are just waking up from a massive hangover from all the champagne they've had after the Packers went down

...

I can be reached at k9kim@yahoo.com and I tweet at www.twitter.com/stevemaxboxing. We also have a Facebook fan page at www.facebook.com/MaxBoxing.