The L.A. Sports Arena? Yes, It's Still Standing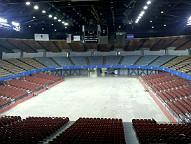 --


Twice in a span of four weeks (on November 17th and December 15th), the Los Angeles Memorial Sports Arena will host two boxing shows. First, Brian Viloria and Hernan Marquez will unify their flyweight titles and then, a month later, Amir Khan takes on Carlos Molina. Yes, this old building, which opened its doors in July of 1959 and sits right next to the L.A. Memorial Coliseum is staging significant fight cards.
"I would've been a little bit on the skeptical side," said John Lee, the marketing director for the venue, on Tuesday afternoon when a press conference was held by Golden Boy Promotions to officially announce their December affair. "We're very, very happy with how things have transpired."

So just how did they end up with these two promotions?
"Well, in the case of the first one, it was the matter of finding a home for a fight that had already been committed to and just finding a suitable home for [it]," explained Lee. "I believe they were looking at a number of venues before deciding on us. In the case of December 15th, which we're really looking forward to, it was a matter of Golden Boy giving us a call. With Golden Boy, we've been in contact; we've had a relationship over the years. Obviously, there's been quite a number of events that have gone to the Staples Center and other venues around town. We're lucky that our schedule and their plans coincided on this one. So when we heard from [Golden Boy COO] David Itskowitch, we were very, very happy to be involved."
Unlike the Staples Center - which is just up the street on Figueroa - the Sports Arena doesn't have a regular tenant (although it was the home for UCLA Bruins basketball team last season as Pauley Pavilion was being renovated) and for fight cards that need to be staged in Los Angeles, this could be an alternative when the Staples Center and Home Depot Center are not available. "I see it as a very viable alternative," said Lee, who points out that being an older building without some of the modern amenities has its advantages. "The sightlines are great here. The idea of an older building with no luxury suites, it's a double-edged sword. I understand that traditional models didn't include them like modern financial models do. But without those luxury suites, everything's moved up proportionately closer to the action. So sightlines here are outstanding; the acoustics are astounding also because you really feel like you're that much closer to the event. The ceilings are proportionately lower because you don't have that vertical space you have to account for. So we're very viable for that sort of thing."
So yes, the Sports Arena, it's still up and running and still hosts a series of events although Lee admits, "Not as many as we'd like. We're still staying pretty busy with filming, with Hispanic events, with religious events. But boy, this is a great addition to the calendar because it's something we haven't been able to embark on previously. So it's not an 'instead of'; it's an 'addition to' which is great for us."
Here is the ticket release from Golden Boy Promotions for Khan-Molina (sent out on Tuesday afternoon):

Tickets priced at $150, $100, $75, $50 and $25, plus applicable taxes and service charges, go on sale TODAY, Tuesday, October 30 at 6:00 p.m. ET/3:00 p.m. PT and will be available for purchase at the Los Angeles Sports Arena box office, all Ticketmaster outlets, by calling Ticketmaster at (800) 745-3000 or online at ticketmaster.co

m

. Tickets for fans traveling from the United Kingdom are available for purchase online at

www.sportscorporation.com

or by calling +44 (0)845 163 0845.
While this card will be taking place in Los Angeles on Showtime, it looks like HBO will be having its own boxing broadcast from Houston, Texas, most likely featuring unified junior featherweight champion Nonito Donaire versus Jorge Arce.
"It's not done till it's signed but it's proceeding to be done and we hope to have a press conference next week in Houston," said Bob Arum. Also on this bill will be Guillermo Rigondeaux, who is rumored to be facing Thailand's Poonsawat Kratingdaenggym in that night's co-feature.
PRINCETON OFFENSE FLURRIES
At the press conference on Tuesday, Oscar De la Hoya announced that Golden Boy will be staging a "fan-fest" leading up to the Khan-Molina fight at the Sports Arena...
A bout between IBF lightweight beltholder Miguel Vazquez and Mercito Gesta is all but signed and will take place on the Manny Pacquiao vs. Juan Manuel Marquez IV undercard on December 8th...According to Stephen Espinoza of Showtime, it looks like Jayson Velez

(and according to this article, he could be getting a crack at IBF featherweight titlist Billy Dib's belt:

(
http://thaboxingvoice.com/billy-dibs-american-return-comes-on-the-cotto-trout-undercard/6082/
)
and Danny Jacobs will be part of the undercard at Madison Square Garden on December 1
st
with "possibly a fourth fight"...Word is that the WBA has stripped Danny Geale of its middleweight title, making Gennady Golovkin their full, "regular" champion. HBO and K2 Promotions are still trying to come up with a suitable opponent for "GGG" for early 2013...Is James Harden really an elite player worthy of an $80-million contract?...OK, can Mike Brown dump this Princeton offense and run something that lets Steve Nash be Steve Nash? Seriously, opening night was unwatchable for Lakers fans...I can be reached at
k9kim@yahoo.com
and I tweet at
www.twitter.com/stevemaxboxing
. We also have a Facebook fan page at
www.facebook.com/MaxBoxing
, where you can discuss our content with Maxboxing readers as well as chime in via our fully interactive article comments sections.



Subscribe to feed