The HBO World Championship Boxing TV Cheat Sheet- Nov. 17, 2012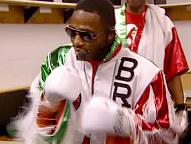 Adrien Broner


Tonight's HBO show is a welcome distraction for storm-ravaged Atlantic City citizens, a small reprieve bringing with it a sense of return to normalcy after all the damage Hurricane Sandy wrought. In the main event, Antonio DeMarco makes a quick return (after knocking out John Molina in September) against an Adrien Broner who is rewarded with an immediate title shot after relinquishing his junior lightweight title for his inability to make weight. HBO and Golden Boy Promotions ensured us tonight is not all about the boxing. They are bringing monetary relief as well, making a donation to the Boys and Girls Club of Atlantic City, whose buildings suffered extensive damage. Golden Boy is also donating two dollars for every ticket sold and $1,000 per knockout registered during the event and Oscar De la Hoya has donated tickets to the Boys and Girls Club of Atlantic City. This is an event that brings good will and joy to all associated with it and when was the last time you can say that about a sporting event?

At Boardwalk Hall, Atlantic City, NJ
(HBO) Antonio DeMarco (28-2-1) vs. Adrien Broner (24-0)
(The Ring magazine #1 lightweight vs. unranked)
(HBO) Seth Mitchell (25-0-1) vs. Johnathon Banks (28-1-1)
Johnathon Banks –
Detroit native will go down in history as the last true Kronk Gym product with the passing of mentor Emanuel Steward. But this undersized heavyweight has to work hard for knockouts synonymous with the Kronk brand. At age 16, Banks came to Steward, who took him under his wings like so many others to serve as a trainer and father figure. Established a stellar amateur résumé, winning the U.S Nationals light heavyweight title three times, but like in his pro career, faltered at the biggest hurdles not making the Olympic team. Rounded into a smallish heavyweight at 6′3″ with a 76-inch reach and evenly distributed weight entering at around 220 pounds. One of those boxers who does everything well but nothing great and learned those basics at the knee of now-late Hall of Fame trainer Steward. So much so that he became Steward's assistant trainer, tutoring many world-class boxers and has now taken over as head trainer to World Heavyweight Champion Wladimir Klitschko. In two televised appearances, Banks made a favorable impression, overcoming a pair of first-round knockdowns against Eliseo Castillo to mount a furious rally, stopping Castillo in the fourth round of a mini-classic. In other TV fight, lost to then underappreciated Tomasz Adamek but was boxing well and within a point on two scorecards when caught by an unseen right hand he never recovered from and was stopped by the swarming Adamek. After that setback, largely disappeared but has not lost since registering wins in Germany (five times), Switzerland, Poland, and America (twice). Evaluated himself fairly to a U.K. boxing site, "I think that it's my awareness in the ring. Along with my speed, power as well as my movement." At age 30, time and opportunities are running out, even though Banks sees what it takes to become a champion, training and sparring hundreds of rounds with the Klitschko brothers. Despite good record, has not beaten a top 10 foe and seems to lack a sense of urgency as if Banks is simply continuing his sparring sessions instead of fighting for a paycheck. Talks as if that is a thing of the past and that Banks understands this is his only real chance to become a champion in his own right. "I'll prove what a true boxer at the highest level can do against a football player."
Seth Mitchell –
I should love a heavyweight nicknamed "Mayhem" but remain skeptical of "athletes" who come to boxing after they can no longer compete at the highest level of their favorite sports. Mitchell played football for Michigan State before knee injuries ended his gridiron career, still graduating with a degree in criminal justice. Is now putting that degree to good use chasing down bad boxers in the ring. I must admit that after initial cynicism, I am coming around and noticing the boxing intuition others have inferred upon Mitchell. At 6'2" with a rock solid 240-pound body, he has the size and seems to have an affinity for boxing, turning pro after only 10 amateur bouts. Unlike other American upstarts, does not lack enthusiasm in the gym and only once disappointed on the scales, coming in at over 250 pounds. At 30, Mitchell is not playing catch-up, as far as his age (many heavies mature later now), and now has 81 rounds of ring experience and repetition to aid him. Knocked out his last 10 opponents and more impressively, his competition was elevated in that period. Mitchell maintains a good schedule, averaging five fights a year since 2009 and says his team is trying to work more on countering off his defense in recent bouts. Faced a good selection of styles to ready him for the cerebral European boxers Americans need to stare down on the world stage. Mitchell has excellent hand speed but when the adrenaline kicks in, his punches can loop thus lessening their impact. Puts in much better bodywork than the average heavy but, again, sends his shots a bit wide and without expert technique born of repetition. A powerful puncher whose admirable balance and ability to get close with his feet doubles the impact of blows. Covers up well on defense, even incorporating the now-popular hiding of the chin behind the lead shoulder and has shown good parrying form. Gone six and eight rounds with no problems but Mitchell's stamina remains a question mark. Mitchell's willingness to learn from others is not, "I watch tape on fights just to pick up different things to add to my boxing craft. My favorite fighter right now is Miguel Cotto." Hall-of-Famer trainer Lou Duva made an insightful point about Mitchell, "When I found out that Seth has only been fighting competitively for eight months [at the time], I nearly hit the floor. No one develops that quickly unless he has God-given talents."
Verdict –
How focused can Banks be given his training of Wladimir Klitschko, the recent passing of his mentor Emanuel Steward and all the intercontinental travel Banks has undertaken the last week? It took a concerted effort by an intelligently boxing Adamek to knock out Banks and I would not be surprised if Banks is leading at the time of being stopped. But stopped is what Banks will be and given his out-of-the-ring schedule, I think earlier rather than later. Mitchell wears on physically weaker foes and Banks gets into trouble staying in range too long trying to throw combinations. Banks does not have the power to hurt Mitchell either and lacks the legs to stay away for longer than half the fight. In the fifth round, Banks is dropped and unable to hold or move out of harm's way and is rescued from Mitchell's follow-up along the ropes by the referee.
Adrien Broner –
Cincinnati produced great fighters like Aaron Pryor, Freddie Miller, Ezzard Charles and Tim Austin. Adrien Broner wants his name added to that roster of greats. Started boxing at age six, winning a national Silver Gloves tourney and, more importantly, sparred against three-time Olympian Rau'shee Warren every day. Success eluded Broner at senior tourneys but he was always a difficult out with nearly 300 amateur bouts to his credit. A speed-burner with excellent defensive reflexes, Broner has shown an ability to use that speed on offense, knocking out 20 of 24 opponents. Improves continuously in every facet because of a gym-rat work ethic and his father's presence as trainer has not been a detriment. Another animal comparative is a peacock and Broner's prancing assuredness pays off for fans when he takes daring chances to make himself look great. This cockiness (claiming his ring I.Q. is an equivalent of Einstein's) rubs some the wrong way but ensures Broner isn't lost in Golden Boy's large stable. I emphasize that speed is a lynchpin of Broner's game; however, it is not his sole attribute since Broner sports ring presence well beyond his 23 years. That shows on defense, rarely squaring up to an opponent while employing a Mayweather-style shoulder roll to protect himself. Broner wants to incorporate angles and jab more, aiding himself as he matures and inevitably meets someone equally fast. An aggressive nature, the Daniel Ponce de Leon bout aside, reminds of Andre Berto sprinkled with a little bit of Pernell Whitaker. Well-timed rapid combinations are Broner's hallmark, his hooks looping at times, lessening the impact but still arrive with astonishing swiftness. Possesses killer instinct and his legs' wide stance could be a problem when Broner faces a slick champion or veteran mover. Nicknamed "The Problem"; like other precocious and immature young men, Broner has overcome problems with the law. At 5'7", is an average size lightweight but has a lot of bulk in the upper body that translates into underrated punching power. Broner stopped 14 of his last 15 opponents with only a disputed decision over the rejuvenated Ponce de Leon breaking up his streak. That close points victory lacked refinement and aggression. Subsequently, Broner reassured many taking out Jason Litzau (TKO 1) and undefeated Eloy Perez in less than five rounds. Broner needs more of that tonight given a lack of fan approval to date and their tendency to look at Broner's post-fight antics more than what he accomplishes in the ring.
Antonio DeMarco -
Tijuana thunderbolt has a fan-friendly style and many watched DeMarco progress from a "ShoBox" prospect to a full-fledged champion over a series of exciting fights. Aside from a forgivable loss to ill-fated Edwin Valero, a majority decision loss in DeMarco's ninth fight remains his only setback. Proved he could deal with smart boxers by upsetting Jorge Linares, absorbing early punishment before rallying to cut and swell up Linares before stopping him in 11 furious rounds. It's become DeMarco's blueprint, starting slow before picking up on foes' mistakes and exploiting them with long punches that carry power into the late rounds. Grew up in a boxing family (cousin is former champion Humberto Soto) but had limited amateur experience, honing his craft in gyms before turning pro at 17. DeMarco was moved well, upping the level of opposition incrementally, his team providing good fighters with divergent styles for him to dissect. The converted southpaw commits to an attacking style, even when pushed backward by Valero's physicality and Linares' intelligence. DeMarco still stopped both in their tracks at times with well-timed counterpunches. Because of his action style, the 26-year-old's mental improvement (a young veteran with 151 rounds to his credit) is underrated with DeMarco using his elongated frame (5'10" with 71-inch reach) better on offense and defense in last two years. The jab has come to the forefront but too often DeMarco abandons it in favor of eating a punch to land his own double hook. Against Valero that spelled doom but DeMarco refused to go down without a fight, often throwing simultaneously with his vicious-punching opponent. There is a concern that the tough rounds are leaving lasting scars and took many miles off DeMarco's boxing odometer. Has the stamina to go the distance and defense has shown a slight improvement in terms of DeMarco keeping his hands high and maintaining distance. In spots, DeMarco looks unconvincing in the trenches and too willing to accept clinches, his thin upper body lacking the brute force to push off maulers. In his last two fights, against countryman Miguel Roman and mauling John Molina, opponents were sent face-first to the canvas by perfect hooks. DeMarco enters fights with a great attitude toward the sport - as well as fans - delivering action and a sense of an imminent explosion. "I hope to give them a great show. I want to conquer the people there and make them fans of the sport with my style and skills."
Verdict –
Broner's speed is the key separator but he can also use his legs and superior upper body strength to push DeMarco backward, exposing his defensive flaws. To date, DeMarco has been able absorb punishment early and rally late but I do not think DeMarco can do that with the combination of speed and power Broner possesses. Look for Broner to start quickly, weaving under DeMarco's straight right hand and jabs, scoring quick counters and lead rights. DeMarco will be rocked and dropped in the middle rounds but strikes back against an onrushing Broner, showing he remains dangerous and recovers his senses fast. Broner's fast hands take over from that point though, keeping DeMarco off balance and unable to come at Broner in straight lines as he prefers. There may be a championship round knockdown but DeMarco shows his toughness again lasting the distance. The lopsided final scores because of knockdowns will not be indicative of the entertaining nature of the fight.
Prediction record for 2012: 84% (115-22)
Prediction record in 2011: 88% (138-19)
Prediction record in 2010: 85% (218-40)


You can contact Marty at mmulcahey@elpasotel.net, visit him at www.facebook.com/fivedogs or follow him on Twitter at www.twitter.com/MartinMulcahey.



Subscribe to feed