The HBO Boxing After Dark TV Cheat Sheet- Oct. 27, 2012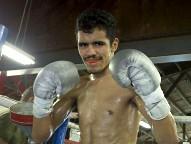 Miguel Vazquez


Did Miguel Vazquez hire Al Haymon as his manager? I ask because I don't see how else the blue-collar champion from Mexico got a prime spot on a HBO telecast. I appreciate Vazquez's skills and the tireless work that earned him a world title but I have to be honest and say Vazquez's style is more ESPN2 or Telefutura-echelon than HBO headliner material. That counts even more for Vazquez's opponent, Marvin Quintero. In fact, tonight's HBO telecast has the feel of a "keep-busy" show, much like a champion takes fights just to stay sharp. Vazquez is an underrated champion though and it is good to see HBO invest in a tripleheader. However, compared to two straight months of quadruple-headers by Showtime (the last featuring six of eight boxers rated in The Ring top 10 vice only one tonight), HBO remains behind the power curve.
Like last week, I am only going to give a full preview for the top two bouts and do a prediction only with the Karim Mayfield vs. Mauricio Herrera clash.

At the Turning Stone Resort and Casino, Verona, NY
(HBO) Miguel Vazquez (31-3) vs. Marvin Quintero (25-3)
(The Ring magazine #2 lightweight vs. unranked)
(HBO) Thomas Dulorme (16-0) vs. Luis Abregu (33-1)
(HBO) Karim Mayfield (16-0-1) vs. Mauricio Herrera (18-2)
The Opener:
Karim Mayfield vs. Mauricio Herrera
Verdict
– A tough fight to pick given how these twos' styles offset each other. The difference is that Herrera has been too willing to compromise on his style in the past while Mayfield has less stylistic choices and is thus more dedicated to an attacking philosophy. That helps Mayfield in the volume department which judges often use as a tiebreaker in close rounds to choose a winner. Those close rounds - and I think there will be plenty - will fall to Mayfield and he should squeak out a unanimous decision by one to three points. Even if Herrera matches Mayfield in the quantity department, his punches lack pop and he will not have the forward momentum behind like Mayfield (who is the stronger physically) does. Again, that is something the judges look for and one of the jobs for a boxer is to make the judges look at him and not his opponent. I think the judges will be watching Mayfield more tonight.
Luis Abregu
– This Argentine knockout artist enters with a 79% kayo percentage and has intermittently looked devastating and average. Abregu's power is not as awe-inspiring as reports I read insisted before his American debut and I am more impressed with the heart Abregu showed getting off the canvas to win repeatedly than his punching power. Don't get me wrong; Abregu can punch but his power has not shone through against his best opponents. David Estrada (known for taking a good punch) was one such foe who pressed Abregu late and might have won their fight had it been scheduled for 12 rounds. The positive from the Estrada fight is that we saw Abregu can box when called for and was intelligent enough to switch to Plan B when needed. Precision is probably the real reason Abregu has so many stoppages; his punches land squarely and impact doubly from the constant forward momentum. Has shown the hand speed to flurry and follow-up on advantages and has quite long arms as well. Abregu is not so much fast as he is one-punch quick. Moves his feet into position rapidly to make use of short two and four-punch bursts but is not so slick as to get out without taking a punch in return. There is a bit of Felix Trinidad about Abregu, waking up and redoubling his efforts when unexpectedly floored or rocked by a punch. On the down side, his porous defense remains a flaw that needs to be corrected to play with the big boys. I like the way Abregu reacted to fighting in Mexico, dominating Richard Gutierrez with volume when it was evident he could not score a stoppage. Abregu gave Tim Bradley a tough fight and in stretches, was one of the few boxers to get Bradley to take backward steps against his will. Abregu has been fighting solid opposition since 2008, staying sharp by getting in the ring an average of four times a year. Experience is the key to beating his still-maturing opponent according to Abregu, "Dulorme has never been in the ring with a hard puncher like me. I will break him down with power shots, something he's never experienced before." I am not certain if a title belt will ever be strapped around Abregu's waist but he has intangibles that will aid him if a title fight presents itself a second time.
Thomas Dulorme
- Young slugger has the look of a champion, blending power, speed and accuracy into a dynamic attacking force. Despite high kayo ratio (stopped 12 of 16 foes), begins everything with a stiff jab, finding openings by boxing instead of overpowering foes. It was the strategy of Dulorme's boxing idols Sugar Ray Leonard and Oscar De la Hoya; of course, he gives the obligatory nod to Felix Trinidad, expected of someone based in Puerto Rico as well. I say "based" because Dulorme's parents are Dominican and he was born on the island of St. Maarten, moving to the Dominican Republic before settling in Puerto Rico at age nine, winning 140 of 142 amateur bouts. Began boxing at age eight and it shows in the ease in which he sometimes switches between a southpaw and orthodox stance to utilize punching angles. Picked up tricks and learned from rough sparring sessions at Puerto Rican gyms, honing legitimate power in both hands (says his left is most lethal). At 5'10" tall with a 70-inch reach and broad shoulders, Dulorme will suffer under Felix Trinidad and Thomas Hearns comparisons moving from 132 to 147 pounds in only three years. Presents a calm and relaxed manner in the ring, never rushing or falling into punches and is best described militarily as a long-range bomber. Against weak opposition, has shown a perfect blend of power and speed but does not rely entirely on those, starting everything with a stiff jab that he steps into nicely. The blinding jab makes everything which follows more potent, especially given his punching accuracy. Unlike many youngsters (Dulorme is 22), Dulorme throws combinations to the body when on the inside and does not allow himself to be tied up. Gives ground unnecessarily while looking to create space for his long punches but keeps both hands high and his chin down when advancing. Has good wins over tough Charlie Navarro, who gave former champion Vyacheslav Senchenko all he could handle, and still dangerous DeMarcus Corley. Dulorme will get even stronger, a frightening prospect, as his "man strength" evolves with age. Enters this fight with the right attitude, stating he must score a knockout in his HBO debut. Promoter Lou DiBella believes in Dulorme's power, "He is one of the most devastating young punchers. He is the entire package. Within a year, he will be challenging for a world title."
Verdict
– This one could get exciting! I struggled with this choice and it is a testament to Dulorme's promise that his handlers are willing to throw him in against such dangerous opposition. The critical point that swayed my pick toward Dulorme is a superior chin (perhaps he has not been tested as Abregu has) since Abregu has a tendency to get knocked down when stepping up in competition. Even if Dulorme does not stop Abregu, the points swing two knockdowns provide will be crucial on the scorecards. Despite improving on defense, Abregu still does not move his head and Dulorme has the accuracy, quickness and length to exploit that. Although Abregu could get awoken by the punches, which has been the case in the past, he cannot get overly aggressive in retaliating because of Dulorme's power. I am putting a lot of stock into Dulorme's power but I believe it will pay off in the end with a knockout around the sixth or seventh round. The one hope for Abregu is that he jumps Dulorme early and puts him in a shell, getting stronger as the rounds progress and Dulorme's power seems to wane. I don't see that happening and any momentum that Abregu does build early can be derailed with one good punch given the combination of power and iffy chin in that ring.
Marvin Quintero
– 25-year-old Mexican banger surprised in his American television debut, stopping Nick Casal in the third round on "ShoBox." Followed that with another impressive victory over Wes Ferguson thus consecutively defeating a tricky mover and slugger, respectively. Has cooled off since, losing to Tyrone Harris (who his team fought despite Harris coming in over the weight limit) and more disappointingly against a limited Daniel Attah. Has rebounded again, winning his last five fights by stoppage including a destructive kayo of Filipino prospect Al Sabaupan. Quintero had his way against resurgent Casal but as in other fights, showed very little on the defensive side. In the Ferguson victory, showed patience when power was not enough, volume-punching his way to an eight-round decision. The southpaw has a good mix of timing and power with those two factors augmented by Quintero's ring pressure to produce an impressive 75% kayo ratio. Short bursts allow for combination-punching at range and as a busy puncher, he sets a fast pace. Is comparable to Antonio DeMarco (but with less height) in style, which makes sense since they train at the same gym and spar each other. Quintero got good marks as a sparring partner for Ricky Hatton too and gets plenty of quality sparring at his Tijuana headquarters against the likes of Erik Morales. Lacks defense, more often than not because he is concentrating on offense and Quintero has little upper body movement. Will pick off some punches with his gloves and the feet are quick enough to get out of danger laterally when needed. Questionable chin has let Quintero down early in fights but once he gets warmed up, Quintero rides out potent punches. Out of the ring has earned a college degree in engineering, digesting professors' words as well as his trainers'. Boxing remains his passion, "You will see a fighter with the will to win, ready to leave everything in the ring for that world title because it is his life's dream and that is what can be expected from me." Quintero's best results came at junior lightweight, so he will have his work cut out for him against a bulky and physically strong Vazquez. In the final analysis, Quintero is a solid boxer trying to employ the "Sweet Science" in the early rounds but regresses to slugging when frustrated since that is his true nature.
Miguel Vazquez
– Mexican slickster was a smallish welterweight, coming to my attention as the main sparring partner for Antonio Margarito before becoming a legitimate champion at lightweight. While far from the most exciting 135-pounder, Vazquez is probably the most difficult to beat and definitely the most avoided. Some will remember Vazquez as the man who upset red-hot Breidis Prescott, handing the Colombian his first defeat on ESPN and then repeating the feat with Australian hotshot Leonardo Zappavigna on Showtime. Vazquez is a tough-as-nails boxer/puncher who never lost to a fighter of lesser ability. Got off to a rough start succumbing to junior middleweight champion Saul Alvarez by split decision in his pro debut. Another setback was to pound-for-pounder Timothy Bradley, losing all but one round, unable to deal with Bradley's hand speed and strength. Also, dropped a second fight to Saul Alvarez but Vazquez is the naturally smaller man and has never lost a fight at the lightweight limit. Never been stopped either, due to a combination of toughness and underrated mobility that has him at the proper distance to see punches and avoid or roll with them. Return fire from Vazquez is timely and usually immediate. Only has a 38% kayo ratio though, but has enough power to cut and caused a lot of swelling to opponents with repeated and precise connects. At 5'10", Vazquez is extremely rangy for the division and uses that wingspan as effectively on defense as offense with punches that seem to stretch just enough to connect. Snappy jab leads the way, in advancing and countering, altering between using it as a stopper and rangefinder. At 25, Vazquez is in his prime and trained by Javier Capetillo, the same man who illegally wrapped Margarito's hands, a proverbial gym rat never taking more than week off between fights. Despite that, has had slow starts on occasion and needs a couple rounds to time his foe. Vazquez is a very good body puncher, which is an invaluable asset for him if the fight is a grueling as some expect and goes into the later rounds. Our own Steve Kim described Vazquez's style perfectly in his Thursday feature. "His style isn't in line with the stereotypical, face-first, Mexican style. Vazquez is a slippery, tricky boxer who is almost impossible to hit cleanly. Punching him flush is like catching a wet noodle. It's not a fan-friendly style; it can be best described as awkwardly effective."
Verdict
– Frankly, I would not be surprised if Quintero does not win a single round, such is the difference in boxing ability and ring intellect. Yes, Quintero can bang and will advance but he doesn't have the accuracy or proverbial delivery system to track down and hurt Vazquez consistently. Vazquez will dominate behind a long jab and accurate single volleys, maybe losing one or two early rounds before getting warmed up. Rounds four to 12 will look as if the broadcast is looping the same round over and over with Vazquez allowing Quintero to control range but beating him to the punch, no matter what place in the ring the action takes place. The three inches in height and seven-inch reach advantages for Vazquez are just added cushion and he could win on timing and slickness alone. Look for a unanimous decision favoring Vazquez in the range of 10 rounds to two as the most probably outcome.
Prediction record for 2012: 84% (108-20)
Prediction record in 2011: 88% (138-19)
Prediction record in 2010: 85% (218-40)
Please visit our Facebook fan page at www.facebook.com/MaxBoxing, where you can discuss our content with Maxboxing readers as well as chime in via our fully interactive article comments sections.



Subscribe to feed