The HBO Boxing After Dark TV Cheat Sheet – Jan. 19, 2013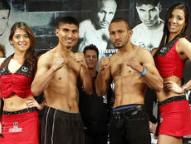 (Photo © Chris Farina / Top Rank)


HBO is stepping up to host the first major fight card of the year - a tripleheader world title bill no less –providing added luster by staging the event at the revered Madison Square Garden. They are putting checkmarks by some of the important categories featuring a Mexico vs. Puerto Rico clash, a potentially great middleweight with knockout power in both hands and a fast-rising American star of Hispanic heritage. Yes, the card is a bit lean on star power despite delivering stylistic matchups designed to generate excitement. Although, when we look back on this card 10 years from now, fans might recall it as the coming-out party for two boxers with plaques hanging in the International Hall of Fame. Watch tonight and you should be able to tell which two I'm thinking about by the end of the night.
At Madison Square Garden, New York City, NY
(HBO) Orlando Salido (39-11-2) vs. Mikey Garcia (30-0)
(The Ring magazine #1 featherweight vs. #3)
(HBO) Gennady Golovkin (24-0) vs. Gabriel Rosado (21-5)
(The Ring magazine #3 middleweight vs. unranked)
(HBO) Roman Martinez (26-1-1) vs. Juan Carlos Burgos (30-1)

Roman Martinez
– Puerto Rican slugger earned "Rocky" nickname with a couple of "Fight of the Year"-type bouts and would be a fan favorite given all-action bravura if Martinez fought more often (three times in three years) on TV as his style demands. Aggressive power-puncher does not have audience commensurate to his skills and Martinez won his title the hard way, traveling to the hostile environs of Manchester, England and stopping hometown favorite Nicky Cook. Martinez comes from a large family (one of 10 siblings), following two brothers into boxing at age 12, emulating idol Felix Trinidad to establish a respectable 45-15 amateur record. Now a 29-year-old banger, Martinez describes himself plainly but accurately, "I am a real fighter who has a big heart and likes to fight. I never refuse to fight anybody. I like knockouts but also have great stamina to go 12 rounds. I really like to throw a lot of punches." The latter is particularly true; the hardnosed boxer comes forward with malice, sporting good size for the division at 5'8" with 67-inch-reach. Uses that body well behind an advancing style (57% kayo ratio), staying on top of opponents pushing them backward or onto the ropes. Thanks to stamina, is largely effective that way; Martinez's late-round rallies proved the deciding factor, scoring knockdowns in the final rounds to beat southpaw Walter Estrada, Daniel Jimenez and Miguel Beltran. Now has a decade-plus 180 pro rounds of experience to fall back upon when pressure alone does not get the job done. Right hand is biggest one-punch weapon, which he delivers straight down the middle or via sneaky uppercut on the inside. Defense is leaky; Martinez has been visibly rocked on several occasions but he recovers quickly and fires back, immediately trying to regain the momentum. Though exciting, sometimes to a fault, it is not prudent to underestimate Martinez's intelligence in or out of the ring. His father did not allow Martinez into a gym or to box until his school grades rose above a satisfactory level, which Martinez achieved to further his goals in the ring. It's a passion passed on to his nine-year-old son Luis Antonio, who is already mimicking his father in the gym. Entering off a tough battle with another Mexican, Miguel Beltran, via split decision in a back-and-forth affair, this fight will tell if Martinez has slipped past his peak or is fighting his way back to top form.
Juan Carlos Burgos
– Like NBA teams, some boxers need their version of a losing finals appearance to become championship-caliber themselves. Burgos could be that type of fighter, rebounding with five wins, to include a back-and-forth brawls with undefeated prospects Cesar Vazquez and Luis Cruz after suffering a respectable 12-round loss to underrated champion Hozumi Hasegawa in Japan. The power-puncher (20 stoppages in 30 wins) was raised in the sport, turning pro at 16 after watching his uncle, Victor Burgos, win an IBF world title. Juan's parents wanted him to retire when Victor lapsed into a coma after a stoppage loss to Vic Darchinyan but eventually relented. Grew up in a gym and trained by his father, which lends to the development of instincts that have to be experienced instead of taught. Like most Mexican boxers, Burgos is pleasing to the eyes as well as adrenal glands, pushing advantages and refusing to retreat. Reminiscent of a young Erik Morales, using long arms and legs to stride into his target, intuitively throwing hooks to the head and liver. Loves to attack the body and finely curls punches around elbows. The 25-year-old has been moved at the right pace with his team throwing different styles at him, defeating slick Russian youngster Vyacheslav Gusev early in Gusev's career and beating hardnosed former champion Cristobal Cruz in his second-to-last fight. Averages three fights a year and has been 10 and 12 rounds multiple times, registering 183 rounds against divergent styles. Burgos has good size for a featherweight or junior lightweight, at 5'8½", but could make better use of his length and not let his Mexican roots show by drifting inside and banging when certain of a strength advantage. Can and does deploy every weapon on offense but Burgos needs to improve his defense and alter combinations as not to overuse the left hand. Burgos says he learned from his lone loss and that he won't let this opportunity pass him by, "I don't want to let this opportunity get away from me. I have been in this position before when I faced Hasegawa and I know I could've done much better that night. It could have been a life-changing victory for me but I let that one get away. Not this time." Burgos is a legitimate title threat, showing continued improvement and dedication to training (moving up in weight after lone loss) that has paid off with a title shot spotlight on HBO.
Verdict
– A close fight pitting the experience and determination of Martinez against the youth and slightly better boxing skills of Burgos. I hate to pick against a boxer I like as much as Martinez (who should enjoy the crowds' support as well) but believe youth wins out in an exciting affair. Judging by Martinez's fight against Miguel Beltran, he looks to be slipping but Martinez was coming off a long layoff that could explain that performance. Either way, I like the rapidity and fire I see in Burgos, which will exploit Martinez's weaknesses on defense and hand speed. Look for a fast start from Burgos; understanding it is how he lost his first title shot, it will enable Burgos to create momentum and, more importantly, a rhythm to stay one step ahead of Martinez. Burgos might have to hang on in the championship rounds but I think he has learned enough over the last two years combined with his previous title shot to win a decision. The faster Burgos should land first with the aid of a sharp jab and will evade those dangerous right hands using his nice duck-and-pivot move. At fight's end, the judges reward Burgos' style and power in the eight-to-four rounds range.
Gabriel Rosado
– Don't let Rosado's record deceive; he is a tough-as-nails fighter who can beat anyone who comes into the ring at less than 100%. More importantly, Rosado has learned from losses, becoming a better boxer because of them and is firing on all cylinders now. A pure Philly volume-puncher, at home in local gym wars, he travels to the Wild Card Gym to focus for important bouts. First gained attention defeating former champ Kassim Ouma and in a see-saw slugfest with hot prospect Fernando Guerrero, dropped the hometown favorite in a respectable loss. Was steamrolled by Alfredo Angulo but bounced back to stop fellow Philly prospect Latif Mundy and veteran Saul Roman. Rosado remains a work-in-progress, not boxing until age 18 with only 17 amateur bouts beforehand. Found belief in his abilities (shown in moving up in weight for this fight) after outpointing undefeated prospect James Moore, properly dedicating himself to boxing afterward. Maintains active pace, averaging four fights a year, and is always in the gym improving. At 6'0", has good size and is beginning to use his length to create breathers for himself by boxing from the outside. Moves well with his feet, mostly to establish distance for his punches rather than lead foes into punches or set up counters. Once Rosado feels an advantage, he uses his feet to block escape paths, forcing opponents to engage. Delivers punches with good form but is not a hard puncher, preferring volume over setting himself to throw one hard blow. Stopped 13 of 21 victims but needs three or four rounds to wear on them before his punches sink in. Sometimes smothers punches by fighting on the inside, content to lean and wrestle opponents to sap them of energy. Aside from the Angulo bout, has not been outclassed and never fails to deliver in terms of action. At 27, Rosado is in his physical prime but all the tough fights may have aged him beyond what the calendar says. Enters this fight hot, riding a one-and-a-half year, seven-bout winning streak, with five wins coming via knockout. Rosado leaves no room for excuses, telling The Ring magazine, "I came up the hard way. Nothing was given to me; nothing was handed to me. I think that as a professional, I have more experience and I've fought the better competition. I predict that I'll win by a ninth-round knockout."
Gennady Golovkin
– When asked to describe Golovkin in one word before his American TV debut, I replied with no hesitation, "beastly." A fascinating boxing mix (a Kazakhstani of Russian heritage living in Germany and America, he speaks four languages), Golovkin has morphed from a stylishly smooth amateur to a fearsome-punching pro, knocking out his last 11 foes. In the amateurs, he defeated Matt Korobov, Andy Lee, Yordanis Despaigne and stopped world champion Lucian Bute with one straight right hand after a dominating performance…in a single tourney! A year later, Golovkin won silver at the 2004 Athens Olympics (after winning World Amateur Championships twice), defeating future champion Andre Dirrell in the semifinals. As a pro, Golovkin is similarly impressive, unbeaten in 24 appearances, stopping 21 foes including iron-chinned Kassim Ouma. The Ring magazine's Doug Fischer is an early convert, "Golovkin is a very strong and durable athlete with all-around skill and excellent technique, which includes defensive prowess. His right hand is like a laser beam. It reminds me of Kostya Tszyu's right. He has good footwork. Pivots well. Makes use of feints. He's brutal but crafty." Veteran English boxing scribe Graham Houston described the Golovkin he watched destroy Kassim Ouma, "Golovkin showed a solid chin, hit very heavily with both hands and exhibited a relentless quality, almost like a latter-day Jake LaMotta. He just kept on coming." No boxer is perfect and there are some drawbacks to Golovkin. At 5'10", he is not the biggest middleweight, nor has he perfected the shoulder roll defense he is incorporating. Golovkin celebrated his 30th birthday last year as well. However, Golovkin has long arms like Carlos Monzon and a stone-face expression throughout the fight reminiscent of Julio Cesar Chavez. Incredible natural strength is aided by low center of gravity, pushing much bigger sparring partners around despite average musculature. Promotional issues kept Golovkin out of the ring, only fighting twice in 2010 and 2011, but it may be a blessing in disguise having boxed nonstop since age 10. Coached by Abel Sanchez (renowned for his work with Terry Norris), Golovkin trains in America nine months out of the year, gaining a reputation for running sparring partners (including Julio Cesar Chavez Jr.) out of the ring. Sanchez described his student, "I think it's the 350 amateur fights which have made him such a serene, composed fighter. He possesses lethal power in each hand. I've been around a lot of fighters who were motivated by anger. Gennady is motivated by the pursuit of excellence. He's the whole package: power, patience, conditioning, a cerebral approach."
Verdict
– I feel for Rosado, who challenges a champion with a vastly superior amateur and pro pedigree, enjoying seemingly staggering advantages in every boxing category. Golovkin feeds on mistakes, mental or otherwise, and his shorter, more direct punches will punch holes in Rosado's average defense, forcing a usually attacking Rosado to hesitate on offense. What Rosado has working for him is a hot streak and a wealth of confidence earned from that string of victories but I just cannot see how he employs those. Perhaps a fast start or early cut can aid Rosado along with his aggressive style. I don't see it though; either Rosado gets picked apart by Golovkin's precision or is torn apart by his power. I tend to think power will win out and pick Golovkin to walk out of the ring a fifth round stoppage victor. If not for my admiration of Rosado's toughness, I would call for a third round victory.
Mikey Garcia
– Garcia keeps law and order inside the ring and outside will do the same in time as a graduate of the Ventura County Police Academy. Enjoys a great boxing background and team, starting with his father, Eduardo, and older brother, Roberto Garcia, sharing training duties, bolstered by manager Cameron Dunkin and Top Rank's promotional backing. Oxnard product grew up in a gym, lending Garcia an innate sense inside the ropes that cannot be taught. As an amateur, was 58-7 despite using fights to further his pro style instead of hunting for trophies on a national level. There is no hesitation throwing punches; they come at sharp and straight angles with a velocity born of perfect balance. Displayed early promise, outboxing world title challenger Walter Estrada despite breaking a finger. Improved measurably since, stopping 14 of his last 15 opponents despite increase in opponents' skill level. Mature beyond his years, aided by sparring champions Edwin Valero, Israel Vazquez, Brandon Rios and Manny Pacquiao. Still developing a ring persona but has shown the ability and diversity to beat opponents with speed, power or movement. That offensive arsenal allows Garcia to break down foes before shooting for the stoppage, showing ring intellect in choice of punches. Calm demeanor is unnerving for a still-maturing fighter (he is only 25), reminiscent of Marco Antonio Barrera hunting down opponents behind an emotionless poker face. Displays real stopping power in his right hand without overusing it, using his lanky 5'6" frame and a 70-inch reach to maximum impact. Is solid on defense but has not been pushed in this regard either. There could be holes to exploit for championship-caliber opponents who do not shrink in the face of Garcia's offense. Steadily increased his level of opposition, averaging four fights a year, and needs to be sharp to cope with Salido. Went into double-digit rounds against veteran Cornelius Lock and fellow prospect Matt Remillard but has only been eight rounds on three other occasions. The 12-round distance is less of a concern after stopping Lock and Remillard late; Garcia built momentum and increased his connect rate as the rounds ratcheted up. Only hiccup was a knockdown against Estrada but it can be forgiven considering the lefty power-puncher entered with a 34-6 record. Defeated slick boxers like Olivier Lontchi and Remillard as easily as pressure fighters Tomas Villa and Jonathan Barros. I rate Garcia the best young boxer without a title and perhaps a star in the making.
Orlando Salido
– Mexican toughman showed against Yuriorkis Gamboa that he has world-class abilities and proved it by knocking out Juan Manuel Lopez in his next fight. At 32, Orlando Salido is an unlikely champion, one of those rare men with enough mental strength to recover from a knockout loss in his pro debut. Soldiering on, losing two world title shots before winning one on his third attempt. After an embarrassing debut, Salido was later stopped by a 9-21 foe, producing a wholly unimpressive 8-6-1 record in his first 15 bouts. Those kinds of statistics produce mockery and doubts until two key components behind the numbers are factored in. Salido had virtually no amateur experience and on top of that, turned pro at the age of 15. The teenage version of Salido fought mature men who, even if they did not have impressive records, were naturally stronger than a kid with more machismo than merit. Since then, Salido has gained sound technique and underrated boxing ability to go along with his never-say-die fighting spirit and composure. Salido is more than a straight-ahead banger despite a pair of feet better equipped for slamdancing than a waltz. It is the left hook Mexicans are reputed for but it is a tricky right-hand counter that does the trick for Salido. What "Siri" does like a Mexican is go to the body, which he employed, backing up and defeating Robert Guerrero (Salido tested positive for a steroid in one test while exonerated by another). The champ sports solid power in both hands with his accuracy and willingness to stay in the pocket setting him apart. That worked out perfectly against Lopez in their first encounter. I can't say Salido is exceptional in any area physically but he also lacks nothing and is fantastic mentally. Because of stoppage losses in his teens, Salido has an underrated chin and was not in serious trouble for over a decade until his fight against journeyman Weng Haya (don't read much into that; Salido fights to the level of his opposition). Since 2002, Salido has registered a 26-3 record, only losing to the incomparable Juan Manuel Marquez, Gamboa and fellow toughman Cristobal Cruz via controversial split decision. Salido impressed in avenging his setback to Cruz with awkward but controlled aggression, scoring two knockdowns while overcoming bad cuts and a desperate rally by Cruz in the championship rounds. Final analysis: Salido is a real pro's pro.
Verdict
– I see this fight playing out much like the Burgos – Martinez bout with youth triumphing over experience. Garcia's has been groomed for a world title since childhood, sporting a calm assassin's demeanor I have not seen this vividly in a young contender since Marco Antonio Barrera. Salido, as always, will not go down without a fight but lacks the speed to counter Garcia or cunning to cause confusion in his young challenger. Since Garcia is not a fast starter, he will gauge Salido, spotting tendencies and judging incoming velocity before unleashing his arsenal late in the third round. The chance Salido has is that Garcia is overly cautious since Garcia has shown excessive patience in some fights not opening up to force early stoppages. Garcia will parry Salido's attacks and push punches down the middle to maintain distance, spotting and ducking the looping punches that got Juan Manuel Lopez in trouble. In the final analysis, I favor talent over blue-collar work ethic, picking Garcia to score a comfortable decision win. I look for Garcia to temper his attacks with movement, allowing Salido to lead more and make mistakes that he counters with speed. Knowing Salido's dangers, Garcia boxes his way to a comfortable and intermittently pedestrian decision win.
Prediction record for 2013: 75% (3-1)
Prediction record in 2012: 84% (128-25)
Prediction record in 2011: 88% (138-19)
Prediction record in 2010: 85% (218-40)
Please visit our Facebook fan page at www.facebook.com/MaxBoxing, where you can discuss our content with Maxboxing readers as well as chime in via our fully interactive article comments sections.



Subscribe to feed