The HBO and Showtime TV Cheat Sheet – Dec. 15, 2012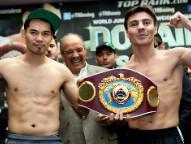 (Photo © Chris Farina / Top Rank)


A last-second cancelation of the Guillermo Rigondeaux-Poonsawat Kratingdaenggym bout compelled me to combine the two main events from tonight's marquee bouts at HBO and Showtime. I was going to concentrate solely on the HBO event but am happy to give some love to a Showtime card that features some intrigue. I don't envy Nonito Donaire and Jorge Arce the least bit, knowing they have to compete with the taped delay broadcast of the epic Juan Manuel Marquez – Manny Pacquiao clash airing before their bout. It is akin to following Led Zeppelin or Tupac Shakur; it can be intimidating or used as motivation to bring out the best in the athletes. With a quality champion like Donaire and Arce's proven track record of exciting fights, I expect the latter. Amir Khan just wants to win one way or another since his career seems snakebitten and if he loses, you can put him on the same glossy boxing scrap heap as Jorge Linares or Jermain Taylor.

At the Sports Arena, Los Angeles, CA
(Showtime) Amir Khan (26-3) vs. Carlos Molina (17-0-1)
(The Ring magazine #2 junior welterweight vs. unranked)
At the Toyota Center, Houston, TX
(HBO) Nonito Donaire (30-1) vs. Jorge Arce (61-6-2)
(For The Ring magazine World Junior Featherweight Championship)
(WBO junior featherweight belt)
Carlos Molina –
A solid amateur, winning the national PAL title once, Molina is used to competing at the highest level, sparring many rounds against pro contenders and champions on the tough Southern California gym circuit. It helped ready Molina and fine-tuned his game for the pros, where he has remained undefeated and gained fans thanks to an aggressive mindset (that actually plays against some of his strengths). Born into a boxing family (brother Javier made the American Olympic team and another brother was one win away from representing Mexico in the Olympics), he donned gloves at age 10, establishing a stellar 105-20 record. Since turning pro, spent more time in the gym than fighting for pay, only appearing in two fights each in 2011 and 2012, but maintained fighting shape, only exceeding 138 pounds once. For this fight, Molina moves up to junior welterweight and his body looked ordinary or even pudgy at media workouts and the final press conference. It is disconcerting that Molina has not elevated his level of opposition before taking this plunge into the deep and none of his challengers come close to preparing him for someone of Khan's level of ability. Molina's best win is against perennial also-ran Manuel Leyva over 10 one-sided rounds. Molina dominated but Leyva was knocked out by two other prospects entering the fight. The result cast doubts on Molina's punching power and finishing skills instead of elevating his profile. Molina is an accurate puncher, using speed instead of positioning or a solid jab to drive punches home. Gets work done by cutting off the ring with intelligent feet but he forces opponents into head-on firefights instead of exploiting their lack of balance with punches from angles. I don't view this aggression as making up for lack of power since Molina lacks volume and a focused body attack to wear down opponents. The hometown kid has been vocal about how he believes Khan can't handle his type of aggression, "I'm going to make this a street fight. He made a big mistake; this is my coming out party." Given his amateur credentials, Molina should be an intelligent operator like a junk ball pitcher nipping at the edges of the plate before striking with a fastball payoff pitch. Instead, Molina plays against his speed strengths but to his credit, this has worked for him to date.
Amir Khan –
I describe the affable Khan as the English "Golden Boy." His image is branded by a youthful Olympic smile, matching persona and moved much the same way as Oscar De la Hoya. Nothing wrong with that but it can create backlash from fans who perceive Khan as arriving at his destination doing less work than others. Khan showed in fights against Marcos Maidana and Danny Garcia that he will brawl to sway and win over negative fan attitudes, but it works against the strengths of this intelligent boxer. The Englishman went toe-to-toe with those dangerous punchers after it became obvious Khan could win the fights by boxing from the outside. Captured England's devotion as a 17-year-old winning the 2004 Olympic silver medal, displaying the type of maturity that only comes to those who begin boxing in their pre-teens as Khan had (started boxing at age eight). Like De la Hoya, Khan tasted the canvas on a couple occasions. Unlike Oscar, Khan did not survive when caught cold by Breidis Prescott in one round and while getting cocky against Danny Garcia last July. Khan explains that he and new trainer Dan Birmingham will make people forget those losses (under Freddie Roach), "The offense is always gonna be there. That's in the blood. But we worked on the defense and being a smarter fighter." Khan's first world title win over Andriy Kotelnik rivals Khan's thrilling victory over Maidana and domination of Zab Judah as his best achievement. Against Kotelnik, he looked the smarter boxer, despite a wide gap in experience and ring maturity in favor of the Russian. At 5'10" with a 71-inch reach, Khan has good physical tools but it is the rapid-fire nature of his punches that sets him apart, not just the speed at which they are thrown but also how straight and accurate they arrive on target. I liken it to getting snapped with a towel that is wetted at the end. It is not debilitating but you take note of it and instinctively create space to escape it. That's space Khan uses to get full extension on his punches. In that sense, opponents of Khan inadvertently give him what he wants. Khan describes himself as, "I'm good at attacking or boxing backwards. The thing with me is that I'm an overall fighter. When I know someone is hurt, I finish him off. When I know someone is rushing at me, I will box him. So I am a boxer-fighter." I have a feeling the fighter is showing up again tonight.
Verdict –
I only need three words to explain why Carlos Molina is in big trouble: "level of opposition." I recently joked about up-and-coming heavyweights learning to swim in the kiddie pool while the Klitschkos drown challengers in the deep of the ocean. That is what will happen to Molina tonight with Khan playing it cool for three rounds before exploiting any and all mistakes he detected over the first nine minutes. I do not expect Molina to last nine minutes after that with the fight waved off in the sixth round as Khan scores a third knockdown or the referee intervenes. I say six rounds or thereabouts since Molina has a good amateur pedigree and gets great sparring. Otherwise, the fourth stanza is the longest I could see this going.
Jorge Arce -
One of my favorite fighters of the past two decades, Arce has an enthusiasm and joy for boxing that cannot be faked. He should not be regarded as one of the greatest Mexican boxers ever but Arce will be remembered as one of the most exciting, much like Arturo Gatti was viewed in America. One of the few boxers I first witnessed in a loss, via kayo to Michael Carbajal in 1999, whom I was so impressed and attracted to that I made a note to watch his next fight. As tough and gritty a fighter as you want to witness, his passionate offensive style makes Arce a fan favorite on both sides of the border. With age, the little Mexican is becoming more reliant on hard punches as he realizes his speed and reflexes are declining. Now, Arce uses guile to pick spots in a round to impress the judges. Received a lot of punishment in bouts against Vic Darchinyan and the first Simphiwe Nongqayi meeting but seemingly found new life beating Angky Angkota, Martin Castillo and Lorenzo Parra. Arce proved he's still a live bullet instead of a spent shell knocking out streaking Wilfredo Vazquez Jr. in the final round of their title clash. Setbacks to Darchinyan and Cristian Mijares seem a case of losing to great boxers instead of Arce's boxing odometer grinding to a halt at age 33. Remember, Arce turned pro at age 16 (after a 37-3 amateur career) and has been in many tough fights...never mind bloody rounds. To his credit, Arce looked in great shape physically against Vazquez Jr. and claims to be fitter not having to make the bantamweight limit. A 66% kayo ratio is for real; stoppages have come against good opposition and are built upon a foundation of quality bodywork and constant pressure. Remains an offensive force with every punch still available to him; only Arce's speed has slipped a noticeable notch. Arce remains capable of throwing combinations in spurts but seems to be lucidly keeping reserves of stamina. On average, Arce fights three to four times a year, engaging in a 10-rounder almost three months ago and logged 402 quality rounds overall. A consistent pressure fighter, aside from the recent loss to hot-and-cold Nongqayi, Arce has not been defeated in a fight he was favored to win. Arce's spirits are high and he has the comfort in the ring to use that intellect to set traps he worked on during his a lengthy training camp.
Nonito Donaire –
Despite Donaire's knockout of Vic Darchinyan - one of the last decade's best and most spectacular - I remained unsure about his legitimacy until his destruction of Fernando Montiel. Given title defense victories over well-qualified contenders and fellow champions, my skepticism flew in the face of reality. I have made a 180-degree reversal in accepting Donaire as an elite fighter. At 30, Donaire is leaving his prime but has a wealth of amateur experience (he came to America at age 10) to fall back upon in a crisis. Trained by Robert Garcia after a messy breakup with his father/trainer, Nonito Sr., Donaire has toyed and worked on tricks against solid foes like Hernan Marquez and Jeffrey Mathebula. Following the Marquez win, scored a frightfully easy kayo of former champion Volodymyr Sydorenko. Donaire's offensive variety intimidates and causes hesitation, as was the case with undervalued boxers Omar Narvaez and Toshiaki Nishioka, who were both long-reigning champions of impeccable pedigree. Donaire's all-around boxing skills are multiplied by abundant hand speed, using a 5'5½" frame and long arms to reach every part of an opponent's body. Moniker of "Filipino Flash" is justified, hiding lightning bolts of power behind a blindingly stiff jab. A Filipino (who competed for a spot on the American Olympic team, losing to Brian Viloria), Donaire remains only second to legendary Manny Pacquiao in terms of fan appeal. Receives criticism for employing scandal-ridden steroid doctor Victor Conte as his dietician but has otherwise maintained a near perfect image in and out of the ring. Before becoming a champion, matured his style by sparring champions like Joel Casamayor and Pacquiao and has never been intimidated or flustered in the ring as a pro. At times, Donaire gives up too much of the ring to opponents but that might be done purposely to encourage foes to punch more. Donaire moves backward and sideways well, luring opponents into mistakes as they advance. Kayos are what inspire Donaire, "I always want to look for a knockout. That is the best way to victory you can achieve in a fight. I don't want to be cocky or sound cocky but that is the best motivation for a fight and what I keep in my head." Has finally ramped up his level of activity, earning him a spot on most people's pound-for-pound lists with dominant victories over the best opposition available outside of Guilermo Rigondeaux. Donaire is ranked in the top five pound-for-pound by The Ring magazine; tonight will go a long way to either justifying or proving critics wrong about that high evaluation.
Verdict -
The speed advantage decisively favors Donaire and even at his best, I doubt Arce had the overall package and consistency to deal with Donaire's rapid fire offense. The other looming factor is the Filipino's lateral movement on defense, presenting sharp angles with long strides that will keep Arce off balance or hesitant. Given Donaire's ability to switch stances, he will catch Arce with sharp jabs on the way in and on the way out of engagements, tagging the aging warrior with long right hands. This fight should end before the ninth round, either with Arce bleeding from various cuts or Donaire standing over him with the referee rushing in too late to stop a devastating combination sequence. The blows will leave Arce struggling to get back on his feet and he will want to fight on but the referee will do his job stopping an already one-sided bout.
Prediction record for 2012: 84% (128-25)
Prediction record in 2011: 88% (138-19)
Prediction record in 2010: 85% (218-40)


You can contact Marty at mmulcahey@elpasotel.net, visit him at www.facebook.com/fivedogs or follow him on Twitter at www.twitter.com/MartinMulcahey.
Please visit our Facebook fan page at www.facebook.com/MaxBoxing, where you can discuss our content with Maxboxing readers as well as chime in via our fully interactive article comments sections.



Subscribe to feed