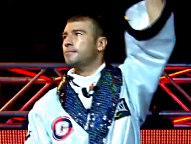 --


One of sports' famous axioms states a loss does not define the person but how they bounce back from a defeat will. Very few champions – most famously Rocky Marciano, Joe Calzaghe and Ricardo Lopez – never had to overcome the mental hurdle of absorbing a defeat. Nearly every Hall of Fame boxer had to work his way through this process and without doing so, they never would have earned enshrinement. Tonight,

Lucian Bute

takes the first step in his personal comeback story; it will be interesting to see how the former champion reacts

(

on a mental and physical level) to his stoppage loss at the fists of

Carl Froch

.
Not only was Bute defeated by Froch, he suffered a vicious knockout in a fight that Froch dominated from the opening bell. In the past, before the late 1970s and early 1980s, a knockout loss was not something a fighter needed to be ashamed of since boxers were matched tough and setbacks were considered part of the learning process. Too often in this day and age, which seems in search of perfection, athletes are not given an opportunity to assess what went wrong and improve from it. Fans, the press and the boxers' handlers go into damage control, not confronting the obvious that only the greatest venture through a boxing career unscathed.

The loss to Froch caused Bute's career to take a different kind of hit outside the ring when an already rocky relationship with the Showtime television network was "mutually" dissolved. It was a move seemingly counterintuitive on Showtime's part since Bute remains one of the few boxers guaranteed to sell out an arena, providing a fantastic atmosphere to telecast from. Bute reiterated that he is a promotional free agent this week and that there is interest by HBO to air a Froch rematch. That does make sense as new HBO boss Ken Hershman came from Showtime at the beginning of the year. InterBox, Bute's promoter, said its problems with Showtime escalated under the new regime of Stephen Espinoza, leading to their decision to seek other avenues of exposure.
Tonight's event is telecast by a relatively new entrant to the boxing world in WealthTV, which will air Bute's bout (and stream it on the WealthTV website) against Denis Grachev, 12-0-1 (8), from the always rocking Bell Centre in Montreal, Quebec. Both WealthTV and InterBox understand this to be a temporary marriage of convenience and are happy their interests merged for this onetime deal. InterBox President Jean Bedard said as much at a recent press conference, "Lucian understands that he must go through this to get back on top. The dream would be to see Bute to win against the Russian." Bedard quickly added his hopes for the future, "Then? A rematch against Carl Froch on HBO's airwaves. A rematch against Froch on HBO, this would be ideal."
Depending on if - or how - Bute defeats Grachev, a rematch with Froch is tentatively scheduled for March 13th

in Canada. Because of the nature of Bute's loss to Froch, an immediate rematch was not viable. Both men opted for an interim bout to cleanse the palate and set the table for a second course. There is one caveat; in the rematch, a title might not be at stake because Canadian Adonis Stevenson is Froch's mandatory challenger to "The Cobra's" IBF super middleweight title, something Froch's promoter Eddie Hearn is willing to compromise for ethical and business reasons, "We have a contract with Lucian Bute and InterBox and we will honor it. We will ask for an exemption. If the IBF refuses, we will drop the belt and Carl will still fight Lucian."
Before all possible scenarios are played out, there is the little matter of Bute's opponent, a Denis Grachev who knocked out Ismayl Sillakh, the hot prospect many thought destined to be the next dominant force at light heavyweight before Grachev derailed those ambitions. The Russian (a former kickboxing and Muay Thai champion) believes a second upset is eminent but concedes a stoppage might be necessary, "I believe beating Bute [in Montreal] will not be easy for me. I will constantly increase the pressure on my opponent and eventually break him. And the judges are likely going to be on his side - so I'll try to finish the fight early." Grachev said he watched film of Froch's victory as well and that he will be able to employ similar pressure to force Bute into mistakes.
Grachev's confidence and opinion of Bute's fragile mind and skill set is another knock on the effect of the latter's loss to Froch. Many people perceive - both fans and figures within boxing - Bute is a champion who defeated a good but not overwhelming list of challengers in his backyard. They also point to Bute as the only elite 168-pound boxer not to enter Showtime's "Super Six" tourney. I still see much to like in Bute, an aggressive southpaw with an impressive 77% kayo ratio who was one of the few boxers I would describe as an intelligent pressure fighter. Now the pressure is on Bute to confirm the belief people built up for the likeable southpaw over nine title defenses prior to the Froch fiasco.
Like many fighters from the former Soviet Bloc, Bute is an ardent student of boxing with a solid amateur background. Though apart from winning a bronze medal at the 1999 Amateur World Championships, Bute did not excel in the major tourneys. He was always competitive though but failed to get into the medal rounds of competitions or make it into Olympics. Bute's pressing style, which slowly overtakes and envelops foes, is more suited for the longer professional fights. As a pro, Bute picks his shots wisely, rarely lunging or overextending himself to land a looping punch on a retreating opponent, knowing his style and wit will afford more opportunities as the rounds progress.
Those discounting Bute could be unsettled by his honesty in the face of defeat. In the aftermath of that Nottingham night, Bute was analytical and harsh on himself, telling reporters at the post-fight press conference, "It was a bad night for me, a nightmare really. I lost my IBF belt, my perfect record, and I suffered a hard loss." Bute broke down the reasons as he replayed the fight in his mind to those who were in the process of writing an obituary to his career. "I did not use my primary weapons of speed and my jab at all during the fight. I fought Carl Froch's fight." However, like a great book, maybe the key to understanding Bute is found in his final words before going to the doctor to check on his physical wounds: "I cannot wait to step back into the ring."
Bute's redemption lies in victory - and not just any kind of victory. An emphatic win is in order though Bute downplays this fight, understanding the Froch encounters will go a long way toward defining his legacy. Bute told the Montreal Gazette, "People ask how it happened but it doesn't matter. The damage is done and now we're looking forward. We'll learn from it." As is often the case with Bute, he looked for an optimistic spin on the often negative tone of questioners. "I know I can do way better than this. I don't want to put pressure on myself. I just want to be like Lucian Bute used to be, which is throw punches and win fights."
Trainer Stephan Larouche is in complete agreement with his positive protégé, "We believe that things happen for a reason though and Lucian believes that will make him a stronger fighter, a better fighter. I think we're even a stronger team now and the link is more solid. There is that much more attention to detail." Every aspect of this fight is sure to be scrutinized by all the interested parties as it should be given that - on many levels - this is Lucian Bute's hardest fight.
Please visit our Facebook fan page at www.facebook.com/MaxBoxing, where you can discuss our content with Maxboxing readers as well as chime in via our fully interactive article comments sections.