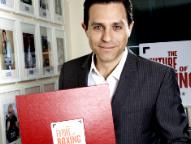 Alexandre Choko


You hear boxers talk all the time about becoming promoters and/or promoting their own events. In fact, all they are doing is living off the largesse of television money and are, in reality, being subsidized in some form or fashion. But Alexandre Choko, in writing his expansive and insightful book (where he interviews 55 notable figures from the sport of boxing including Muhammad Ali,

Sugar Ray Leonard

, Roberto Duran and Julio Cesar Chavez Jr., among others) can honestly say he is like that fighter who financed his own event, rented his own building, hired his own publicity staff and found his own television deal.
"I self-published," he said rather matter-of-factly inside the media room for Juan Manuel Marquez vs. Manny Pacquiao IV a couple of weeks ago.
After making one pitch to the same publishing house that did the Muhammad Ali book, GOAT: A Tribute to Muhammad Ali, Choko offered, "I went back to the drawing board and sat down with my father who published a couple of books himself, sometimes self-published, sometimes with publishers. And he said, 'I will hook you up with Firefly, which is the number one publisher in Canada to coach you to do it on your own.'"

And yes, self-published meaning self-financed. This project cost Choko an estimated $1.5 million dollars. He knew early on he had to hit the road to make this collection of interviews complete. "It became at some point very clear to me, being based in Montreal, that I was limited in the knowledge I could get in the surroundings in the boxing field." Boxing is not just in his blood but it was also his business. Choko explained, "I had just purchased a gym prior to having the idea of doing this book and then, very fast, at the same time, I started promoting events. I promoted about 60 shows and I wanted to learn more. It was just not possible onsite in Montreal. So how the heck can a guy from Montreal find out about boxing? And that's where I came up with the idea."
The interviews are very positive in nature; Choko made it very clear to the subjects that he was not there to do an exposé on them.
"I was not there to make anybody look bad. I was there to learn about who they were to begin with. I was not there to ask them about their upcoming fights because most of them were retired. I was there to find out what was boxing to them and what needed to be done for a better future," Choko explained. "At the same time, I was asking them their take on the future of our sport. So they opened up in a way that they shared stories with me - even I did some tests with boxing writers who wrote biographies and so on and they were like, 'How did you get those stories?!' So I was very, very happy because of the fact my rapport with them was different. Being a gym owner, I fought; I coached. I had about a 1,000 students altogether throughout the years because I was teaching classes at the gym. The rapport was different."
But as great as Choko's passion was, he needed help. Getting to the likes of Marvelous Marvin Hagler nowadays isn't easy.
"It took me two years from the time I got the idea in 2004, where I registered the rights with the Writers Guild of Canada to do this and my list. So it took me two years to start finding a way to get access to these guys. You can't just knock on Mike Tyson's or Sugar Ray Leonard's door and say, 'Hey, I want to come in for an hour in your house and chat.'" It was then when Canastota got involved. "It was through the International Boxing Hall of Fame and its executive director, Ed Brophy. In 2006, we sat down and we made a deal: I showed my vision; I had a predetermined list of people I wanted to meet and he said, 'Show me that you're serious; put your money where your mouth is. Make a generous contribution to the Hall and we'll hook you up."
Asked to recount a favorite story from his travels, Choko states, "There are many, many great moments, as you can imagine, interviewing 55 greats over a period of five years - that's almost once a month for five years. I have some incredible stories; for example, Sugar Ray Leonard, who was my all-time favorite because he's the reason why I love boxing so much to begin with. I was born in '74 (there was the '76 Olympics in Montreal) and he fought Duran in '80. Already the name was big. In 1988, I rented the tape about 20 times of his fight against Hagler. I was 14 years of age and I was charmed by him. So me going to see him and being at his house and asking him to pinch me, where he would say, 'Are you for real? Why would I pinch you?!'"
It's been quite the journey for Choko.
"All the sacrifices were worth it," he says. "I'm proud that I'm now able to share it with as many people as possible because I'm not going to lie to you. Throughout the process, many, many times, you would not believe how I was short on cash flow, to the point where I could not even afford to travel, to go to Muhammad Ali's house when it was possible to do it. There were some times when I was really stuck and I always said, 'OK, well, here's another way.' So I would go through these hurdles that weren't much for me compared to the challenges these people went through to become champions. But basically, I owed it to them to give birth to this baby."
The Future of Boxing
is a beautifully laid out production with slick design and first-class graphics (during the process of printing, Choko spent hours at the printing house going through each page meticulously).
So it's done. He gave birth to his "baby." When asked to describe the book, Choko states, "It's the best collection of boxing interviews ever. In terms of design, I repeat the words that people have been saying that purchased it online. It's a masterpiece; that's what everyone agrees on. It's a must for every boxing fan. It's that simple."
The Future of Boxing
retails for $75 but there are special autographed editions of the book also available. For more info, log on to http://futureofboxing.com/.