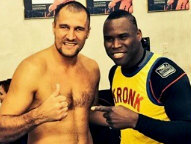 L-R: Kovalev - Stevenson


In front of a lively and sizable throng at the Colisee de Quebec in Quebec City, Quebec, Canada, the duo of Sergey Kovalev and Adonis Stevenson put on a display of power-punching that was both impressive and awe-inspiring this past Thanksgiving weekend. Kovalev, the co-headliner on this HBO broadcast, took care of Ismayl Sillakh - considered a "live" dog by some (OK; OK, admittedly that was me) - in two rounds and Stevenson dispatched the ballsy Tony Bellew in six heats.
Instead of getting two competitive prizefights, we got exhibitions in physical dominance. These two didn't so much defeat Sillakh and Bellew rather than hammer them into submission.
After a relatively successful first round that saw him boxing and moving around the ring, Sillakh felt Kovalev's concussive power in the second round from a thudding right hand, sending the Ukrainian crashing to the canvas. At this point, he wasn't so much in Quebec City but on Queer Street and was never able to fully regain his bearings as Kovalev finished him off just a few seconds later with a finishing salvo from that sent Sillakh sprawling across the bottom rope.

It was a scary display of power from Kovalev who has burst onto the scene in the past year since signing on with Main Events. He has quickly built his profile as one of the most fearsome power-punchers in the sport.
As for "Superman," Bellew believed he was going to be Stevenson's Kryptonite but he was no match for his athleticism and accuracy. "The Bomber" attempted to lure Stevenson in by timing and counterpunching him but was still consistently beaten to the punch by the faster Stevenson, who ramped things up late in the third round by finding the range with his lethal left. From that point on, Stevenson asserted his dominance by darting in and out of range and pinpointing his power shots. In the sixth, a left sent Bellew to the floor, dazed and unsure of just how he got into this prone position. After getting up from this knockdown, he was then hit with another series of lefts that had him knocked out on his feet in the corner, where he was rescued by referee Michael Griffin.
And just like that, both Kovalev and Stevenson put finishing touches on strong 2013 campaigns, where they both made strong cases for "Fighter of the Year" honors. Stevenson fought four times this past year, gaining revenge on Darnell Boone (KO 6), destroying the remnants of Chad Dawson in one, putting Tavoris Cloud out of his misery in seven and then Bellew. Likewise, Kovalev also had a quartet of outings which saw him halt Gabriel Campillo in three innings, dominate Cornelius White in three, bludgeon Nathan Cleverly in four and then Sillakh.
It wasn't just so much that these two were active and won but how they won. They didn't just notch victories but became must-see TV and made you want to see them again and again.
And now, hardcore fight fans would like to see a light heavyweight showdown between Stevenson and Kovalev. Yeah, there might be some other big names (such as Bernard Hopkins and Jean Pascal) out there but name me a better pure donnybrook (yes, I just said "donnybrook") than this pairing.
But oftentimes the wants and needs of the consumers are overlooked and flat-out ignored by the power brokers who rule the sport. The bottom line is the only one that really counts. The unfortunate reality is professional boxing is first and foremost a business. And in times like this, business interests will supersede the yearnings of the public. The reality is Stevenson is now an attraction in Montreal, Quebec (http://www.maxboxing.com/news/promo-lead/michel-speaks-of-the-growth-of-superman) and when HBO's Max Kellerman asked in the post-fight interview whom Stevenson would like to face next, the answer was Carl Froch and Hopkins. This was met with a collective groan in the Twittersphere and certainly incited a mixed reaction from inside the arena.
Due to his newfound drawing power and the fact he is represented by a promotional firm in GYM that can survive and subsist without HBO subsidies, Stevenson is in a position where he can dictate his own dance card. HBO may want Stevenson-Kovalev and certainly Main Events (which handles the Russian wrecking ball) yearns for that fight but ultimately, that call will be made by Stevenson and Yvon Michel. The latter has made it very clear; if HBO is willing to fork out the type of license fee they did for Andre Ward-Edwin Rodriguez ($3.15 million), this fight could come to fruition.
Like a Gennady Golovkin, Kovalev finds himself on the negative side of the risk/reward quotient. He's simply too dangerous for his own good and is in a position where he'll have to continue to carve out his niche with activity and consistent exposure. He's more than willing to face Stevenson in Montreal because quite frankly, he really has no choice in the matter.
But I ask you again; can you name a more appealing match-up than Stevenson-Kovalev in the 175-pound class? It says here it's currently one of the top five fights you can make in all of boxing.
Kovalev wants Stevenson. Unfortunately, Stevenson may not necessarily need Kovalev.