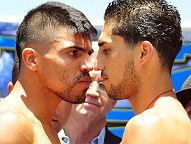 (Photo © German Villasenor)


Lost in all the hoopla of a potential pay-per-view clash on September 15th (dependent on Victor Ortiz not slipping on any banana peels or having Marcos Maidana flashbacks tonight at the Staples Center when he faces Josesito Lopez) is an enticing junior welterweight battle between Humberto Soto and Lucas Matthysse that opens up this Showtime broadcast (9 p.m., ET/PT).
It's officially being contested for the vacant WBC Continental Americas title. But as prestigious as that may be (sarcasm alert), what's really at stake is positioning in the 140-pound division. And just as importantly, it has a very good chance to be an entertaining scrap.
"The winner's going to be in a very good position. The winner is going to go on to bigger and better things," said Golden Boy Promotions matchmaker Eric Gomez about this match-up. "The loser isn't going to be out of it either because it depends on the fight. In my opinion, this is going to be a very good fight and even the loser will make a great account of himself. He won't go all the way back; he'll get another marquee fight. So the winner's going to be in a great spot and he's going to want the biggest, best fight that can be made out there for him."

Right now, there is both activity and uncertainty within this division. In a few weeks, Amir Khan challenges Danny Garcia for his WBC title (proving again that belts matter, given that Khan and his handlers chose Garcia in large part because of the green strap currently in his possession) and the other belts are in a bit of limbo given that Tim Bradley now seems to be a full-time welterweight and Lamont Peterson's status as the WBA/IBF champion is tenuous at best (as a result of his current banned substance situation).
So into the breach steps Soto and Matthysse to perhaps fill in the gaps- or at least put themselves in position to.
There was a time several years ago when Soto was considered an actual threat to Manny Pacquiao when both resided in the lightweight class. But while the "Pac-Man" has ascended to global icon status, Soto's career has been stuck in neutral for the better part of five years. While other supposedly "most avoided fighters" of the moment (like Antonio Margarito and Paul Williams, just to name two) eventually got their marquee opportunities, Soto became a bit player in Top Rank's stable and a staple of TV Azteca. While he may have built an impressive record, for the most part, this diet was comprised of empty calories.
Since his 2010 "Fight of the Year" candidate against Urbano Antillon (subsequently turning down an opportunity at a rematch before bolting to Golden Boy), his last five foes have been Fidel Munoz, Motoki Sasaki, Jose Alfaro, Adailton De Jesus and Claudinei Lacerda. During this stretch, Soto has moved up to junior welterweight and questions have arisen about his effectiveness at this weight.
In the hard-punching, hard-charging Matthysse, he's facing a prizefighter who makes a legitimate claim to being undefeated. Upon close inspection of his 30-2 record (including 28 knockouts), you'll see that his two losses are highly suspect, perhaps saying more about the geography of where his fights against Zab Judah and Devon Alexander were staged more than who the superior fighter was on those particular nights.
Matthysse is a no-frills fighter. He's a big '40-pounder who's rangy and heavy-handed. His pattern has been to give up some early rounds but then have a finishing kick that Edwin Moses would be proud of in the late stages as his power and strength take over fights. Soto, a veteran of 68 fights (58-7-2 with 34 stoppages and one no-contest), has become more and more the guy willing to box. The guy who was so physically imposing no longer exists at junior welterweight but at heart, he's still a Mexican fighter. You get the sense his Argentinean foe will make him fight from the very beginning.
While Ortiz-Lopez has the feel of a glorified tune-up, Soto-Matthysse is a real fight.
"It was just the right timing," said Gomez, who helped orchestrate this bout. "It wasn't difficult to make. I made the fight in like one day."
By now I'm sure you've heard the talented Cuban, Yuriorkis Gamboa, has settled his dispute with Top Rank that now makes him a free agent. What's lost in all this is that Gamboa was really seeking his freedom from his original promoter, Ahmet Oner and Arena Box-Promotion. At the end, unlike most divorces, everybody seemed to get what they wanted.
I'm told that Top Rank got upwards of more than a million bucks to settle whatever legal claims they had against the fighter (and a future percentage of his earnings too) and Gamboa got his emancipation and is free to join the likes of Mayweather Promotions/Golden Boy.
And with that, perhaps the fans will get an opportunity to see a Gamboa-Adrien Broner fight down the line.
Antonio Tarver has tested positive for an anabolic steroid before his bout with Lateef Kayode on June 2nd at the Home Depot Center (http://www.boxingscene.com/csacs-dodd-on-tarver-vs-kayode-no-decision-appeal--54263), continuing what's been a bit of an epidemic for the sport of boxing. Some may say the issue is a dead horse; current events show it's live and kicking like a young bronco...Uh, by the way, Tarver, as I like to say, wasn't going to make the cover of Muscle and Fitness anytime soon...In regard to Tarver's positive test, an official statement from Showtime Sports followed: LOS ANGELES (June 22, 2012) - We were made aware of the California State Athletic Commission's report regarding Antonio Tarver's positive drug test following his last fight on June 2 this afternoon. Out of respect for the fighters competing on Saturday night, Antonio and the network have mutually agreed that he will not serve as color analyst for the June 23rd boxing telecast…Here's some ticket info for the card tonight at Staples Center: Tickets priced at $250, $150, $100 and $50 are available online at

www.staplescenter.com

,

www.ticketmaster.com

, via Ticketmaster charge-by-phone lines at (800)745-3000 or at STAPLES Center box office...Bob Arum says the official announcement to their September 15th pay-per-view card featuring WBC middleweight titlist Julio Cesar Chavez vs. Sergio Martinez will take place July 10th on a national press tour landing in Los Angeles, Las Vegas, Mexico City and New York...Who's more bummed that the Heat won the NBA title; the people in OKC or the folks in Cleveland? And I get the sense that the good people of Seattle are happier than those in Miami...Folks, LeBron James, love him or hate him, has the skill set of Magic and the athleticism of Jordan

...

I can be reached at k9kim@yahoo.com and I tweet at www.twitter.com/stevemaxboxing. We also have a Facebook fan page at www.facebook.com/MaxBoxing.