The ESPN2 Friday Night Fights TV Cheat Sheet – Feb. 1, 2013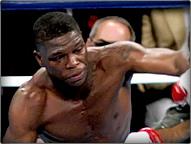 (Photo © German Villasenor, MaxBoxing)


It's not a regular occurrence for a former world champion to make an appearance on ESPN2's flagship boxing show, never mind two on the same broadcast. That happens tonight; add to that a The Ring magazine top 10-rated boxer and you could have the best show - on paper – for "Friday Night Fights" all year. There is no getting past the fact that the two former champions are past their best but every old warhorse has one last charge left in him. That is the hope of Cory Spinks and Jose Luis Castillo (who could hardly be more different in terms of style), both looking to resurrect their careers and bodies for one last shot at a title. Spinks has the tougher assignment, facing off against a Carlos Molina who falls into the "most avoided" category at 154 pounds. Of course, there would be no such thing as "The Spinks Jinx" if the family took the easy route.

At the UIC Pavilion, Chicago, IL
(ESPN2) Carlos Molina (20-5-2) vs. Cory Spinks (39-7)
(The Ring magazine #7 junior middleweight vs. unranked)
(ESPN2) Jose Luis Castillo (64-11-1) vs. Antwone Smith (22-4-1)
Antwone Smith
– Four years ago, Smith was the kind of unheralded fighter I root for, minus grunting with every punch. Unable to attract a big promoter, the Miami product was matched tough and developed as a boxer as a result, playing the spoiler role to great effect. Now 26, Smith went through a stagnation period (which he broke in his last fight, beating undefeated prospect Ronald Cruz) after I initially viewed his attitude and ring intellect mirroring that of a young James Toney. That included an unexpected defeat to Lanardo Tyner and setbacks to Kermit Cintron (closer than scored) and Roberto Garcia in which Smith did not deviate from losing strategies. In 2009, Smith was an underdog in three consecutive ESPN2 appearances but emerged victorious every time. He beat quality opponents whose style Smith evaluated judiciously before picking them apart. Began boxing at age 13 in the competitive Florida amateur system, going 36-6 and winning the state Golden Gloves title. A straightforward boxer on the surface but can change to a countering style if sensing an advantage. Smith lost his sixth pro fight to skilled Ed Paredes, a fight some had Smith winning and he did not back down from taking more hard fights. Decision wins over undefeated power-puncher Norberto Gonzalez and veteran Richard Gutierrez attracted promoter Lou DiBella. A solidly built but average-sized welterweight, Smith lacks range with short arms and underutilized jab. I get the feeling Smith is a natural counterpuncher who presses out of frustration when opponents do not engage him, so a bit of patience is still needed on offense. A 44% kayo ratio could be higher if matched soft like other prospects and over 154 rounds, Smith learned to make his punches smarter instead of harder. Still not 100% mentally, fighting up or down to the level of competition and might still see himself as the "opponent." Smith has overcome cuts, refusing to let the blood affect his game plan. Best asset is quick feet, moving Smith into position to counter or lead and make up for the lack of a thudding jab. Has a solid left hand and goes to the body hard from the opening bell. Never seen Smith rattled and he has an ease in the ring that cannot be taught. Not fast, flashy, powerful or a defensive wizard, Smith is a type who just finds ways to win.
Jose Luis Castillo
– At 39, another title run is implausible but Castillo has a habit of overcoming the odds. Traveled a long way from a 16-year old boxing debutant and will be remembered as the man who gave Floyd Mayweather Jr. and Diego Corrales their toughest battles. After those career highlights, fell back to Earth, becoming notorious for his inability to make weight. After a 30-3 amateur record, left home to turn pro in Mexicali calling the city's rings "a springboard for fighters and a place where the Devil goes on vacation." Was a sparring partner for Manny Pacquiao before making his name registering The Ring magazine's "Upset of the Year" in 2000 defeating Stevie Johnston. Won his last two fights at junior middleweight against middling foes (the last a bloody and entertaining brawl with Ivan Popoca on ESPN2) but with Castillo's experience, it is hard to write him off at this level. Was his best at lightweight, but a 5'8" frame and long arms allow for some leeway in weight. Poundage has been Castillo's real foe, often training to make weight instead of preparing for an opponent's style. Balloons in weight between bouts and, at his age, cannot lose it without affecting performance. Many still remember Castillo failed to make weight before a rematch with Corrales, using that heft effectively to punch and absorb punishment in the grueling fight. Slowing hand speed and reflexes are Castillo's current Achilles heel, causing hesitation from the usually fluid combination puncher who showed remarkable accuracy to the body. A crippling puncher, Castillo's power is accentuated by timing and an understanding of proper punch selection to extract maximum pain. This is expected of a main sparring partner for Julio Cesar Chavez Sr., whom Castillo resembles most when he was at his best. Has a solid chin but because of vaunted offense, was not always tested on defense. Uses long arms to protect both his head and body. With the exception of a loss to Jorge Paez Jr., has not had a setback to anything other than title-worthy boxers since 1998. Had been training in the mountains of Big Bear but moved back to Tijuana for better sparring. Castillo will always be remembered for two things and neither was a victory. The man who came closest to beating a prime Floyd Mayweather Jr. and losing the most thrilling battle of the 2000s to Diego Corrales.
Verdict
– Who to pick when both boxers are known for running hot and cold? I do know which one is in his physical prime but what boxer is on his game mentally for this fight? When in doubt, go with speed and youth though this should be an enjoyable fight with lots of landed punches. Smith is younger and needs this win more to pull his career out of gatekeeper mode and into fringe contender status. Smith is also faster and possesses better reflexes at this point while the only thing Castillo can fall back on is experience and the hope that Smith took him lightly in training camp preparations. However, if Smith stands in front of Castillo (as he tends to do when lazy mentally), Castillo could sneak up on Smith with body punches and make things interesting late. I don't see that though and even if he does, Smith is resilient and strong enough to absorb it over 10 rounds vice 12. Smith beats Castillo to the punch via lateral movement, catching the eyes of the judges for a win in the 97-93 or 98-92 range.
Cory Spinks
– The third Spinks world champion, historically, Cory will be rated above father Leon (who had a more historic win over Muhammad Ali) but well below Hall of Fame Uncle Michael. No, Cory Spinks is not the most attractive fighter to watch but showed against Zab Judah and Antonio Diaz that he can be exciting when the opposition forces Spinks to fight back. A slick southpaw, Spinks started boxing at age seven, learning under the tutelage of underrated trainer Kevin Cunningham in the amateurs. Had a stellar run in the unpaid ranks, winning two national PAL tiles and one national Golden Gloves competition, but rival Dante Craig edged Spinks out for a spot in the 2000 Olympics. It did not help that Spinks was shot in the torso at age 17, the recovery time obviously limiting preparations, and ended with a 78-13 record despite lacking blazing hand speed. Mostly outmaneuvers opposition by timing and controlling distance with unusually long arms with which he shoots out an accurately annoying jab that blinds more than it hurts opponents. The problem for fans of prime Spinks was that he rarely needed to venture out of his jab-hit-pivot-move comfort zone to win, only using four of his five gears. People forget how good Spinks was, unifying the WBC, WBA and IBF welterweight belts, earning The Ring magazine belt in the process. Moved up a weight class, beating avoided Russian Roman Karmazin to become a two-division champ and derailed Ricardo Mayorga when he was at his meanest. Showed his class and ability moving all the way up to middleweight, giving a prime Jermain Taylor (then the World Middleweight Champion) a tougher than expected scrap, losing a split decision. Spinks won with minimal effort but that changed as he has aged; his legs became slower, making darting or lateral movement more cumbersome. Spinks now needs to stand his ground more and fire right hands to dissuade opponents from coming straight up the middle and running him over. Defeated Sechew Powell in January of 2012 in only significant win of last five years and was last seen getting knocked out by Cornelius "K9" Bundrage twice. Is hoping those losses were a matter of Bundrage just having his number. A likeable family man, Spinks should call it a career if he loses this fight tonight. I hope Spinks does not become a punching bag masquerading as a former champion, training young talent which has always sprouted up in St. Louis instead.
Carlos Molina
– Blue-collar Chicago volume puncher is 12-1-1 since 2008 (lone loss to James Kirkland a controversial disqualification when Molina was winning), his deceiving 20-5-2 (6) record fashioned against strong opponents like Kermit Cintron, Erislandy Lara and Kirkland. Earned a top 10 ranking, number seven in The Ring's junior middleweight rankings, the old-fashioned way by fighting anyone anywhere. Unexpected run came after a 21-month layoff because of contractual disputes; that inactivity came at a bad time since Molina had entered two sanctioning bodies' top 10 rankings. Before stellar performances against Cintron, Lara and Kirkland, Molina registered a dominant 12-round victory over 34-5 Danny Perez that showed potential and turned heads. Molina was born in Mexico but raised in the tough Chicago gym system, matriculating upward despite having only seven amateur bouts. Started boxing at age 17, surviving on raw talent, instincts and a work ethic that kept him in the gym constantly. "Usually, I don't have the privilege of knowing when I'm gonna fight. I just got to be ready all the time. There's no off season for us." In only his 10th fight, Molina took on 23-0 Julio Cesar Chavez Jr. in Mexico, holding Chavez to a disputed draw neutral observers thought Molina won. Molina has lost five fights (none by stoppage) with many thinking Molina beat Chavez Jr. in a second fight, scored a majority win for Chavez. Lost another debatable battle to contender Mike Alvarado via majority decision and despite imposing résumé of foes, has never been outclassed. Molina fought at welterweight before his layoff, saying he feels comfortable at junior middle and scored his best wins at 154 pounds. Faded in the late rounds against physically stronger Alvarado and Chavez Jr., which he says was a result of problems making weight. Molina is a good infighter but was shouldered and pushed around by Alvarado and, at times, against Lara. A good combination puncher and tricky to pin down on defense with Molina's sense of distance. Lacks power, 22% kayo ratio, ensuring Molina has to work and push opponents backward to create an advantage. The 29-year-old is a gym junkie, enabling him to come out of tough fights and get right back into the deep end of the talent pool. It also keeps Molina in optimal physical shape, required of a frenetic volume puncher like him. Even if Molina were to never become a champion, he will never bore an audience the way some champions do.
Verdict
– In their respective primes, Spinks wins seven times out of 10, in my opinion, but today is another story. Molina is on a hot streak that fueled his self belief, making him a top 10 boxer, while the opposite can be said of recent kayo victim Spinks. Deceiving movement and excellent timing will let Molina control the outside as Spinks did in his prime and because of superior upper-body strength, Molina holds the edge on the inside as well. Given his infighting ability, that is where I expect Molina to go and establish superiority, making it an ugly, mauling fight. Spinks will be pushed backward from the start and, like his fight against Bundrage, suffer because of it. Unable to escape the Molina's pressure, Spinks eats a lot of punches from the fourth round on after a good start. The referee will have a lot of work to do, separating the pair in the first six rounds and insuring Spinks is not hurt badly in the second half. Molina does not have the power to stop Spinks, so settles for a distance win in which Molina drops three or four rounds at most.
Prediction record for 2013: 83% (10-2)
Prediction record in 2012: 84% (128-25)
Prediction record in 2011: 88% (138-19)
Prediction record in 2010: 85% (218-40)


You can contact Marty at mmulcahey@elpasotel.net, visit him at www.facebook.com/fivedogs or follow him on Twitter at www.twitter.com/MartinMulcahey.

Please visit our Facebook fan page at www.facebook.com/MaxBoxing, where you can discuss our content with Maxboxing readers as well as chime in via our fully interactive article comments sections.



Subscribe to feed