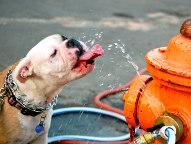 --


The last few excruciatingly hot days of August are winding down. What looked like a promising time for boxing not too long ago is instead a month filled with fights that were either postponed, moved or flat out canceled. This has become a bit of a pugilistic purgatory before what looks to be an eventful September. However, this isn't to say that absolutely nothing is happening in the boxing business. Folks, something is always happening in this racket.
First, Julio Cesar Chavez Jr., who is preparing for his September 15th battle against middleweight champion Sergio Martinez, is now in Las Vegas training for that fight. He was in Hollywood in a rented mansion prior to this, perhaps serving as the impetus for him not making regular appearances at the Wild Card Boxing Club. There, trainer Freddie Roach anxiously awaited Chavez's arrival but oftentimes found himself disappointed and lonely. Yeah, at times he was like the Maytag repairman as he waited for Junior to walk through his doors.
Roach left for Vegas on early Monday morning (only after getting assurances that Chavez himself was headed to the 702 area code) and will be working with him (hopefully) at the Top Rank gym. He's made it clear that if Chavez so much misses a day at the gym, Roach is headed back home. We'll see about that.

Then there is the battle for November 17th on Showtime, waged by the newly-formed TMT and Golden Boy Promotions, which both have claimed as their date. 50 Cent and his company had it floated out there that a doubleheader featuring Yuriorkis Gamboa and Andre Dirrell would be broadcast on the network, only to have GBP, which has seemingly docked its whole fleet of vessels at Showtime, announce that the date was instead theirs. Now, never mind that neither faction had announced any official fights - which is kinda important, last I checked. Eventually, Stephen Espinoza, Showtime's executive vice president of sports and programming, was moved to release these quotes to

Boxingscene.com

(http://www.boxingscene.com/showtimes-espinoza-november-17th-date-still-open--56266), stating this particular date was free and open to everyone in the business.
So who will eventually get this slot? It says here that whoever ends up promoting one Floyd Mayweather when it's all said and done will probably have the inside track (and Al Haymon and Golden Boy aren't going away gently into the night here. It's no longer a foregone conclusion that Mayweather will end up with TMT). But really, shouldn't networks be more concerned with the actual quality of the fights they purchase than who they purchase them from (It's worth noting that, as of now, bouts like Orlando Salido-Mikey Garcia and Brian Viloria-Hernan Marquez have no televised home)?
On the other side of the street at HBO, the plan was for them to televise Adrien Broner's next bout on October 6th in Atlantic City against the obligatory Tom Bob Anderson (the notorious "TBA") with heavyweight hopeful Seth Mitchell facing Johnathon Banks in the opener. Well, it seems as if the network, which was forced to go through the fiasco of Broner's last outing against Vicente Escobedo in July, is actually employing a bit of quality control and isn't green-lighting the likes of Ray Beltran and Carlos Molina. There was also some concern from the host (Caesars Atlantic City) that a dance partner for "The Problem" wasn't nailed down, less than seven weeks from the appointed date. There used to be a time when HBO would insist an opponent be in place months before the schedule date of that particular fight. As this rule has been skirted more and more recently, not coincidentally, so have HBO's standards.
So has HBO finally put its foot down or will they end up caving in as they often do when it comes to Haymon and his clients?
Finally there is Manny Pacquiao, who is supposedly making his return to the ring on November 10th (although there is a lot of talk within the industry that this date could be pushed back a few weeks for whatever reason). And the three names being bandied about by Bob Arum were Juan Manuel Marquez (the budding author who may have priced himself out of the picture), Tim Bradley and Miguel Cotto (who has a hold on Madison Square Garden for December 1st). The problem is that there is a "been there, done that" feel to all three options and as they crunch the numbers, it's not clear if any of these fights at this stage are truly profitable. With what Pacquiao commands for his fight purse and the demands of the opponents, combined with what may be a point of diminishing returns on pay-per-view buys till Pacquiao faces Mayweather, there is a bit of a quandary here.
So anyway, when does football season start?
Andre Berto was granted his boxing license by the California State Athletic Commission, so he's free to resume his boxing career...A press release says that Guillermo Rigondeaux has been "enjoined" by a court in Miami. I don't know what that means but his fight against Robert Marroquin on the Martinez-Chavez Jr. undercard on Sept. 15th is in jeopardy...Do I think the fight between Vanes Martirosyan and Erislandy Lara means that Top Rank and Golden Boy will start working together more often? I don't think so. Honestly, Martirosyan-Lara is boxing's version of a shotgun wedding...The Jags aren't very good with Maurice Jones-Drew; they're a lot worse without him...Can Russell Wilson really win the starting job in Seattle?..."Hotel Hell" is a keeper

...

I can be reached at k9kim@yahoo.com and I tweet at www.twitter.com/stevemaxboxing. We also have a Facebook fan page at www.facebook.com/MaxBoxing.