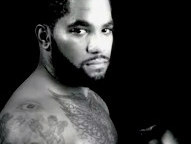 --


In a rather dreary edition of "Fight Night" on the NBC Sports Network from the Mohegan Sun this past Saturday night, Eddie Chambers was flummoxed by the counterpunching style of Thabiso Mchunu and then Tomasz Adamek had a perfunctory victory over the shopworn Dominick Guinn. But there was one notable bright spot, the continued resurgence of middleweight Curtis Stevens, who notched another eye-opening knockout victory over the usually durable Saul Roman.
Sometimes it isn't if you win, but how you do so.
And the way Stevens has been winning recently has been impressive. The fighter known as "Showtime," the latest rehabilitation/reclamation project of Kathy Duva and Main Events, may soon be seen on the airwaves of a premium cable channel.

WBA middleweight titleholder Gennady Golovkin, the latest boxing bogeyman, is scheduled to return to HBO on November 2nd at the Theater of Madison Square Garden. Stevens is now being talked about prominently as a potential foe. It's amazing; at the beginning of the year, Stevens was an afterthought to the boxing community, a forgone "Chin Checker" whose career had not just stalled but for all intents and purposes, went backward.
Three fights later (all of which have been televised nationally), he's a boxer building momentum. But the question is, is he actually worthy of facing "GGG" in November?
Here's the case for - and against - Stevens:
FOR:
He's a power-punching middleweight. Quickly, off the top of your head, can you name a puncher who Golovkin has faced thus far? For as formidable an offensive fighter as he is, Golovkin himself has never been forced to go on his back foot and retreat inside that ring. How would he deal with the heavy hands of Stevens?
AGAINST:
It's been a busy year for Stevens; the Roman fight was his third outing of 2013. He's staying active and sharp but he's isn't exactly facing Murderers Row in Elvin Ayala, Derrick Findley and Roman. There's a reason why these guys were chosen.
FOR:
Stevens is from Brooklyn. So from a geographic and promotional standpoint, he makes perfect sense. Back in January, Golovkin had a sizable contingent of his Kazakh countrymen inside the Theater as he faced Gabriel Rosado. A bout against a local fighter figures to produce a certain atmosphere too often missing from today's prizefighters. Also, Stevens talks a good game. It'll be interesting to see how the usually mild-mannered Golovkin handles someone who might try to get in his grill and under his skin.
AGAINST:
Jesse Brinkley. Yeah, this is a tough one to overcome. Back in January of 2010, Brinkley, a former contestant on "The Contender" easily outboxed a seemingly disinterested Stevens over 12 rounds. All in all, it looked like his career was well on its way to "Bolivian."
FOR:
Stevens' middleweight track record. Like the loss to Brinkley, his other blemishes at the hands of Marcos Primera and Andre Dirrell have come as a super middleweight. Fighting at his natural weight of 160 pounds, he hasn't loss thus far as a professional.
AGAINST:
How many people actually know who Stevens is? Yes, he's gotten steady exposure on the "Fight Night" series (with the contest against Findley telecast on NBC) but from a perspective of how he's perceived by boxing fans (domestically and abroad) is he a backward step from the respected Matthew Macklin?
FOR:
Very simple; who else is willing and able to take the challenge? Say what you want about Stevens but he's made it very clear that he wants to derail the Golovkin Express (http://deadspin.com/boxer-watches-knockout-provides-play-by-play-with-soun-1019373277). And let's face it; this division is rather thin. Also, Stevens is from the world's largest media market and he certainly talks a good game. Try telling this guy he's just another "good boy."
Is Stevens the perfect choice to face Golovkin next?
Probably not but the reality is, he's the best of the realistic possibilities. Recognized champ Sergio Martinez is out of commission till next spring (and the suspicion here is that he'll face Miguel Cotto in his return), the winner of the Daniel Geale-Darren Barker bout on August 17th has to face WBA "super" mandatory Felix Sturm. Julio Cesar Chavez Jr. is now campaigning as a super middleweight on September 7th with no guarantee of him ever coming back down. Peter Quillin, who holds the WBO belt, is a non-starter because of his association with Golden Boy Promotions (therefore ensconced at Showtime) and Martin Murray, a solid contender who took "Maravilla" to the brink in April, is bogged down in visa issues thus unable to travel to America.
Again, tell me of a better option than Stevens for November 2nd.
And when you come up with it, tell K2 Promotions and HBO.
The lights went out during ESPN2's "Friday Night Fights" main event between Javier Fortuna and Luis Franco in Miami, Oklahoma. Unfortunately for the viewing audience, they came back on and we were subjected to an uneventful contest that ended in a disputed draw (it says here that Fortuna won that fight pretty handily).
It was a fight where one guy didn't do all that much but still seemed to do a lot more than the other.
The styles of Fortuna and Franco simply did not mesh. Fortuna is a pretty good talent, who, on any given day, will probably be good enough to win a title belt. Regardless of the rendered scorecards (96-94 for Fortuna, 99-91 for Franco and 95-95), Fortuna has a future.
However, the same cannot be said of one Kermit Cintron, who, like an unwanted house guest, has simply stuck around too long and won't go away. Once again, the ESPN2 audience was forced to endure another Cintron bout, this time against the modestly talented Jonathan Batista. It was a 10-round bore filled with fouls and awkward action. In what has actually been a very strong year for "Friday Night Fights" in 2013, this bout was one of its low points.
The next time Cintron fights, we might all wish the lights get turned off for good.
Here's a column I did for SportsOnEarth.com on the current situation between Andre Ward and HBO:
So do we have a fight between Juan Manuel Marquez and Tim Bradley on Oct. 12th or not?...I would've loved to have heard Teddy Atlas' take on the injury Andre Berto suffered versus Jesus Soto Karass...Fall camps have begun all across the country; the countdown to college football has officially started...The "Swider-Man" says now that since Johnny Manziel is being investigated for taking payment for signing autographs, Manziel's is now "Johnny Hancock"...Will the Dodgers lose a road game the rest of this season?...Uh, CBS and Showtime will return to us Time Warner Cable subscribers by September and the football season; right?...After Warren Sapp, I think Ray Lewis, Ed Reed (who are both locks), Reggie Wayne, Andre Johnson and Vince Wilfork could be the next 'Canes to get the yellow jackets in Canton...
I can be reached at k9kim@yahoo.com and I tweet at www.twitter.com/stevemaxboxing. We also have a Facebook fan page at www.facebook.com/MaxBoxing, where you can discuss our content with Maxboxing readers as well as chime in via our fully interactive article comments sections.