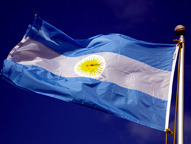 H1_Argentina_flag.jpg


This weekend, two of the most significant Argentine boxers of the last decade fight on American television, beginning with Carlos Baldomir's appearance on a Telefutura card emanating from Argentina tonight. On Saturday, pound-for-pound-rated Sergio Martinez defends his World Middleweight Championship against fellow elite Paul Williams, on HBO, in a rematch of a "Fight of the Year" candidate from last year. That duo, along with the criminally underrated Omar Narvaez, led the current renaissance of Argentine boxing. Sergio Martinez is at the vanguard of Argentine boxers, representing everything exemplary in boxing. A true gentleman, who made it to the top the hard way with an indomitable work ethic, consistent improvement, and a willingness to fight anyone in multiple weight classes. Out of the ring, Martinez speaks out against domestic violence and his model good looks give Martinez the kind of crossover potential in America that he already enjoys in his homeland.

Athletically, Argentina is renowned for producing great soccer players like Diego Maradona, Alfredo Di Stefano, and currently, Lionel Messi. While Argentine boxers are not known as dancers in the ring, the nation famously gave rise to the Tango. It has a proud boxing history, with Sergio Martinez the latest to add his name to a stellar list of world champions. I would not rate Martinez in the nation's all-time top ten yet; no shame there, as Argentina has produced 32 world champions to include the current plethora of alphabet titlists. In 1953, Pascual Perez became Argentina's first world champion but it is heavyweight contender Luis Firpo who is considered the father of Argentine boxing. It has been 87 years since Firpo's unsuccessful challenge of Jack Dempsey but that clash still rates as one of the most exciting fights ever staged.

Some of Argentina's most beloved boxers never became world champions, with the likes of Justo Suarez and Jose Gatica creating a special bond with the people through their force of personality instead of world title reigns. Since Perez's ascendancy to the throne, there have been many great Argentine champions, with Carlos Monzon topping the list of immortals, for most. Its heyday was the 1970s, when Carlos Monzon, Nicolino Locche, Victor Galindez, Miguel Castellini, Miguel Cuello, and Hugo Corro all brought home world titles. Since those glory years, Argentina has produced good but not certifiably great champions. Today, it boasts three world champions in Sergio Martinez, Omar Narvaez, and Luis Lazarte. All display native pride (usually in the form of a soccer jersey and flag) before, during, and after the bell.

What follows is a round-up of the current crop of Argentine boxers who can mix at the world title level. Omitted are young prospects like Diego Chaves, Cesar Cuenca, Ezequiel Maderna, and Jesus Cuellar, who have bright futures but not enough experience to merit inclusion.

Been there; could be back…

Hector Saldivia, 35-2 (28) – Four years ago, I selected this slugger in a top-ten prospects article; he rewarded me by suffering the first loss of his career. Earlier this year, Saldivia reappeared on the Pacquiao – Cotto undercard, and after I picked Saldivia to win, he was knocked out in the first round by Said Ouali. As you can imagine, Saldivia is no longer a favorite of mine. A lot of my positive image was derived from a victory over fellow countryman Omar Weis, which Saldivia repeated in 2009. The impressive Weis kayo is not Saldivia's only positive. He defeated South American toughmen Carlos Uribe, Walter Saporiti, Luis Rodriguez, and Indonesian fringe contender Daudy Bahari. What concerns his backers is that Saldivia was stopped by light-hitting Jorge Miranda (avenged by first-round kayo) and the Ouali ending was similarly brutal, although Saldivia scored a knockdown of his own. Two stoppage losses can no longer be registered in the fluke column. A 75% kayo ratio is legit and came against above-average competition. Saldivia punches particularly well coming out of a cover-up defensive stance, much like Arthur Abraham. Most of Saldivia's bulk is in the chest area and dedication shows in maintaining welterweight poundage for six years and fighting an average of four times a year. Needs an emphatic kayo over a name opponent to add his name to the expanding list of Argentine boxers in world title discussions.

Luis Abregu, 29-1 (23) – Another knockout artist, 79% kayo percentage, who has intermittently looked devastating and average. Comprehensively outboxed by Timothy Bradley in his last appearance but continuously came forward and applied pressure that made the fight interesting. No shame there, even if Bradley revealed Abregu's power is not as awe-inspiring against elite opposition. Abregu showed in a win over David Estrada that he can box when called for, and was intelligent enough to switch to Plan B when needed. Precision is the real reason Abregu has so many stoppages; his punches land squarely and are increased by the forward momentum of his stepping into punches. Has the hand speed to flurry and follow-up on advantages using long arms to tag a retreating target. Is not so much fast as he is quick. There is a bit of Felix Trinidad about him as well, waking up and redoubling efforts when unexpectedly floored or rocked by a punch. The down side of that is Abregu's porous defense, which needs to be addressed to play with the big boys. Has fought solid opposition since 2008, staying sharp by getting in the ring an average of four times a year. I cannot say with certainty if a title belt will be strapped around Abregu's waist but he has intangibles that will aid him when another title fight presents itself.

Lucas Matthysse, 27-1 (35) - I believe Matthysse did enough to merit a draw, at minimum, against Zab Judah (a point should have been deducted for Judah's blatant holding the last three rounds). A wrecking ball of a man, born of a boxing family with his father, brother, and sister having fought at the professional level. Got involved with gang life at age 11, in the slums of Buenos Aires, but says boxing rescued him from that influence. Despite headhunting tendencies, was a solid amateur (nearly 100 fights), winning a Pan American Games gold medal and participating in a slew of international competitions. Defeated and lost to Breidis Prescott (stopped him in one round) in the amateurs, among other current South American pros. Looks more bulky than cut at the weight, which gives Matthysse a rough and crude looking form in the ring. Stopping 25 of 28 opponents is telling of Matthysse's natural power but there is more intellect and less abandon than with an ordinary slugger. Displayed patience and restraint against Judah, not over-committing or falling for traps the more experienced and speedy Judah thought available to him. Defense was not porous either, showing that he can tighten things up and counterpunch as his amateur pedigree suggested all along. When Matthysse did hurt Judah, he went into predator mode, lengthening his stride to cut distance and leveraged more power in his punches. The lessons of the Judah fight will serve him well, and at age 28, Matthysse is in his prime despite having less than 100 pro rounds under his belt.

Hugo Garay, 33-5 (18) - Held the WBA light heavyweight title for a year and brawls despite representing his country in the Olympics. At age 29, would do well to rely less on strength and get back to those basics learned in the amateurs. Won a bronze medal at the Pan American games too and competed at many international tourneys as an under-19 fighter. Is used to traveling for a fight (Germany, Uruguay, Spain, and Mexico) and has a confident personality that is sharpened by the adversity of fighting away from home. In his most recent big fight, was caught cold and stopped by Chris Henry but returned three months ago with a win over a decent Marcelo Da Silva. It was rumored Garay had to lose 50 pounds, 15 of that coming off in the week before a title defense against Gabriel Campillo, which led to a poor performance and loss of his title. At 6' with a 77-inch reach, Garay would be a small cruiserweight, so he needs to stay at light heavyweight. Much of Garay's bulk is centered on the upper body, with muscular, wide shoulders that do their best work on the inside despite longish arms and skinny legs. Sucked southpaw Jurgen Brähmer into a war (both men have the reputation of hotheads), allowing him to leave Germany with the belt because of a great chin and superior work rate. Has undervalued hand speed that is infused with a sting by sly forward and lateral movement on the inside, and is enriched by the volume of his punches. Despite brawling appearance in the ring, is a smart boxer who had no problem with good southpaws like Brähmer and Yuri Barashian. In spite of shocking loss to Henry, remains a threat at the highest level, and as such, will be avoided unless he makes it to a mandatory position.

Jorge Barrios, 50-4-1 (35) - The lasting images of Barrios is his using a referee's sleeve, as the third man separated the boxers from clinches, to wipe blood from multiple cuts off his face. If I only had one word to describe Barrios it is "tough", and he fights in a reckless style that gives plenty of opportunity to bring out that side of himself. First appeared on my radar screen in 1999, when he traveled to Italy and upset solid pro Silvano Usini. Barrios exhibited his now-trademark ambition and feistiness in a foul-filled affair. From that point forth, faced very good and world-quality opposition. Is crude, aggressive, compelling, and most importantly, effective with a legitimate 63% kayo ratio. Barrios has never been totally outclassed and was always able to land his share of punches despite not having world-class speed. A much smarter boxer than given credit for, only losing a split decision to expert pugilist Joan Guzman (a draw, had it not been for a point deduction). Had a "Fight of the Year" candidate brawl against Brazilian Acelino Freitas in 2003, where both men visited the canvas twice. Works behind a solid jab and his feet get Barrios in a position to launch looping but surprisingly accurate one-punch volleys. Lack of combination punching is evident but because he sticks to the chest of retreating or mobile foes, Barrios can rattle off three or four overhand hooks in succession without calling it a combination. On defense...well, Barrios has no defense and his skin has a propensity to swell and cut in close fights, limiting his vision. The little battler can be rocked with punches but has good recuperative ability and seems to fight back even harder when hurt. At age 34, has reduced ring appearances, which is good, since the fights Barrios has engaged in have aged him significantly. Meets Erik Morales on December 18th and a win would put Barrios in line for a title shot. There is nothing pretty about Barrios; he just gets the job done and, in that sense, I would compare him to a less electric Alfredo Angulo.

Championship level…

Luis Lazarte, 48-9-1 (18) - Has apt nickname of "El Mosquito," always buzzing around champions and drawing blood with nipping punches that annoy more than they damage. Holds the IBF version of the junior flyweight title and is rated at number five in the division by The Ring magazine. Lazarte has been fighting at the highest levels for 11 years; his first title shot was in 1999, so the 39-year-old has a wealth of experience and tricks to call upon. In fact, he calls upon tricks too often, earning four disqualification losses (two in title bouts) that account for 50% of his setbacks. Only one of his defeats was lopsided, a kayo by Hall of Fame-level practitioner Pongsaklek Wonjongkam, while suffering split decision losses to Kermin Guardia and Daniel Reyes in two other title bouts. Has tendency of volumizing punches to the level of opposition, alternately disappointing and excelling depending on the quality of his opponent. Everything works out of a hands-high guard, often both gloves are at forehead level, often ducking or weaving under punches. Lazarte's sneakiest punches are delivered when he leans forwards, or dips his knees, while shooting a straight but upward arcing right hand. His punches sail in precise lines and angles, and he does not waste his time on the inside ripping short punches to the ribs or breadbasket. Experience has made Lazarte as comfortable backing up as coming forward. Last defeat was two years ago and Lazarte has not lost to someone outside of The Ring's top-ten since 2003. Seven of his setbacks occurred from 1999 to 2003 but since then, Lazarte has been a threat to anyone on the world stage. Has stayed grounded, working a day job as a street sanitation worker for the city of Buenos Aires. Lazarte has been able to maintain his weight for 14 years now, displaying the type of professionalism that makes him the Argentine version of Glen Johnson.

Juan Reveco, 25-1 (15) - Is one of those "interim" champions but is a legitimate contender ranked at number nine by The Ring magazine at junior flyweight. At 27, Reveco is in his prime, losing just one fight to world champion and former Olympic Gold medalist Brahim Asloum (closely by two, three, and four points on the judges' cards). That fight took place when Reveco was only in his third year as a pro, and his team had confidence in him from the start, pitting Reveco against solid foes. Only fought outside of Argentina twice, a 12-round split decision win in Mexico and aforementioned Asloum bout in France. That could be an issue in the future, since many of the big fights at this weight are staged in Asia. Displayed composure and good recuperative powers, getting up from a hard knockdown against Freddy Beleno, in his first step up in competition, remaining calm and winning a close decision. Won the vacant WBA title belt three years ago, making one defense, and 58% kayo ratio is about right, since Reveco has pop and sting in his punches vice one-punch stopping power. Displays perfect balance, throwing a quick lead left hand (or snappy jab and quick hook to the body), while preferring to make the most impactful statements with a powerful right hand that comes down the middle like an arrow. Sets up punches by zipping from left to right, with no sense of repetition that foes can pick up on. Reveco should fight more often, averaging three fights a year since 2008, because his combination style is predicated on timing and accuracy vice volume. All his non-title fights have been at over 112 pounds (turned pro at flyweight), so maintaining his crown at 108 pounds looks to be increasingly difficult. Also, Reveco just overcame a bout with kidney stones that required surgery and scrapped a title defense in Japan. Currently, is on an eight-fight winning streak with seven stoppages but aside from Ronald Barrera and Francisco Rojas, the opposition has been below par for a championship-level performer. A fun fighter to watch, who would probably be receiving television exposure in America if he were fighting at a higher weight class.

Marcos Maidana, 29-1 (27) - Maidana has the heart, punch, and style to stay on television whether he defeats Amir Khan next month or not. It is not often a boxer creates a positive reputation in a loss but Maidana cemented his world-class credentials in a tight split decision setback to world titlist Andreas Kotelnik. Those notions were confirmed when the Argentine rallied from three knockdowns to stop Victor Ortiz in a thrilling back-and-forth fight. Understated out of the ring and inside the ropes where Maidana does not waste punches or get wild in the finishing sequences. That calmness combined with accuracy accounts for Maidana's 92% kayo ratio. The way Maidana inches into striking distance is similar to that of former great Kostya Tszyu, sometimes using his jab as a measuring stick more than a punch. His punches flow nicely, not favoring his right or left when initiating, and Maidana's punch sequences are seldom repetitive. Technique is not perfect; sometimes Maidana leans in too much and his punches tend to loop when he launches from an awkward angle. Defense is also a concern; Maidana has been dropped and needs to move his head more. Was no slouch as an amateur, a two-time national champ and world championship quarterfinalist, just missing out on an Olympic berth when American Rock Allen beat him in the finals of the Americas qualifiers. At 27, Maidana sports an eye-catching combination of accuracy and power, and you cannot achieve a kayo ratio in the upper 90s without good finishing skills. On top of everything else is a road warrior, as well, fighting six times in Germany and registering two victories in American appearances. If he beats Khan on December 11th, Maidana will have elevated himself to the next level where Omar Narvaez and Sergio Martinez currently reside.

The Elite…

Omar Narvaez, 32-0-2 (19) – This stylist continues to be extremely underrated; the first class of 2000 Olympians to win a professional world title, he has yet to lose as a pro while racking up 16 title defenses. In his last fight, Narvaez won the WBO junior bantamweight title (now a two-division titlist) and, at age 35, shows little signs of wear and tear. Five of his title defenses were on the road, in Italy and France, which, aside from his win over American Rayonta Whitfield, were Narvaez's most difficult opponents. Consider Narvaez's consistency, rated by The Ring magazine for over 400 consecutive weeks at flyweight and now 27 straight at junior bantamweight. Was a fantastic amateur for Argentina, twice medaling at the world championships (beating future champions Joan Guzman, Steve Molitor, and American contender Jose Navarro), and won gold at the Pan Am and South American championships. Capped amateur career with two Olympic appearances, just missing out on medals losing in the third round each time. Amazingly, maintained his weight at the 112-pound limit from 1996 to 2009, aiding himself by taking non-title fights to stay sharp and at weight. Lobbied for hard fights right away as a pro, winning his portion of the world title in his 12th pro ring appearance at Buenos Aires' historic Luna Park arena. An intuitive counterpuncher from the southpaw stance, Narvaez is most comparable to Ivan Calderon in style. Intelligent movement sets up pinpoint punches and great vision aids him in evading lead or counterattacks that often come from odd angles because his opposition is off balance. Narvaez does not stop opponents with power as much as he surprises and frustrates foes for not being able to avoid or see the punches coming. Excellent in every aspect of the game, Narvaez is slowly inching his way into territory only held by the likes Nicolino Locche, Pascual Perez, and the legendary Carlos Monzon in Argentina. Something, perhaps more flare or daring, is missing to make Narvaez the star his talent seems to demand. In years to come, Narvaez will probably be seen as one of the most undervalued champions of this decade and his generation.

Sergio Martinez, 45-2-2 (24) - Despite the official result (a majority decision loss), Martinez gained fans the last time he fought Paul Williams, brandishing a variety of skills and the willingness to absorb punishment to dish out his extensive array of punches. Before that, the previously Spain-based fighter, was robbed of a victory over Kermit Cintron by both the referee and judges. An excellent all-around athlete, Martinez drew interest from lower-division Argentina soccer teams in his youth. As an amateur boxer, he won two national titles and represented Argentina in international boxing competitions, gaining the nickname "Maravilla" ("Marvelous One"). Only real loss, in 13 years, was a seventh-round stoppage at the hands of Antonio Margarito (revelations about Margarito's hand wraps call that loss into question), displaying consistent improvement in his offensive arsenal and form. Since the Margarito loss, Martinez has punched his way to 29 wins in Europe, Argentina and America. Those victories have come against a variety of styles, mostly on the road, which forced Martinez to learn and deploy an impressive array of punches that combine with his superb fitness. Solid punching power is magnified by the speed and unconventional angles from which they are delivered. Martinez cannot be called heavy-fisted or a banger but vexing ring generalship infuses his punches with extra sting. Has good size at junior middleweight, with broad shoulders that will sustain him at middleweight; Martinez is more athletic than given credit for. Opponents have commented that Martinez possesses a faster set of hands than recognized before they face him as well. Is both resilient (took some flush punches from Williams) and smart, coming back to outpoint hard-hitting Richard Williams after getting dropped early in their first fight. In a rematch, Martinez had a much easier time, showing adaptability and a good learning curve. What makes Martinez doubly difficult are non-tendencies, such as leading with either hand and punching from varying distances. Has defensive holes but those are somewhat hidden because of a herky-jerky style and sudden pivots Martinez employs on offense. Has shown a good chin and conditioning had to be fantastic to survive the Williams war. Is a well-preserved 35 years of age, mostly because he did not start boxing until his late teens. Martinez has a zestful boxing style, taking chances with his hands-down style and rapid-fire darting attacks, only second to Manny Pacquiao in its uniqueness.
You can contact Marty at mmulcahey@elpasotel.net or visit him at www.facebook.com/fivedogs